Your family and friends gathered around the table, everything was well-prepared and everybody had so much fun! What comes the next day? Feeling exhausted from all that work. You pay for making everything perfect with energy and nutrient loss. As soon as you have a moment for yourself, try to make one of these healing milks to put you back on track.
Healing milks are my go-to drinks for regaining my focus, mindfulness and energy. Loaded with spices, protein and healthy fats, they make a perfect elixir for calming my mind, nourishing my cells and rooting my spirit.
Turmeric, nutmeg and cinnamon are ancient healing spices, with a strong antioxidant and soothing effect, making them the best choice for adding to these milks. Coconut oil is never missing from the picture, because it stimulates cells regeneration and balanced hormone production (responsible for your good mood). Plant-based milks contain concentrations of the protein your body needs for restoring damaged cells and for activating the enzymes responsible for natural detoxification processes.
Spiced Almond Milk

Loaded with quality protein for cell regeneration, calming spices with strong antioxidant effects and potassium for balanced cell activity, this healing drink is the perfect choice for a post-holiday morning.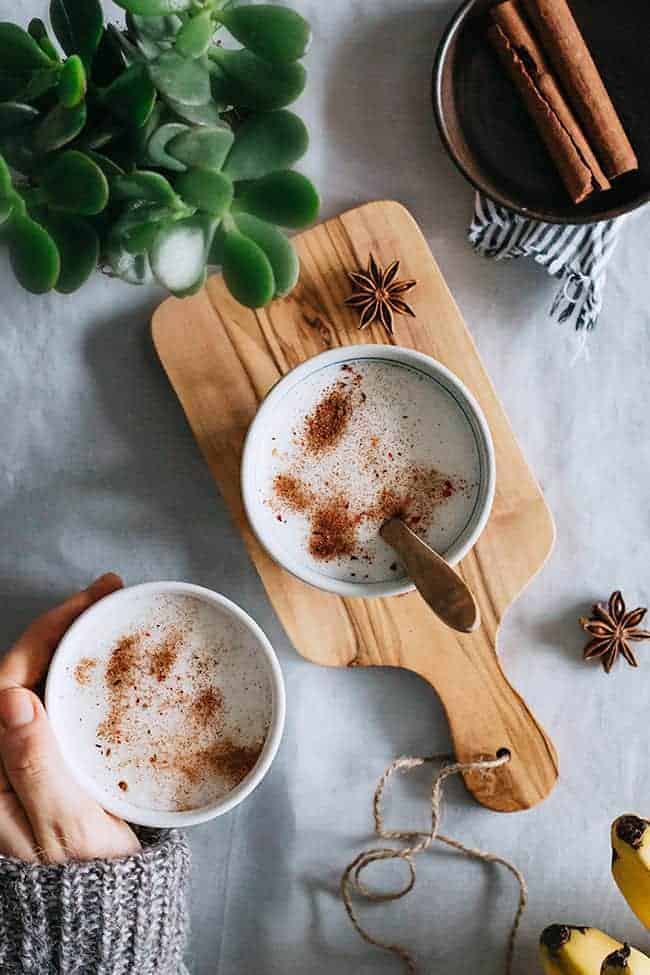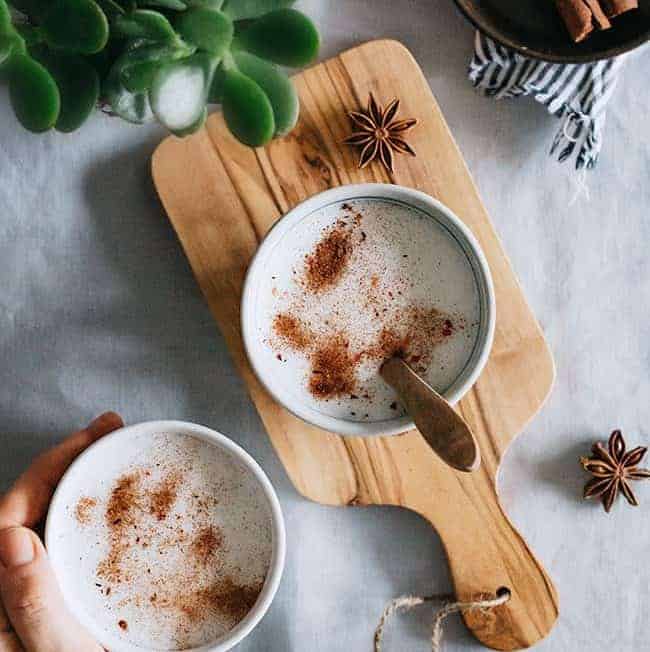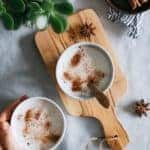 Print Recipe
Spiced Almond Milk
Ingredients
Almond Milk
4

cups

water

1

cup

almonds

soaked at least 8 hours (discard the water)

1

teaspoon

vanilla extract

optional

1

tablespoon

liquid sweetener

optional
Spiced Almond Milk
4

cups

almond milk

see above

4

tablespoons

plant-based protein powder

1

banana

1

teaspoon

cinnamon

½

teaspoon

nutmeg
Instructions
MAKE THE MILK.
Add the water and almonds to a high-speed blender. Blend on high until the almonds are ground down (2 to 3 minutes). Use a nut milk bag or a clean, white t-shirt to sift the almond from the milk into a bowl. You can repeat the process using the same ground almonds 2 or 3 times to store for later use. Add vanilla and sweetener if you desire.
SPICE THE MILK.
Add the almond milk that you just made with protein powder, banana, cinnamon, and nutmeg to a high-speed blender. Blend until well-incorporated. Serve immediately.
Turmeric Golden Milk

Blissfully yellow, with a warming taste and velvety texture, our golden turmeric milk makes a calming evening drink to soothe your digestive system, relax your mind and prepare you for a regenerating sleep.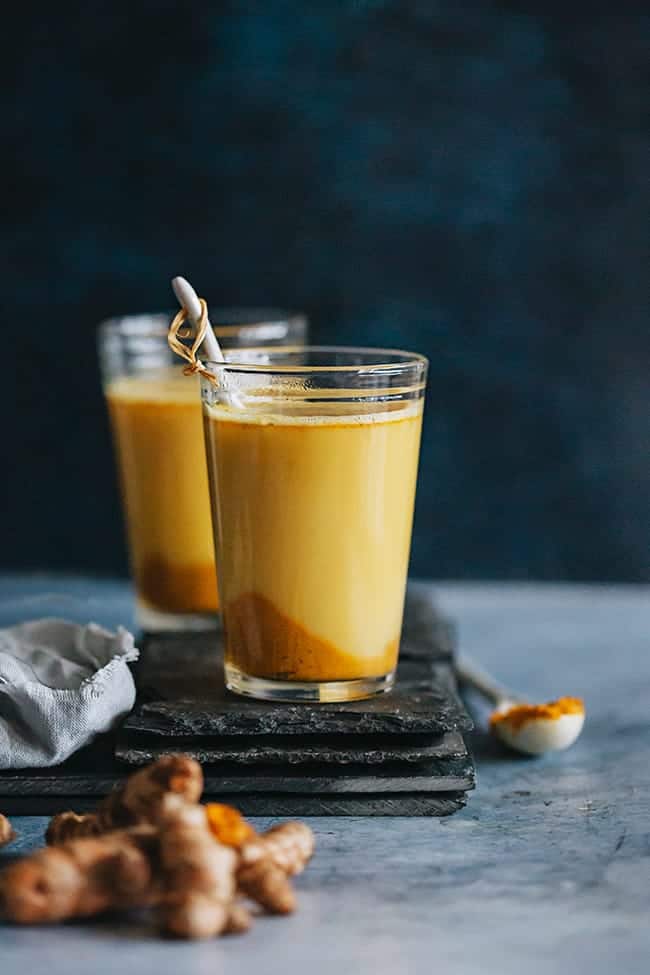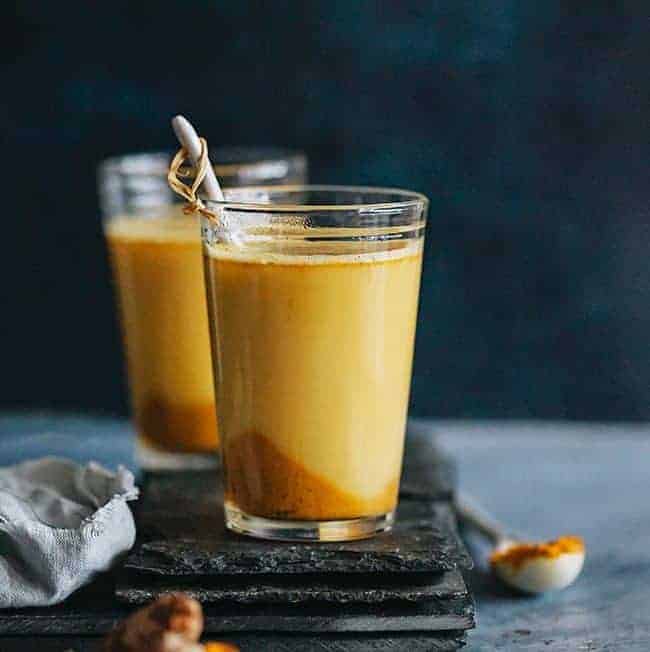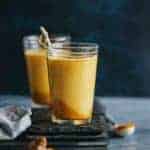 Print Recipe
Golden Milk
Ingredients
Golden Milk
2

teaspoons

turmeric paste

from above

4

cups

non-dairy milk

2

teaspoons

of a liquid sweetener
Instructions
MAKE THE PASTE.
Add the water and turmeric to a small pot over medium heat. Turmeric can easily stain your clothes, pots, and utensils so be careful and wash right away. Gently stir the water and turmeric into a paste of medium consistency. If the paste becomes too dry, add a little water. Cook the paste for about 7 to 10 minutes. It should be a slightly darker brown color than when you started. Store in a glass container in your refrigerator to avoid permanent staining.
MAKE THE MILK.
Add the paste and milk to a pot over medium heat. Stir slowly until the milk is warm, not boiling. Serve with the sweetener of your choice.
10