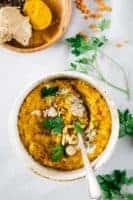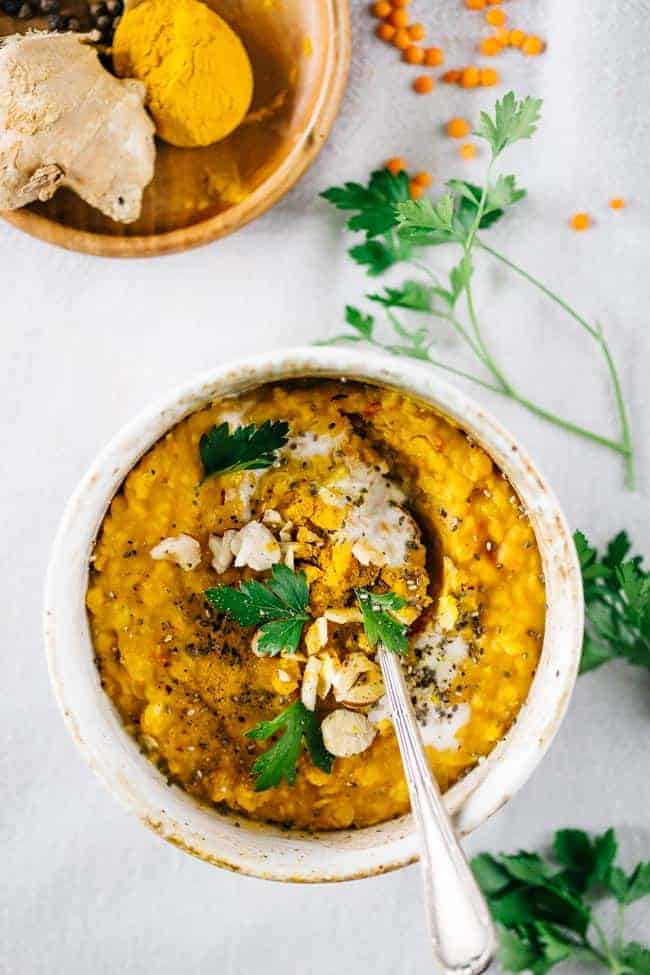 Healing Turmeric and Red Lentils Dhal
Yield 3
A hearty and comforting autumn dish with red lentils, using the healing powers of anti-inflammatory superstar turmeric.
Ingredients
2 cups red lentils
1/2 cup coconut milk
2 cups hot water
1 inch ginger piece, peeled and grated
1 onion, finely diced
2 garlic cloves, crushed
1 tsp coconut oil
1 tsp turmeric powder
1/2 tsp garam masala
Coconut milk, mixed seeds and fresh parsley leaves, to garnish
1/2 tsp sea salt
Freshly ground black pepper
Instructions
Rinse the red lentils with cold water and let drain.
In a medium saucepan heat the coconut oil, add the onion, garlic, ginger and turmeric, and cook for two minutes, stirring frequently.
Add the lentils and water, bring to boil and let simmer for 15 minutes.
Add garam masala and coconut milk and mix to combine.
Let simmer for another five minutes, until all the liquid is absorbed and you obtain a porridge consistency.
Serve warm, garnished with fresh parsley leaves, mixed seeds and a few drops of coconut milk.
Courses Curries&Stews
Cuisine Vegan
Recipe by Hello Glow at https://helloglow.co/healing-turmeric-and-red-lentil-dhal/