This is a sponsored post written by me on behalf of Whole Foods Market. All opinions are 100% mine.
Easter is right around the corner and for some of us (ahem, me) all we can think about is the candy. The Easter baskets most of us grew up with contained little more than colorfully-wrapped sugar bombs shaped like bunnies and eggs. But thankfully, times have changed. Instead of relying on sugar-coated marshmallows and neon colored jelly beans, why not create an Easter basket filled with healthier treats? This Easter we teamed up with Whole Foods Market to show you how to build a better Easter basket.
Whole Foods Market carries only the finest natural and organic foods available, so whether you're making a basket for a friend, the children in your life, or even yourself, you can find a ton of healthier Easter treats to please even the pickiest of eaters. Read on to learn how to see how we created 3 healthier Easter basket options for the upcoming holiday:
How to Create a Better Easter Basket
The Grain-Free, Sugar-Free Basket
Sticking to a Paleo diet is hard, especially when it comes to holidays. But it's not impossible to eat dairy, grain and refined-sugar free this Easter. Thankfully, Whole Foods Market makes it easy to find Paleo-friendly options that will keep you on track while still satisfying your sweet tooth.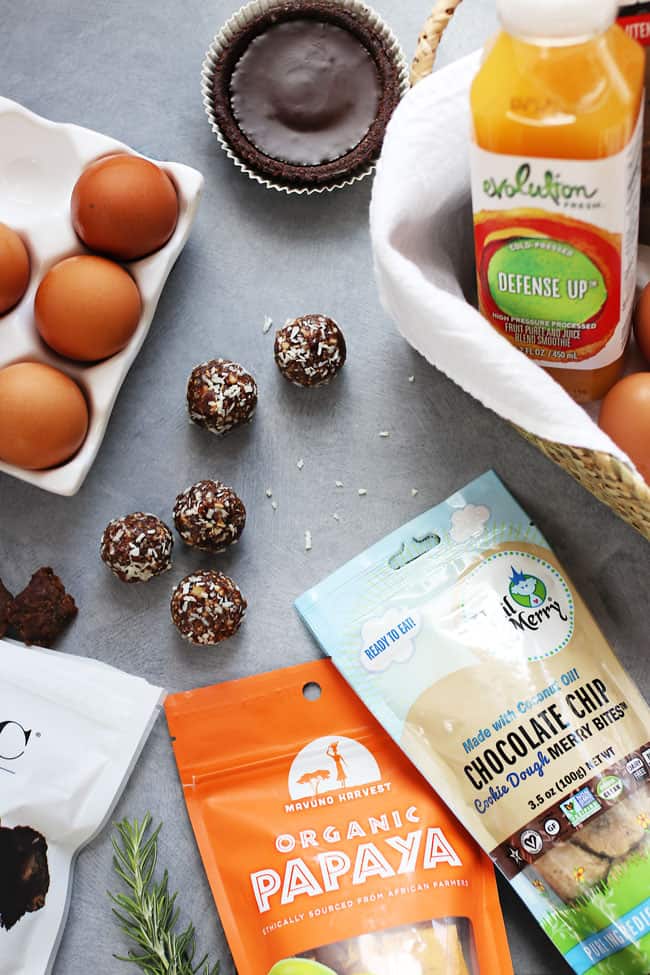 Hail Merry Chocolate Chip Cookie Dough Merry Bites
Trust me when I say these are good. Maybe even a little too good. Hail Merry uses coconut, almond flour and coconut oil to make their Merry Bites. Then they add in things like chocolate chips, vanilla and sea salt for flavor. I like them because they're healthy and incredibly addictive.
Hard boiled eggs
Skip the foil-wrapped chocolate eggs and go straight for the real thing. You don't even need to dye them (although that might make them more festive). Just boil for 12 minutes and then tuck them into Easter baskets for a quick, protein-packed snack.
Mavuno Harvest Organic Dried Fruit
While sugar is considered a no-no on the Paleo diet, dried fruit is far from the worst thing you could be putting in your Easter basket. I like Mavuno's Dried Papaya because it's loaded with Vitamin C and it tastes delicious.
Hail Merry Chocolate Almond Butter Tart
Peanut butter cups have nothing on this chocolate almond butter tart from Hail Merry. The crust is made from raw nuts and the chocolate ganache makes it taste like a dessert you may have enjoyed back in your pre-Paleo days.
Evolution Defense Up Smoothie
Made with oranges, pineapple and mango, Defense Up is a Vitamin C packed powerhouse that will satisfy your need for something sweet, while also giving you an added boost of vitamins and minerals.
EPIC Bites Bison Meat
Much like jerky, EPIC Bites are created by combining meat with spices, superfoods and seeds. They're rich in protein, low in sugar, gluten-free, and absent of soy and dairy. They also come in lots of different flavors like bacon, beef steak and chicken.
The Vegan Basket
You might think that being vegan would mean that you have to miss out on all the Easter treats, but the good news is, you don't have to! Here are some vegan alternatives to traditional candy to help keep your basket fun, festive and dairy-free.
Enjoy Life Chocolate Bars
I never thought I would say this, but finding vegan chocolate is hard. These chocolate bars from Enjoy Life are free of gluten, dairy, nuts and soy, making them both healthy(ish) and perfect for vegan Easter baskets.
WaTusse Foods Rosemary Chickpeatos
Chickpeatos are dried chickpeas that taste like pretzels and crunch like potato chips. Plus they're gluten-free and organic to boot.
Greyston Bakery Vegan Fudge Brownie
These brownies are to die for. They're super moist and fudgy, and a far cry from the vegan baked goods most of us are used to.
UNREAL Peanut Butter Cups
UNREAL's mission is to reinvent your favorite candy with 100% real ingredients, minus the GMOs, gluten, and anything artificial.
GoOrganic Ginger Hard Candies
These hard candies are naturally sweetened and loaded with ginger flavor. And you can rest easy knowing they're free of high-fructose corn syrup, artificial preservatives and artificial flavors.
Daily Greens Renew Juice
If you'd like to pass on some of the candy altogether, why not put some green juice in your basket instead? I love this Renew Juice from Daily Greens, which is loaded with sweet watermelon and juicy greens, and seasoned with spearmint and a dash of Himalayan pink salt.
The Spa Basket
Who says your basket has to revolve around food? If you'd prefer to skip the treats altogether, why not load your basket with a bunch of spa-day essentials instead. Whole Foods Market has tons of natural and organic beauty products to choose from, many of which are in small, sample sizes perfect for tossing in an Easter basket.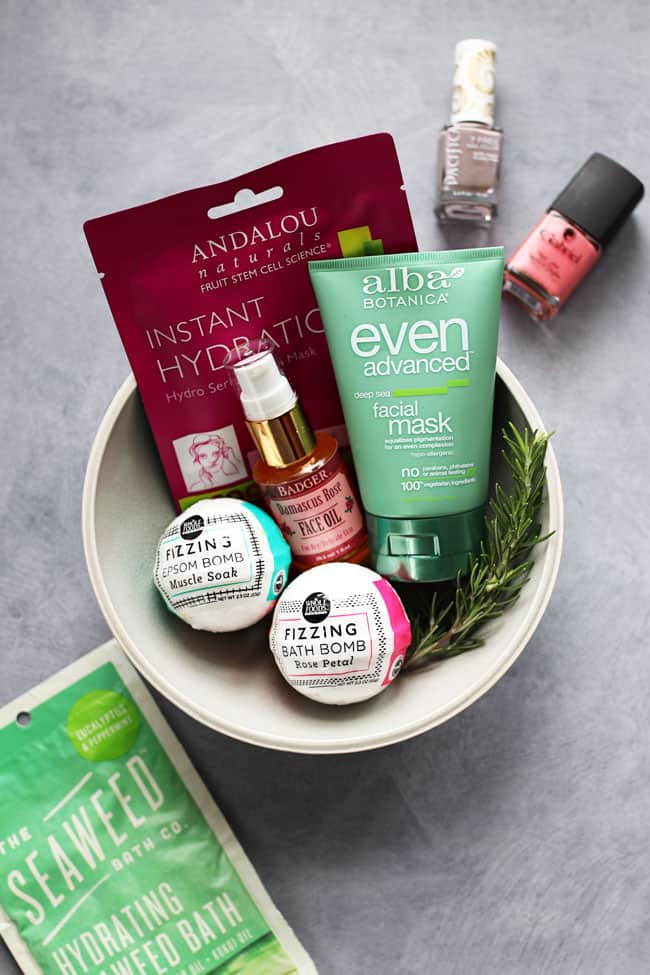 Alba Botanica Advanced Deep Sea Face Mask
Relax and kick your feet up while you let this face mask go to work. Marine Complex combined with kaolin clay draws out impurities and fortifies skin for a more equalized, uniform skin tone. And as an added bonus it's hypo-allergenic you so don't have to worry about that pesky post-mask rash if you have sensitive skin.
Andalou Naturals Hydrating Sheet Mask
For extra nourishment, try this sheet mask from Andalou Naturals. Rose stem cells and rosewater instantly deliver deep, soothing hydrating and cellular support, nourishing skin's hydro lipid barrier for a naturally flawless complexion.
Badger Rose Facial Oil
This antioxidant rich oil is specially formulated to restore and protect delicate or dry skin. It smells amazing and it helps keep skin looking dewy and fresh all day long.
Whole Foods Market Fizzing Bath Bombs
What better way to relax after a long Easter Sunday than with a hot bath. These bath bombs are perfect for relaxing tense muscles and helping you decompress after a hectic day.
The Seaweed Bath Co. Seaweed Bath
These extra hydrating bath salts will not only help you unwind but will also nourish your skin and lock in moisture.
0