Herbs and spices do so much more than add flavor to our food. They've been used for centuries as natural medicine and for ayurvedic purposes–and with good reason. Packed with varied health benefits, herbs and spices are considered functional foods. To help you spice up your life we're featuring five of the healthiest herbs and spices to add to your diet.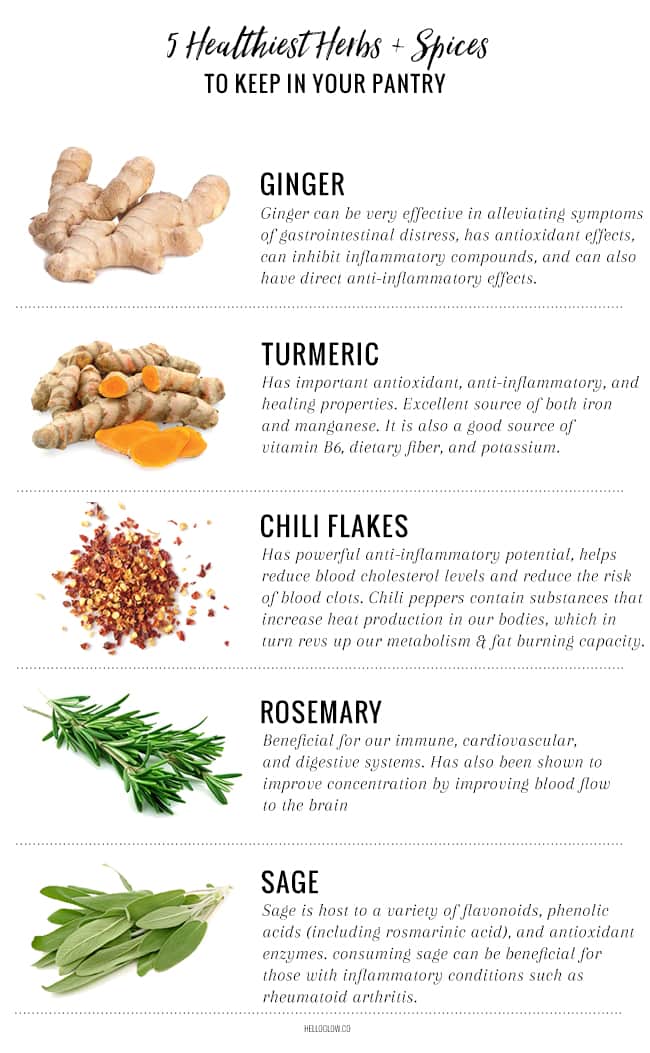 1. Ginger
Ginger is a concentrated source of active ingredients, and you don't need to consume very much to reap all of the great benefits. First things first, ginger can be very effective in alleviating symptoms of gastrointestinal distress. It can help with the elimination of gas, but also helps to relax and soothe the intestinal tract. Ginger is very effective in preventing the symptoms of motion sickness, and has been found to be safe and effective in the treatment of morning sickness during pregnancy.
But there's more! Ginger has antioxidant effects, can inhibit inflammatory compounds, and can also have direct anti-inflammatory effects. Ginger extracts have also been shown to have anti-tumor effects on cells. Gingerols, the main active components in ginger, are powerful antioxidants, and the compounds responsible for its distinctive flavor. These gingerols may inhibit the growth of human colorectal cancer cells. In addition to its immune boosting powers, ginger can help promote healthy sweating, which can be helpful during colds and flus.
2. Turmeric
The golden-hued turmeric root has been on-trend lately, and with good reason. Turmeric comes from the root of the Curcuma longa plant, with tough brown skin and bright orange flesh. This bright pigment is what gives most curries their distinctive yellow color. Curcumin, the ingredient in turmeric that is responsible for its golden color, is thought to be the primary pharmacological agent in turmeric, and has important antioxidant, anti-inflammatory, and healing properties. But its health benefits don't end there.
Curcumin protects the liver from toxins and congestion, lowers cholesterol, reduces menstrual pain, helps with flatulence, and rheumatoid arthritis. Some studies are being conducted on the effectiveness of curcumin in the treatment of cystic fibrosis, as well as the prevention and treatment of several different types of cancer, including breast, prostate, and colon cancer, and childhood leukaemia. Turmeric is an excellent source of both iron and manganese. It is also a good source of vitamin B6, dietary fiber, and potassium.
3. Chili Flakes
Want to spice things up for real? Sprinkle some chili flakes over your food. Chili peppers belong to the Capsicum family, which includes hundreds of different types of chili peppers that range from tiny and fiery to big and sweet. Chili peppers contain capsaicin, the substance that gives peppers their heat when eaten–the hotter the chili pepper, the more capsaicin it contains. Capsaicin has powerful anti-inflammatory potential, and when applied topically is a treatment option for arthritic pain.
Chili peppers also have substantial cardiovascular benefits, and indeed in cultures where hot peppers are consumed liberally there tends to be lower rates of both heart attack and strokes. This may be because chili peppers have been shown to help reduce blood cholesterol levels and reduce the risk of blood clots. But there's more! Ever felt sweaty after eating hot chili peppers? It's not your imagination! Chili peppers contain substances that increase heat production in our bodies, which in turn revs up our metabolism and fat burning capacity.
4. Rosemary
The piney evergreen rosemary doesn't just smell great; it's also beneficial for our immune, cardiovascular, and digestive systems. Rosemary contains rosmarinic acid, which functions as an antioxidant. Rosmaranic acid can be absorbed from our digestive tract as the rosemary we've eaten gets broken down, and once inside the body it has an anti-inflammatory effect.
These anti-inflammatory compounds have even been noted to be useful for those who suffer from asthma for reducing the severity of asthma attacks. Rosemary has also been shown to improve concentration by improving blood flow to the brain–so it's not just tasty, but also good thinking.
5. Sage
Another herb you'd be wise to add to your diet is sage, which has long been praised for its healthful properties. A cousin to rosemary (they are both members of the mint family), sage is host to a variety of flavonoids, phenolic acids (including rosmarinic acid), and antioxidant enzymes.
Historical data suggest that in pre-refrigeration times dating back to the Romans, sage was used as a preservative–this is likely due to sage's ability to prevent oxidative rancidity. This unique capacity for preventing oxidative damage to cells and is also associated with decreased inflammation. As such, consuming sage can be beneficial for those with inflammatory conditions such as rheumatoid arthritis. Sage oil has also been attributed with antibacterial benefits, among others.
1