Edible gifts have many advantages. First off all, who doesn't like a treat? Especially when it's something they wouldn't normally get for themselves, like an infused honey sampling collection. Secondly, they're super versatile: you can gift a batch of cookies to both your best friend and your boss. And last, but not least, edible gifts are consumables, meaning they're much less wasteful than, say, a plastic ornament that might end up in the bin.
Oh, and did we mention they're absolutely mouthwatering?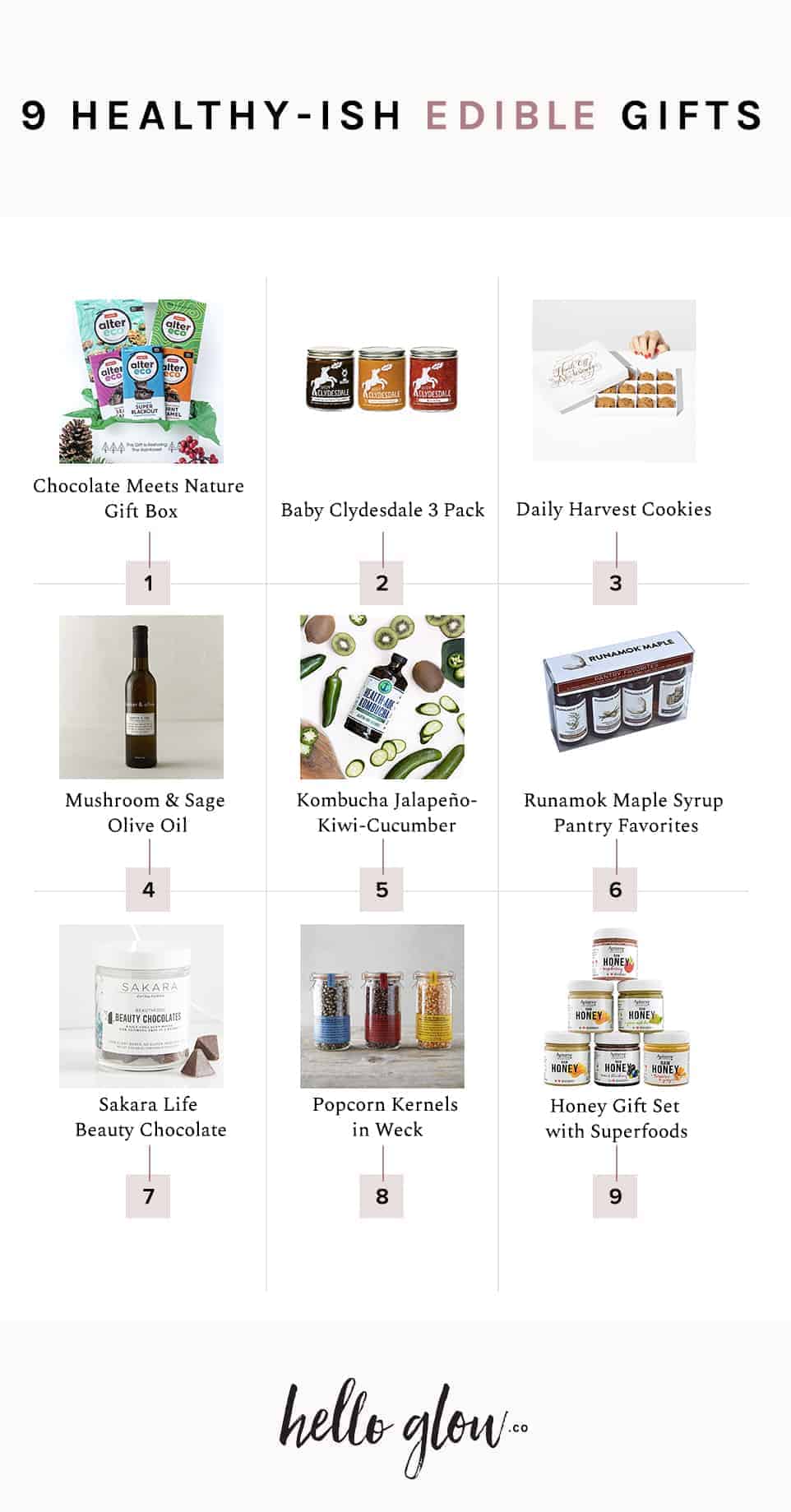 1. Chocolate Meets Nature Gift Box // This box of absolutely delicious chocolates gives back by restoring the rainforest! Alter Eco plants a tree in Peru for every gift box they sell.
2. Baby Clydesdale 3 Pack // This collection of three hot sauces from Baby Clydesdale brings together classics like sriracha with the brand's signature recipes, Carrot Habanero Ginger and Lemongrass Tiger! Tiger! BBQ. Perfect dad gift!
3. Daily Harvest Cookies //  Daily Harvest makes the most amazing cookie dough, which can be kept in the freezer until ready to bake. Our tip: get the 12 of Each set to sample them all!
4. Mushroom & Sage Olive Oil // This aromatic olive oil is amazing with risotto, pasta or even just plain bread, and every gourmand will love it.
5. Organic Raw Health-Ade Kombucha Jalapeño-Kiwi-Cucumber // What an amazing combination, for the taste buds as well as for the body! Refreshing, spicy and just a tiny bit sweet.
6. Runamok Maple Syrup Pantry Favorites // Who knew maple syrup could taste even better? This collection from Runamok is barrel-aged and infused with pantry favorites such as ginger, bourbon or cinnamon.
7. Sakara Life Beauty Chocolate // Everyone's favorite superfood, chocolate, is combined with collagen to create these tasty beauty boosters.
8. Popcorn Kernels in Weck // The blue, red and yellow popcorn kernels are grown in Indiana and they're beautifully packed in reusable Weck jars.
3