Edible gifts have many advantages. First off all, who doesn't like a treat? Especially when it's something they wouldn't normally get for themselves, like an infused maple syrup collection. Secondly, they're super versatile: you can gift a batch of cookies to both your best friend and your boss. And last, but not least, edible gifts are consumables, meaning they're much less wasteful than, say, a plastic ornament that might end up in the bin.
Oh, and did we mention they're absolutely mouthwatering?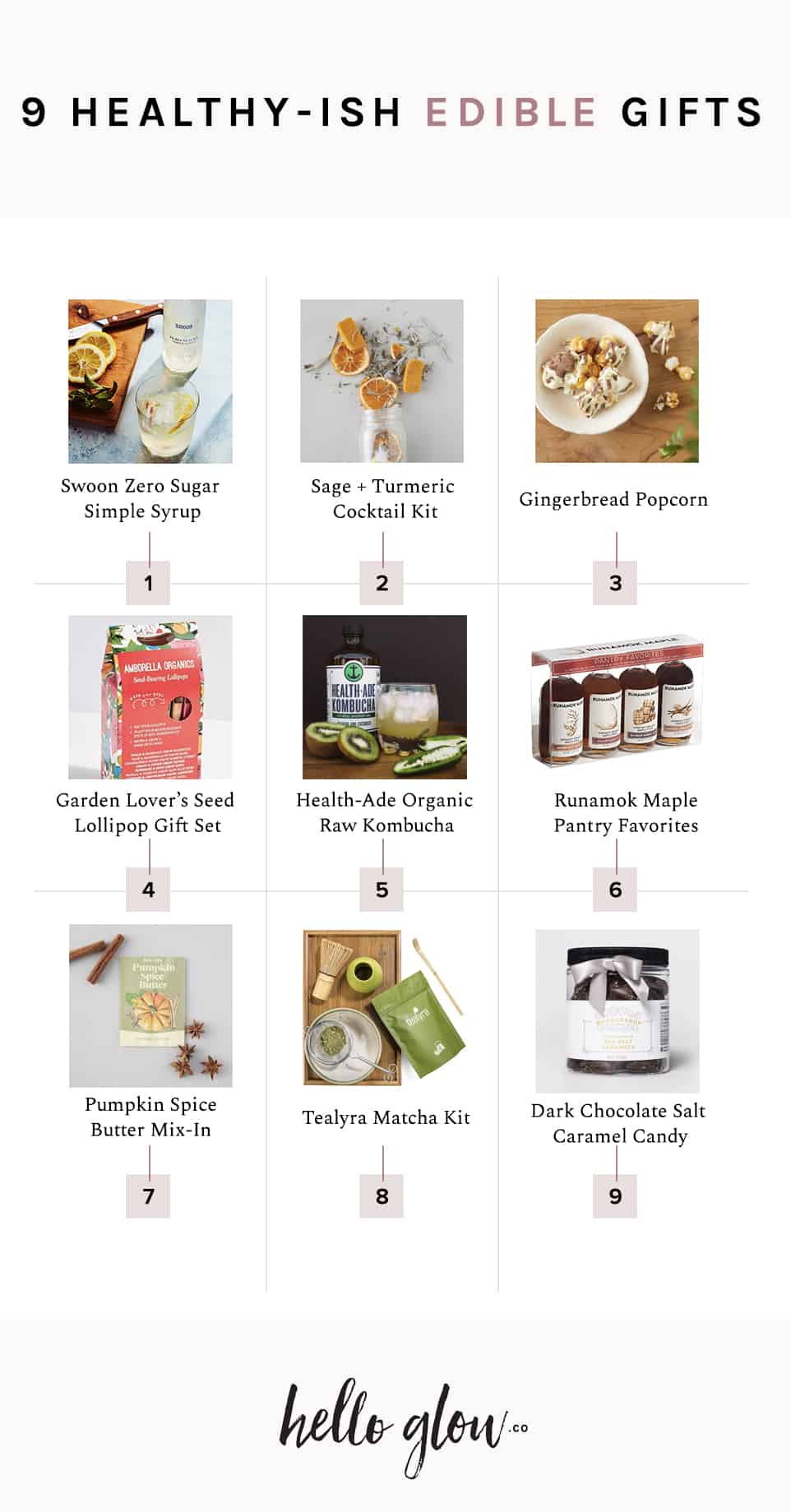 1. Swoon Zero Sugar Simple Syrup // For the diet-conscious cocktail lover, this sugar free simple syrup is an ideal gift. Its sweetness comes from monk fruit, a melon that has natural sweetness, but doesn't contain any of the calories or carbs that sugar does.
2. Sage + Turmeric Cocktail Kit // Simply add alcohol to the jar and allow the savory herbs, bright citrus, and spicy turmeric to infuse the mixture with flavor and depth.
3. Gingerbread Popcorn // Why not combine two favorite snacks into one supersnack? This here popcorn is topped with gingerbread milk chocolate, white chocolate, and tiny gingebread men, and it's oh so festive!
4. Garden Lover's Seed Lollipop Gift Set // These vegan lollipops from Amborella Organics teach little ones about planting seeds! The biodegradable stick can be put in soil to simultaneously decompose and grow new plants.
5. Organic Raw Health-Ade Kombucha Jalapeño-Kiwi-Cucumber // What an amazing combination, for the taste buds as well as for the body! Refreshing, spicy and just a tiny bit sweet.
6. Runamok Maple Syrup Pantry Favorites // Who knew maple syrup could taste even better? This collection from Runamok is barrel-aged and infused with pantry favorites such as ginger, bourbon or cinnamon.
7. Pumpkin Spice Butter Mix In // For pumpkin spice fanatics, this butter mix in takes things to the next level. Simply mix the dry ingredients into room temperature butter and you've got a delicious treat.
8. Tealyra Matcha Kit // The Matcha tea ceremonial gift set is exactly what's needed to start drinking the unique Japanese tea that's packed with natural antioxidants.
9. Holiday Dark Chocolate Sea Salt Caramel Candy Tub // This delicious dark chocolate sea salt caramel candy tub is a tasty treat to share with family and friends!
Can't decide on an edible gift? You might like these other foodie gift ideas instead!
6