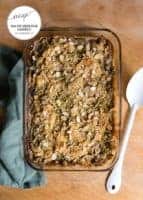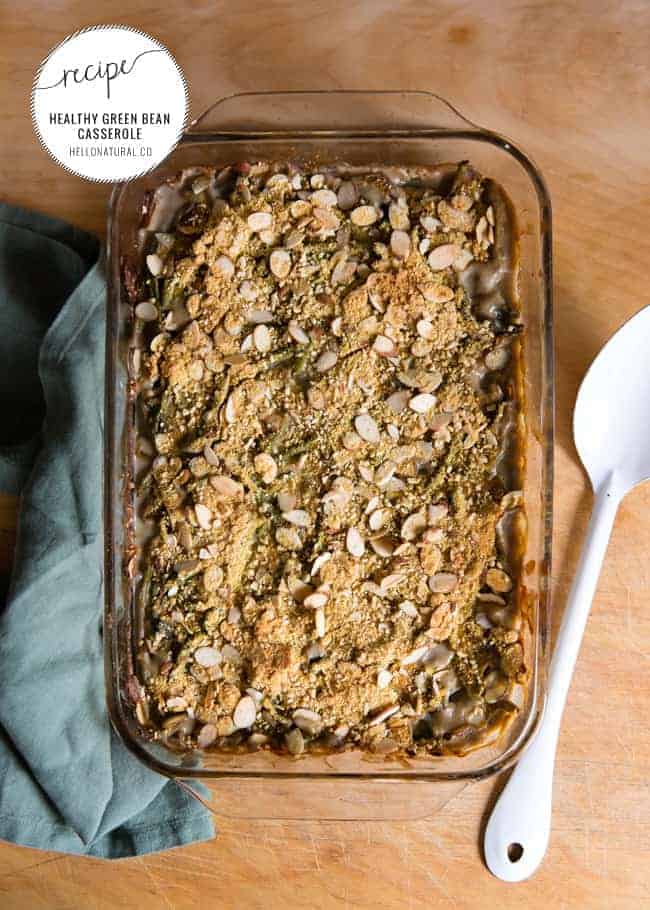 Healthy Green Bean Casserole Recipe
Yield 6 -8
A healthier version of the classic green bean casserole.
Ingredients
For mushroom sauce:
1 tablespoon olive oil
1 large onion, diced
3 garlic cloves, minced
1 to 1.5 pounds assorted mushrooms, sliced
1 tablespoon fresh sage, minced
1 cup water
2 vegetable bouillon cubes
One 16-ounce package silken tofu, pureed in a blender
1 tablespoon Tamari or soy sauce (optional)
Salt and pepper, to taste
1 tablespoon cornstarch mixed with 2 tablespoons cold water (optional)
16 ounces fresh or frozen green beans, whole or sliced
For crunchy topping:
2/3 cup raw cashews
3 tablespoons nutritional yeast
1/4 teaspoon granulated garlic
1/4 teaspoon granulated onion
1/2 cup sliced almonds
Instructions
Preheat oven to 400°F. Lightly oil a 9- by 13-inch baking dish.
Prepare crunchy topping - in a food processor fitted with the chopping blade, pulse cashews, nutritional yeast, granulated onion, and garlic. It should look like bread crumbs. Transfer to a medium bowl and mix in the almonds. Set aside.
Heat oil in a 4-quart pan. Add the onion. Cook, stirring occasionally, until onions start to turn golden and softens. Add the garlic and cook for 30-60 seconds, until fragrant. Add the mushrooms next. Cook, stirring often, until mushrooms decrease in volume and start to brown. Next add the sage and continue cooking for 30 seconds more.
Add the water and veggie bouillon cubes, scraping up any browned bits on the bottom of the pan. Stir in pureed silken tofu and Tamari, if using. Taste and add salt and pepper. Let simmer until thickened. If a thicker soup is desired, stir in the cornstarch/water mixture and simmer for 1 minutes, stirring constantly. Remove from heat.
Place green beans in the prepared baking dish. Pour the soup over the top, spreading it evenly into all the corners, nooks, and crannies. Sprinkle the crunchy topping evenly over the top of the beans.
Bake for 20-25 minutes, if using fresh beans, and 40 minutes for frozen beans, or until topping is golden and the sauce is bubbling.
Notes
-The soup will thicken slightly as it simmers. For an even thicker soup, add the cornstarch mixed with cold water.-1 cup regular parmesan cheese can be substituted for the cashews and nutritional yeast.-Nutritional yeast can be found online, or in the bulk section of most health food stores.-Using veggie bouillon cubes instead of broth adds a more concentrated flavor. 1 cup of veggie broth can be used instead.-Look for veggie bouillon without any added MSG or other preservatives. I like Rapunzel brand veggie stock cubes.
Courses Side
Cuisine American
Recipe by Hello Glow at https://helloglow.co/healthy-green-bean-casserole-recipe/