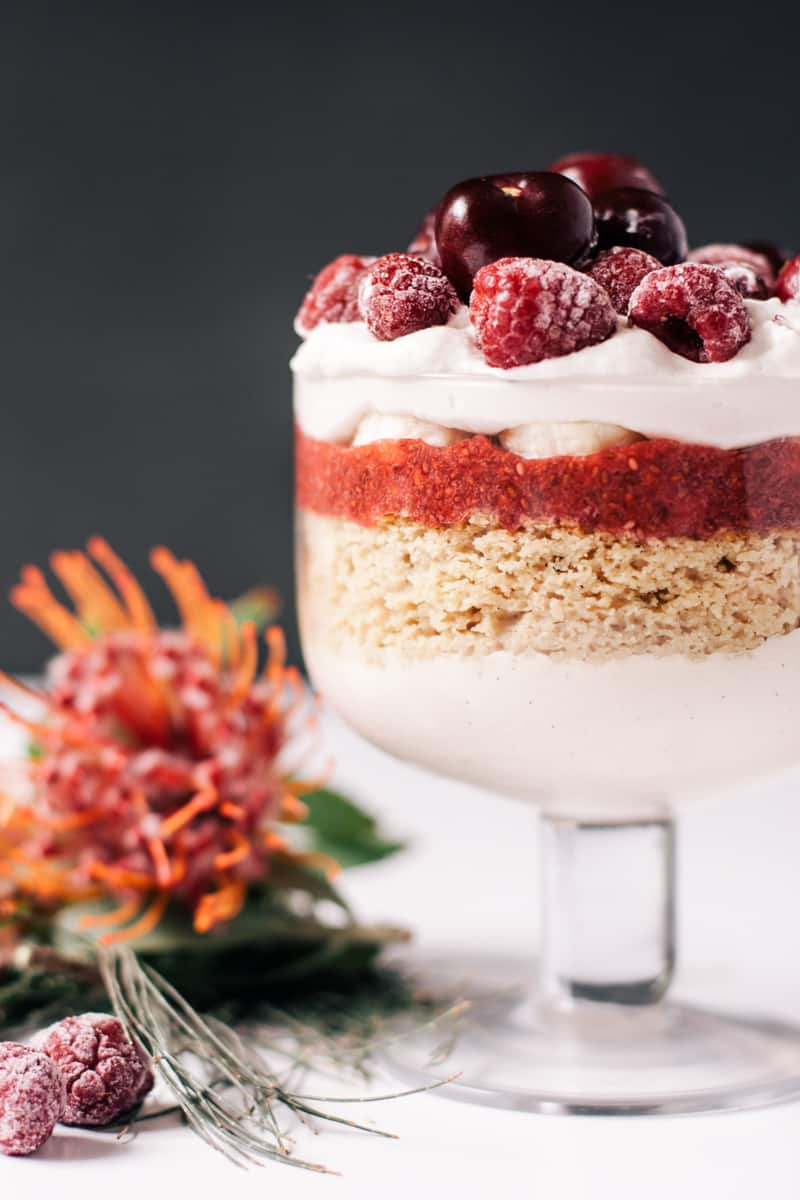 You know we're suckers for healthy versions of holiday foods. Arie-Elle of Nourish & Inspire Me has been so kind as to share this Healthy Holiday Trifle recipe.
Arie-Elle's trifle (she calls it a "Summer Trifle" since she's Australian :) is a healthier remix of a family favorite; this and all the recipes in the Christmas-recipe e-book A Nourishing Christmas – The Sweet Edition, are dairy-free, gluten-free, paleo-friendly and soy-free! A Nourishing Christmas also contains recipes for favorites like egg nog smoothies, gingerbread and cherry-chocolate cheesecake. Says Arie-Elle:
Trifle is a traditional English/Australian dessert that my grandma has made at Christmas time since I was little. Unfortunately, my grandma (bless her heart) would use packet custard, sugary, jelly, processed sponge biscuits and cream. Although it tasted delicious, these ingredients don't really fit in to my whole-food philosophy so I set out to create a whole food version of a trifle that was not only nourishing for the body but delicious! And oh boy, is it delicious!

As always with my recipes, I like to keep it simple, so I decided to make a raw custard out of cashew cream – and I think I prefer it to the real stuff! In place of the sponge biscuits I made a paleo-friendly coconut sponge cake out of coconut flour and eggs, which is so divine we had to stop ourselves from eating it all!

For the jelly I made a strawberry chia jam, which has the added benefits of omega-3-rich chia seeds. With the addition of fresh fruit and whipped coconut cream this dessert is close to one of my favourite recipes that I have created and I hope you'll enjoy it as much as I do!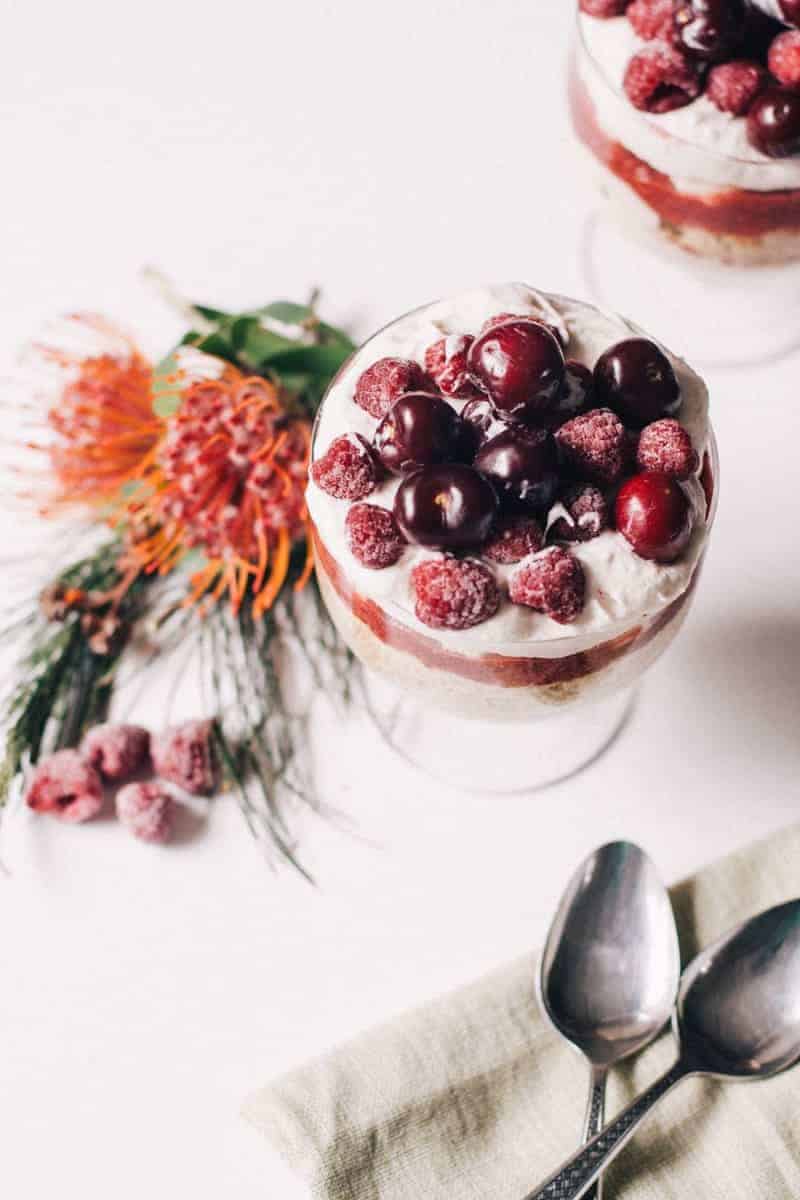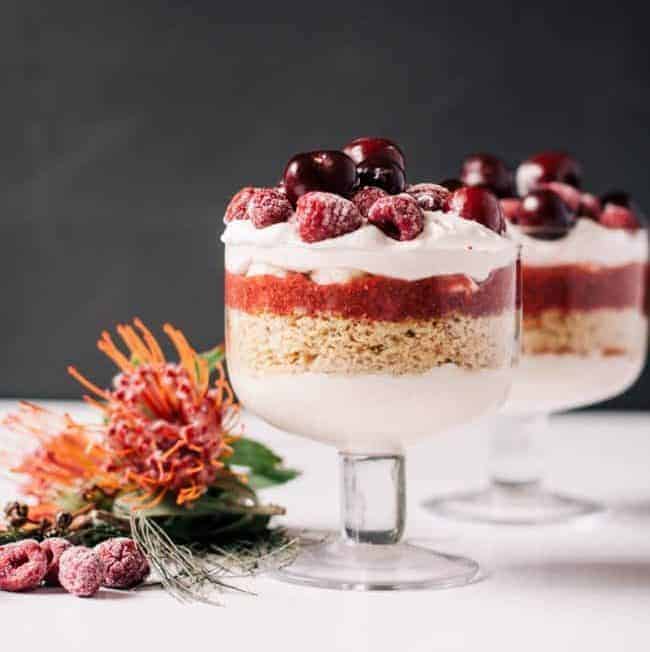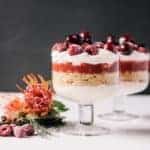 Print Recipe
Healthy Holiday Trifle
Trifle is a traditional English dish and an Aussie favorite. This gluten-free, paleo-friendly, non-dairy holiday trifle topped with fresh berries and cherries might be your new favorite healthy dessert! Layers of chia jam, coconut sponge cake and cashew cream make it extra dreamy. A must make!
Ingredients
Cashew Custard:
2

cups

cashews

soaked

3/4

cup

water

1

tablespoon

coconut nectar

1

tsp

coconut oil

1

vanilla bean

1

⁄4 tsp nutmeg
Berry Chia Jelly:
2

pints

organic strawberries

1

cup

raspberries

4

tablespoons

chia seeds

A squeeze of lemon

2

tsp

honey or coconut syrup

optional

1-2

tsp

guar gum or xanthum gum
Coconut Sponge:
6

eggs

1/2

cup

coconut flour

1

vanilla bean

2

teaspoons

baking powder

3

tablespoons

coconut oil

2

tablespoons

coconut nectar
Whipped Coconut Cream:
2

cans of coconut cream left in the freezer for 30 mins or fridge overnight

1

tsp

xanthum gum

optional
Other Layers:
4

small bananas

or 2 large

1

pint

raspberries & 1 cup cherries for topping
Instructions
Preheat oven to 400 degrees. Melt coconut oil and set aside. Whisk your eggs until fluffly, add coconut nectar. In a seperate bowl add coconut flour, vanilla bean and baking powder and mix well. Now combine eggs into coconut flour and add melted cocnout oil. Mix well. in a round baking dish lined with baking paper, add your mixture and spread into edges and smooth top. Put in the oven for 25-30 minutes or until cooked and golden. Set aside to cool before cutting the sponge horizontally into 2 thinner cakes.

Be sure to use cashews that have been soaked for at least 2 hours. Add all cashew custard ingredients to your blender and blend until smooth. Set aside

Remove the tops of your strawberries and add them and raspberries to the blender with lemon and honey if using. Blend until smooth. Transfer puree to a large jar and add chia seeds. You can also add a little guar/xanthum gum to thicken if desired. Stir well and allow to set for 30 mins in fridge.

Spoon out the thicker portion of the cream that should have separated from the liquid in the fridge. Using an electric beater or whisk, whip the cream until it becomes thick. This can take 5-10 minutes, I like to add a little xanthum gum or tapioca powder to allow it to thicken quicker. if the cream gets too warm it will not thicken so if you need to, pop it back in the fridge for a little to cool.

Add your cashew custard first, then a layer of coconut sponge, then berry chia jelly, cut up your bananas into discs and create a layer of bananas, add your whipped coconut cream and top with berries!
Notes
Gluten-FreePaleo-FriendlyNon-Dairy
1