Is drink more water one of your goals for 2017? If so we've got great news: you can make plain old water into something special with a few simple ingredients and a bit of time. Infusing water with fruit, vegetables, herbs, and spices not only makes your daily water intake taste great, but it also comes with a side of health benefits.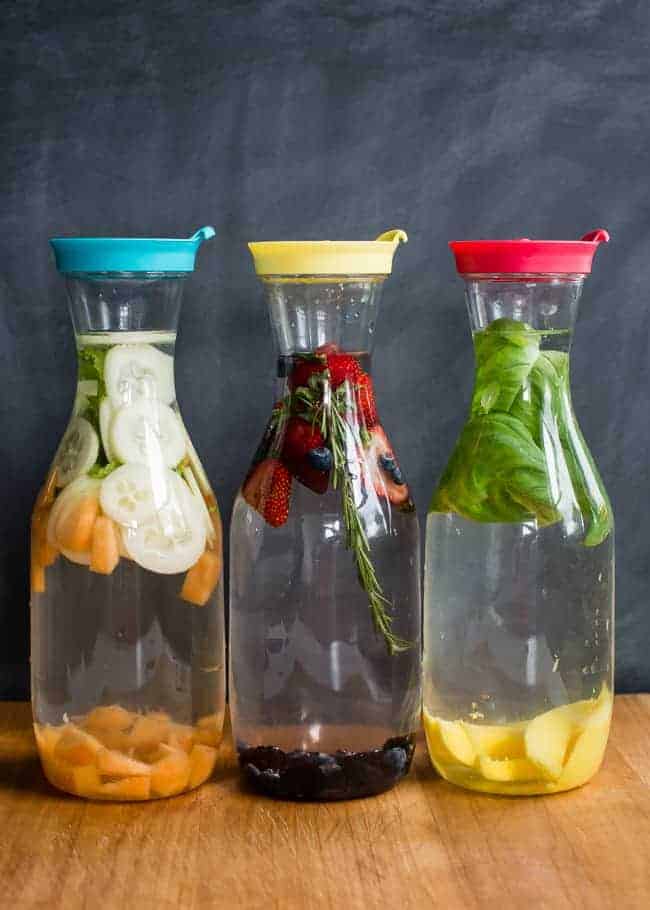 The main benefit of drinking infused waters is good old-fashioned hydration. Staying hydrated helps with transportation of nutrients and oxygen within your body, lubricates your joints, helps organs maintain optimal function, and keeps your skin looking great. Drinking water even helps with concentration and clear thinking!
Can we let you in on a secret? Those vitamin waters you see at the supermarket are a total sham! They're loaded with artificial colors, flavors, and additives, plus they're expensive. But you can easily make your own infused waters, which means you not only know exactly what you're drinking, but you'll be including nutrient-rich fresh fruits and vegetables. Move over store-bought vitamin waters, this stuff is the real deal!
The possible combinations are endless–these are 10 of our favorite ingredients for maximum flavor and health benefits.
1. Ginger
Fresh ginger root is a concentrated source of active ingredients, with both antioxidant and anti-inflammatory effects. It helps to soothe and relax the digestive tract and can alleviate symptoms of gastric distress. Ginger also helps promote healthy sweating, which not only boosts metabolism but can also be helpful during cold and flu season. Add thin slices of fresh ginger root to your water for a delicious kick!
2. Cucumber
They're really onto something with that cucumber-infused spa water. The phytonutrients found in cucumbers (cucurbitacins, lignans, and flavonoids) provide valuable antioxidant, anti-inflammatory, and anti-cancer benefits. They're not only delicious, refreshing, and hydrating, cucumbers are an excellent source of vitamin K, and a good source of copper, potassium, manganese, vitamin C, phosphorus, magnesium, biotin, and vitamin B1.
3. Grapefruit
If you're looking to add some zing to infused water, consider grapefruit. One of the giants of the citrus family, grapefruit is an excellent source of antioxidant vitamin C. It is also a great source of carotenoids: a pre-curser to vitamin A, potassium, and vitamin B1. Ruby red and pink grapefruits also contain lycopene–good for your prostates, fellas!
4. Cilantro
For a fresh flavor consider a handful of cilantro, a good source of antioxidant vitamin C. Cilantro also stimulates digestion, and can help our digestive system in the production of certain digestive enzymes. Even better, cilantro is known to bind to heavy metals such as mercury and help flush them from the body.
5. Apples
Does a glass of apple-infused water a day keep the doctor away? Perhaps! Apples have well-documented benefits for a healthy heart, which are associated with their polyphenol content as well as the water-soluble fiber, pectin. Apples also appear to have some anti-cancer benefits related to breast, colon, and lung cancers. The nutrients in apples are concentrated in their skin, so thin slices with the skin on is the way to go.
6. Strawberries
Strawberries and other fresh berries are a great addition to infused water for both flavor and health benefits. Strawberries are an excellent source of antioxidant and anti-inflammatory nutrients, lycopene, vitamin C, and manganese.
7. Cinnamon
For a warming spice, try adding cinnamon sticks to infused water. Its properties both as a spice and a healing food are attributed to essential oils found in the bark of the cinnamon tree. Cinnamon is a powerful antioxidant, and helps to stabilize blood sugar, and is an efficient metabolism booster. Also, studies have shown that even just the smell of cinnamon enhances concentration and cognitive processing.
8. Fennel
The fresh, licorice sent of the fennel bulb is a unique flavor boost to infuse into your water. Rich in antioxidant flavonoids, fennel has been shown to reduce inflammation and have anti-cancer properties. An excellent source of vitamin C, the fennel bulb has antimicrobial and immune supporting properties. Include both thin slices from the bulb and the fronds in your infused water.
9. Pineapple
For a vibrant flavor that's both sweet and tart, add pineapple slices to your infusion. But this tropical flower is more than just good taste: the enzymes in pineapple offer powerful anti-inflammatory and digestive support. Bromelain, a complex substances extracted from the pineapple core, is thought to be beneficial in preventing excessive blood clotting. Also rich in anti-oxidant vitamin C, pineapple can offer immune support.
10. Turmeric
Not just for golden milks, thin slices of fresh turmeric are a great addition to infused water. Not only will it turn the water a brilliant yellow, but it brings with it important antioxidant, anti-inflammatory, and healing properties. Curcumin, the compound in turmeric responsible for its golden colour, helps protect the liver from toxins and congestion, lowers cholesterol, reduces menstrual pain, helps with flatulence, and rheumatoid arthritis.
Try these tasty combinations:
Apple/Cinnamon/Fennel
Pineapple/Cilantro/Cucumber
Ginger/Cucumber/Grapefruit
Strawberry/Cucumber
Turmeric/Pineapple/Cucumber
6