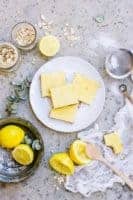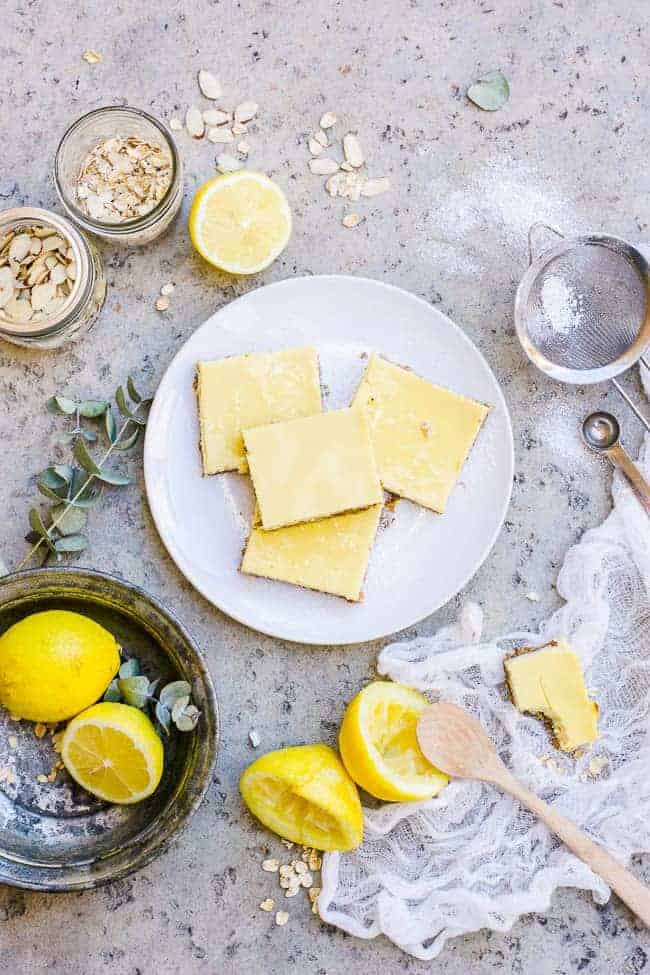 Increase Your Protein with These Healthy Lemon Bars
Yield 8 lemon bars
Ingredients
For the crust:
1 cup oats
1 cup slivered almonds
1/3 cup raw coconut sugar
1/4 teaspoon sea salt
1 tablespoon maple syrup
1/4 cup coconut oil, melted
For the filling:
4 eggs, room temperature
2 tablespoons maple syrup
1 teaspoon vanilla extract
Juice of 1 large lemon
1 tablespoon lemon zest
1 cup Greek yogurt, room temperature
1/2 tablespoon cornstarch
1/4 teaspoon sea salt
Powdered sugar (optional)
Instructions
Preheat oven to 350°F. Line an 8x8 baking dish with parchment paper. (Allow the parchment paper to hang 2-3 inches over sides so it's easy to lift when lemon bars are done.)
Blend oats, almonds, coconut sugar, and sea salt in a food processor until it breaks down to meal. Transfer to a medium mixing bowl and stir in the maple syrup and coconut oil. Press the crust mixture into the baking dish, evenly covering the bottom and pressing into the corners. Bake for 15-20 minutes until golden.
While the crust is baking, prepare the filling. Whisk the eggs until they're pale. Stir in the maple syrup, vanilla, lemon juice, and zest. Whisk in the Greek yogurt, mixing about 5 minutes, until smooth. Slowly add the cornstarch and salt, and whisk until there are no lumps.
Pour the lemon mixture on top of baked crust, and bake at 350°F for another 15-20 minutes, until center jiggles but the edges are firm. Remove from the oven when done and allow the lemon bars to cool to room temperature before placing in refrigerator. (This helps prevent cracking and separating.)
Chill in refrigerator for 2 hours. When chilled, add powdered sugar if desired, cut into eight squares, and serve.
Courses Healthy Desserts
Recipe by Hello Glow at https://helloglow.co/healthy-lemon-bars/