In June 2011, the USDA replaced its antiquated food pyramid with MyPlate, a more modernized nutrition guide emphasizing more plant-based foods, the importance of choosing better proteins and incorporating whole grains, and reducing the overall intake of dairy. While these dietary guidelines are helpful, we know that tending to the nutritional needs of the physical body alone is only one component of a more complex system.
In response to the MyPlate program, Dr. Dan Siegel and his colleague David Rock have developed what they call the Healthy Mind Platter. They have outlined seven daily mental activities that are essential in keeping us in top shape and optimizing our feelings of happiness and well-being.
What is the healthy mind platter?
The Platter is a biological/psychological/social model, which suggests that we are at our best when we invest in the health of not only our bodies, but also our minds and social relationships.
In addition to the care you might already be investing in your body, see what kinds of positive shifts arise when you tend to the needs of the holistic self. You may find it helpful to create a chart listing the following categories, and checking off your daily tasks so you can see where you are already investing, and where you may need to make some changes.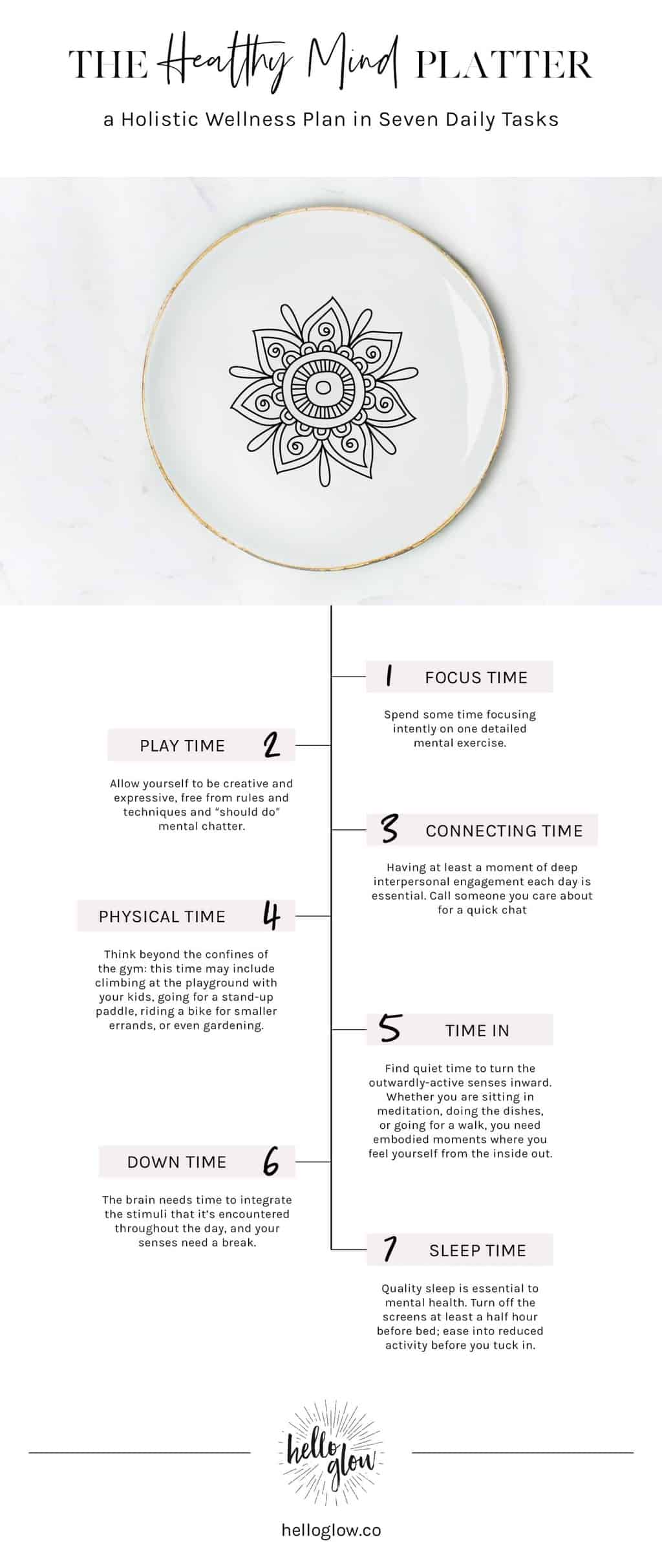 Focus Time
Spend some time focusing intently on one detailed mental exercise. Whether it's at work, or doing a crossword or sudoku after dinner, ensure that you have some uninterrupted time to put your brain to work on a single, challenging activity—no multitasking here!
You might pick up a non-fiction book about a person or topic you know nothing about. Or, for ten minutes a day, try learning a new language through an app or online program. It's a great way to keep the brain in shape long after those years of schooling have passed.
Play Time
Allow yourself to be creative and expressive, free from rules and techniques and "should do" mental chatter. Lay a canvas on the ground and splatter paint, play music loudly and dance like crazy in your kitchen while you're waiting for the water to boil, or grab a notebook and just write stream-of-consciousness style (no editor or critical voice… just a moving pen!) This kind of improvisational exercise helps to keep the creative centers of the brain wired.
Connecting Time
Even if you see yourself as a bit of an introvert or lone wolf, having at least a moment of deep interpersonal engagement each day is essential. Call someone you care about for a quick chat (it allows for a more natural ebb and flow of conversation, which we often don't get through email or text), ask the cashier at the grocery store about their day, or smile and exchange pleasantries with the person behind you in line.
Interpersonal exchanges help us to feel connected and seen, and these interactions activate and tone the brain's ability to relate with others… and if you don't use it, you lose it!
Physical Time
Many of us see movement, sports, and exercise as "what we do when we want to lose weight." Studies have shown, however, that when we move our bodies we are also helping our brains. We release chemicals that stimulate feelings of emotional wellbeing (as well as discharging toxic emotions, and finding a stable center in our emotional states), we activate the areas of our brain that help us to find balance and stability as we move through our environments, and we set ourselves up for better relaxation and sleep.
Think beyond the confines of the gym: this time may include climbing at the playground with your kids, going for a stand-up paddle, riding a bike for smaller errands, or even gardening.
Time In
Find quiet time to turn the outwardly-active senses inward. Whether you are sitting in meditation, doing the dishes, or going for a walk, you need embodied moments where you feel yourself from the inside out. Stand steady on your feet, feel the way in which the ground supports you. Notice the air moving on the skin; feel the breath moving the belly as you breathe.
Tune in to your thoughts as if from the outside looking in: what have you been thinking about? Where might you be caught in your thought patterns? How might you see this situation from a different perspective? A self-hug is also a great way to ground the body and connect to the feeling of containment—we can feel disconnected from ourselves when we only focus on sending our energy outward.
Down Time
Some of us will naturally shift to self-care after a long day of tending to the complexities of our lives, but many of us don't know just how essential relaxation is. The brain needs time to integrate the stimuli that it's encountered throughout the day, and your senses need a break.
Rather than heading to a glass of wine or beer or anything else that numbs the mind as a fast-track to calm, try giving yourself 10 minutes of guided meditation or lay on your back and listen to a piece of chill music. Take long, deep breaths and you will feel the nervous system respond.
You may also unwind by watching a movie, putting your feet up and reading a book, or taking a bath.
Sleep Time
Quality sleep is essential to mental health. Turn off the screens at least a half hour before bed; ease into reduced activity before you tuck in.
Eat a handful of nuts, or some sunflower or pumpkin seeds (they have tryptophan—the food-coma chemical found in turkey—and melatonin which helps you sleep) for a bit of protein before you lay down and fast for the night. Aim for eight hours, as the brain needs this time to repair and rejuvenate, as well as to integrate the neurological connections made throughout the day.
As you read through this list, you may find that there are some areas that you consistently prioritize each day, and a few that could use more attention. Whether it's committing to an earlier bedtime, brown-bagging it and walking to the nearest park on your lunch break, or picking up some art supplies to get your creative juices flowing again, aim to fill your daily platter with the seven mind-food groups, and see if you notice a greater sense of balance and wellbeing in your body, your mind, and your relationships.
This post was medically reviewed by Dr. Kimberly Langdon, M.D., a university-trained obstetrician/gynecologist with 19-years of clinical experience. Learn more about Hello Glow's medical review board here. As always, this is not personal medical advice and we recommend that you talk with your doctor.
7