In my family, the only thing we love more than dinner is what comes after–dessert (aka "the after party"). Most days, the only reason I even eat the main meal is so I can eat dessert guilt-free and without a sugar rush. But since I'm still riding high on my New Year's resolutions, I have recently been on the hunt for a healthy dessert that can I actually eat without worrying about my conscience or my waistline.
These mini two-bite cheesecakes are the ultimate dessert-turned-meal. They're made with deliciously creamy cottage cheese so they're loaded with healthy fat, protein and even some fresh fruit, so they're healthy enough to pass for breakfast!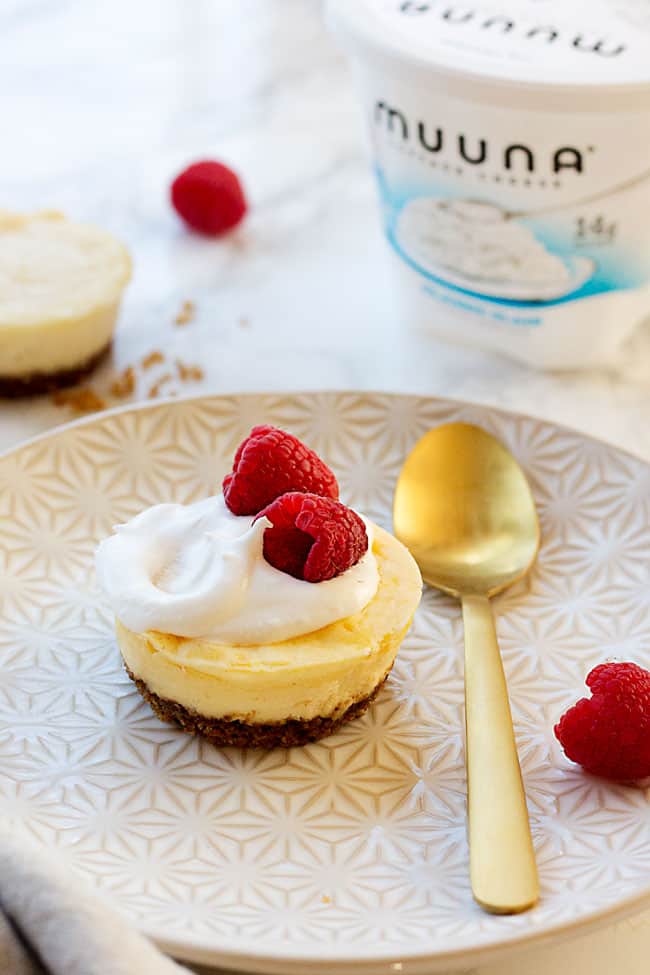 To make these delicious cheesecake bites breakfast-worthy, I subbed out the rich cream cheese in favor of cottage cheese. I used Muuna because it contains zero artificial flavors, colors, or sweeteners and it's loaded with protein.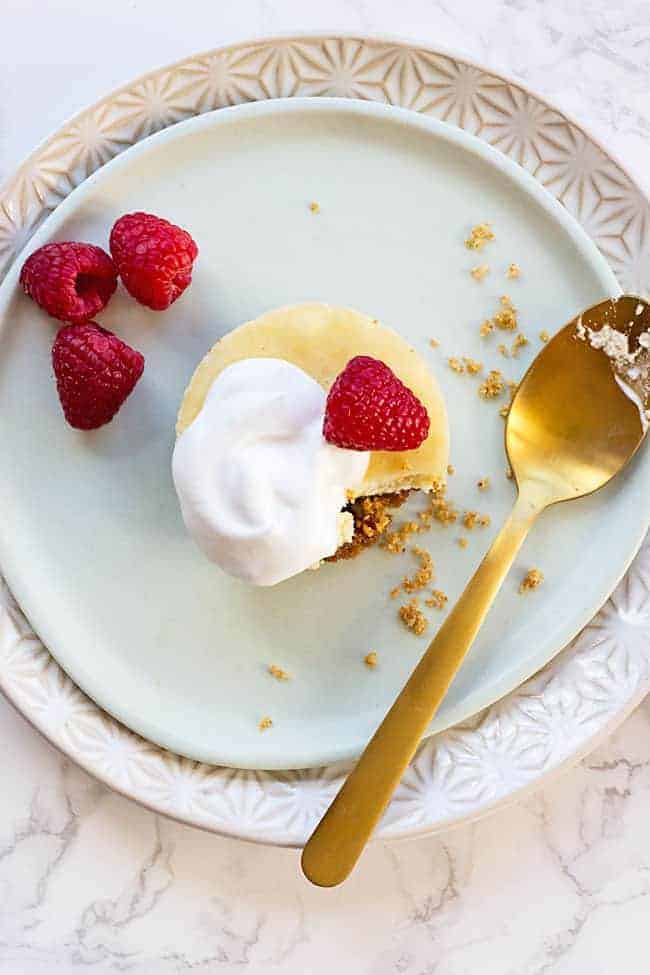 Okay, now back to the cheesecake. Instead of loading them up with refined sugar, I opted for unrefined coconut sugar and fresh, pitted dates instead. Then I made the crust from crushed walnuts for added protein and healthy fat. To finish them off, I topped them with some fresh raspberries and a little bit of unsweetened coconut cream.
With roughly 12 grams of protein per cheesecake, they're good enough to eat for dessert but healthy enough to eat from breakfast. A win-win.
While the bites only take 25 minutes in the oven, you'll still need to let them sit for an hour or so before digging in. But if you can wait that long, it'll be totally worth it, I promise!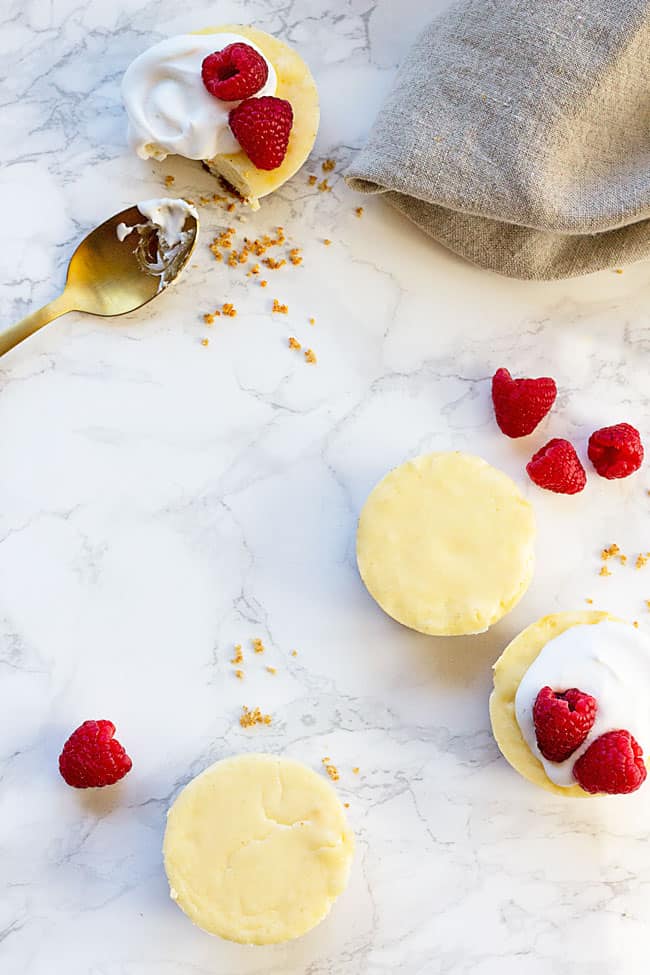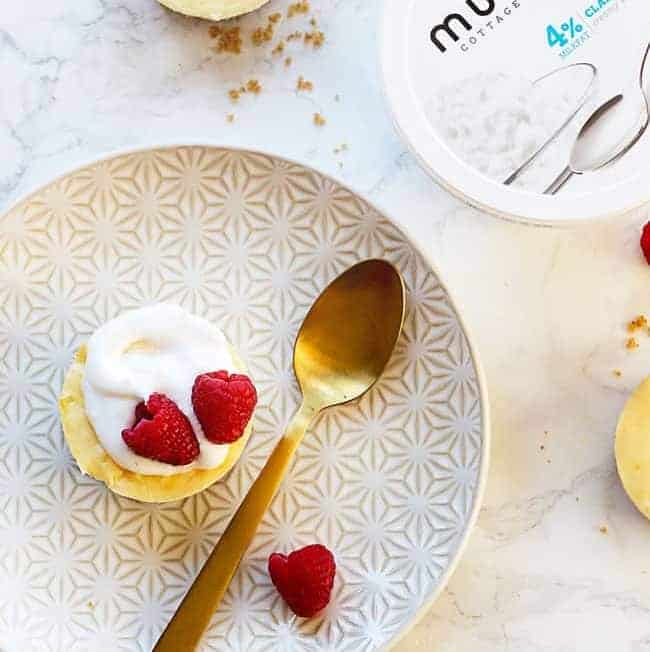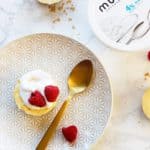 Print Recipe
Healthy Mini Cheesecakes
Ingredients
1/2

cup

packed pitted dates

1

cup

raw walnuts

2

cups

Muuna 4% Cottage Cheese

1/3

cup

coconut sugar

1

teaspoon

vanilla extract

2

eggs

Coconut cream

chilled and separated

Fresh raspberries
Instructions
Make the crusts: Preheat oven to 350ºF. Place the raw walnuts and dates in a food processor and process until there are no lumps. Liberally grease a muffin pan and divide the crust mixture among 6 to 8 tins. Use your fingers to press down on crust. Bake for 5 minutes, then remove from the oven and let cool.

Reduce the heat to 325ºF and rinse out your food processor.

Place in the cottage cheese in the center of large piece of cheesecloth. Gather the ends and squeeze the cheese until you have removed a lot of the liquid. Place the strained cottage cheese in the food processor and puree until smooth.

Add sugar and vanilla and process again until smooth. Add the eggs and process until just mixed through. Spoon into muffin tins.

Bake for 25 minutes or until the center is almost set. Remove from the oven, cool, then refrigerate for 1½ to 2 hours.

While your cheesecakes cool, whip the coconut cream until it's fluffy. Garnish the cheesecakes with coconut cream and raspberries just before serving.
6