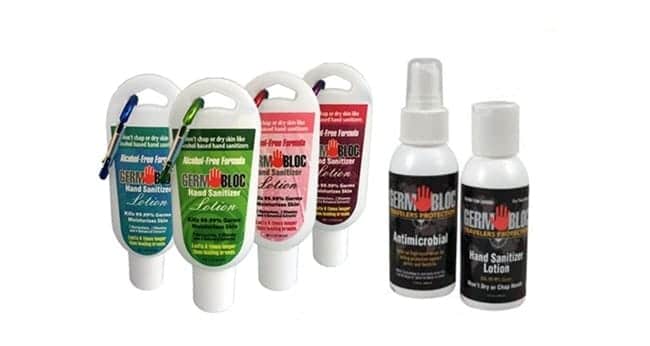 Going to the gym can be super fun. And once you get the hang of it, you actually look forward to going! Today we have a giveaway that gym-goers are going to love: it's all about staying healthy! On the one hand, you'll be able to sanitize your workout space, and on the other, you'll manage to satisfy late night cravings in a healthy way.
Healthy Nut Gym Pack Giveaway
One lucky Hello Glow reader will win the following:
GermBloc Sport keeps you healthy at the gym! The GermBloc hand sanitizer lotion is alcohol-free and actually moisturizes the skin, but absorbs quickly so hands aren't slippery. Plus, it creates a barrier that physically breaks down the germ molecules, and keeps doing so for up to 90 days. The antimicrobial spray is great for quickly treating equipment like benches, helmets, headgear, and more, creating a lasting barrier that keeps bacteria at bay. Many bottles include a caribiner, so you can clip it anywhere…and go! Retail value $35.95.
NightFood: No more late night snacking on leftover holiday cookies and pumpkin pie! Approximately 70% of us snack at night on a regular basis, and the most popular choices are cookies, chips, ice cream, and candy.  NightFood is a unique health bar that's specially formulated to satisfy nighttime cravings in a better way, on fewer calories, to support better sleep. The winner gets all flavors. Retail value $30.
Here's how to enter:
Hello Glow received product for review purposes. All opinions are 100% ours.
0