If you work in an office, you've probably fallen into the eating-out-for-lunch rut, kicking yourself daily every time you shell out the money for a lunch that's a) expensive and b) probably not very healthy for you. Even if you work from home and have access to a kitchen during the day, it can seem really hard to justify spending the time to put together a nutritious lunch. It doesn't have to be a big deal, though! You can have a nutritious midday meal ready in the time it takes to check a few emails. Follow these healthy recipes for lunch, and you'll gladly be brown-bagging it every day.
7 Ways To Make a Healthy Lunch in 10 Minutes or Less
1. Stock That Freezer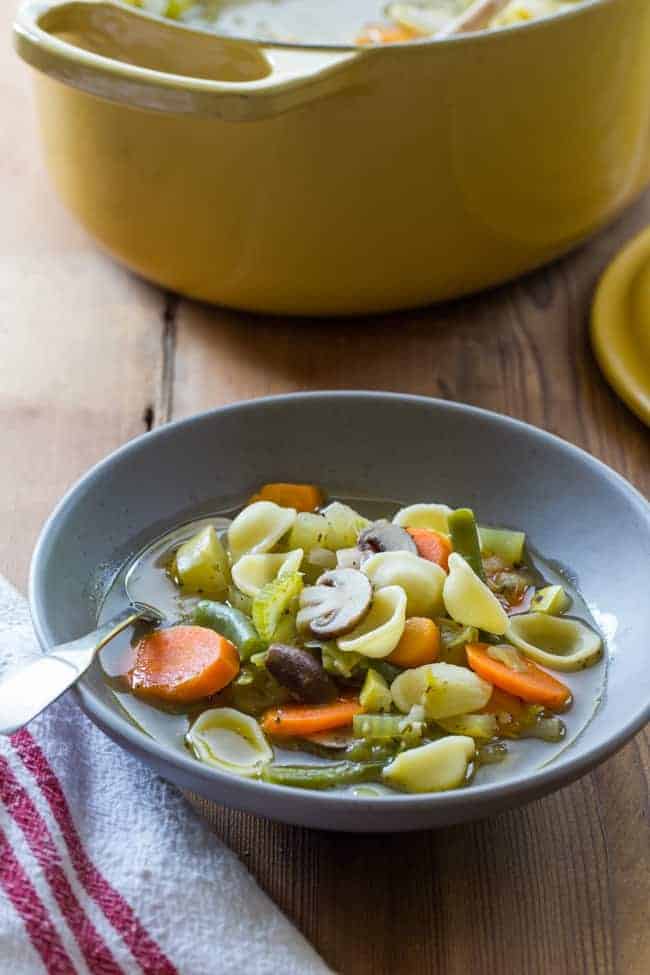 We're big fans of batch cooking and weekend meal prep at HN, and these methods are probably the easiest way to ensure you have a lunch ready to go at any time. This method does take some planning ahead, but if you have a little extra time on the weekend (and some extra space in your freezer), it will make your weekdays so much easier.
Try: Make-Ahead Quinoa Egg Bake | 80 Make-Ahead Freezer Meals | Make-Ahead Hearty Vegetable Soup
2. Reinvent Leftovers
There's something really sad about eating the same dinner two nights in a row. But a dinner and a lunch? That's the best way to use leftovers. If you have leftover dishes in the fridge—even if it's a slice of quiche here, a little stir-fry there—throw it all together for a weekday lunch. Don't think of it as a hodgepodge meal; it's a "greatest hits" sampler plate of your dinners from the week. You might even find a new food combo you wouldn't have thought of before. Just add some raw greens and vinaigrette on the side, and it's like a brand new meal.
3. Toast + Toppings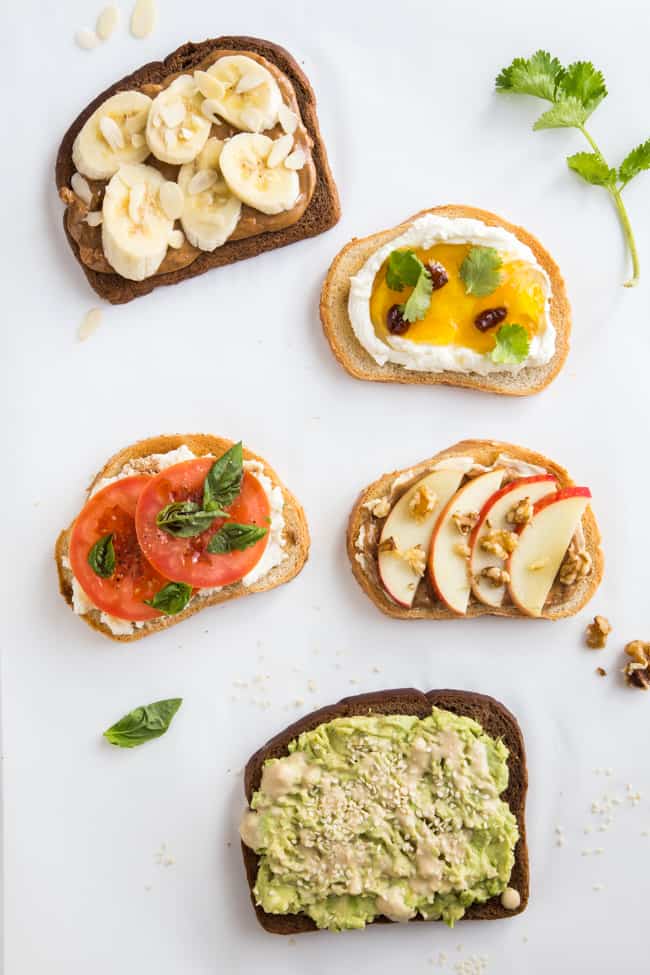 Toast is a fabulous venue for just about anything, and the combination of whole grains and protein is sure to keep you full until dinner. Toast up a couple pieces of your favorite whole-grain bread (or gluten-free bread; I also like Lundberg's Thin Stackers, made with GF grains, for this purpose). Make sure you have something creamy—think hummus, ricotta, mustard, nut butter, mashed avocado—to act as the "glue." Then add toppings such as deli meats, thinly sliced baked tofu, veggie or fruit slices, nuts or dried fruit. If you always feel like you need dessert after lunch, make one sweet toast and one savory toast!
Try: 5 Tasty Toast Recipes | Superfood Avocado Toast with Kale Tapenade
4. Wraps
Put things in tortilla (or lettuce or collard leaf). Roll it up. Eat. That's about it! To make sure your wrap doesn't fall apart, follow the "glue" principle (see "Toast + Toppings" above) and spread a thin layer of something creamy before adding the rest of your fillings.
Try: Kale, Avocado and Hummus Wrap | Detox Lunch Wrap with Sunflower Seed Spread
5. Make-Ahead Salads
Salads don't have to be sides—and they don't have to be fussy, either. Toss a bunch of veggies with beans, cheese, nuts and other items in a big mason jar for a main dish-worthy salad (that you can make ahead!). All you need to add is dressing and any delicate toppings like avocado or hard-boiled eggs. Want to save even more time? Chop up your salad veggies the night before!
Try: How to Pack a Week's Worth of Salads (+ 5 Recipes to Get You Started) | Protein-Packed Lentil Salad | Guide to Non-Boring Salads
6. Pizza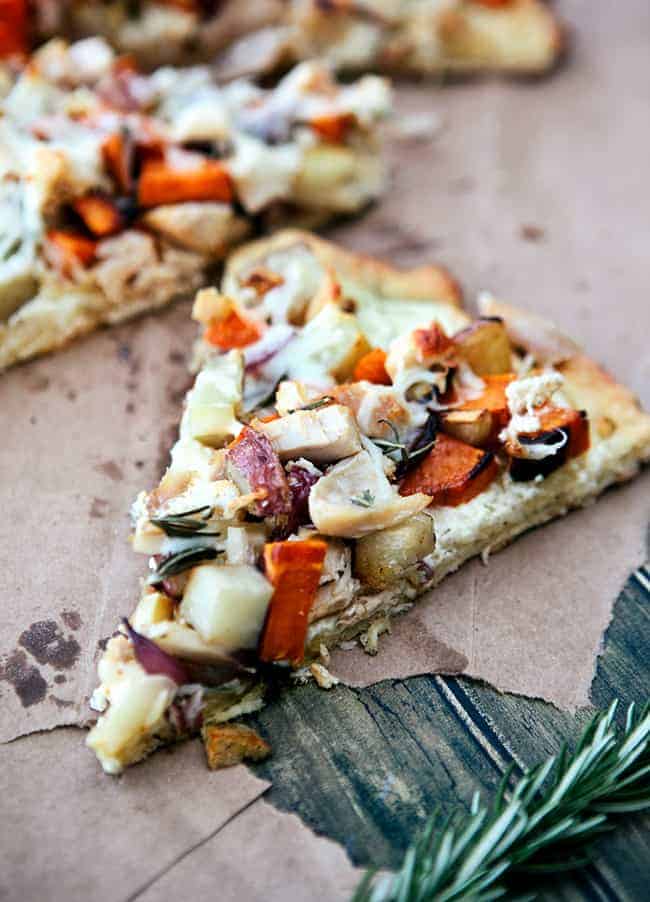 In no time flat, you can put together a pizza that's packed with veggies, not grease. Keep your freezer stocked with ready-to-bake pizza crusts (we like Trader Joe's and SmartFlour Foods GF versions, but you could also make homemade ones to keep in the freezer). If you don't want to use regular crust, you could use naan, flatbread or a cauliflower or quinoa crust. Top with marinara, hummus or even mashed sweet potatoes, then add veggies, olives, spices and cheese of your choice. Either top and bake when you're ready for lunch if you have access to an oven during the day (this will take about 10 minutes), or bake the night before and reheat or eat the pizza cold when it's lunchtime. When you know pizza's on the menu for lunch, the morning will fly by.
Try: How to Make a Quinoa Pizza Crust | Winter Veggie Pizza with Chicken (roast the veggies the night before to make lunchtime prep easier)
7. Baked Sweet Potatoes
Sweet potatoes are full of fiber and antioxidants, making them a super-nutritious choice for lunches. Either make your sweet potato the night before and reheat for a couple minutes in the microwave, or nuke it while you get your toppings ready: Prick a clean potato with a fork a few times, and pop in the microwave for about 8 minutes, turning once during cooking. Load it up with veggies, salsa, guac, leftovers, cheese or whatever else is in the fridge. Anything goes!
For more easy lunch ideas, check out our list of 101 Healthy Lunches Perfect for Brown-Bagging It.
What's your go-to quick lunch option?
3