Now that summer is officially officially here, barbecue season is in full swing. We love a good cookout or picnic, but they're not exactly a bastion of healthy food choices. Greasy potato chips? Hot dogs? Carb-y salads dressed in obscene amounts of mayo? Nope, nope, and nope! That's why we're teaming up with some of our favorite brands to give you healthier options for all your summer snacking needs.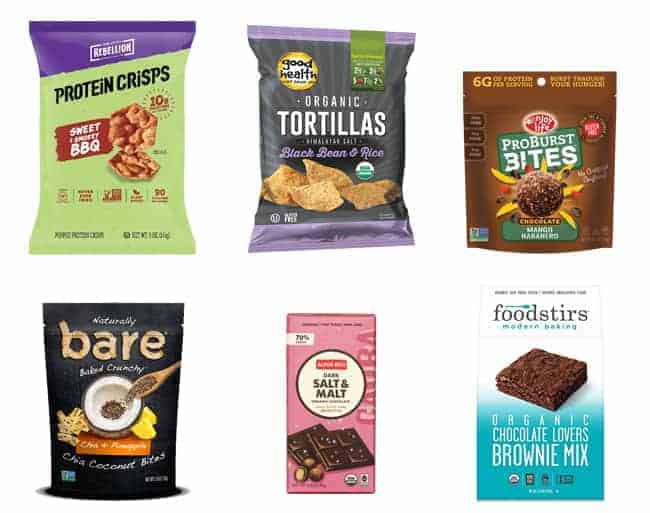 Sweet & Smoky BBQ Protein Crisps are a better alternative to chips that are packed with your favorite BBQ flavors and 10 grams of plant-based protein. Bonus: only 90 calories!
Good Health Organic Black Bean & Rice Tortilla Chips are the perfect dipping vehicle for salsa and guac, and are loaded with the same vitamins and nutrition found in veggies like broccoli and carrots.
Enjoy Life Foods Mango Habanero ProBurst Bites create a fiesta in your mouth and are loaded with 6 grams of plant protein in every poppable bite so you can party all night!
Foodstirs Organic Chocolate Lovers Brownie Mix can be used to make a delicious organic dessert that's sure to be a crowd-pleaser – the Berry Brownie Kabob.
Alter Eco Dark Salt & Malt, because no BBQ is complete unless it ends with s'mores, this melt-in-your-mouth organic chocolate boasts nostalgic malt ball flavor for a unique twist.
Bare Chia + Pineapple Coconut Chips make waiting for your burger so much more bearable because they're packed with summery pineapple flavor and 2 superfoods – chia and coconut.
We're giving one lucky Hello Glow reader all of these snacks! Enter using the form below. Good luck!
0