Seasonal summer herbs like lavender, rosemary and chamomile don't have to be reserved just for the kitchen. In fact, they are a wonderful addition to your beauty and wellness routine! The benefits of integrating herbs into your life are endless. Due to their anti-inflammatory properties, pain relief, cleansing and toning of the skin, there's an herbal remedy for almost anything. It's also simple to refresh your skin and spirits by creating an herbal soak for those much-needed bathtime retreats.
Whether you grow them yourself, find them at the local farmer's market, or purchase them at a garden center, there's no wrong way to get ahold of summer's freshest herbs!
Herbal Benefits
Here's a breakdown of a few of our favorite herbs and their most powerful wellness benefits:
Chamomile Flowers – calming effects on children and adults, soothing anti inflammatory properties, and aids in relaxation during nighttime routines. Also known to help reduce hemorrhoids, alleviate anxiety and reduce skin irritation.
Lemon Balm Leaf – calming properties that help alleviate anxiety, menstrual cramps, and restlessness. It also is believed to reduce the growth of certain viruses.
Lavender Blossom – both calming and cleansing for the mind and skin, natural pain remedy, eases menstrual hot flashes, and minimizes the formation of scar tissue.
Rosemary Leaf – invigorating with pain relieving properties, which can also soothe skin irritations. Known to promote hair growth, increase circulation, and reduce joint inflammation. Not recommended for pregnant women, however.
Rose Petals – naturally high in antioxidants, beautifully fragrant, relieves headaches, tones and moisturizes the skin. Rose petals can also can reduce stress, reduce skin redness and irritation, and contains antiseptic and antibacterial properties. Many believe rose water can reduce the appearance of wrinkles.
Summer Fresh Herb Bath Soak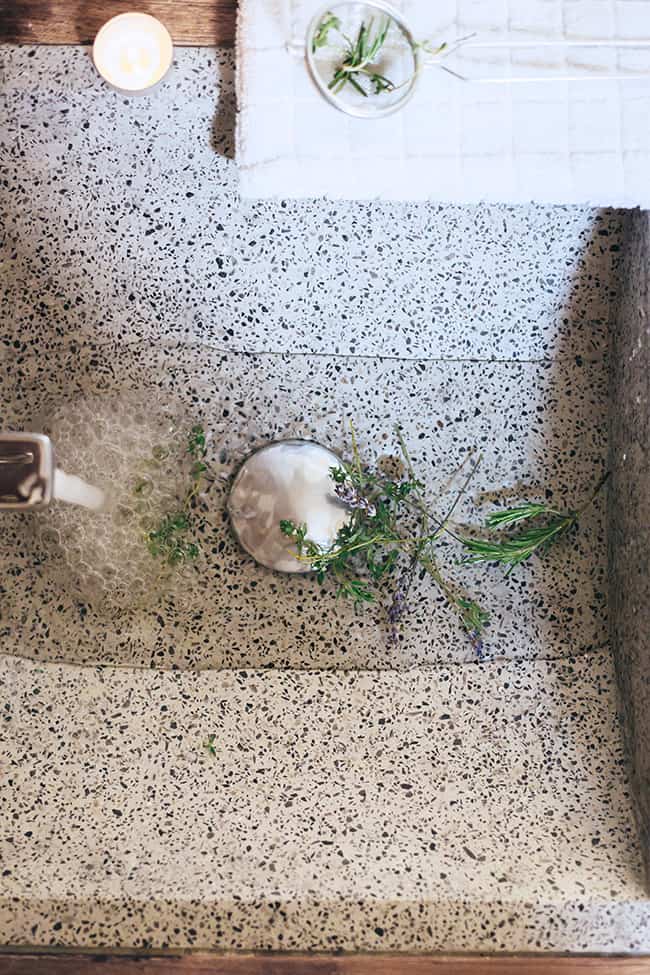 The most difficult part of this homemade bath soak is deciding on which herb or combination of herbs to use! The best part is you can take baths often and make endless combinations of these herbal bath soak recipes with just the simple formula below.
Herbs, your choice (handful)

Sauce pan

Filtered water

Strainer (optional)
To begin, take a handful of your chosen herbs and add them to a sauce pan of filtered water. Heat the covered pot on the stove until the water starts to simmer. Remove before the mixture boils. After the herbal water has reached a simmer, remove the pan from heat and let it stand for 20 minutes. Once you've filled your tub, use a strainer to remove the herbs and pour the infused water directly into the tub. Or simply add the entire mixture into your bath. The floating herbs will certainly create a relaxing atmosphere. Just take note that herbs like chamomile break down in the water and can be a bit of a pain to clean up. Enjoy!
Do you have a favorite bath time recipe or ritual you can share with us in the comments? We love to hear what works for our readers and share the wealth of tips and tricks you have found beneficial.
Photos by Ana Stanciu
9