There are few things as relaxing as the soft glow of candlelight and the soothing smell of essential oils. Especially after a long day when you're ready to just come home, put your feet up, and chill out, candles can instantly set the mood.
I recently purchased a Himalayan salt lamp for those times when I want to purify the air and bask in a little mood lighting at the same time. But I quickly learned that it just didn't feel as nice without my essential oils.
Turns out I didn't really need to invest in a salt lamp at all—I could have just made these salt candle diffusers instead. Not only do they help cleanse the air, but they also create an inviting candlelit glow and fill the air with the scent of whichever oils you choose.

How to Make Himalayan Salt Candle Diffusers
Much like Himalayan salt lamps, these salt diffusers are made from pure, food-grade, pink Himalayan salt. When heated, this salt attracts water vapor (and the mold, bacteria, and allergens it carries) to its surface and removes it from the air.
By adding a few drops of essential oils and a candle, they offer a nice, warm glow, cleanse the air of impurities, and diffuse relaxing essential oils at the same time.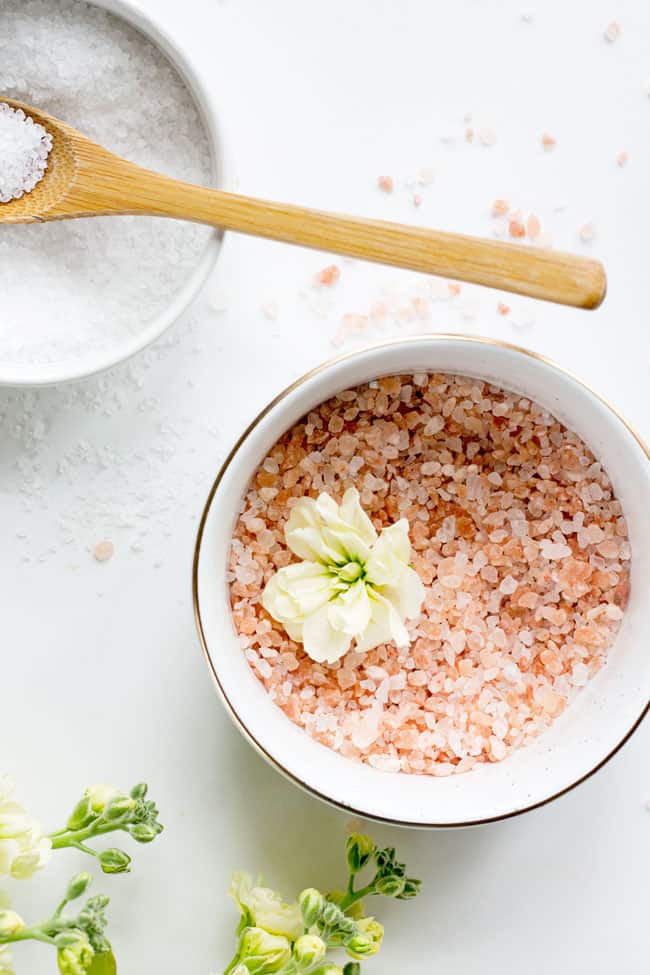 All you need is some pink salt, essential oils of your choosing, a bowl, and a candle to make these.
If you don't have any Himalayan salt on hand, don't worry, any natural salt will work. In fact, I like to keep things interesting by trying various types of salt and placing the different colored diffusers around the house. You can even place a few together on a table to make a pretty and relaxing centerpiece.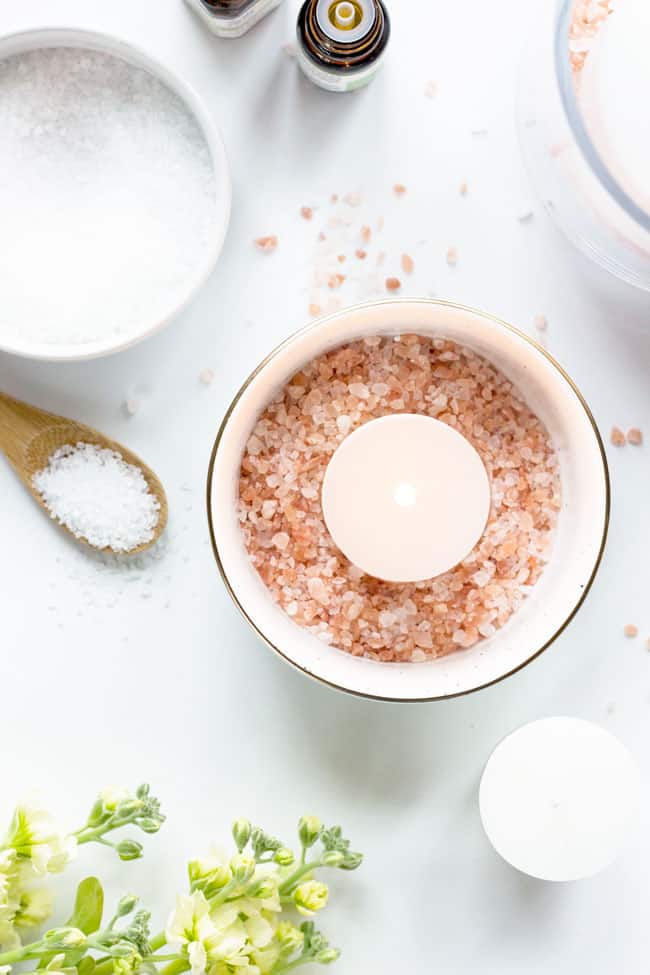 To make them, simply place your salt in a bowl and add your essential oils. Give it a good stir before pouring the salt into a votive candle holder or hurricane glass. Set your candle on top and light it. As it burns, the heat will activate the salt and help diffuse the oils into the air.
And just a word of warning: since the Himalayan salt has to be warm to purify the air, it's best to choose short votives rather than tall pillar candles. They burn a little bit quicker and bring the heat closer to the salt. But that also means you'll need to keep a closer eye on your diffusers to make sure they don't burn down too far and create a fire hazard.
If you have leftover Himalayan salt, check out our list of ways to use Himalayan pink salt in your next DIY project.
4 Essential Oil Blends Perfect for Fall
When it comes to scents, I find that simpler is usually better.
For a relaxing essential oil blend, try combining cedarwood with its sedative effects [source] and frankincense to relieve anxiety [source], balance the emotions, and bring peace of mind. If you need an emotional boost, mix lemongrass for calming [source], ylang ylang to reduce stress [source], and orange to improve mood [source]. For a nice wellness blend, try a combination of lemon and tea tree oils to naturally kill bacteria [source] and viruses [source] in the air.
If you would like to ring in cooler weather with the help of some fall-scented oils, here are a few warm and cozy essential oil blends to get you started.
Spicy
10 drops cinnamon
5 drops clove
5 drops lavender
4 drops neroli
Woodsy
12 drops Palo Santo
5 drops thyme
7 drops clementine
Cozy
3 drops black pepper
7 drops bergamot
6 drops vetiver
6 drops saffron
Sweet
6 drops cardamom
5 drops nutmeg
8 drops vanilla
Salt Diffuser FAQs
How much essential oil should I use for my salt candle diffusers?
I start with 20–30 drops total of essential oil, which makes three small candle diffusers. Feel free to adjust based on your preference and the strength of the essential oil scents you're using.
How often should I replace my diffusers
?
After a while, dirt and dust may start to accumulate in the sea salt, which can get pretty gross. Rather than simply adding fresh essential oils when the scent fades, I recommend replacing the sea salt and freshening your diffuser once a month.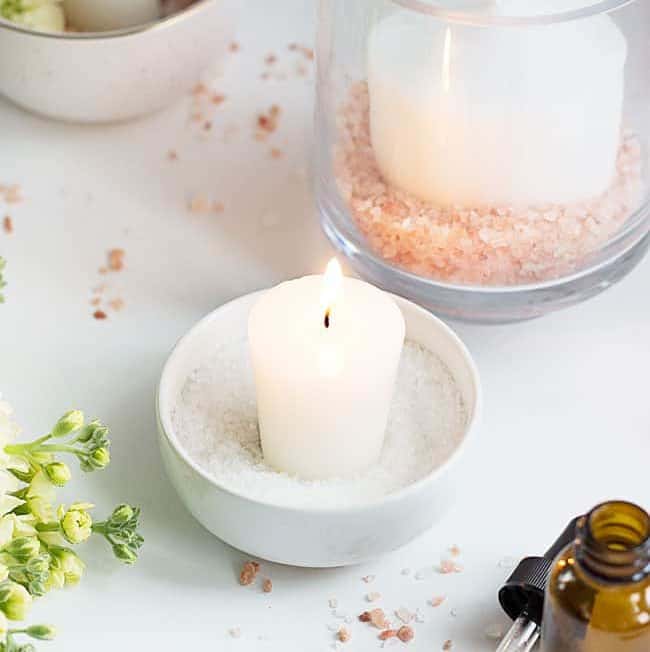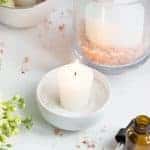 Print
Himalayan Salt Candle Diffusers
Purify the air in your home and diffuse relaxing essential oils at the same time with these DIY Himalayan salt candle diffusers.
Equipment
Small bowl

3 glass jars or bowls for displaying the candles
Instructions
Place the salt in a bowl. Add 10 to 20 drops of essential oil and stir to combine.

Place a candle in a glass jar or small bowl, and pour the salt around the candle until it reaches about halfway up the sides.

Light the candle and let the heat warm the salts to purify the air and release the essential oils.
Notes
Spicy Woodsy Cozy Sweet
This article was medically reviewed by Dr. Gina Jansheski, a licensed, board-certified physician who has been practicing for more than 20 years. Learn more about Hello Glow's medical reviewers here. As always, this is not personal medical advice and we recommend that you talk with your doctor.
172