Essential oils can do pretty much anything: help you relax, pump you up, heal you, help you clean out the house. You can also add "make good gifts" to the list!
Whether you choose a beautiful diffuser or a custom selection of scents, we've got some great gift recommendations for that person on your list who never leaves the house without her favorite blend: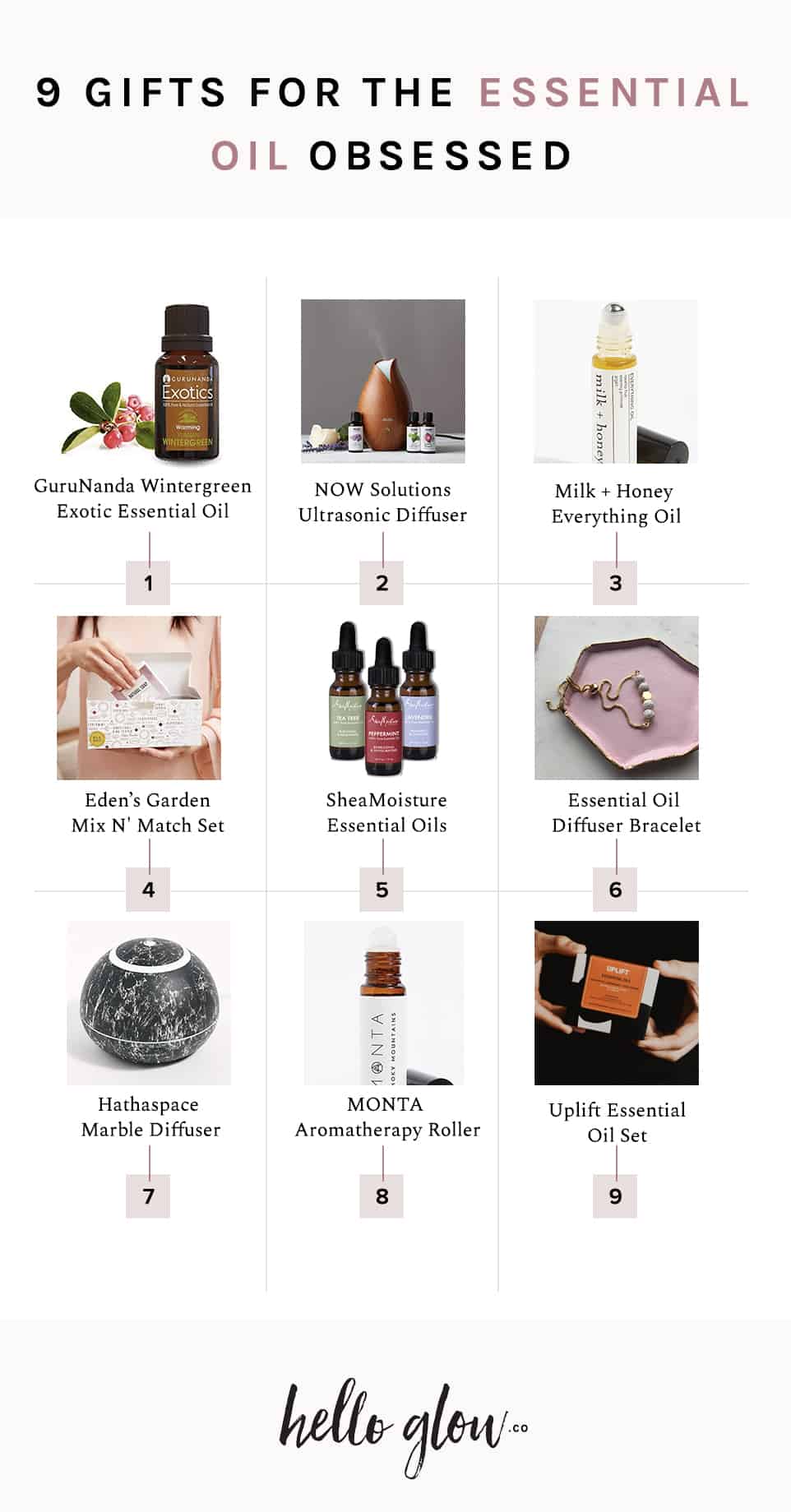 Best Gifts for Essential Oil Lovers
1. GuruNanda Wintergreen Exotic Essential Oil // The warming wintergreen essential oil is ideal for healthy respiration, to relieve aches, and soothe the mind. It also smells lovely, with a sweet and spicy, minty aroma.
2. NOW Solutions Ultrasonic Faux Wood Essential Oil Diffuser // Perfect for the home or office, this ultrasonic essential oil diffuser works for up to 8 hours at a time and it looks stylish in faux wood.
3. Milk + Honey Everything Oil // This multitasker is a total winner! With rosehip, evening primrose and argan, the blend is suitable for hydrating the skin, removing makeup, nourishing cuticles or conditioning dry hair.
4. Edens Garden Mix N' Match Set // This perfectly giftable set includes a scented candle, two soaps and a bath salt soak, all of which you can choose in various essential oil combinations.
5. SheaMoisture Essential Oils // Picking a few essential oils from SheaMoisture's line, along with their other ingredients for DIY beauty, is an affordable yet desirable gift for the essential oil obsessed.
6. White Lava Essential Oil Bracelet // A beautiful piece of jewelry that doubles as an aromatherapy device on the go is the perfect gift if you ask us!
7. Hathaspace Marble Diffuser // This truly gorgeous diffuser in marble look will complement any room. It's the kind of piece you actually want in your home decor!
8. MONTA Aromatherapy Roller // The beautifully scented aromatherapy rollerballs that can be applied anywhere, for a and soothing effect. The Smoky Mountains version is our favorite, crisp and woodsy.
9. Uplift Essential Oil Set // This set is a good gift even for first time users: the three oils included (sweet orange, lemongrass, eucalyptus) come with instructions for DIY recipes.
33