Essential oils can do pretty much anything: help you relax, pump you up, heal you, help you clean out the house. You can also add "make good gifts" to the list!
Whether you choose a beautiful diffuser or a custom selection of scents, we've got some great gift recommendations for that person on your list who never leaves the house without her favorite blend: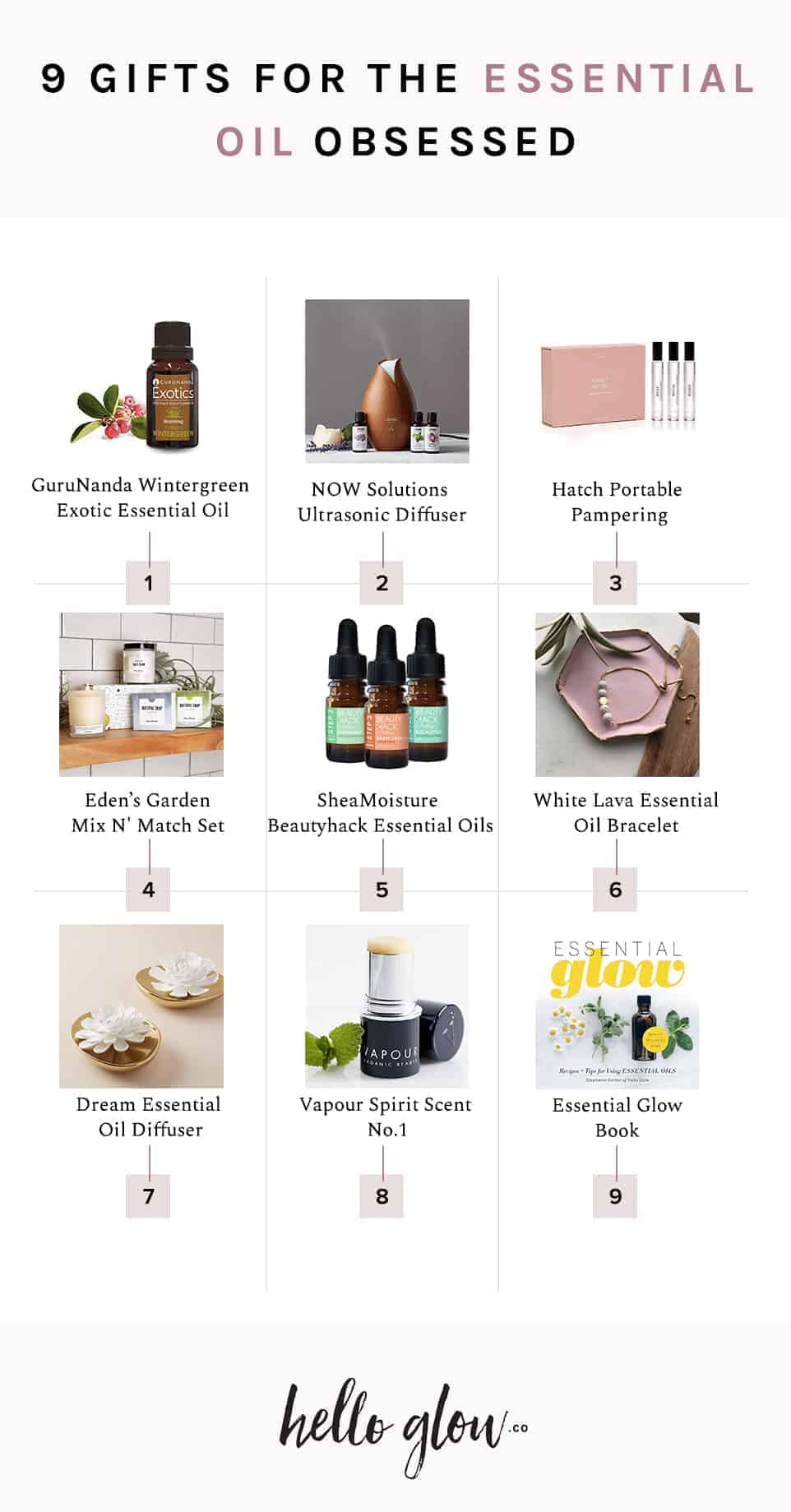 1. GuruNanda Wintergreen Exotic Essential Oil // The warming wintergreen essential oil is ideal for healthy respiration, to relieve aches, and soothe the mind. It also smells lovely, with a sweet and spicy, minty aroma.
2. NOW Solutions Ultrasonic Faux Wood Essential Oil Diffuser // Perfect for the home or office, this ultrasonic essential oil diffuser works for up to 8 hours at a time and it looks stylish in faux wood.
3. HATCH Mama Pocket Spa Trio // Doesn't the phrase "portable pampering" sound dreamy? Give the gift of self-care on the go with this set, which includes three essential oil roll-ons for an easy pocket spa.
4. Edens Garden Mix N' Match Set // This perfectly giftable set includes a scented candle, two soaps and a bath salt soak, all of which you can choose in various essential oil combinations.
5. SheaMoisture Beautyhack Essential Oils // Picking a few essential oils from SheaMoisture's Beautyhack line, along with their other ingredients for DIY beauty, is an affordable yet desirable gift for the essential oil obsessed.
6. White Lava Essential Oil Bracelet // A beautiful piece of jewelry that doubles as an aromatherapy device on the go is the perfect gift if you ask us!
7. Dream Essential Oil Diffuser // An essential oil diffuser that's as beautiful as it is useful! The ceramic flower looks wonderful in any room.
8. Vapour Spirit Scent No.1 // This solid perfume is made with essential oils and natural fruit flavors, but there's more good news: it's unisex, so you can also gift it to hard-to-shop-for guys.
9. Essential Glow Book // For the DIY lover in your life, this book teaches them how to mix and match essential oils to get the best results for beauty, health and home.
27