This year, I've found myself feeling compelled to give money to good causes. When it comes to holiday shopping, I'd love to give charitable donations in the names of friends and family members, but some people get a little bit salty about that—I'm guessing it's because a lot of people give those types of gifts to be passive aggressive. (Not that it's not fun to give your racist uncle a membership to the ACLU for Christmas—it totally is.)
Here's a good compromise: gifts that give back. The recipient gets something tangible and you get the satisfaction of knowing that your money went to support a cause you believe in. Win-win, right? These are some of our favorites: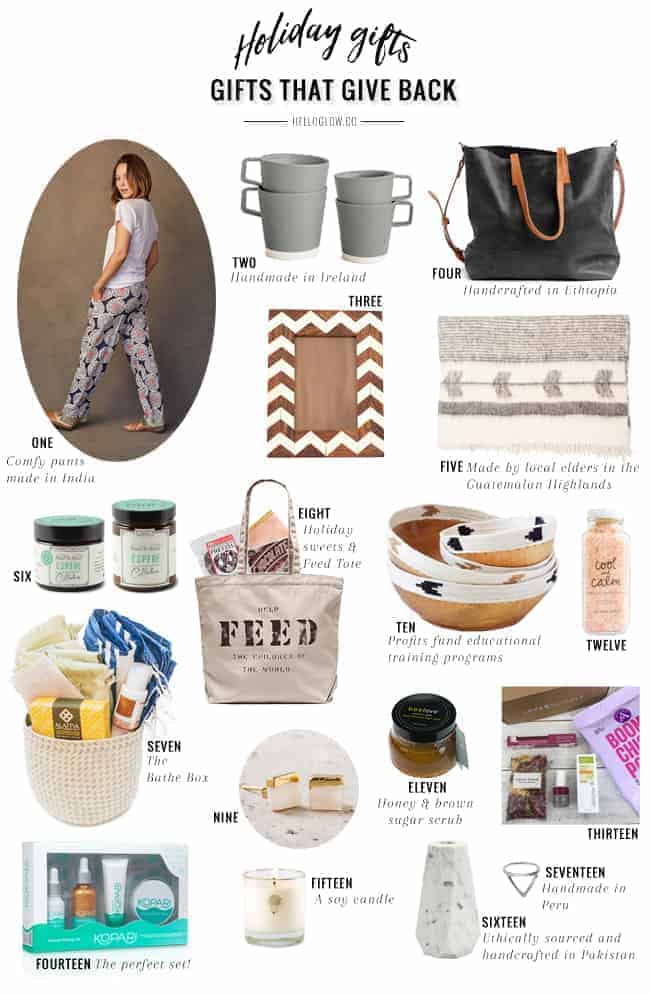 1. Sudara Punjammies // These gorgeous lounge pants are made by women in India who are working to remain free from sex slavery.
2. Halston Mugs // The Citizenry partners with artisans around the world to sell their products and provide them with fair wages.
3. Chevron Frame // Purchasing this wood-and-bone frame from The Little Market supports Matr Boomie artisans and their families in India.
4. Abera Crossbody Tote // We're a little bit obsessed with this leather tote from Fashionable. Made by women in Ethiopia, it comes in 6 different colors and it can be personalized too.
5. Momos Wool Blanket // Get comfy with this blanket from Modela. It's made by local elders in the Guatemalan Highlands from undyed sheep wool.
6. Espere Jasmine Gift Set // Every product purchased from Espere provides small business loans to help entrepreneurs in developing countries.
7. The Bathe Box // Give the gift of relaxation with this gift set from GlobeIn.
8. FEED + Mouth Holiday Sweets // Enjoy all the holiday goodies in this tote and feel good that purchasing it provided 25 school meals for children around the world.
9. Thistle Farms Jewelry // We love Thistle Farms jewelry—stylish and modern, it's made by women survivors of abuse, addiction, trafficking and prostitution.
10. Copabu Bowl // This stunning bowl is a perfect centerpiece. All profits fund educational training programs for women in Africa.
11. beelove Restore Polish & Glow Honey & Brown Sugar Scrub // beelove products are made with honey extracted from an urban apiary in Chicago, providing job opportunities for area residents who struggle with barriers to employment.
12. Cool & Calm Soaking Salt // Bright Endeavors teaches young mothers living in poverty how to make artisanal bath products, allowing them to work around their family commitments.
13. Love Goodly Subscription // Because everyone loves getting fun mail. All the products in Love Goodly boxes are eco-friendly, natural and vegan—and every purchase supports a good cause.
14. Kopari Coconut Holiday Kit // Dry winter skin will appreciate these nourishing products from Kopari, made with organic coconut oil from the Philippines. A portion of proceeds go back to Waves for Water, a non-profit organization that works on the frontline to provide clean water to communities in need, worldwide.
15. Thistle Farms Three Trees Candle // Scented with fresh fir, cedar wood and spruce essential oils, this candle smells like the holidays.
16. Cold Cave Vase // This fair trade stone vase from Ten Thousand Villages is handcrafted in Pakistan.
17. Mountain Ring // Made by artisans in Peru, this sterling silver ring is simple and beautiful.
6