So you have all the big gifts picked out but are lacking inspiration on stocking stuffers? Say no more. We've got just what you need for smaller, side-gifts or for nailing Secret Santa at work.
They may not be big in size but they're a) gorgeous, and b) totally pampering, which is just what everyone needs during this -particular – holiday season. Scroll down for 9 stocking stuffers for everyone on your list: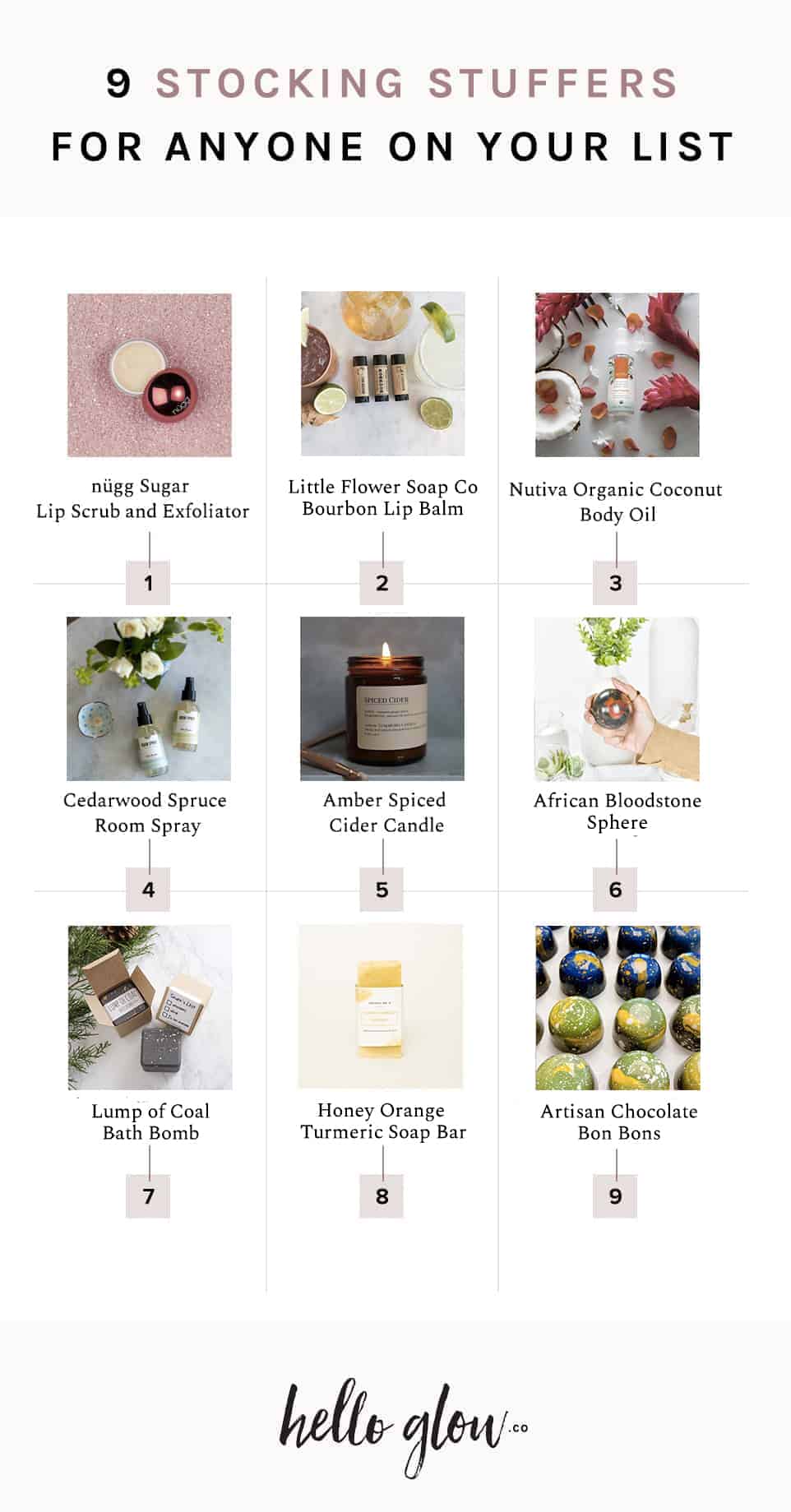 1. nügg Sugar Lip Scrub and Exfoliator // This natural vegan chocolate mint sugar lip scrub from nügg is pampering enough for your mom, but still sooo candy like that your teenage daughter will love it.
2. Little Flower Soap Co Bourbon Lip Balm // Most men reject the idea of owning lip balm, and then always ask for yours. You'll both be happy if you gift them a bourbon-flavored lip balm of their own!
3. Nutiva Energizing Ginger Organic Coconut Body Oil // This coconut oil with clarifying ginger can be used as a face and body moisturizer, to heal damaged hair, to remove makeup, and as a massage oil. Multitasking for the win!
4. Cedarwood Spruce Room Spray // This cedarwood room spray from Edens Garden brings the scent of the wilderness inside. Perfect for the adventurer in your life!
5. Amber Spiced Cider Candle // A pretty candle saves the gift list! This one smells amazing and it looks stylish enough for any coffee table.
6. African Bloodstone Sphere // Bloodstone is a a powerhouse for restoring and rebuilding the mind and body. Bonus: the sphere shape is highly decorative!
7. Lump Of Coal Bath Bomb // Not the lump of coal they were expecting! These bath bombs come in a dark, glittery, and totally festive look.
8. Honey Orange Turmeric Soap Bar // This seasonal warm soap bar is gentle, soothing and helps with the dry skin problems during the cold season!
9. Artisan Chocolate Bon Bons // You can't go wrong with chocolate… Especially when they look like gorgeous marbles.
Need more ideas? Here is our gift guide for yoga lovers.
16