So you have all the big gifts picked out but are lacking inspiration on stocking stuffers? Say no more. We've got just what you need for smaller, side-gifts or for nailing Secret Santa at work.
They may not be big in size but they're a) gorgeous, and b) totally pampering, which is just what everyone needs during the busy holiday season. Scroll down for 9 stocking stuffers for everyone on your list: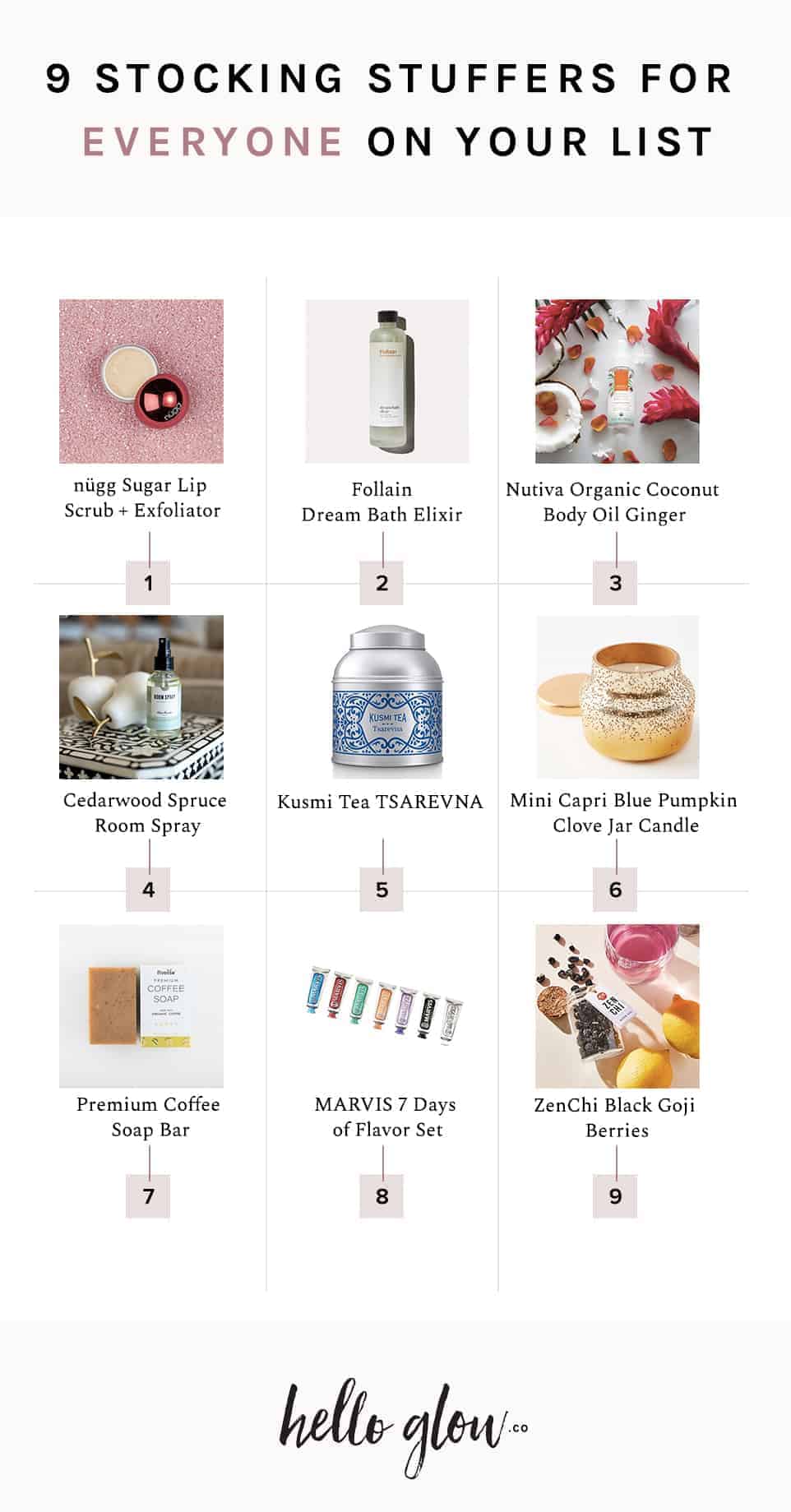 1. nügg Sugar Lip Scrub and Exfoliator // This natural vegan chocolate mint sugar lip scrub from nügg is pampering enough for your mom, but still sooo candy like that your teenage daughter will love it.
2. Follain Dream Bath Elixir // Just a few drops of this elixir in the bath will create a spa-worthy experience! Lavender and clary sage essential oils provide calming aromatherapeutic effects, making it ideal for evenings.
3. Nutiva Energizing Ginger Organic Coconut Body Oil // This coconut oil with clarifying ginger can be used as a face and body moisturizer, to heal damaged hair, to remove makeup, and as a massage oil. Multitasking for the win!
4. Cedarwood Spruce Room Spray // This cedarwood room spray from Edens Garden brings the scent of the wilderness inside. Perfect for the adventurer in your life!
5. Kusmi Tea TSAREVNA // This limited edition black tea is perfect for the holidays, with its orange peel and spice aroma. The beautiful tin also makes a nice keepsake, and can easily be repurposed into a candle or planter.
6. Mini Capri Blue Pumpkin Clove Jar Candle // A pretty candle saves the gift list! This one smells amazing and it looks stylish enough for any coffee table.
7. Premium Coffee Soap Bar // We just love a soap bar that lightly exfoliates, and we think your loved ones will, too! Fivesso coffee soap bars are crafted in the US, using high quality organic ingredients.
8. MARVIS 7 Days of Flavor Set // The set of 7 tiny toothpastes from MARVIS is the best thing you could give the frequent traveler on your list!
9. ZenChi Black Goji Berries // Just when you thought nothing could beat goji berries… Black goji berries! Immunity-boosting, calming, and antioxidant, they're perfect to mix in smoothies or as an infusion.
5