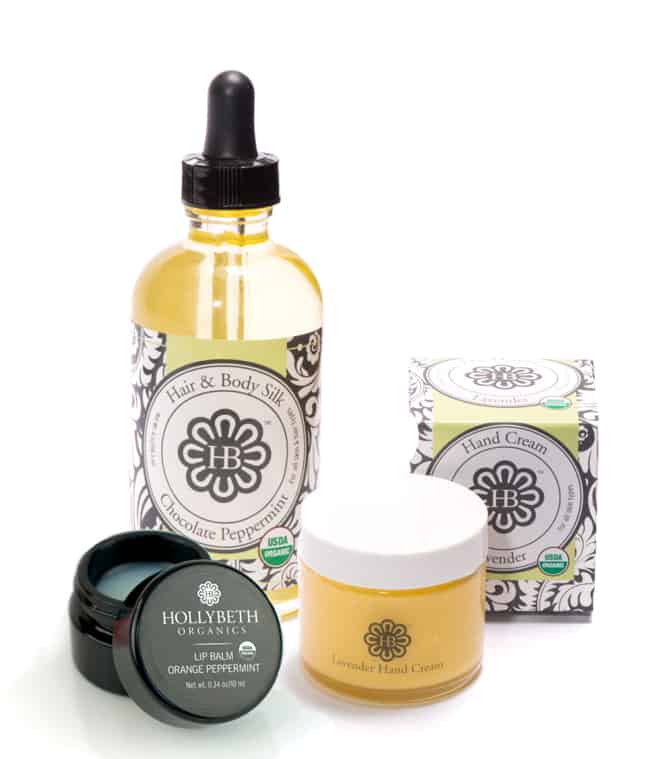 Growing up in Georgia, HollyBeth Anderson started learning about plants at a young age from her Grandmother. Later, she supplemented these fundamentals with hands-on study in Europe and Latin America. Her experience with local healers led her to create HollyBeth Organics. In the quest for the perfect eye cream, she launched an entire line of organic skincare products, all of which are natural and plant-based, and free of any additives or preservatives. The products are crafted in small, artisanal batches in North Georgia, using fresh plants and essential oils that are suitable for the entire family. Everything inside HollyBeth Organics is essential to the recipe and pure, which makes the products potent, effective, and economical.
HollyBeth Organics Skincare Giveaway ($94 value)
HollyBeth Organics is offering one Hello Glow reader a gift basket valued at $94, which includes Hair & Body Silk (a hair to toe body moisturizer that contains chocolate peppermint oil), Orange Peppermint Lip Balm (just launched, this shea butter is infused with peppermint and orange essential oils), and Lavender Hand Cream (a nourishing antioxidant). These 3 products have quickly become customer favorites, and are representative of the quality products using wonderful ingredients that moisturize while smelling great. This aroma-therapuetic trio is the perfect way to protect you from the harsh elements that winter is winding up to throw our way. Enter below for your chance to win!
0