At-home manicures can be a terrific alternative to the expensive nail salon services that often only last a handful of days, no pun intended! But in order to give yourself a thorough, long lasting manicure at home you'll want to follow a few key treatments to get the maximum number of days out of it.
Even though I love getting my nails professionally done (who doesn't love some pampering?), I do my nails at home on a weekly basis. Buy a few new nail polishes and these home manicure supplies, and you can do them yourself late at night when you're reading in bed or watching something on the iPad.
It's easy and saves me money and time. Just make sure to allow 45 minutes or so before falling asleep to avoid disasters!

Our favorite at-home manicure supplies
We've put together a little step by step guide on the ultimate salon-worth at home manicure. Be sure you set aside plenty of time for the manicure itself and for the drying time after, and you just might be surprised how great your manicure looks.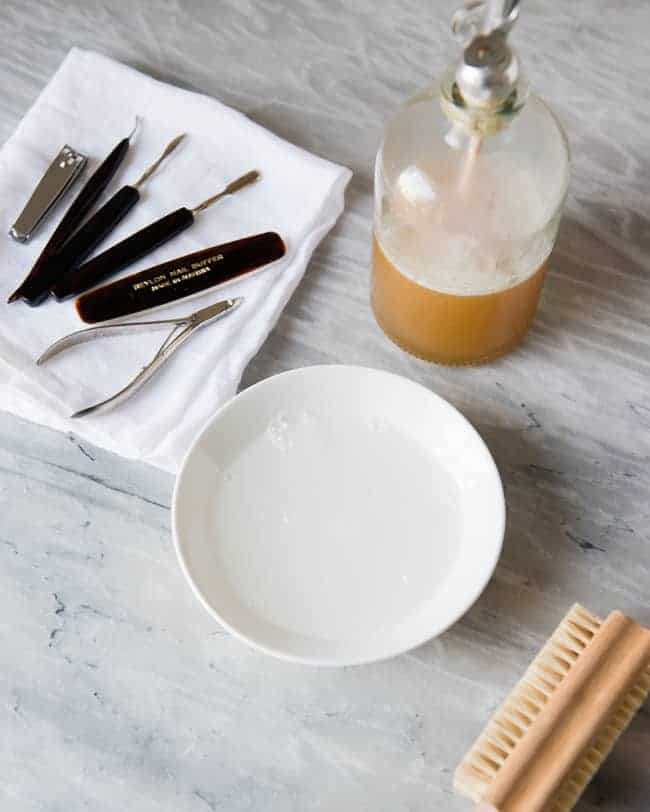 Step 1: Remove old nail polish thoroughly
Using natural polish remover and cotton balls, be sure to remove all signs of your previous color choice. Sometimes it takes a few passes to get a bright color, such as red, removed thoroughly from skin and nails.
No remover? Don't fret, try one of these at-home nail polish remover ideas.
Nail polish removers:
Karma Organic Natural Nail Polish Remover Unscented is non-toxic, scent-free, and it strengthens your nails, too.
The Cutex Non-Acetone Nail Polish Remover is a non-acetone miracle, and an affordable one, too.
Step 2: Soak
In a shallow dish, combine raw honey and olive oil in warm water. The honey has antibacterial properties and will cleanse and soften your nails while retaining moisture which is great for dry nail beds.
Olive oil will also add moisture and shine to dry nails and cuticles. Soak for about 10 minutes.
Step 3: Clean
Using a brush or nail file remove debris and dirt from beneath your nails. If your nails are yellow or discolored make a paste of hydrogen peroxide and baking soda. Massage nail beds with the mixture and let it sit for a couple of minutes then rinse off.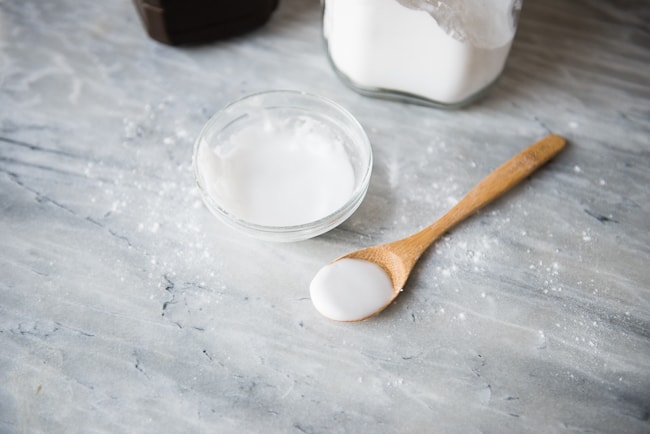 Exfoliators:
The luxurious BYREDO Rose Hand Scrub is basically a spa for your hands.
Or treat yourself to a Hemp Hard-Working Hand Scrub from The Body Shop and enjoy the feeling of soft, moisturized skin.
Step 4: Massage
It may be a little strange to give yourself a massage, but don't skip this step! Your skin will benefit from the hydration, not to mention we hold a lot of tension in our hands and fingers. This whipped shea butter is a perfect choice to use during a hand massage.
Hand lotions:

The Body Shop Almond Hand & Nail Butter is the 2 in 1 hand moisturizer of our dreams.
Philosophy's 'hands of hope' hand & cuticle cream is non-greasy, easily absorbed, and perfect for super dry skin.
Step 5: Cuticle Treatment
To soften cuticles, add a drop of lavender essential oil to a teaspoon of olive oil. Gently massage into your cuticles and then use a q-tip to push back your cuticles so they don't get in the way of your polish.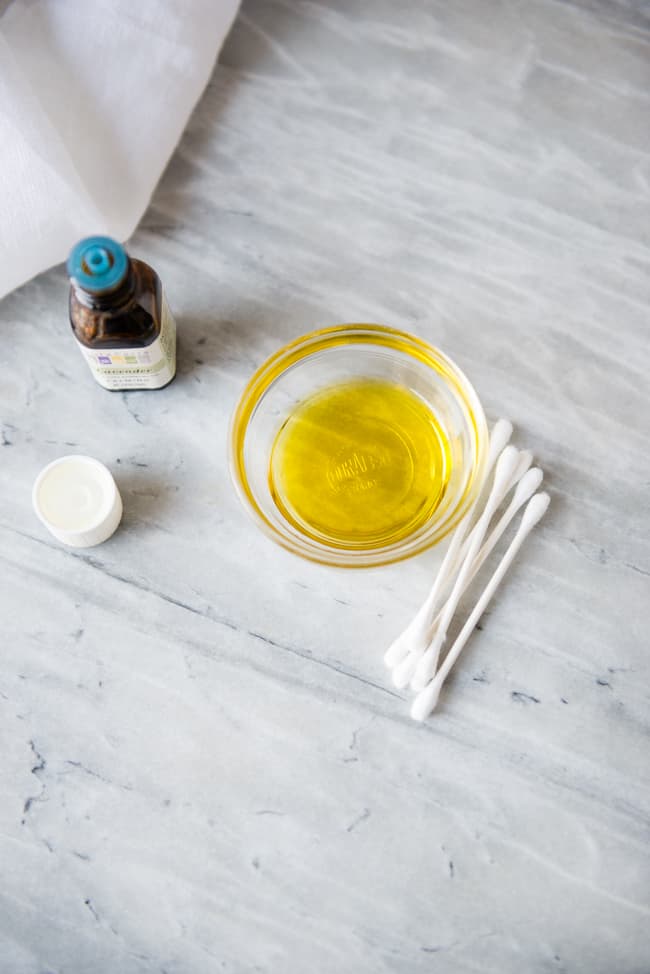 Cuticle serums:

You'll love the scent and feel of the Cuccio Natural Milk & Honey Cuticle Revitalizing Oil on your hands.
Strengthen your nails and cuticles with a precise application of Bliss Kiss Simply Pure Cuticle & Nail Oil Pen. Or make the DIY version of cuticle oil pens with our favorite nail strengthening essential oils.

Cuticle pushers:

Tweezerman Pushy Cuticle Pusher is ideal for at home use, but it's salon grade quality.
Or you can push, cut and trim your cuticles with the super affordable Stainless Steel Cuticle Pusher Cutter Trimmer.
Cuticle nipper:

The Tweezerman Grip and Snip Cuticle Nippers with Spiral Spring is both good looking and a great tool.
Step 6: File
Using a nail file, shape your nails into your desired length and shape, making sure they all are even in shape and length.
Nail files:

The OPI Crystal Nail File is sanitizable, reusable and travel-friendly, not to mention long lasting. A crystal nail file is the best thing you could ever buy. I've had mine for years and I can't tell you enough how much I love it.
The Tweezerman Neon Hot Nail Files come in a set of three, and they can file both natural and acrylic nails.
Nail clippers:

The Revlon 2 in 1 nail clip and the basic Revlon Nail Clip are both excellent, long-lasting options for an at-home mani.
Nail buffer:

If you're going to a no-polish manicure, The Body Shop Nail Block polishes your nails to perfection, for a salon-worthy finish.
Step 7: Polish
Now you're ready for polish. Are you a neutral girl that sticks to pale pinks and nudes, or do you change your nail color with the season?
Most nail polishes should be applied in two even coats, and don't forget a clear top coat. Clear top coats can lengthen the staying power of the nail polish and help speed up the drying time.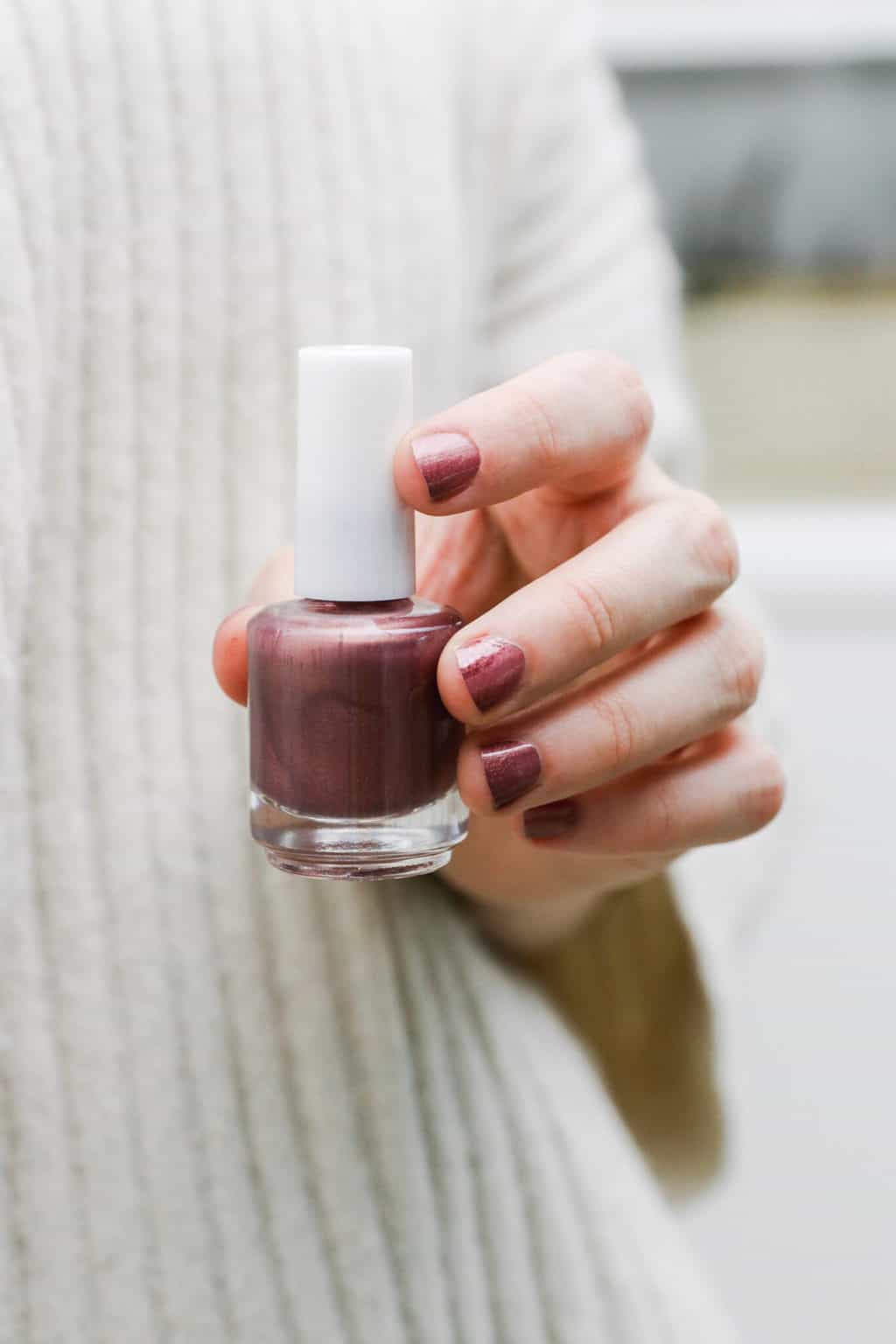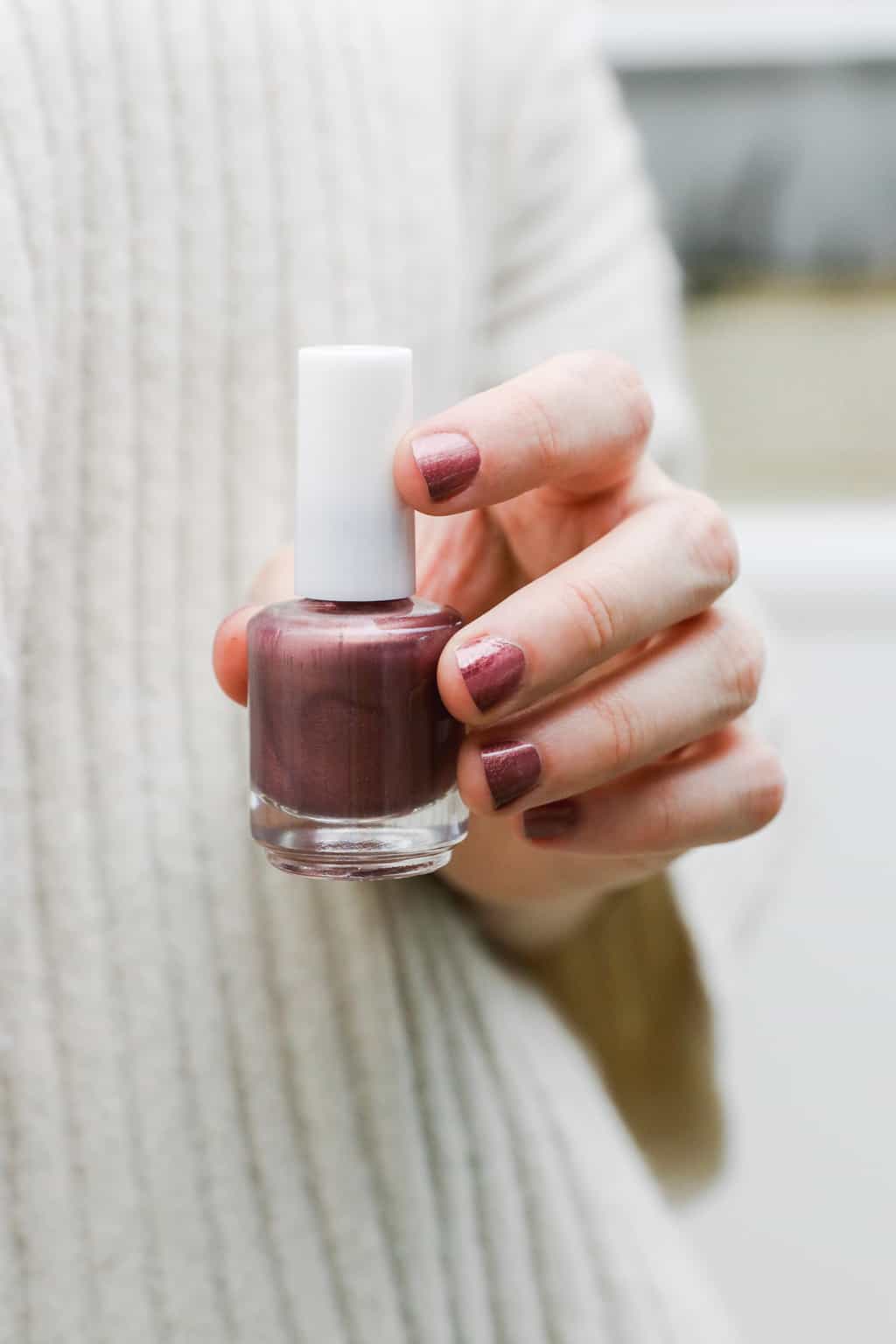 Base coats:
The Karma Organic Two in One Base Coat and ella+mila Ridge-Filler Base Coat both make perfect base coats for at home use.
Nail polishes:

Essie is our all time favorite, particularly the Baby's Breath and Luxedo shades. Starting in 2021, Essie polish is vegan and 8-free! You can find more non-toxic nail polish options here.
Top coats:

Some of our favorite top coat options include Mineral Fusion and Karma Organic.
Nail correctors:

You'll love the OPI Nail Polish Remover Pen and the Nails.inc SOS Corrector Pen for those last-minute touch-ups.
Step 8: Plenty of drying time!
One of the reasons at home manicures are difficult is because we rush through them without allowing our nails to thoroughly dry. That ultimately leads to dings or smudges. Give yourself a good 15 minutes (or longer!) to make sure everything is completely dry.
38