For a few years now I have been making it a priority to stress a little less. While I have never really considered myself a "worrier", peace and tranquility don't exactly come easy. I get a buzz from multitasking, accomplishing goals and checking things off my to do list. And with this attitude also comes a great deal of jaw-clenching, tense shoulders and low-level adrenaline; the kind of stress you just get used to over the years.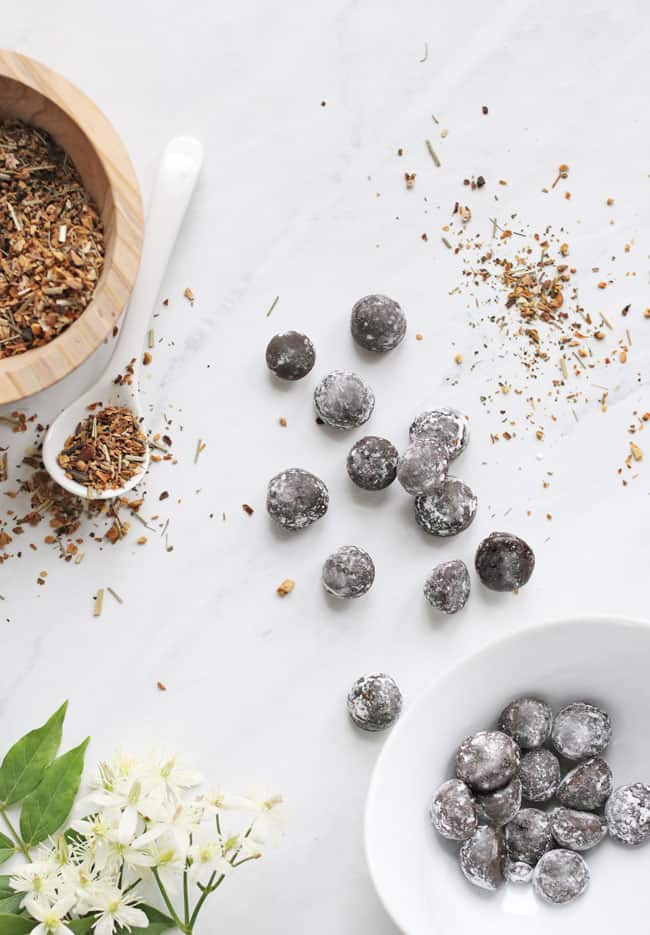 But I'm making baby steps to change that. Along with a mindfulness practice and meditation, I have started incorporating adaptogens and calming herbs into my daily routine. Adaptogens are plants that help lower cortisol and make the body less sensitive to stress. And while the easiest way to consume them is to drink them in a tea, I find that it's far more relaxing (and fun!) to consume them in candy form.
Studies have shown the chewing gum or sucking on a piece of candy may help reduce stress in the body. I like to pop these adaptogen drops when I'm feeling especially tense. I find that the candy helps divert my attention away from stressful tasks while the herbs help me feel calmer and more peaceful.
How to Make Adaptogen Drops
For these I used several different calming herbs: ginseng, holy basil, lemon balm and ginger. Ginseng and holy basil are both powerful adaptogens that can help fight fatigue, lower stress, and balance hormones. Lemon balm is a soothing herb that has been used for centuries to promote sleep. And while ginger does not affect anxiety directly, it can help calm an overactive mind.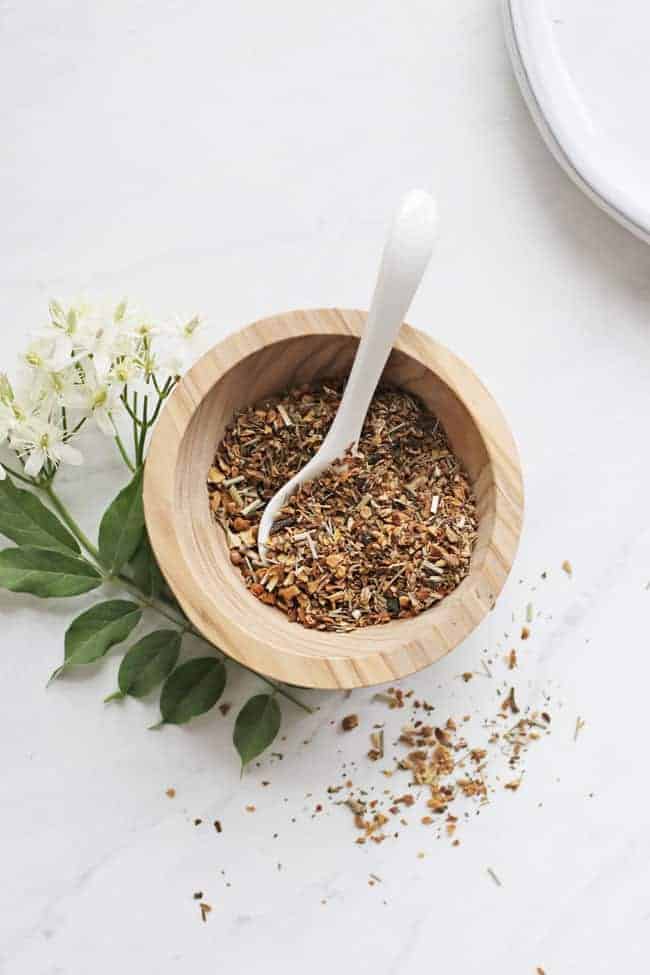 If you have never made hard candy before, it's not difficult but it does require a little bit of patience. To make these, all you need to do is steep your herbs in hot water until you have a strong tea. Then combine this tea with honey and bring the mixture to a boil. Once the water has boiled away, the honey will thicken until it becomes a caramel consistency. It's helpful to have a candy thermometer so you can tell when the temperature reaches 300 degrees. But if you don't, spoon a little bit of the mixture into a glass of cool water and see if it hardens. If not, keep simmering and testing periodically until it does.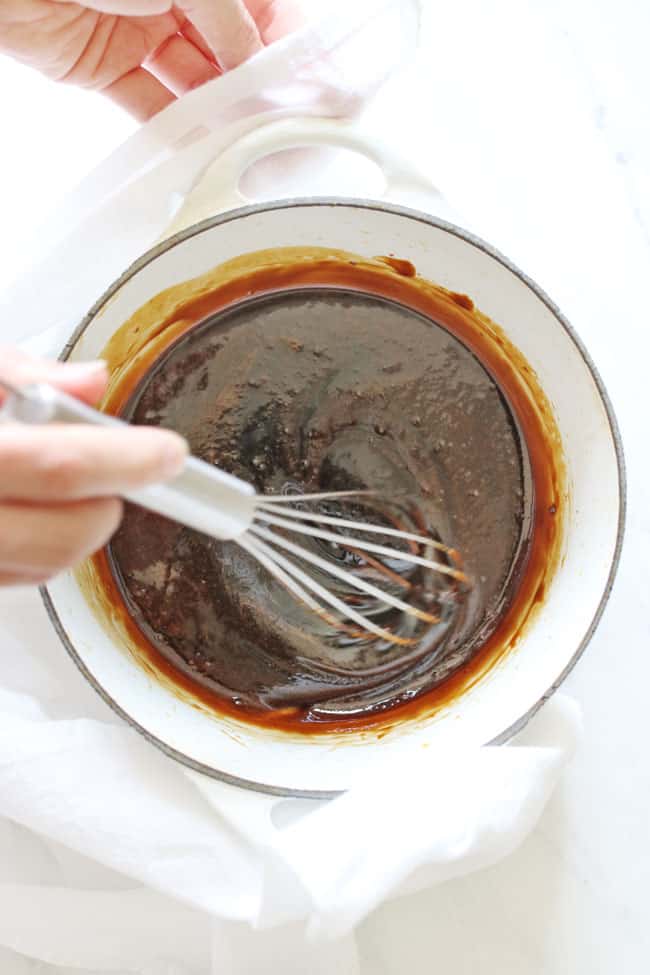 For molds, I sprinkled a thick layer of powdered sugar into a narrow baking dish and used the end of my thermometer to make little indents.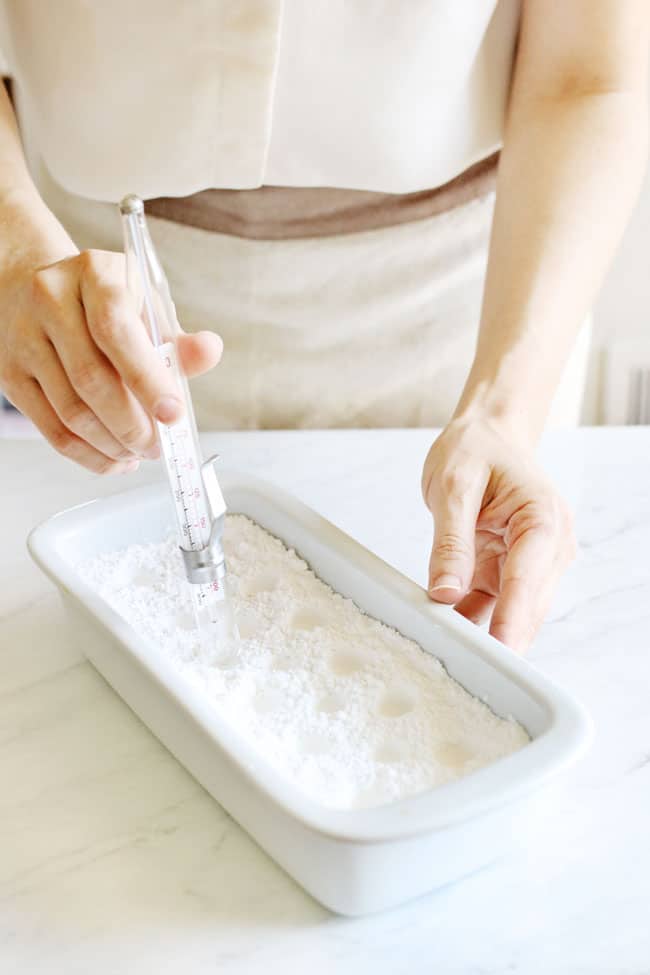 Then I spooned the honey mixture into the indents and let it cool. If you would prefer not to use powdered sugar, you can simply spoon the mixture onto a parchment lined baking sheet to form small rounds.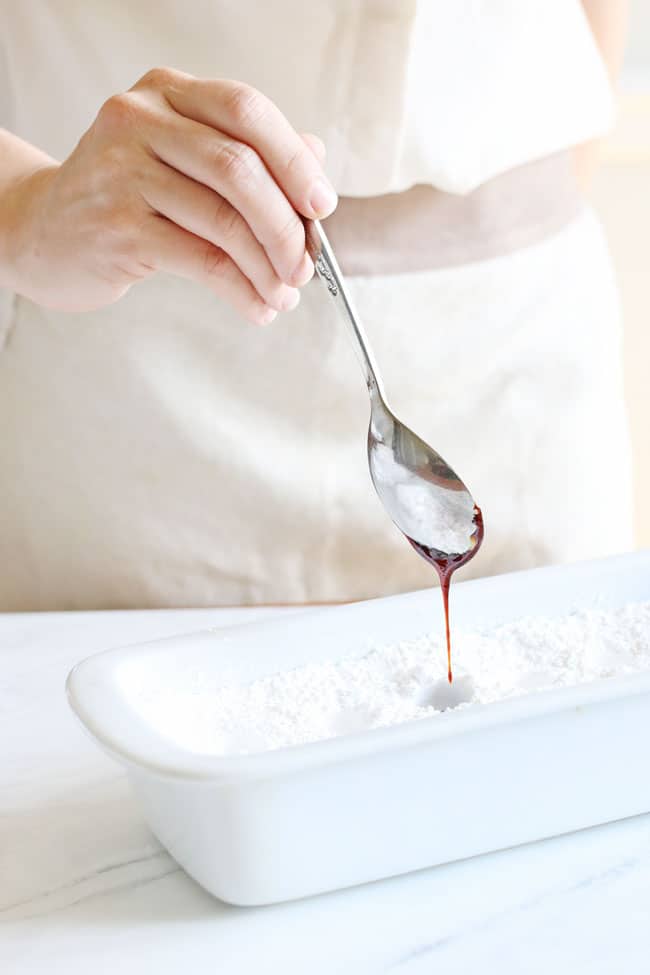 Once they have cooled completely, dust off the powdered sugar and store in a portable tin.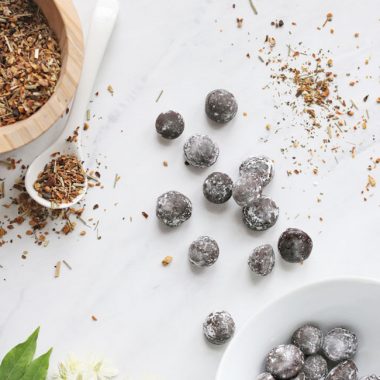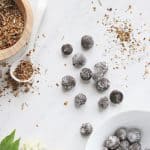 Print Recipe
Adaptogen Drops
Adaptogens are plants that help the body cope better with stress naturally. Give them a try in these homemade adaptogen drops.
Equipment
Small saucepan

Strainer

Medium saucepan

Silicon mold
Instructions
Combine the herbs in the cup of boiling water and let steep for 10 minutes.

Strain the herbs from the tea. Pour the tea into a medium sauce pan and add the honey.

Turn the stove to medium and bring to a boil. You'll need to keep an eye on the pan to make sure the honey mixture doesn't boil over or burn. Stir regularly.

After about 10 minutes, start testing the temperature. You want to wait until the honey reaches 300 degrees or it won't harden properly. If you don't have a candy thermometer, simply drop a small spoonful of the mixture into a glass of cool water. If it hardens completely (it should be crunchy, not slightly chewy) it's ready. At first I used a small pan and the honey never got hot, but once I transferred the mix to a large pan it started heating up a lot faster, so you'll need to watch it closely. 

Remove the honey from the burner and work quickly to spoon the mixture into your molds.

Let cool for 30 minutes to an hour. Then dust off the powdered sugar and store in an airtight container.

To use, simply eat a drop whenever you start feeling stressed or need to unwind.
Notes
If you don't have a mold, you can do what I did: fill a loaf pan with 2 inches of powdered sugar. Use you finger to create indents in the powdered sugar approximately 1/2" deep. Spoon the hot honey mixture into the indents and let them cool. To remove, simply scoop out the adaptogen drops and dust off the excess powdered sugar.
4