What's one kitchen staple you can't like without? I'll start: barbecue sauce. Jarred sauce is an easy way to add a rich, sweet, and smoky flavor to grilled meat or vegetables in a hurry. But if you're looking to spice things up and you've got a little extra time on your hands, why not skip the preservatives and make next-level homemade barbecue sauce?
This BBQ sauce recipe is the perfect balance of sweet and heat, thanks to all-natural honey sweetness coupled with the tangy kick of jalapeños and red pepper flakes.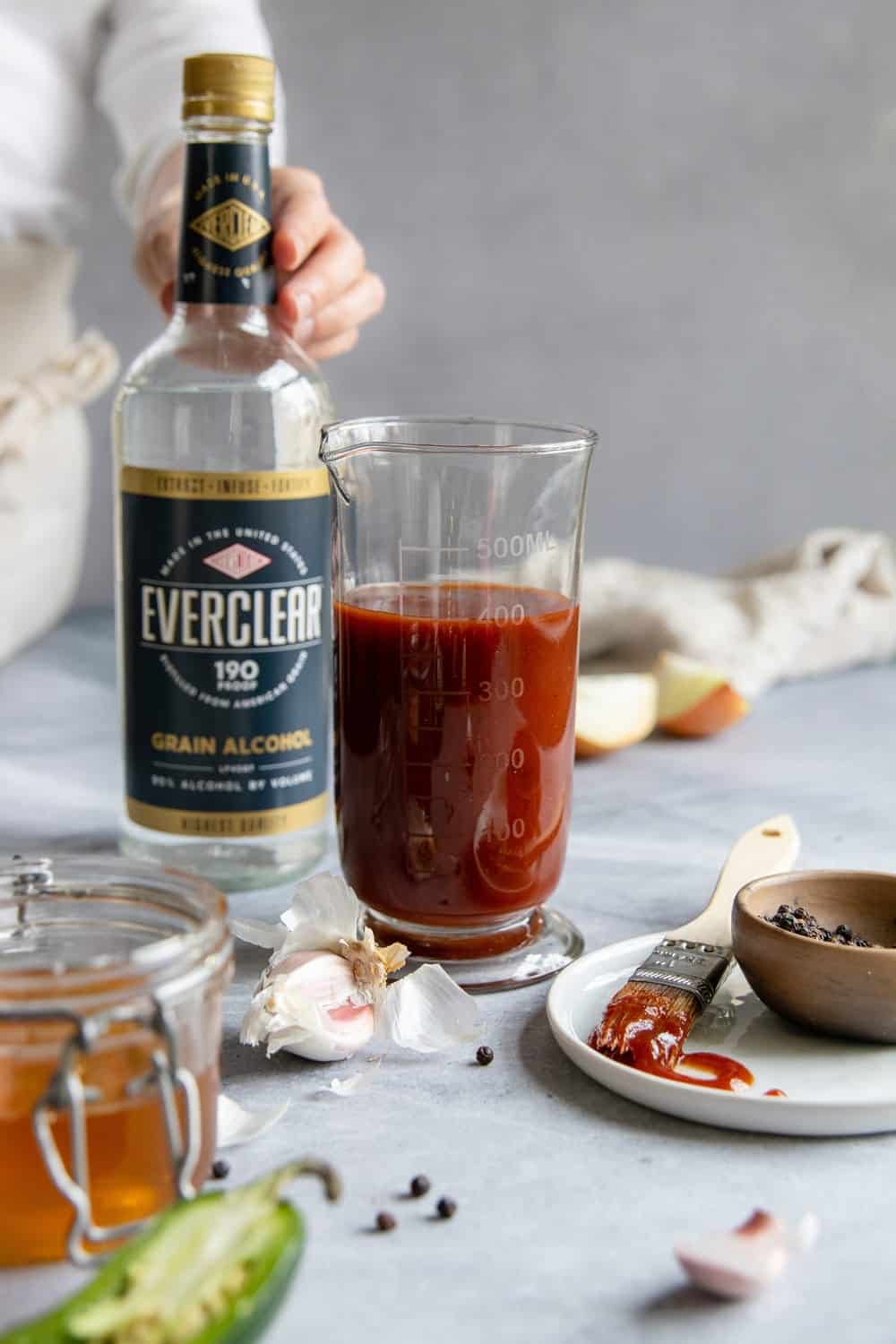 Sweet + Spicy Homemade BBQ Sauce
While it relies heavily on traditional barbecue sauce ingredients, like ketchup, vinegar and Worcestershire sauce, the real star of the show is Everclear® Grain Alcohol, which makes the flavors in this sauce pop. That's because alcohol is a solvent, meaning it helps dissolve flavors and enhance aromas that might otherwise go unnoticed.
And when used in creamy dishes, Everclear encourages the ingredients to meld, leaving you with a smoother, creamier texture. And if that wasn't enough, when used in marinades, alcohol even helps to tenderize the meat, making it juicier and more flavorful.
So just in time for grilling season, go ahead and whip up a large batch of this perfect-on-everything barbecue sauce. Then give it a try and see how it transforms your next barbecue!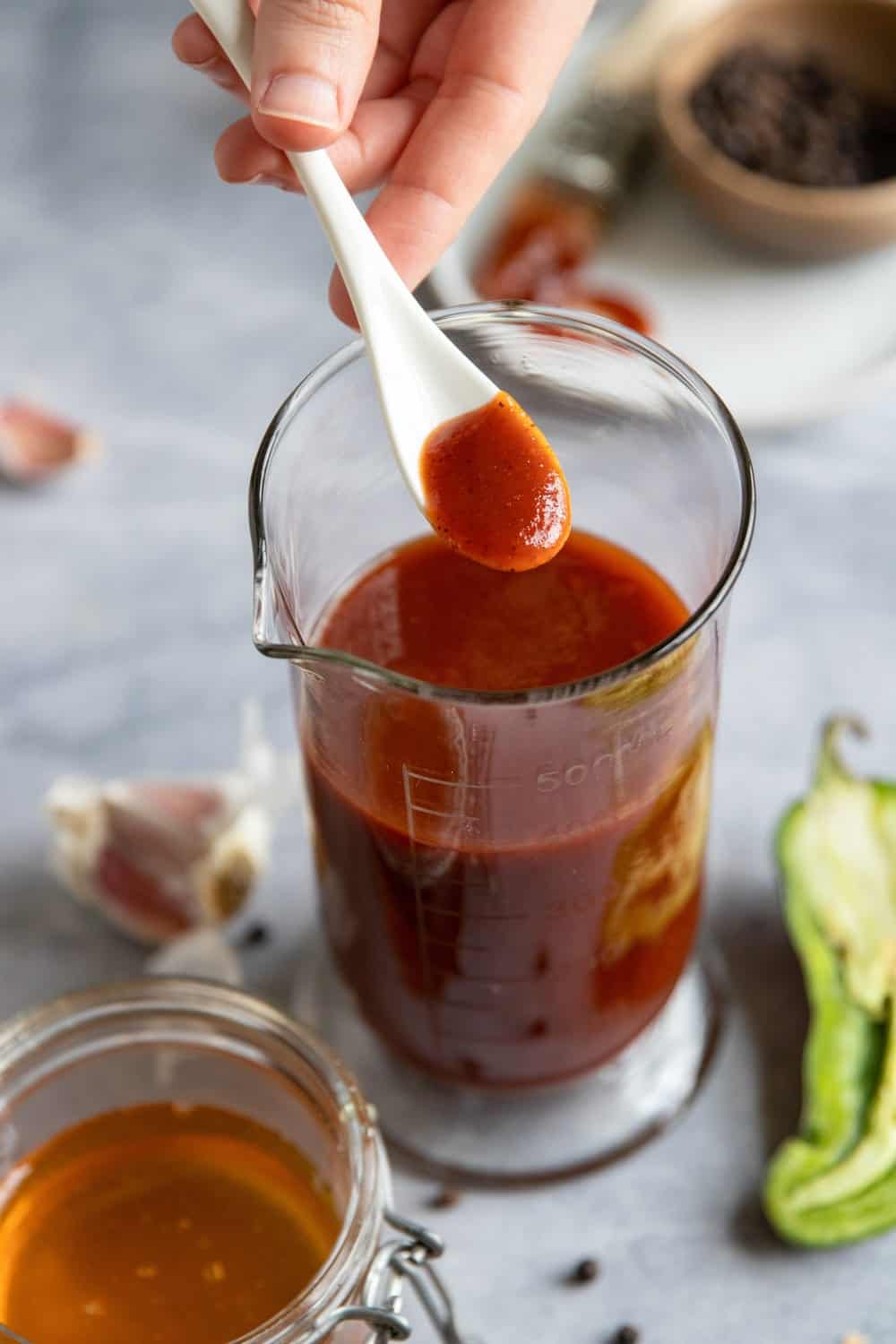 How To Make Homemade BBQ Sauce
Making your own barbecue sauce at home is a simple and satisfying way to elevate your grilling game. With just a few ingredients, you can create a sauce that's tailored to your taste buds and preferences.
Feel free to slather it on meat fresh from the grill or use it to marinate meat, tofu, or summer veggies.
Sweet & Spicy BBQ Sauce Recipe

—2 jalapeño peppers, finely chopped
—½ medium yellow onion, finely chopped
—3 cloves garlic, diced
—1 teaspoon olive oil
—1 cup ketchup
—⅓ cup apple cider vinegar
—2 tablespoons Worcestershire sauce
—1 tablespoon red pepper flakes (or more for extra heat)
—¼ cup honey
—1 ½ tablespoons Everclear Grain Alcohol
—Large pinch black pepper
—Salt to taste
Instructions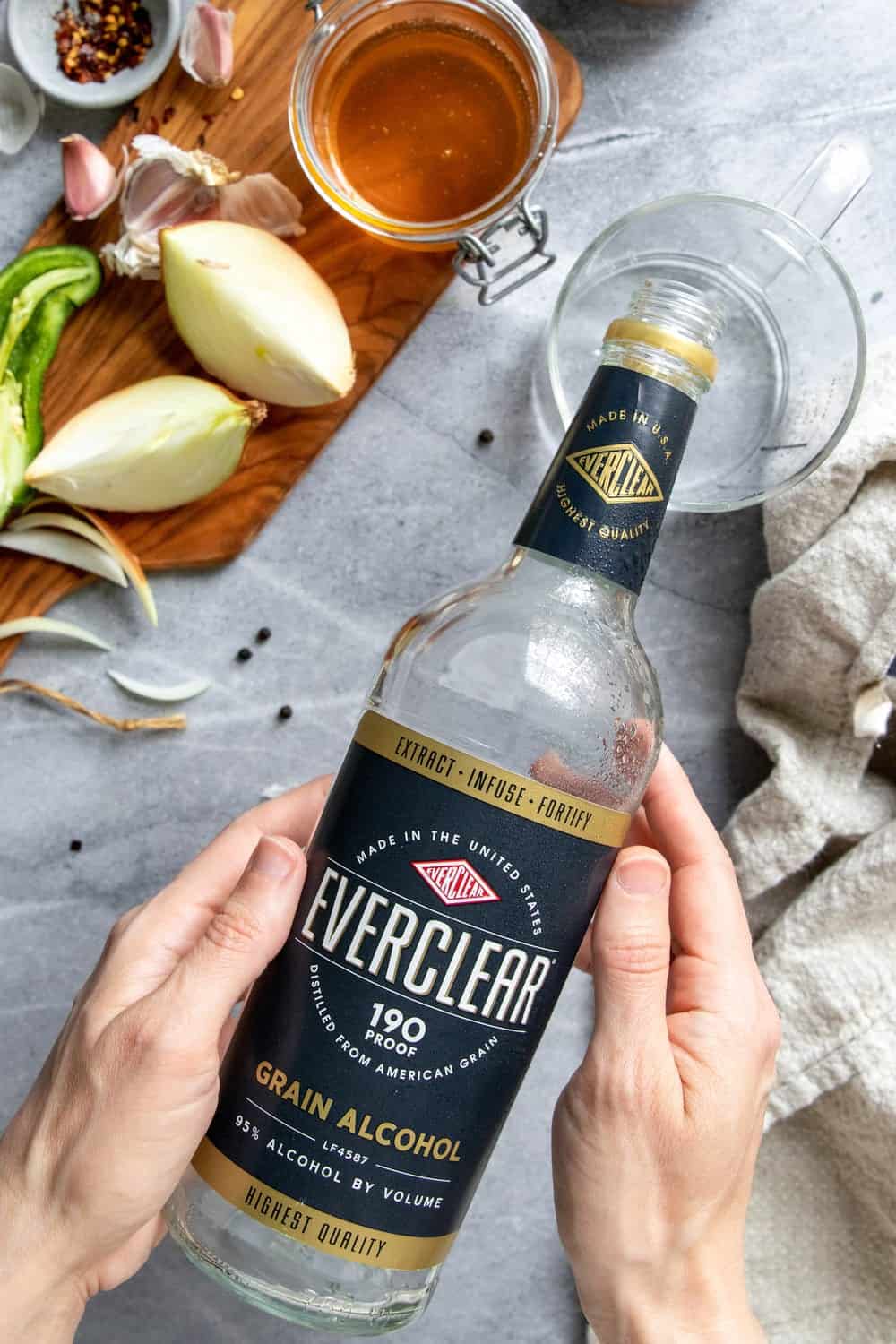 Step 1 | Sauté onion & garlic
Heat the olive oil in a large saucepan over medium heat. Add the onion and garlic, then sauté for 2-3 minutes, until the onion is soft and translucent.
Step 2 | Add other ingredients & simmer
Add the remaining ingredients to the saucepan and stir to combine.
Bring the mixture to a simmer and reduce the heat to low. Let the sauce simmer for 15-20 minutes, stirring occasionally until thickened.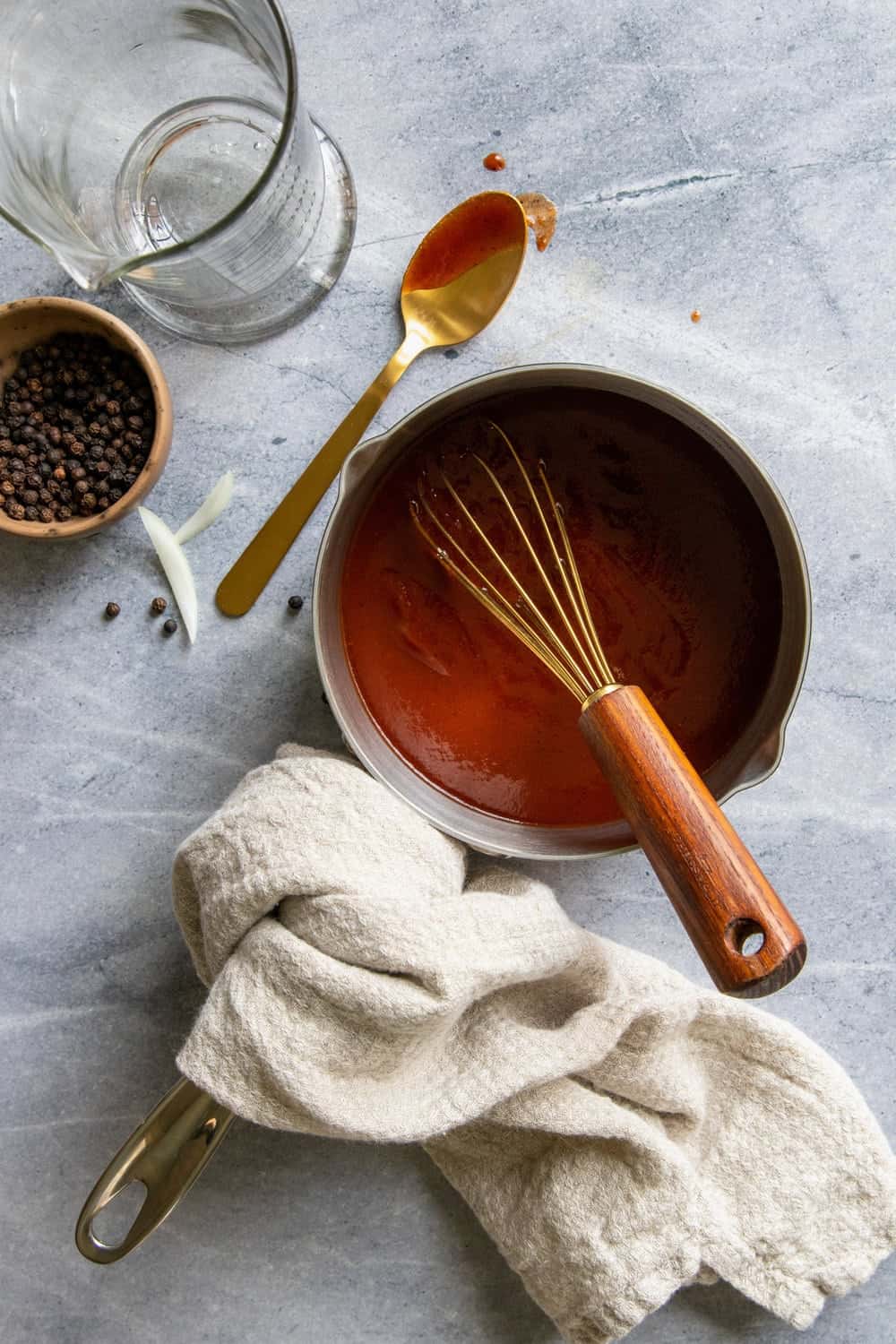 Step 3 | Remove from heat

Remove the saucepan from the heat and let cool for a few minutes. Taste the sauce and adjust the seasoning as needed.
If the sauce is too thick, you can thin it out with a bit of water or apple cider vinegar. If you prefer a smoother barbecue sauce, transfer to a blender and puree until smooth.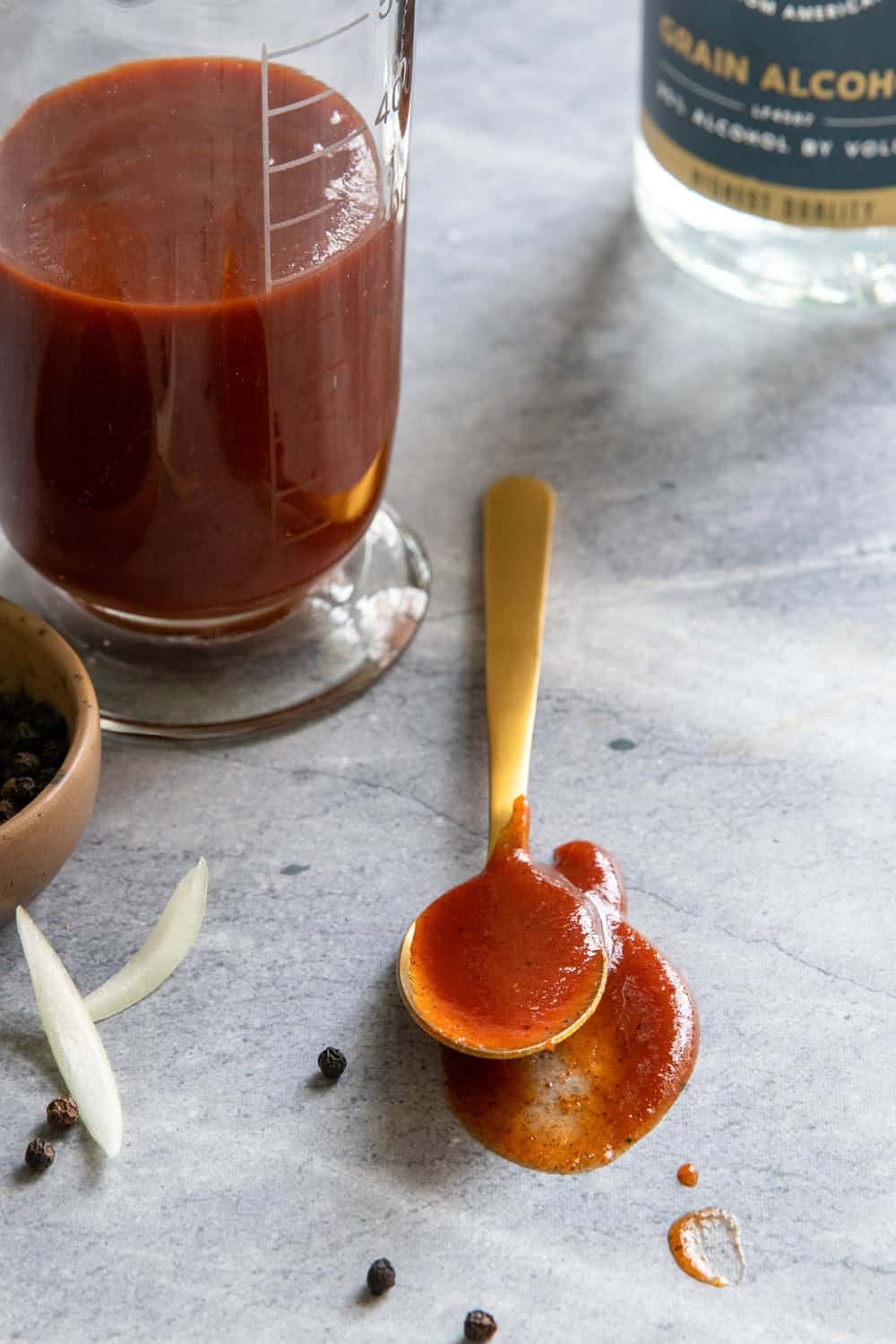 Step 4 | Store in the fridge

Transfer the sauce to a jar or other container and store it in the refrigerator for up to two weeks.
How To Use Homemade BBQ Sauce

To use it as a marinade, simply coat the meat in the barbecue sauce and let it marinate in the refrigerator for a few hours or overnight before cooking.
For a last minute grill-booster, brushing barbecue sauce onto meat just before grilling will create a flavorful glaze.
This sauce is great on grilled chicken, pork, or beef, but it also works well as a sauce for vegetables or marinade for tofu.
It also makes a delicious dip for chicken wings and fries (or any kind of finger foods!).
Don't like spicy?
If you prefer a milder sauce, you can reduce the amount of jalapeño and red pepper or leave them out altogether.
You can also use different types of peppers, such as habanero or serrano, to adjust the level of heat to your liking.
What else can you do with Everclear?
We love to use Everclear Grain Alcohol to make perfume and deodorant and in cleaning, but it's a must-have for cooking too. You can use it to:

—Add extra flakiness to shortbread cookies
—Add creaminess to this springy quinoa risotto with peas
—Lower the freezing point for herb-infused granitas for the perfect light, fluffy shaved ice texture
—Bring out the flavors in lentil spaghetti squash bowls
This post was created in partnership with Everclear® Grain Alcohol. You can find Everclear at your local retailer or online via Cask Cartel, Caskers, or Drizly. You can also search Everclear's product locator page online.
2