Homemade body scrub recipes are ridiculously easy (and cheap!) to make at home. Grab some sugar, salt, or coffee, then add a bit of carrier oil to soften and hydrate, and you're all set. There's no magic to making your own body scrub. Here's the formula I use to make the perfect recipe that leaves my skin feeling soft and smooth every time!
Why Body Scrubs Are Awesome
I'm pretty sure my first homemade beauty recipe was a sugar scrub, and I was so proud of myself! Those 5 minutes of prep time were worth it because your skin just feels so darn good after a scrubbing rubdown.
A body scrub is simply a mixture of exfoliating ingredients, such as brown sugar, combined with nourishing ingredients, like coconut oil and essential oils, and creates a luxurious and effective way to remove dead skin cells and improve dry skin.
Yes, there are approximately 8 gazillion different ways to make a body scrub, which can make it seem daunting. Have no fear, though, because it's simple when you break it down. Here's the basic equation I follow when making a body scrub:
Basic Homemade Body Scrub Recipe
—1 cup exfoliant
—½ cup liquid (see liquid options discussed below)
—2–3 tablespoons of fun add-ins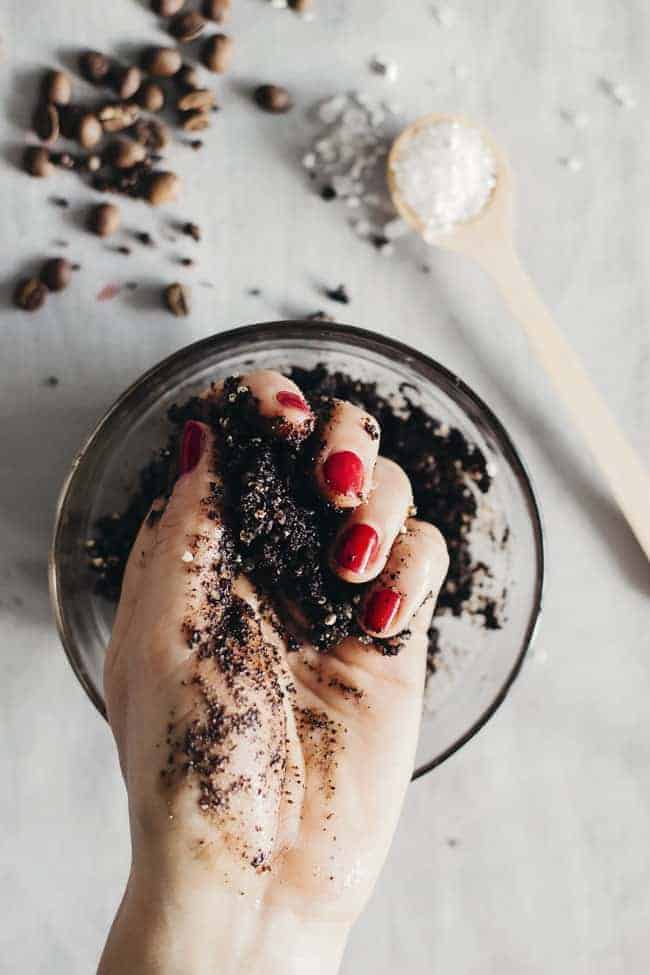 Instructions
1. Put the exfoliant in a bowl and add liquid slowly, stirring as you go. You want a consistency that you can scoop with your hand, so don't let the texture get too runny.
2. Add optional add-ins and mix again. Store your scrub in a container with a tight-fitting lid.
3. You can easily double this recipe if you want to keep it on hand for a while.
4. To use, apply the body scrub to your skin in circular motions, paying special attention to areas that tend to be dry, such as elbows and knees.
5. Rinse off the scrub with warm water, and pat your skin dry with a towel.
How to Use a Body Scrub
Body scrubs can be used several times a week, depending on your skin's sensitivity. Just store the extras in a lidded container, and do your best to avoid introducing water into the mixture. It should last 2 to 3 weeks if no fresh ingredients (like mashed fruit) are used.
For an evening of pampering, I prefer the following order for application: 10–20 minutes for a warm water bath soak, then towel dry, scrub, and shower to rinse off. Follow with a hydrating body moisturizer for optimal skin hydration.
How to Make Body Scrubs a Million Different Ways
!
You have soooo many options when it comes to making scrubs. Let's break down the benefits of some of the most commonly used ingredients: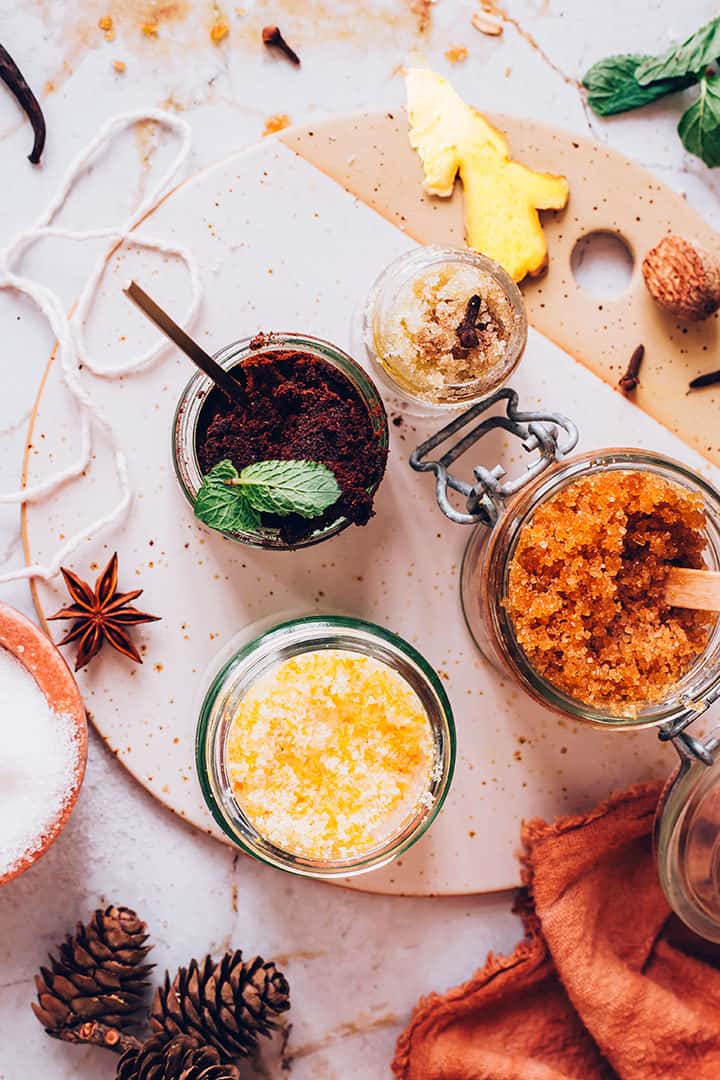 Body Scrub Exfoliating Options
First up, exfoliants. These are the textured particles in your scrub that physically remove dry skin.
1
.
Tackle Tough Skin with Salt
Salt scrubs are a wonderful choice when you want a good overall body exfoliation, eliminating the scaly, dry patches of dead skin. Because it's a lot coarser than sugar, it's best to use salt on rough areas like elbows, knees, and feet.
Interestingly, a few studies have shown that bathing in salt solution has some benefits for the skin barrier and reduces skin inflammation [source]. Some of our favorites are Epsom salt, sea salt, and kosher salt.
Sea Salt
&
Rosemary Polish
—1 cup sea salt
—½ cup olive oil
—1 tablespoon dried rosemary
—5 drops rosemary essential oil
Combine ingredients and apply to areas with thick, dry skin.
2
.
Exfoliate Dry Skin with Sugar
Sugar can also be used to exfoliate your body, especially if you tend to shave your legs and scrub at the same time. Choose sugar over salt to avoid the sting.
The fine texture of sugar is naturally exfoliating without clogging the pores. It's moisturizing for the skin and safe on even the most sensitive areas. Exfoliating with a sugar scrub will help remove dead cells, increase blood circulation, and minimize signs of aging.
If you're looking to exfoliate your face, you'll want to use something finer than salt, as it can be a little too abrasive. Fine sugar (such as caster sugar) is a great exfoliant for your face, but be sure to avoid the eye area.
Not sure what sugar to use? Here are our favorite sugar scrubs to use from head to toe.
Vanilla
&
Cinnamon Sugar Body Scrub
This body scrub is perfect for all skin types and ages. The scent is pleasant and not too sweet.
—¾ cup sugar
—¼ cup brown sugar
—1 tablespoon ground cinnamon
—½ cup grapeseed or sweet almond oil
—1 teaspoon vanilla extract
Combine all of the ingredients in a small bowl and mix thoroughly. Depending on the desired consistency, you can add more oil or less sugar.
Use the scrub on damp skin, concentrating on rough areas like elbows and knees. Store the scrub in an airtight container and use it within 2 to 3 weeks.
3
.
Smooth Cellulite with Coffee Grounds
Coffee is another favorite for exfoliating—and it's earth-friendly when you put used grounds to good use.
While drinking coffee can deplete your tissues of fluid, applying coffee topically actually helps combat cellulite. The caffeine in coffee can temporarily tighten and tone tissue and also help eliminate toxin buildup, one of the causes of cellulite.
Ground coffee can be used as an exfoliant or molded into cubes. You can also use coffee scrubs on your face as long as the coffee is finely ground.
Peppermint Mocha Scrub
—1 cup ground coffee
—¼–½ cup coconut oil
—2 tablespoons unsweetened cocoa powder
—10 drops peppermint essential oil
4
.
Battle Oily Skin with Baking Soda
One of the most versatile items you probably already have in your home is baking soda. This easy natural cleanser is great for all skin types but works especially well on oily skin.
With its super fine texture, baking soda acts like an at-home microdermabrasion for all skin types and is helpful in whipping up cheap scrub recipes. This common and inexpensive ingredient also absorbs excess oil and balances the skin's pH level, so it's especially helpful for oily skin.
Baking Soda Oily Skin Scrub
—2 tablespoons baking soda
—2 tablespoons oil or Castile soap
—2–3 drops lavender essential oil (optional)
In a small bowl, stir together the Castile soap and baking soda. The mixture may bubble up a bit. Keep stirring until smooth and creamy. Add the lavender essential oil, if desired.
5
.
Clean Pores with Clay
Like baking soda, clay is a gentle exfoliant that works for most skin types. Because clay is highly absorptive, it helps cleanse the skin, get rid of toxins, bacteria, and irritants, and promote healing [source].
Try using bentonite clay, pink or green French clay, or kaolin clay.
Acne-Fighting Clay Scrub
—½ cup bentonite clay
—½ cup fine-grain sea salt or sugar
—¼ cup grapeseed oil
—10 drops clary sage essential oil
—1–2 tablespoons water (as needed for consistency)
Mix all the ingredients together thoroughly. If the mixture seems too dry, add a tablespoon or two of water until you achieve a paste-like consistency.
Before using the scrub, wet your skin with warm water to open up the pores. Take a small amount of the scrub and gently massage it onto your body in circular motions, focusing on rough or dry areas.
Leave the scrub on your skin for a few minutes to allow the bentonite clay to work its magic. Rinse off thoroughly with warm water and pat your skin dry.
6
.
Soothe Sensitive Skin with Oats
If your skin tends to be on the sensitive side, you might want to check out the effectiveness of oats as a physical exfoliant. You can use oats for a gentle body scrub or even as a facial scrub alternative to gently unclog pores and soothe irritation.
Whenever my skin feels especially dry and chapped, I like to grind the oats in a coffee grinder so they're gentler on the skin.
Mango Body Scrub for Sensitive Skin
Mangoes are a rich source of vitamin A, which helps slough off dead skin and allows fresh new cells beneath the skin to appear. Honey is wonderful for sensitive skin types because it is well known for its healing and soothing properties [source].
—1 mango
—2 tablespoons rolled oats
—1 teaspoon raw honey
Cut up an entire mango into chunks, and puree it in a blender or food processor. Mix in the oats and honey, and stir well with a spoon.
While in the shower, you can use this as a scrub first and then a mask by leaving it on the skin for 5 to 10 minutes. Then rinse with warm water and follow up with your usual moisturizer.
7
.
Buff Rough Skin with Ground Rice
The texture of ground rice is gentle enough to be used on the face and the body.
Ginger Turmeric Spice Scrub
—1 cup rice flour
—½ cup yogurt
—2 tablespoons ginger powder
—2 tablespoons turmeric powder
Add these ingredients into a small bowl and stir to combine. Using your hands, pat the mixture all over your body, starting with your feet. You can cover up with a bed sheet as you go to keep warm while you wait.
Let it remain on your skin for 20 to 60 minutes, as long as you feel comfortable. Rinse off under a warm shower.
Liquid Body Scrub Options

1
.
Calm Inflammation with Honey
Raw honey is perfect for sensitive skin because it's known for its healing and soothing properties [source]. Use raw honey on red or irritated skin to calm the inflammation.
Honey Sugar Scrub
—1 cup sugar
—½ cup sweet almond oil
—2 tablespoons warm honey
2
.
Moisturize Dry Skin with Milk
The lactic acid in milk is a great exfoliator [source] and moisturizer (definitely go for full-fat versions or even use cream). You can also use dry milk powder for extra exfoliation.
However, my favorite milk is coconut milk, which doesn't have lactic acid but retains the moisturizing qualities because its fat content locks in moisture without feeling greasy. I especially liked the feel of it in this oil-free pre-tan body polish and face scrub.
Oil-Free Pre-Tan Scrub
This scrub has no oil, so it's perfect for exfoliating just before you apply self-tanner.
—½ cup ground rice
—¼ cup brown sugar
—½ cup coconut milk
—1-½ tablespoons grated ginger
Grind the rice in a coffee grinder or food processor. Combine the ground rice with coconut milk, brown sugar, and ginger. Store in an airtight container.
3
.
Soften Skin with Coconut Oil
Perfect for the body or face, a coconut oil scrub provides skin healing and moisturizing benefits. Coconut oil is relaxing for the mind and body and is ideal as a natural moisturizer.
Since it contains lauric acid, it has restructuring properties that protect the skin and make it soft [source]. Coconut oil may also be used to cleanse, remove makeup, and wipe away any excess oily residue from the skin.
Island Body Scrub
—1 cup coconut oil
—1 cup sea salt
—½ cup shredded coconut
4
.
Erase Dry Patches with Olive Oil
The perfect multi-tasking oil, olive oil is easily accessible and relatively inexpensive. It's perfect for when you don't want to use up your entire almond or avocado oil stash to make a big batch of body scrub.
And olive oil is a pantry staple that deserves a place in your beauty routine. The omega-3 fatty acids it contains moisturize both skin and hair. Use a grapefruit or a lemon half to let the scrub work its magic on your elbows, knees, and rough patches.
If you have a history of eczema or atopic dermatitis, test the olive oil on a small area of the skin before applying it to the entire body, as olive oil may worsen pre-existing eczema in a few individuals.
Easy Olive Oil Scrub
—½ grapefruit, lemon, or orange
—Drizzle of olive oil
—½ cup salt or coffee grounds
Cut the citrus in half and drizzle the fleshy side with olive oil. Put salt or coffee on a plate and dip the fruit into it to pick up the granules. Apply to the skin and move it around in circular motions. You can also do this with a tomato scrub.
5
.
Beat Bacne with Yogurt
Like milk, yogurt contains lactic acid and essential fatty acids that replenish skin and repair your body's natural moisture barrier. Plain, unsweetened yogurt is also chock full of probiotics, which help balance your microbiome and keep breakouts at bay.
Probiotic Body Polish
—1 cup Epsom salt
—¼ cup plain, unsweetened yogurt
—¼ cup olive oil
Add the ingredients into a small bowl and stir to combine. Using your hands, pat the mixture all over your body, starting with your feet. You can cover up with a bed sheet as you go to keep warm while you wait.
Stay there for 20 to 60 minutes as long as you feel comfortable. Rinse off under a warm shower.
Body Scrub Add-Ins

1
.
Energize with Citrus
The alpha-hydroxy acids in lemons and other citrus fruits are excellent natural exfoliators [source], especially if you have dark spots on your face. Add fresh juice or even the zest from the peel.
This citrus salt scrub provides a good energy jolt if you're feeling sluggish. The invigorating fragrance from the citrus zest and essential oil will wake up your senses, while the salt exfoliation stimulates nerve endings in the skin.
Citrus Zest Scrub
—1 cup dead sea salt
—½ cup jojoba, almond, or olive oil
—1 tablespoon citrus zest or ground dried citrus peels—5–10 drops sweet orange, lemon, or grapefruit essential oil
Combine the sea salt and oil in a bowl and mix well until the salt is saturated with oil. Then add the essential oil and citrus zest or peels and mix again.
Store in a covered jar and use as needed on your body, elbow, and heels. Apply with your hands in a circular motion, and then rinse with warm water.
And don't just stop at lemons! Try incorporating grapefruit into a treatment as well.
2
.
Add Healing Benefits with Herbs
&
Spices
Herbs don't have to be reserved just for dietary use; they can also be used to treat many skin and beauty issues. Chamomile calms irritated, itchy skin and reduces redness and inflammation [source]. Basil is relaxing and mood-lifting [source]. Fresh mint is known to be very soothing and anti-inflammatory [source], perfect for incorporating into an exfoliating body scrub.
And don't forget the spices! Try turmeric, known for its powerful anti-inflammatory effects [source]. Or add ginger or clove.
Clove
&
Coffee Body Scrub
Clove is known for its antibacterial and antiviral properties [source], just the addition you'll want for your body scrub during cold and flu season. Not to mention the scent is heavenly, with woodsy hints of spice and sweetness.
—½ cup coffee beans
—⅓ cup raw sugar
—1 teaspoon cloves
—¼ cup olive or jojoba oil
In a coffee grinder, combine the beans, sugar, and cloves, and grind until it reaches your desired coarseness. In a small bowl, add the oil to the coffee bean mixture slowly and then stir to combine. Store your scrub in an airtight container.
Use the scrub on damp skin, concentrating on rough areas like elbows and knees. Then rinse and towel dry. Follow with a body moisturizer for optimal hydration.
4
.
Nourish Skin with Dried Flowers
Not only do they look pretty, but dried flowers also gently exfoliate the skin while adding a dose of skin-nourishing nutrition. Try adding dried lavender, calendula, and rose petals for a dose of vitamin C, pectin, and malic and citric acids, all of which function as potent antioxidants [source].
Rose
+
Chamomile DIY Facial Scrub
—1 tablespoon dried roses
—1 tablespoon dried chamomile
—1 tablespoon oats
—2 tablespoons honey
—¼ cup mild carrier oil like almond, olive, jojoba, or sesame
Combine the dried flowers and oats in a coffee grinder and pulse till finely ground. Transfer to a sealable container and add the honey and oil. If you're worried about the oil clogging your pores, you can replace it with aloe vera gel.
Dip a clean spoon into the jar and put a small amount in your palm. Gently apply the scrub using a circular motion and rinse with warm water. The scrub is mild enough to use several times a week. If kept sealed and no water gets into the jar, the scrub can last indefinitely.
5
.
Brighten Skin with Fruit
Another tasty add-in comes from tropical fruits like mango, papaya, and pineapple. Mangoes are a rich source of vitamin A, which helps slough off dead skin and aid new, fresh cells from beneath to appear.
Pineapple is high in vitamin C, a wonderful antioxidant, and is needed by the body to produce collagen [source]. It's amazing for your body, both inside and out, and can be used for everything from busting bloat and aiding digestion to lightening hyperpigmentation and clarifying the skin.
Pineapple Sugar Scrub
—1-½ cups cane sugar
—½ cup walnut or coconut oil
—½ cup pineapple puree (about ¼ to ½ of a pineapple)
Depending on the size of your pineapple, you may need ¼ to ½ of the pineapple fruit to create ½ cup of puree. Take the cut pieces of pineapple and place them in a blender or food processor. Puree until reaching a smooth consistency and then place into a mixing bowl.
Add the cane sugar and walnut oil into the bowl. (If you have a nut allergy, feel free to swap out the walnut oil for coconut or extra virgin olive oil.)
Mix thoroughly with a spoon, and for your next shower or bath, scrub the mixture onto your body, taking extra time at your knees and elbows. Rinse with warm water.
6
.
Up Your Antioxidants with Tea
Green and black teas contain a plethora of skin-soothing antioxidants [source] and botanicals. Simply tear open a tea bag and sprinkle the contents into your next batch of scrub. Or infuse it in oil if you want to extend your scrub's shelf life.
Chai Pear Sugar Scrub
Chai has numerous health and beauty benefits due to the high antioxidant content in black tea leaves [source]. Masala chai also contains spices such as fennel, cinnamon, clove, and ginger, all of which are anti-inflammatory, antibacterial, and rich in vitamins.
—5 chai tea bags
—¼ pear (peeled and mashed)
—1 cup brown sugar (or finely granulated white sugar for use on your face)
—½ cup grapeseed oil
—Dash of cinnamon
Cut open the tea bags and empty the contents into a bowl, adding the brown sugar, oil, and cinnamon. When you're ready to use the scrub, stir in the pear.
Since the pear is the only perishable item in this scrub, you can prepare all of the other ingredients and keep them on hand, adding in the pear when ready to use.
7
.
Treat Skin with Chocolate
Chocolate contains flavonoids and polyphenols [source], which are antioxidants that protect your skin and may help to reduce the appearance of fine lines and wrinkles. Add a few squares of melted chocolate to a scrub, or try a bit of cocoa powder for skin-softening benefits.
Luxurious Dark Chocolate Sugar Scrub
—½ cup brown sugar
—3–5 squares dark chocolate, melted
—¼ cup olive oil
Combine all ingredients until smooth. Massage gently into the skin to slough off dead cells, paying close attention to knees, heels, and elbows. Rinse thoroughly with warm water.
8
.
Get Mind
+
Body Benefits with Essential Oils
Essential oils can seem overwhelming, right? You can pick an oil to help detox, stay well this winter, or just make you happy because it smells good (this is usually my method). Here are a few essential oils to add to your scrub for both mind and body benefits:
—Grapefruit
—Tea tree
—Vanilla
—Lavender
—Peppermint
—Geranium
Peppermint Foot Scrub
—1 cup sea salt
—½ cup coconut oil
—14 drops peppermint essential oil
—13 drops tea tree essential oil
More Homemade Scrub Ideas
We hope you're inspired by these recipes and not overwhelmed! If you need a place to start, check out these 10 homemade scrubs that we've made over the years. Or just peruse the skincare aisle at the drugstore. After a quick trip, I came up with a few more fun ideas.

Coconut Vanilla: Use coconut oil for the base and add a splash of vanilla extract.
Orange Ginger: Add orange zest and grated ginger for an energy boost.
Cucumber & Melon: Puree cucumber and melon together and add to the mixture.
Brown Sugar & Warm Honey: Replace the oil with ¼ cup of warm honey. Add 1–2 tablespoons of oil to get the right consistency.
Lavender & Chamomile: Add a few drops of lavender essential oil along with chamomile essential oil for a soothing scrub to use before bedtime.
Peppermint & Eucalyptus: Add a couple drops each of both essential oils for a great stress reliever. They have also been shown to have antioxidant effects and are soothing to the skin.
Homemade Body Scrub FAQ
Can I make a large batch of scrub and use it over time
?
Do I need to use a preservative
?
It depends on the ingredients. A simple scrub made from sugar and oil will keep for weeks. However, a scrub that contains any food-based ingredients should be stored in the refrigerator and used within 2 to 3 days.
A preservative isn't necessary. But to make your scrub last longer, I recommend a broad-spectrum preservative such as Leucidal Complete.
How much does this recipe make
?
Our basic recipe makes approximately 2 cups of scrub.
How long do these DIY body scrubs last
?
Because they contain fresh fruit, they'll only last 2 to 3 days before they start to go bad. So if you can, use any leftovers before then, or make fresh scrub if you notice an off scent or mold.
How should you store leftover body scrub
?
Store any leftover scrub in the refrigerator between uses.
Is it safe to use body scrub every day
?
Too much scrubbing can weaken your skin's protective barrier, so it's best not to scrub every day. I would recommend sticking to 1 to 2 (maybe 3 if you have excessive flakes) days a week and cutting back if you start to notice any dryness or irritation.
What are the benefits of using a homemade body scrub
?
Homemade body scrubs are great for exfoliating the skin, removing dead skin cells, and promoting smoother, softer skin. They can also help to unclog pores, improve circulation, and provide relaxation and stress relief.
Can I use a body scrub if I have sensitive skin
?
It's important to be cautious if you have sensitive skin and to choose gentle ingredients for your DIY mango body scrub. You can consider using jojoba oil, almond oil, or other carrier oils that are known to be gentle on the skin. It's also recommended to do a patch test before using the body scrub all over your body.
References (in order of appearance):
1. Proksch E, et al. Bathing in a magnesium-rich Dead Sea salt solution improves skin barrier function, enhances skin hydration, and reduces inflammation in atopic dry skin. Int J Dermatol. 2005.
2. Williams LB, et al. Chemical and mineralogical characteristics of French green clays used for healing. Clays Clay Miner. 2008.
3. McLoone P, et al. Honey: a therapeutic agent for disorders of the skin. Cent Asian J Glob Health. 2016.
4. Mandal MD, et al. Honey: its medicinal property and antibacterial activity. Asian Pac J Trop Biomed. 2011.
5. Smith WP. Epidermal and dermal effects of topical lactic acid. J Am Acad Dermatol. 1996.
6. Lima EBC, et al. Cocos nucifera (L.) (Arecaceae): A phytochemical and pharmacological review. Braz J Med Biol Res. 2015.
7. Kornhauser A, et al. Applications of hydroxy acids: classification, mechanisms, and photoactivity. Clin Cosmet Investig Dermatol. 2010.
8. Srivastava JK, et al. Chamomile: a herbal medicine of the past with bright future. Mol Med Report. 2010.
9. Rabbani M, et al. Evaluation of anxiolytic and sedative effect of essential oil and hydroalcoholic extract of Ocimum basilicum L. and chemical composition of its essential oil. Res Pharm Sci. 2015.
10. Sun Z, et al. Chemical composition and anti-inflammatory, cytotoxic and antioxidant activities of essential oil from leaves of Mentha piperita grown in China. PLoS One. 2014.
11. Aggarwal GG, et al. Potential therapeutic effects of curcumin, the anti-inflammatory agent, against neurodegenerative, cardiovascular, pulmonary, metabolic, autoimmune and neoplastic diseases. Int J Biochem Cell Biol. 2009.
12. Batiha GDS, et al. Syzygium aromaticum L. (Myrtaceae): traditional uses, bioactive chemical constituents, pharmacological and toxicological activities. Biomolecules. 2020.
13. Marmol I, et al. Therapeutic applications of rose hips from different Rosa species. Int J Mol Sci. 2017.
14. Pullar JM, et al. The roles of vitamin C in skin health. Nutrients. 2017.
15. Lambert JD, et al. The antioxidant and pro-oxidant activities of green tea polyphenols: a role in cancer prevention. Arch Biochem Biophys. 2010.
16. Peluso I, et al. Antioxidants from black and green tea: from dietary modulation of oxidative stress to pharmacological mechanisms. Br J Pharmacol. 2017.
17. Di Mattia CD, et al. From cocoa to chocolate: the impact of processing on in vitro antioxidant activity and the effects of chocolate on antioxidant markers in vivo. Front Immunol. 2017.
This post was medically reviewed by Dr. Rina Mary Allawh, M.D., a dermatologist who practices adult and pediatric medical dermatology, skin cancer treatment, and cosmetic dermatology. Learn more about Hello Glow's medical reviewers here. As always, this is not personal medical advice, and we recommend that you talk with your doctor.
617