Scrubs are ridiculously easy to make. I'm pretty sure my first homemade beauty recipe was a scrub, and I was so proud of myself! The 5 minutes of prep time was worthwhile because your skin just feels so darn good after a scrubbing rub down.
There are approximately 8 gazillion different ways to make a scrub, which makes it seem daunting. Have no fear, though, because it's simple when you break it down.
Here's the basic equation I follow when making my own scrub.
Basic Homemade Body Scrub Recipe
1 cup

exfoliant

1/2 cup liquid (see liquid options discussed below)

2–3 tablespoons of fun add-ins
Put the exfoliant in a bowl and add liquid slowly, stirring as you go. You want a consistency that you can scoop with your hand, so don't let the texture get too runny. Add optional add-ins and mix again. Store in a container with a tight-fitting lid. You can easily double this recipe if you want to keep it on hand for a while.
Exfoliant options
Salt
Salt is a wonderful choice when you want a good overall body exfoliation, eliminating the scaly, dry patches of dead skin. Because it's a lot coarser than sugar, it's best to use salt on rough areas like elbows, knees, and the feet. Interestingly, a few studies have shown that bathing in salt solution has some benefits for the skin barrier and reducing skin inflammation [source].
Some of our favorites are:
Sugar
Sugar can also be used to exfoliate your body, especially if you tend to shave your legs and scrub at the same time. Choose sugar over salt to avoid the sting. If you're looking to exfoliate your face, you'll want to use something finer than salt, as it can be a little too abrasive.
Fine sugar (such as caster sugar) is a great exfoliant for your face, but be sure to avoid the eye area.
Try:
Coffee grounds
Coffee is another favorite for exfoliating—and it's earth-friendly when you put used grounds to good use. Ground coffee can treat cellulite as an exfoliant or be molded into cubes to battle stretch marks due to the properties of its caffeine.
Baking soda
One of the most versatile items you probably already have in your home is baking soda. This easy cleanser is great for all skin types but works especially well on oily skin.
Mix a teaspoon of baking soda into your facial cleanser or make a paste of just baking soda and honey to balance the pH and absorb excess oil.
Clay
Like baking soda, clay is a gentle exfoliant that works for most skin types. Because clay is highly absorptive, it helps cleanse the skin and get rid of toxins or irritants [source].
Try using:
Oatmeal
If your skin tends to be on the sensitive side, you might want to check out the effectiveness of oats as a physical exfoliant. You can use oats for a gentle body scrub or even as a facial scrub alternative.
Whenever my skin feels especially dry and chapped, I like to grind the oats in a coffee grinder, so they're gentler on the skin.
Ground rice
The texture of ground rice is gentle enough to be used on the face and the body. We especially liked the feel in this oil-free pre-tan body polish and face scrub (plus, it tastes amazing).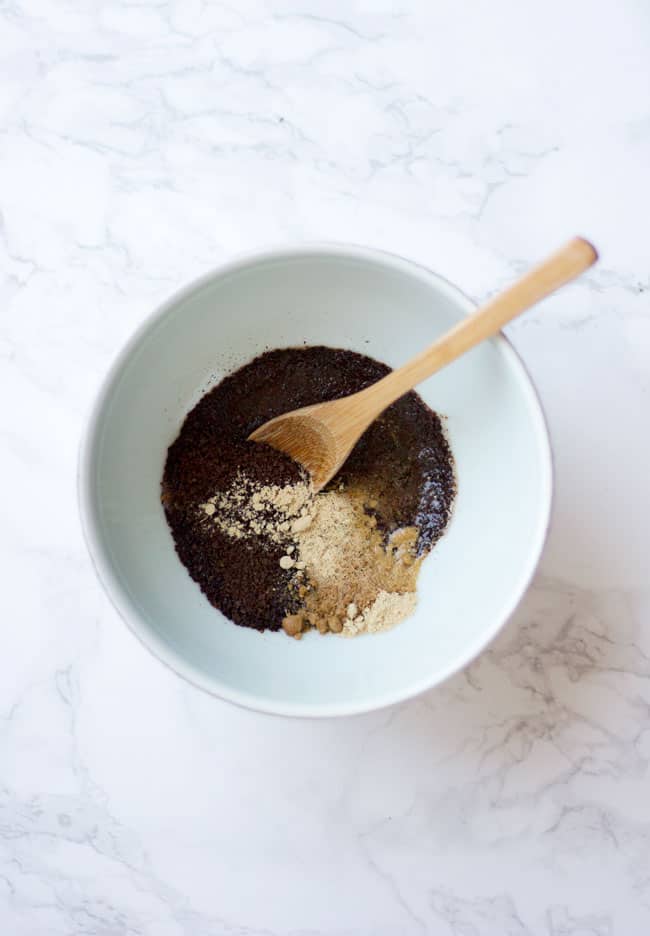 Liquid options
Honey
Raw honey is perfect for sensitive skin because it's known for its healing and soothing properties [source]. Use raw honey on red or irritated skin to calm inflammation.
Milk
The lactic acid in milk is a great exfoliator [source] and moisturizer (definitely go for full-fat versions or even use cream). However, my favorite milk is coconut milk, which doesn't have lactic acid but retains the moisturizing qualities because its fat content locks in moisture without feeling greasy.
Coconut oil
Perfect for the body or face, a coconut oil scrub provides skin healing and moisturizing benefits. Coconut oil is relaxing for the mind and body and ideal as a natural moisturizer.
Since it contains lauric acid, it has restructuring properties that protect skin and make it soft [source]. Coconut oil may also be used to cleanse or remove make-up and wipe away any excess oily residue from the skin.
Olive oil
The perfect multi-tasking oil, olive oil is easily accessible and relatively inexpensive. Perfect for when you don't want to use up your entire almond or avocado oil stash for making a big batch of body scrub.
If you have a history of eczema or atopic dermatitis, test the olive oil on a small area of the skin before applying it to the entire body, as olive oil may worsen pre-existing eczema in a few individuals.
Yogurt
Like milk, yogurt contains lactic acid and essential fatty acids that replenish skin and repair your body's natural moisture barrier. Plain, unsweetened yogurt is also chock full of probiotics, which help balance your microbiome and keep breakouts at bay.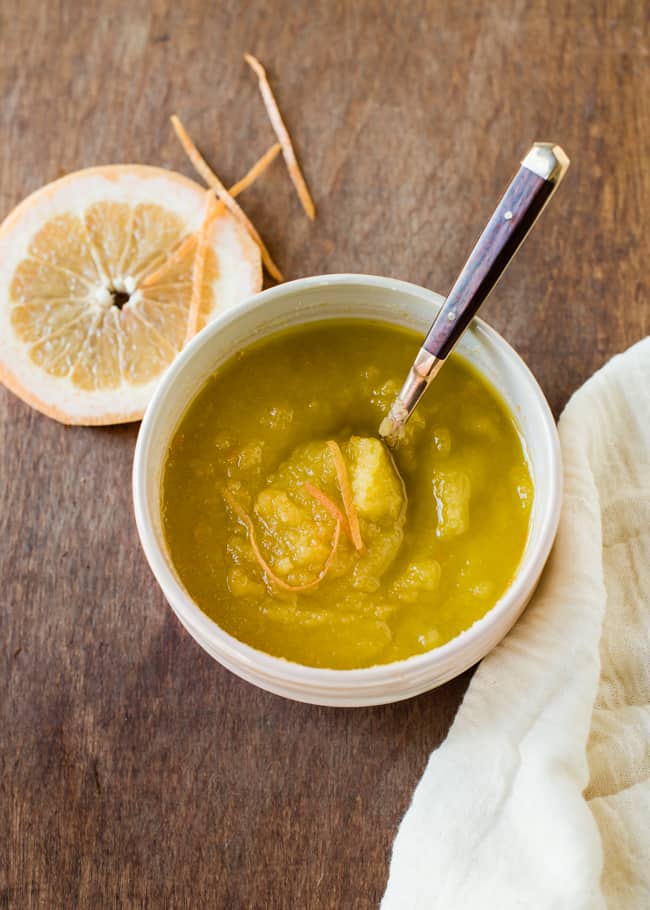 Add-ins
Citrus
The alpha-hydroxy acids in lemons and other citrus fruits are excellent natural exfoliators [source], especially if you have dark spots on your face. Add fresh juice or even the zest from the peel. And don't just stop at lemons! Try incorporating grapefruit into a treatment as well.
Herbs & Spices
Herbs don't have to be reserved just for kitchen use; they can be used to treat many skin and beauty issues. Chamomile calms irritated, itchy skin and reduces redness and inflammation [source]. Basil is relaxing and mood-lifting [source]. Fresh mint is known to be very soothing and anti-inflammatory [source], perfect for incorporating into an exfoliating body scrub.
And don't forget the spices! Add ginger or clove. Or try turmeric, also known for its powerful anti-inflammatory effects [source].
Dried flowers
Not only do they look pretty, but dried flowers also gently exfoliate skin while adding a dose of skin-nourishing nutrition. Try adding dried lavender, calendula, or rose petals for a dose of vitamin C, pectin, and malic and citric acids, all of which function as potent antioxidants [source].
Tropical fruit
Another tasty add-in comes from tropical fruits, like mango, papaya, and pineapple. Mangoes are a rich source of vitamin A, which helps slough off dead skin, and aid new, fresh cells beneath the skin to appear. Pineapple is high in vitamin C, a wonderful antioxidant and also needed by the body to produce collagen [source].
Tea
Green and black teas contain a plethora of skin-soothing antioxidants [source] and botanicals. Simply tear open a tea bag and sprinkle the contents into your next batch of scrub. Or infuse it in oil if you want to extend your scrub's shelf life.
Chocolate
Chocolate contains flavonoids and polyphenols, which are antioxidants that protect your skin [source] and may help to reduce the appearance of fine lines and wrinkles. Add a few squares of melted chocolate to a scrub or try a bit of cocoa powder for skin softening benefits.
Essential oils
Essential oils can seem overwhelming, right? You can pick an oil to help detox, stay well this winter, or just make you happy because it smells good (this is usually my method). Here are a few oils to add to your scrub for both mind and body benefits:
6 Homemade Scrub Ideas
We hope you're inspired, not overwhelmed! If you need a place to start, check out these 10 homemade scrubs that we've made over the years. Or just peruse the skincare aisle at the drugstore. After a quick trip, I came up with a few more fun ideas.

Coconut Vanilla: Use coconut oil for the base and add a splash of vanilla extract.
Orange Ginger: Add orange zest and grated ginger for an energy boost.
Cucumber & Melon: Puree cucumber and melon together and add to the mixture.
Brown Sugar & Warm Honey: Replace the oil with 1/4 cup of warm honey. Add 1–2 tablespoons of oil to get the right consistency.
Lavender & Chamomile: Add a few drops of lavender essential oil along with chamomile essential oil for a soothing scrub to use before bedtime.
Peppermint & Eucalyptus: Add a couple drops each of both essential oils for a great stress reliever. They have also been shown to have antioxidant effects and are soothing to the skin.
Homemade Body Scrub FAQ
Can I make a large batch of scrub and use it over time? Do I need to use a preservative?
It depends on the ingredients. A simple scrub made from sugar and oil will keep for weeks. However, a scrub that contains any food-based ingredients should be stored in the refrigerator and used within 2–3 days.
A preservative isn't necessary. But to make your scrub last longer, I recommend a broad-spectrum preservative such as Leucidal Complete.
How much does this recipe make?
Our basic recipe makes approximately 2 cups of scrub.
Where can I find cute jars for my scrub?
Click here to see where we get all of our favorite jars and storage containers.
This post was medically reviewed by Dr. Rina Mary Allawh, M.D., a dermatologist who practices adult and pediatric medical dermatology, skin cancer treatment, and cosmetic dermatology. Learn more about Hello Glow's medical review board here. As always, this is not personal medical advice, and we recommend that you talk with your doctor.
597