It's always a challenge to get kids excited about bath time. You need toys, towels to clean up the inevitable splashes and more than a little patience for mom. But luring them with bubbles is a sure-fire winner. Homemade bubble bath is easy to make and much safer on sensitive skin than Mr. Bubbles.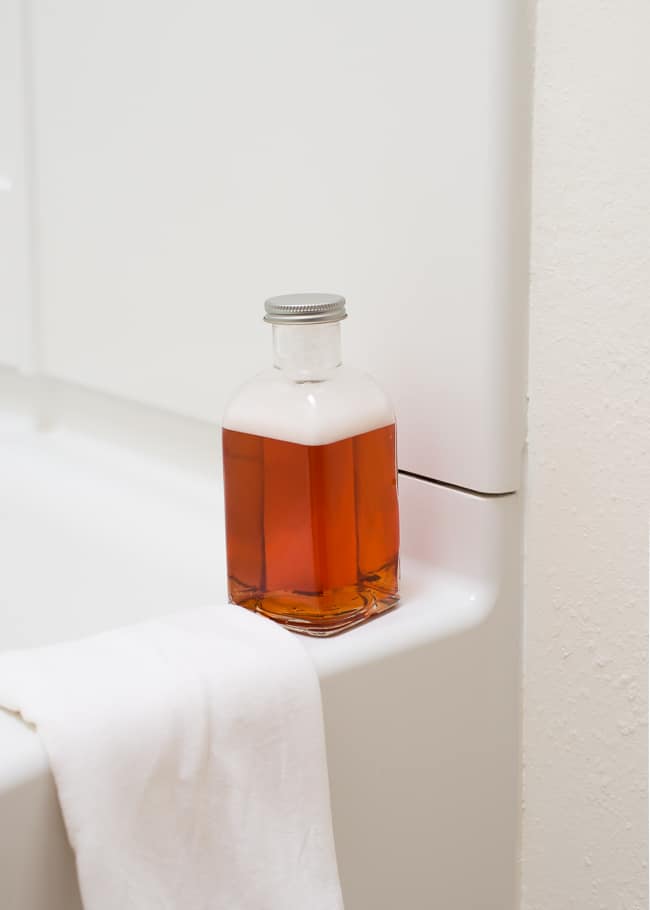 Another perk of homemade bubble bath is that you can sneak in essential oils like lavender and chamomile that calm little ones and get them ready for bed. Or you can try one of these aromatherapy bath blends for stress, balancing or sinus relief.
Don't be surprised that homemade bubble bath doesn't create enormous bubbles like the commercial stuff. This recipe uses more castile soap than this honey vanilla bubble bath so there's more bubble action. But you'll still need to agitate the water to create a good foam.
Adding glycerin helps counteract the drying effects of the soap. A drop or two of food coloring makes bathtime even more fun because it colors the water, too. Or let the kids pick their color and add a drop to the water each time you use the bubble bath. Kids loove this!
Calming Sleepy Time Bubble Bath
Combine all ingredients in a sealable bottle. (It's probably better to use a plastic bottle if you plan to store it in the bathroom.) Stir ingredients gently; you don't want to make bubbles just yet! To use, pour about 1/2 cup under running water and agitate water to create bigger bubbles.
Have you tried making homemade bubble bath?
108