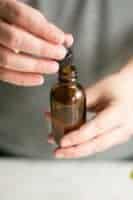 Hydrating Homemade Face Serum
Yield 1 .5 oz
Combine aloe vera with a carrier oil that works for your skin type and a few drops of nourishing skin essential oils for a healing and hydrating homemade face serum that's perfect for daytime.
Instructions
Use a funnel to pour ingredients into a small bottle with a dropper lid.
Shake well before each use and apply to clean, damp face.
Recipe by Hello Glow at https://helloglow.co/homemade-face-serum/