Thinking about a nice long, hot bath is what gets me through some days. Escaping the children with a magazine and a glass of wine is the reward for surviving a looooong afternoon. You know, the days when one kid has the flu, another one has a ridiculous homework project, and, oh, here comes another school holiday.

Homemade bath salts were one of my very first DIY projects. I made them for my mom and sister for Mother's Day and was so ridiculously proud of myself. Like I had solved world peace or something. We might not be saving the world, but taking a few minutes to make yourself these lavender bath salts might help you keep your sanity.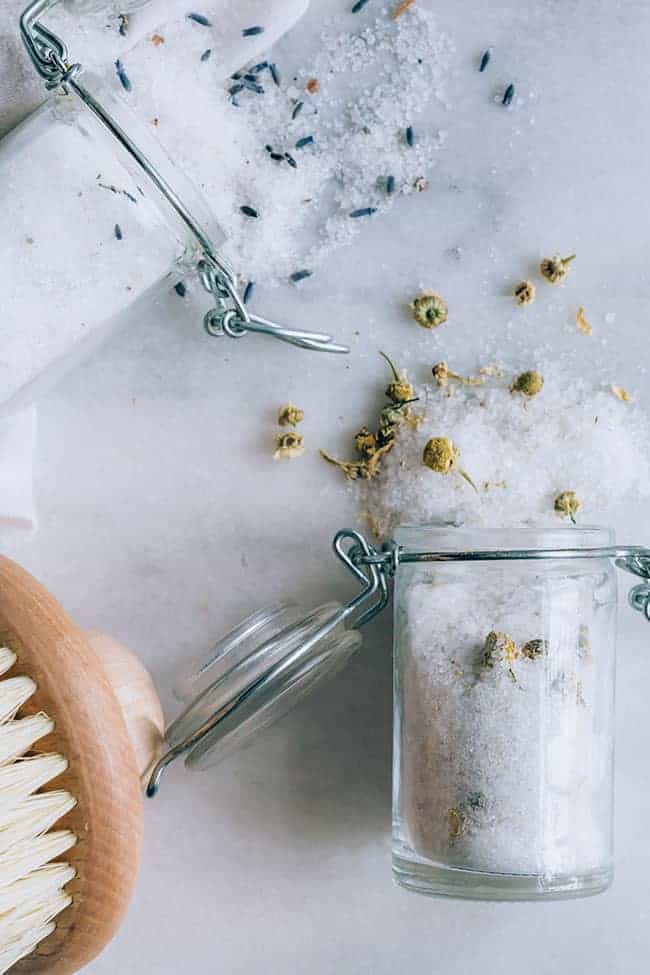 I need to get back into the habit of making gifts for holidays and birthdays. Recently I went down the rabbit hole of zero waste Instagrammers, and every post looks so calm and serene. My son just had his 8th birthday; I felt guilty because it was insanity and now we're drowning in Legos. The holidays and special occasions need to slooow dowwwn.

Okay, enough internal angst. Back to bath salts. Maybe just the thing I need to pause for a moment of zen.
How to make lavender bath salts

You'll need:
Kosher salt or sea salt

Dried herbs

Essential oils

A resealable container
Lavender is a commonly used herb because it calms and relaxes. The scent of fresh lavender soothes your mind and body, promoting better, deeper sleep. You can also use chamomile, rosemary or even dried rose petals.
Epsom salt makes an excellent bath salt base because it has so many bath benefits for aches and pains. I start with 2 cups of Epsom salt and 1 cup of another salt. You can also add 1/2 – 1 cup of baking soda or Bentonite clay.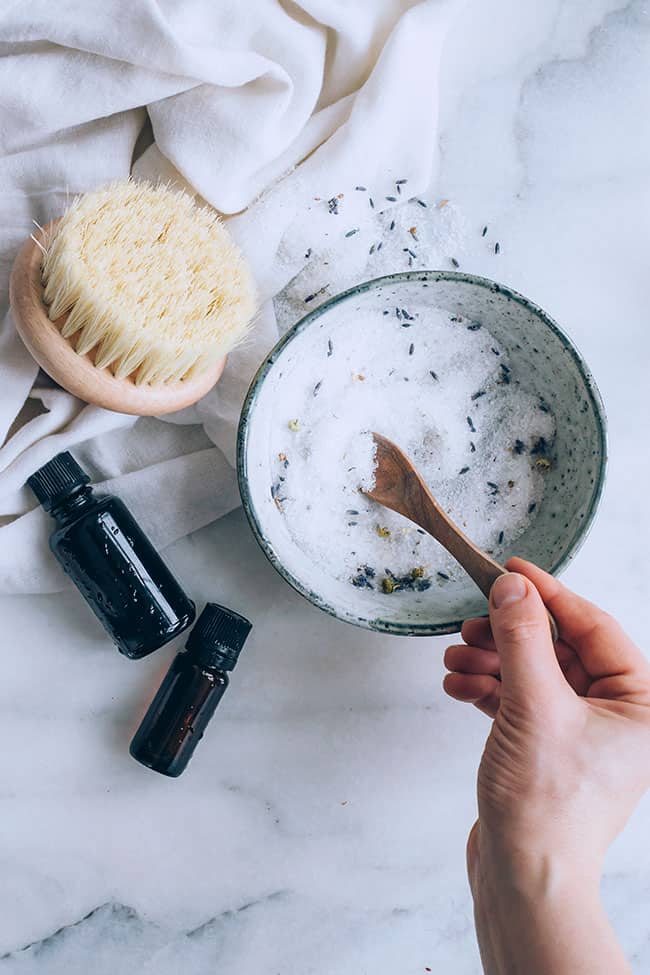 Mixing up the salt and oils in a Ziploc bath really helps distribute the scent. If you're avoiding plastic, a large bowl will do. I usually mix up a big batch and keep it by the tub so it's easy to scoop in.
More homemade bath salt ideas
1. Vanilla: I made another version with vanilla extract and a vanilla bean. It smells amazing!
2. Colors: You can make colored bath salts by adding a few drops of food coloring when you combine the salt in the Ziploc. This wasn't food coloring, but my kids loved the green color.

3. Aromatherapy: Essential oils do more than just add relaxation. Try one of these aromatherapy bath salt blends for for cold and flu, sore muscles, allergies and everything in between.

4. Energizing: A post-lunch bath is the a perfect way to perk up energy levels. This refreshing mint and lime recipe is perfect for summer soaking!
77