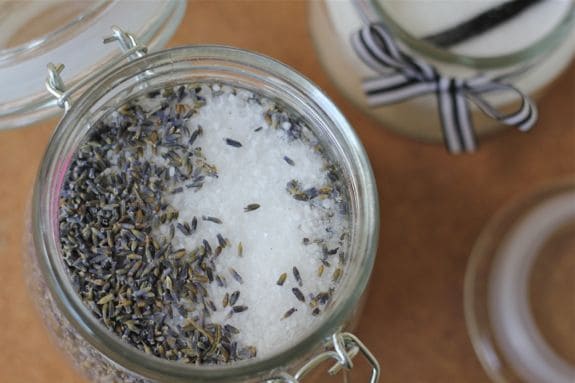 One of the things I'm most looking forward to post-pregnancy is a nice long, hot bath. Something about escaping the children with a fashion magazine and a glass of wine sounds pretty appealing.
I decided to make these homemade herbal bath salts for my mom and sister for Mother's Day – and of course left them sitting on the dining room table when we headed to Nashville. (On a sidenote – is anyone else's dining room table completely taken over with craftiness?)
What you'll need:
Kosher salt or sea salt

Dried herbs

Essential oils

A resealable container

Decoration like ribbon or gift tags if giving as a gift
What herbs should I use?
I made lavender and mint versions. Lavender is a commonly used herb because it calms and relaxes as well as helps you sleep. Mint is one of my favorite scents! Use mint if you want an energizing bath or a soak to boost your mood. You can also use chamomile, rosemary or even dried rose petals.
Instructions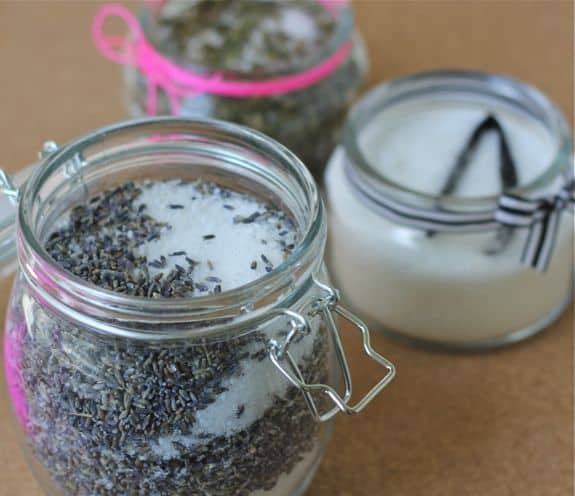 1. Combine 2 cups of Epsom salt with 1 cup of kosher salt in a Ziploc bag.
2. Add 8-12 drops of essential oil and squish around to distribute the oil.
3. Pour the salt into a resealable container and top with a couple of tablespoons of dried herbs. Or you can mix in the herbs if you like.
4. Decorate container with ribbon for an easy homemade gift.
5. To use, add a few spoonfuls to a hot bath and enjoy!
More homemade bath salt ideas
1. Vanilla: I made another version with vanilla extract and a vanilla bean. It smells amazing!
2. Colors: You can make colored bath salts by adding a few drops of food coloring when you combine the salt in the Ziploc.
3. Moisturizing: Add a couple of tablespoons of almond oil when mixing the salt together and you'll add serious moisture to your bath.