Fall brings beautiful colors, scents, and traditions. Unfortunately, it can also mean dry, chapped lips. As we transition out of summer and into fall, the humidity drops dramatically, taking a toll on our lips and skin. Not to mention, indoor heaters can also zap moisture from the atmosphere and dry out skin even more.
But a homemade lip balm and scrub can do wonders for lips in need of a little TLC. Just slough away dead skin cells and seal in moisture to plump and protect chapped lips.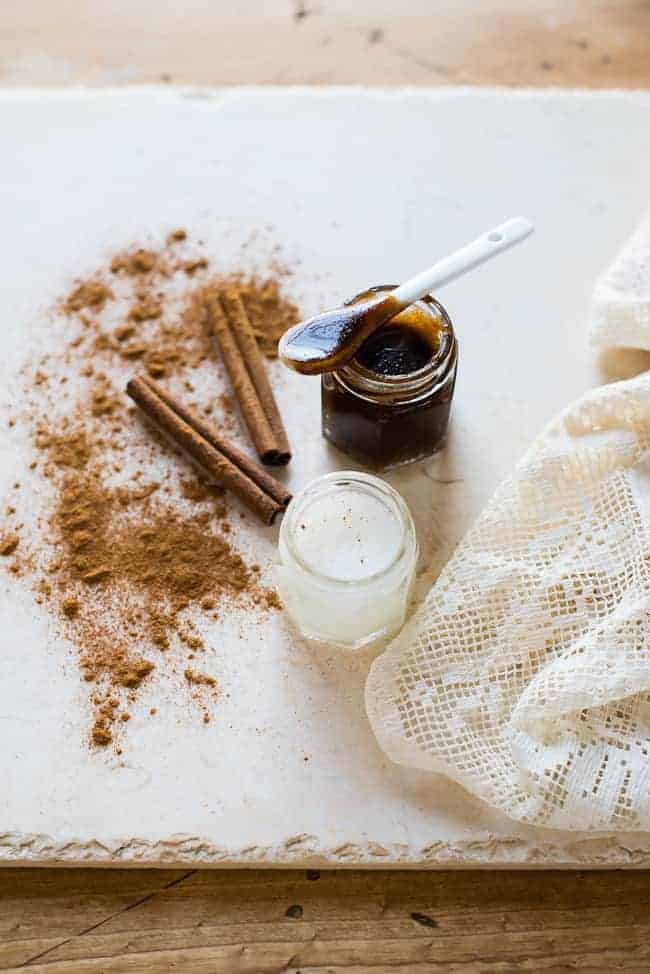 DIY Lip-Plumping Homemade Lip Balm + Scrub
One of the best ways to hydrate lips is to first prep them with some exfoliation. Once dead skin is removed, it allows moisturizers to be better absorbed. A physical exfoliation can be anything with a gritty texture (often sugar) that removes patches of dead, dry skin cells. Using a scrub with a gritty texture is helpful for buffing away any uneven texture and enhancing cell turnover.
Homemade Lip Scrub with Cinnamon
Try this homemade cinnamon lip scrub for a little exfoliation, which will prep your lips to receive the healing properties of lip balm. Not to mention it'll leave your lips naturally plumper—and smelling of fall! Double win!
Ingredients
Instructions
Combine the above ingredients in a mixing bowl. Apply to lips with fingertips and gently slough off dry, dead skin cells by scrubbing in circular motions. It is important to use a gentle technique and not over-exfoliate to prevent small tears in the skin.
Rinse with warm water and follow with lip balm. Use this scrub once or twice a week to transition into fall, and treat the chapped lips that occasionally accompany the season.
Homemade Plumping Lip Balm with Cinnamon
Cinnamon is such a delicious fall flavor and scent, and when added to lip balms and other beauty recipes, it creates a warming sensation that plumps the lips. Full of powerful antioxidants and polyphenols, cinnamon also has the ability to repair damaged tissue [source].
And, thanks to its antibacterial properties, cinnamon may even help prevent recurrent painful fissures or splitting of the lips.
The vitamin E in this recipe will not only add to the lip balm's shelf life, but it will also increase its hydration factor. Vitamin E is known for its antioxidant properties [source] that protect the skin from the sun's harmful effects and damage from toxins and the environment. This well-known oil can nourish, soothe, and protect the skin, along with the lips.
Topical vitamin E comes in both cream and oil forms, so this recipe can be adjusted to what's available in your area. Capsules are another great option. Just cut one open and squeeze out the oil to apply on any area of the skin.

Ingredients
*If you prefer your plumping lip balm to have a firmer consistency, you can increase the amount of beeswax and decrease the coconut oil. And if you prefer a more liquid balm, reduce the beeswax and add more coconut oil.
Instructions
In a double boiler, combine the coconut oil and beeswax. Over low heat, stir until both are completely melted. Remove from heat, then add the vitamin E (puncture the capsules and squeeze), honey, and essential oil. Transfer to lip balm containers. You'll have about 5–10 minutes until the product begins to solidify.
Use the lip balm whenever your lips feel like they need a pick me up and some extra moisture.
Plumping Lip Balm FAQ
I am vegan. What can I use in place of beeswax and honey in this lip balm recipe?
Soy wax or carnauba wax are two great vegan alternatives to beeswax. But I definitely wouldn't recommend skipping the wax entirely, or you'll run into consistency issues when the coconut oil starts to soften.
To replace the honey, try vegetable glycerin or castor oil.
How can I prevent the honey from separating from the lip balm?
Honey, which is water-based, tends to settle at the bottom of the container when used in homemade bath and body products. There are two ways around this:
1. Let the melted oil mixture cool to almost room temperature (you should see it starting to form a film on top) before adding your honey. Then place it in the freezer for a few minutes to finish cooling.
The cooler the oils are when you add the honey, the less separation should occur. And by rapidly cooling the mixture after you've added the honey, you'll prevent further separation.
2. Use an emulsifying wax to bind the honey and oil-based ingredients and keep them from separating. Follow the instructions on the package to determine the amount of emulsifying wax required for this recipe.
What's the shelf life of DIY lip scrub and lip balm?
Homemade lip scrub should last approximately 2 weeks if kept refrigerated. Lip balm should last about 6 months.
To make them last longer, you can use a natural preservative, such as Leucidal Liquid SF.
Can I use regular white sugar instead of brown sugar for the scrub?
Definitely. However, a fine-grained sugar such as caster sugar will be easier on your lips.
Where did you find your little jars?
These are similar to the ones we used.
The cinnamon irritates my lips; can I leave it out entirely?
Cinnamon's tingling action is what makes this plumping lip balm + scrub so magical. But yes, if it irritates your skin, it's definitely best to leave it out entirely. It shouldn't affect the recipe.
Do you have a favorite fall beauty recipe to share? Let us know in the comments.
This post was medically reviewed by Dr. Rina Mary Allawh, M.D., a dermatologist who practices adult and pediatric medical dermatology, skin cancer treatment, and cosmetic dermatology. Learn more about Hello Glow's medical review board here. As always, this is not personal medical advice, and we recommend that you talk with your doctor.
575