Fall brings beautiful colors, scents and traditions. Unfortunately, it can also mean dry, chapped lips. As we transition out of summer and into fall humidity drops and it can take a toll on our lips and skin. This occurs as the wind picks up and the moisture in the air decreases. Indoor heaters also will zap moisture from the atmosphere and can often dry out skin.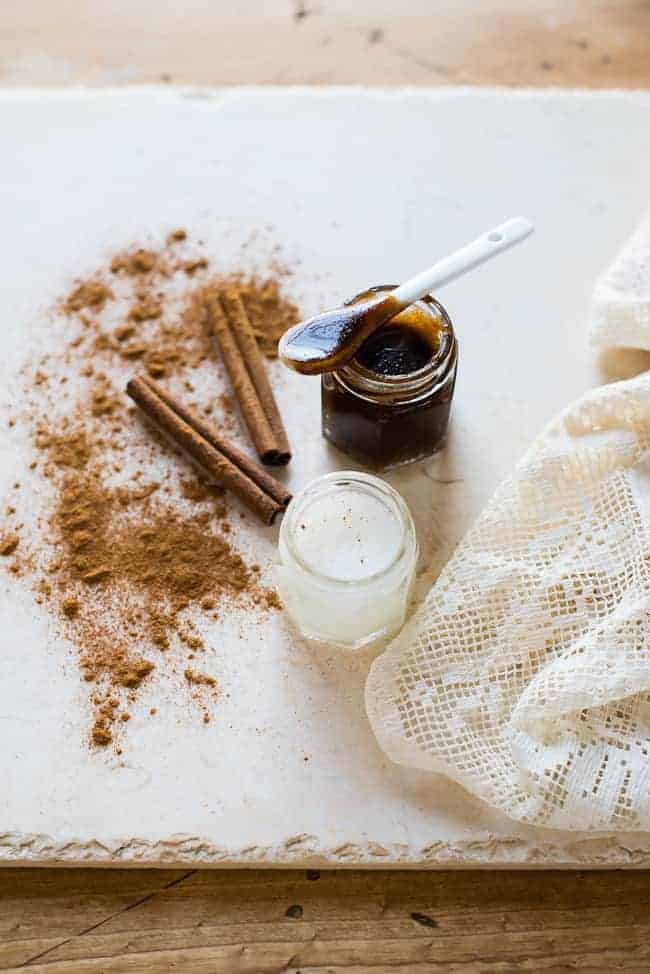 One of the best ways to hydrate lips is to first prep them with some exfoliation. Once dead skin is removed, it allows moisturizers to be better absorbed. A physical exfoliation can be anything with a gritty texture (often sugar) that removes patches of dead, dry skin cells. Using a scrub with a gritty texture is helpful in buffing away any uneven texture and enhance cell turnover.
Try this homemade cinnamon lip scrub for a little exfoliation which will be the prep your lips to receive the healing properties of this cinnamon homemade lip balm. Not to mention it'll leave your lips naturally plumper – and smelling of fall! Double win!
Homemade Lip Scrub with Cinnamon
2 tablespoons brown sugar
1/2 tablespoon olive oil
1/2 tablespoon raw honey
1/2 teaspoon ground cinnamon powder
Combine above ingredients in a mixing bowl. Apply to lips with fingertips and gently slough off dry, dead skin cells by scrubbing in circular motions. It is important to use a gentle technique and to not over-exfoliate to prevent small tears in the skin.
Rinse with warm water and follow with lip balm. Once or twice a week use of this scrub should be the amount needed to transition into fall and treat the chapped lips that occasionally accompany the season.
Homemade Lip Balm with Lip-Plumping Cinnamon
Cinnamon is such a delicious fall flavor and scent, and when added to lip balms and other beauty recipes it creates a warming sensation that 'plumps' the lips. Full of powerful antioxidants and polyphenols, cinnamon also has the ability to repair damaged tissue. Cinnamon also has some antibacterial properties and may help prevent recurrent painful fissures (cuts) on the lips.
The vitamin E in this recipe will not only add to the lip balm's shelf life but will also increase the hydration of the balm. Vitamin E is known for its antioxidant properties, (protecting the skin from harmful effects of sun damage), and can nourish, soothe and protect the skin along with lips.
Topical vitamin E comes in both cream or or oil form so this recipe can be adjusted to what's available in your area. Capsules are also a good option for cutting open for topical application.
Ingredients
*If you prefer a firmer consistency you can increase the beeswax amount and decrease the coconut oil. And if you prefer a more liquid balm, decrease the beeswax and increase the coconut oil.
Instructions
In a double boiler combine the coconut oil and beeswax. Over low heat, stir until both are completely melted. Remove from heat then add the vitamin E liquid (puncture the capsules and squeeze), honey and essential oil. Transfer to lip balm containers. You'll have about 5-10 minutes until it starts to harden. Use the lip balm whenever your lips feel like they need a pick me up and some extra moisture.
Do you have a favorite fall beauty recipe to share? Let us know if the comments.
This post was medically reviewed by Dr. Rina Mary Allawh, M.D., a dermatologist who performs adult and pediatric medical dermatology, skin cancer treatment and cosmetic dermatology. Learn more about Hello Glow's medical review board here. As always, this is not personal medical advice and we recommend that you talk with your doctor.
534