Everything is so dry in winter – my lips especially! I have about 10 tubes of Chapstick stashed in every corner like a squirrel. Since my sister's birthday is tomorrow, I whipped up a batch of homemade lip gloss and lip scrub. I mean, Valentine's Day is coming up, right? It's time to get those lips ready!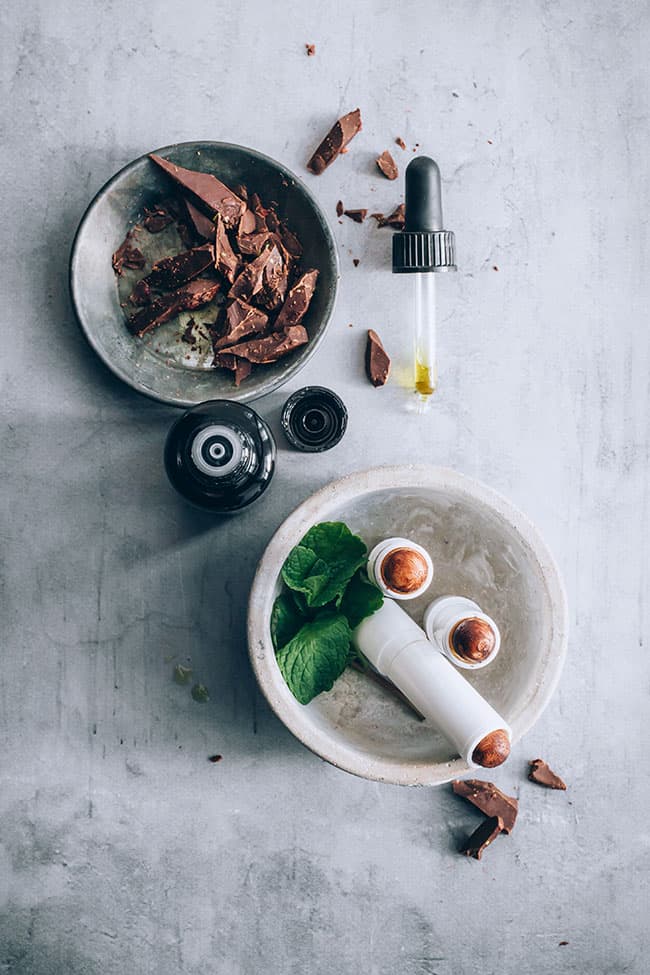 Mint Chocolate Homemade Lip Gloss
Mint chocolate is my all-time favorite ice cream flavor. I'm the person who orders the same flavor over and over. Do you? So if I can't have ice cream in my diet, then I will have mint chocolate lip gloss!
You will need:
This is so easy! Just put all of the ingredients together in a microwave safe bowl and heat until melted. About 1 minute. Stir together until mixed and pour into a small container. Let it cool and start licking your lips!
This recipe makes enough to fill up more than one small container. So you can either cut the recipe in half or grab all of your extra Chapstick tubes. Just dig out the old lip gloss and fill with the chocolate lip gloss recipe.

Homemade Sugar Lip Scrub
Have you ever exfoliated your lips? I don't do it nearly as often as I should, but it feels amazing. You only need a couple of ingredients:
2 teaspoons sugar (you can use pretty much any sugar: raw sugar, brown sugar, regular sugar)
1 teaspoon honey
1 teaspoon almond oil
1 drop peppermint essential oil
Mix everything together in a small bowl until you have a paste. Use your finger to massage into your lips and rinse with warm water. You'll be tempted to eat the mixture – it tastes pretty darn good!
You can keep any extra in a small container. Highly recommended before date nights!
This post was medically reviewed by Dr. Jennifer Haley, a board-certified dermatologist with extensive experience in medical, cosmetic and surgical dermatology. Learn more about Hello Glow's medical review board here. As always, this is not personal medical advice and we recommend that you talk with your doctor.
80