It's the first rainy day this fall, and I can't stop thinking about a hot drink to warm me up and wake up my senses. The weather outside screams autumn, so it's just about time to start the hot cider season. I grabbed my colorful umbrella to hide from the heavy rain and go buy some mulling spices, but right before adventuring outside, I was struck by a genius idea. Why pay for the little bags or jars of mulling spices when I can make it myself? Ready in no time, all natural, flavored just as I wish, and, most of all, cheaper. Making my own homemade mulling spices seems like the best idea I've had lately!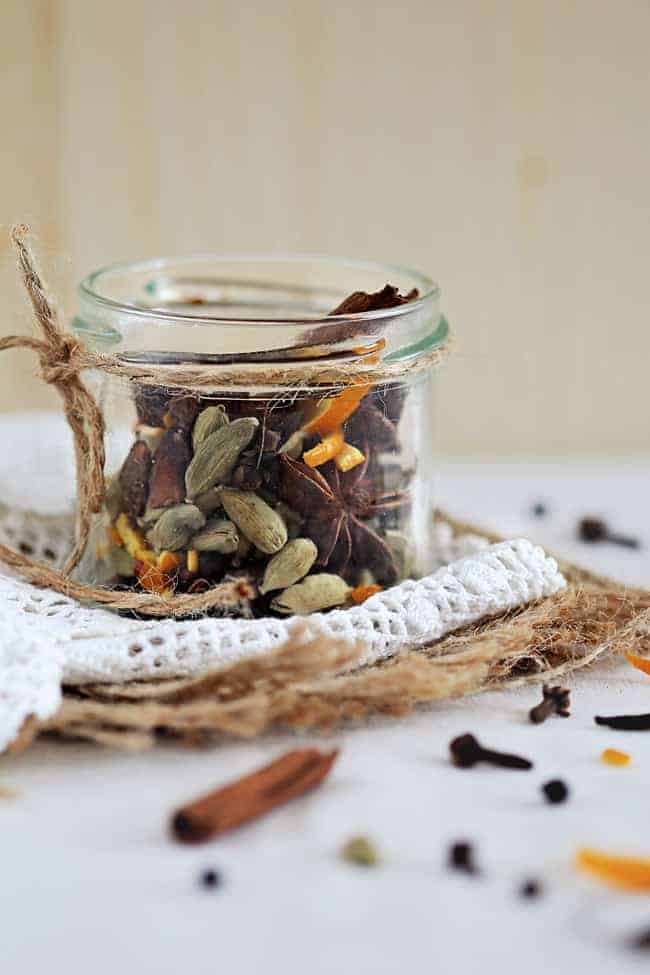 There's no magic formula to making mulling mix. So get your imagination and senses fired up, and you can create your own perfect spice combination. The base to start from is very simple: star anise, allspice berries and cloves. From there, the right blend and proportions depend on your preferences. Just mix up the ingredients, store them in an airtight container and it's ready whenever the mulled cider craving hits.
Homemade Mulling Spice Ingredients
Whole cinnamon sticks
Dried citrus peel – orange, grapefruit, lime, clementine or lemon (use only organic products to avoid pesticides)
Cardamom pods
Dried pieces of ginger root
Whole nutmeg
Vanilla pod
Brown sugar
Dried edible flower petals (roses, lavender or cornflowers)
Dried fruits (cranberries, banana, coconut)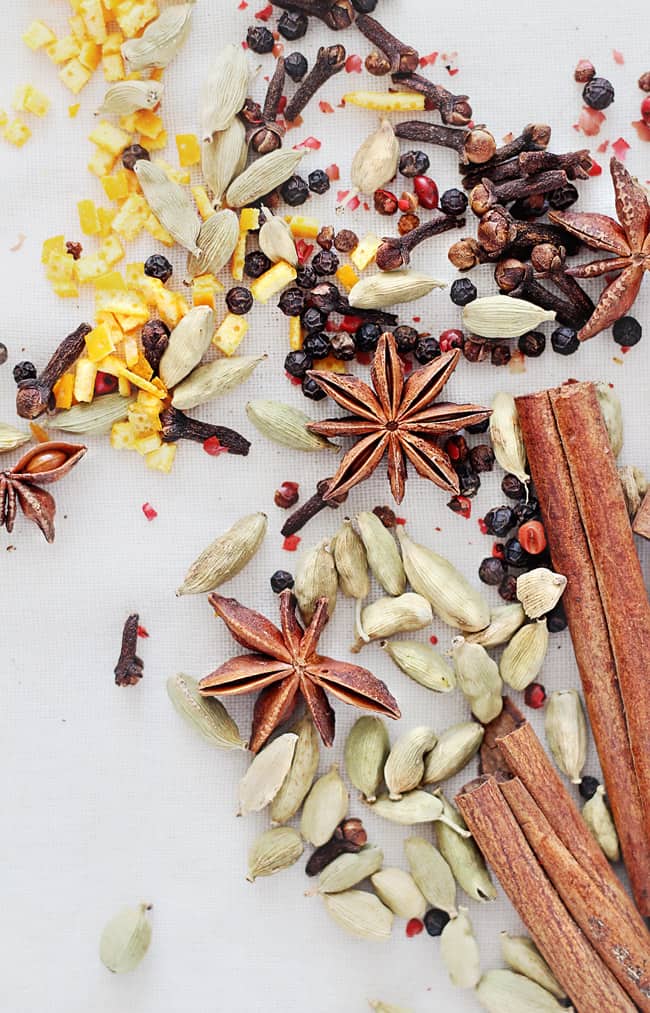 Preparing a mulled drink is a very easy thing to do, and making mulled cider isn't the only way to use your homemade mulling spice. Hot mulled cider with bourbon is the best thing to warm up autumn gatherings, and hot coconut milk spiced up with your favorite mulling blend will make your kids happy after a snow fight. Mulled wine is one of my favorites and simmering a medium-bodied red wine with orange, ginger, cinnamon and vanilla makes a perfect warm, spicy blend.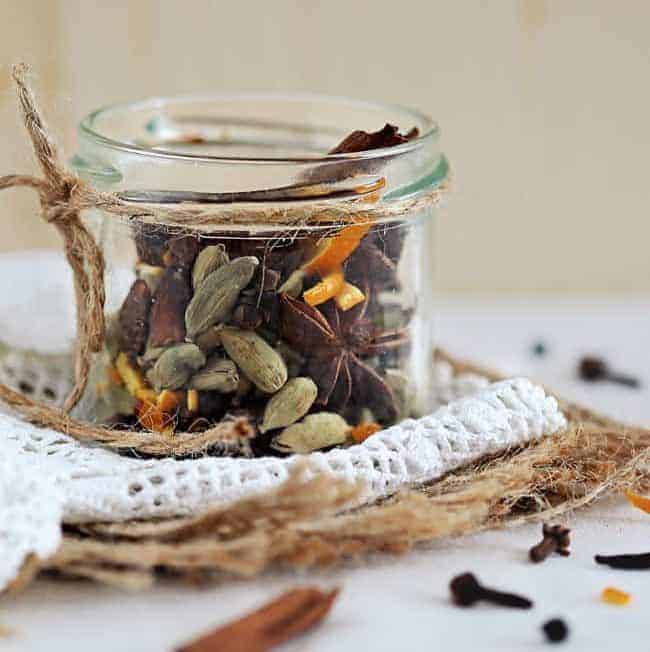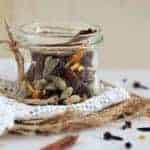 Print Recipe
Citrus Ginger Mulled Wine
Ingredients
1

firm orange

use organic

2

inch

piece root ginger

peeled

15

cloves

2

cinnamon sticks

1

vanilla pod

3

tablespoons

unrefined sugar

3

bottles of red wine

medium bodied
Instructions
Prick the cloves into the whole orange, sharp end first - spread them evenly around the orange.

Cut the orange in quarters, and transfer them in a large sauce pan, together with the rest of the ingredients.

Place the sauce pan over medium heat, stir well and let warm just until simmering.

Stir well, cover with a lid and let the flavors infuse for 10 minutes over low heat.

Use a strainer to remove the mulling ingredients, then pour evenly the liquid into serving glasses.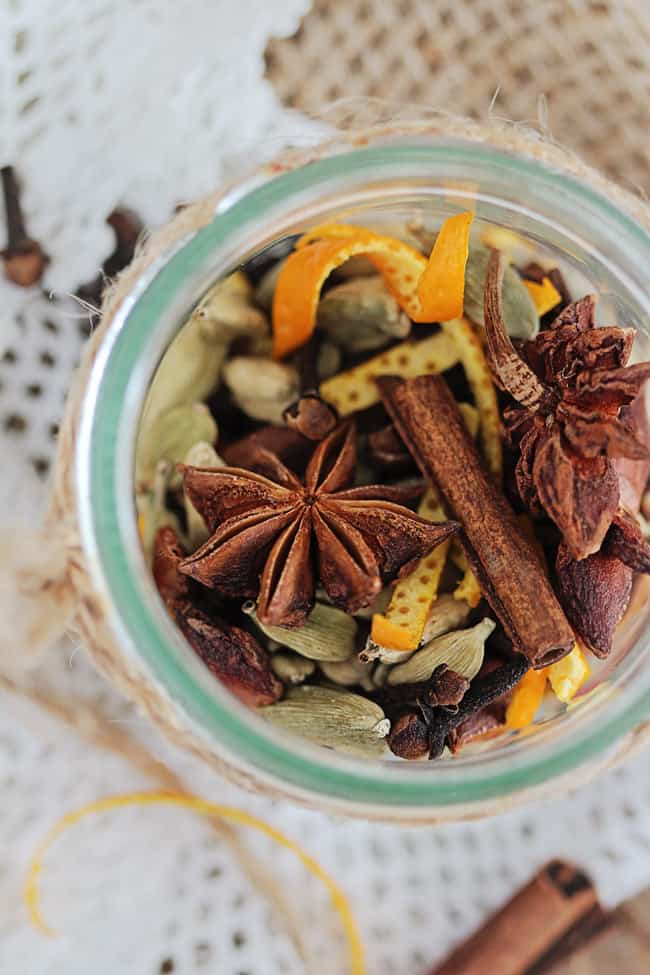 And, yes, your custom mulling spice blend would make a beautiful Christmas present. Pack it in a small jar, wrap it with a colorful or rustic ribbon, and someone will think of you with grace at every sip of his/her mulled drink.
No matter the flavors you add to your mulling blend, when in bad weather season, there's nothing better than a spiced, warming glass of mulled drink (especially if you add some bourbon or wine!).
25