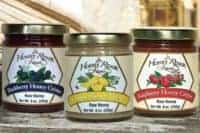 Banana Nut Bread
Yield 2 loaves
Ingredients
2/3 cup sugar
1/2 cup butter
1/3 cup honey
2 eggs
3 tablespoons milk
1 teaspoon vanilla extract
4 ripened bananas, mashed
2 cups all-purpose flour
1 teaspoon baking soda
1/4 teaspoon salt
1/2 to 1 cup chopped walnuts or pecans
Instructions
Preheat oven to 350 degrees F.
In mixing bowl, cream together sugar, butter and honey.
Add eggs, milk and vanilla, mixing well to combine. Stir in bananas.
In separate bowl, combine flour, baking soda and salt and nuts.
Add flour mixture to liquid mixture, stirring well to combine.
Pour into 2 well-greased and floured loaf pans.
Bake 45 to 50 minutes or until cooked throughout.
Let cool for 5 minutes after baking before removing from pans.
Recipe by Hello Glow at https://helloglow.co/honey-ridge-farms-giveaway/