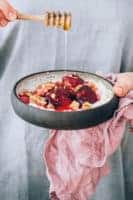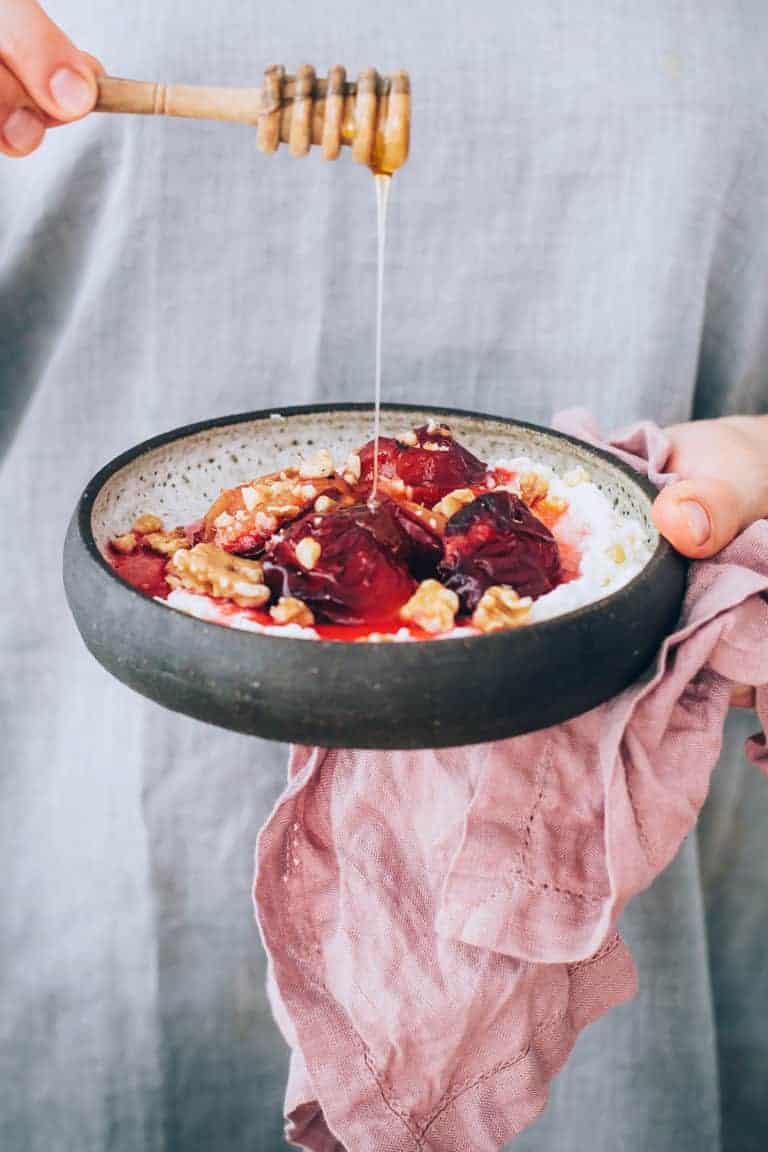 Ricotta and Honey Roasted Plum Bowls with Crunchy Buckwheat
Yield 4 servings
Buddha Bowls © 2018 Quarto Publishing Group USA Inc. Text © 2018 Kelli Foster. First Published in 2018 by The Harvard Common Press, an imprint of The Quarto Group, 100 Cummings Center, Suite 265-D, Beverly, MA 01915, USA.
Ingredients
4 plums, halved and pitted
2 tablespoons (30 ml) extra-virgin olive oil, divided, plus more for drizzling
2 tablespoons (40 g) honey, plus more for drizzling
¼ cup (40 g) kasha buckwheat
2 cups (480 g) ricotta
Chopped walnuts
Maldon sea salt (optional)
Instructions
Preheat the oven to 425°F (220°C, or gas mark 7).
Place the plums cut-side up on a rimmed baking sheet. Brush with 1 tablespoon (15 ml) of the olive oiland drizzle with the honey. Roast until tender and lightly caramelized, about 15 minutes.
Meanwhile, heat the remaining 1 tablespoon (15 ml) oil in a skillet over medium heat untilshimmering. Add the buckwheat and cook, stirring frequently, until the buckwheat is crispy and toasted, 5 to 8 minutes. If it starts to brown too quickly or burn, lower the heat.
To serve, divide the ricotta among bowls. Top with roasted plums, crispy buckwheat, and walnuts.Garnish with an extra drizzle of honey and olive oil and a pinch of Maldon salt, if desired.
Courses Dessert
Recipe by Hello Glow at https://helloglow.co/honey-roasted-plum-bowls/