Making homemade soap can seem intimidating – that is, until you discover melt and pour soap! You can customize your soap approximately a million fun ways – think herbs, flowers and essential oils. Honestly, there can be too many options. That's why I love Jan Berry's new book Easy Homemade Melt & Pour Soaps – all of the recipes feel fun and modern, especially this Wildflower Honey Soap.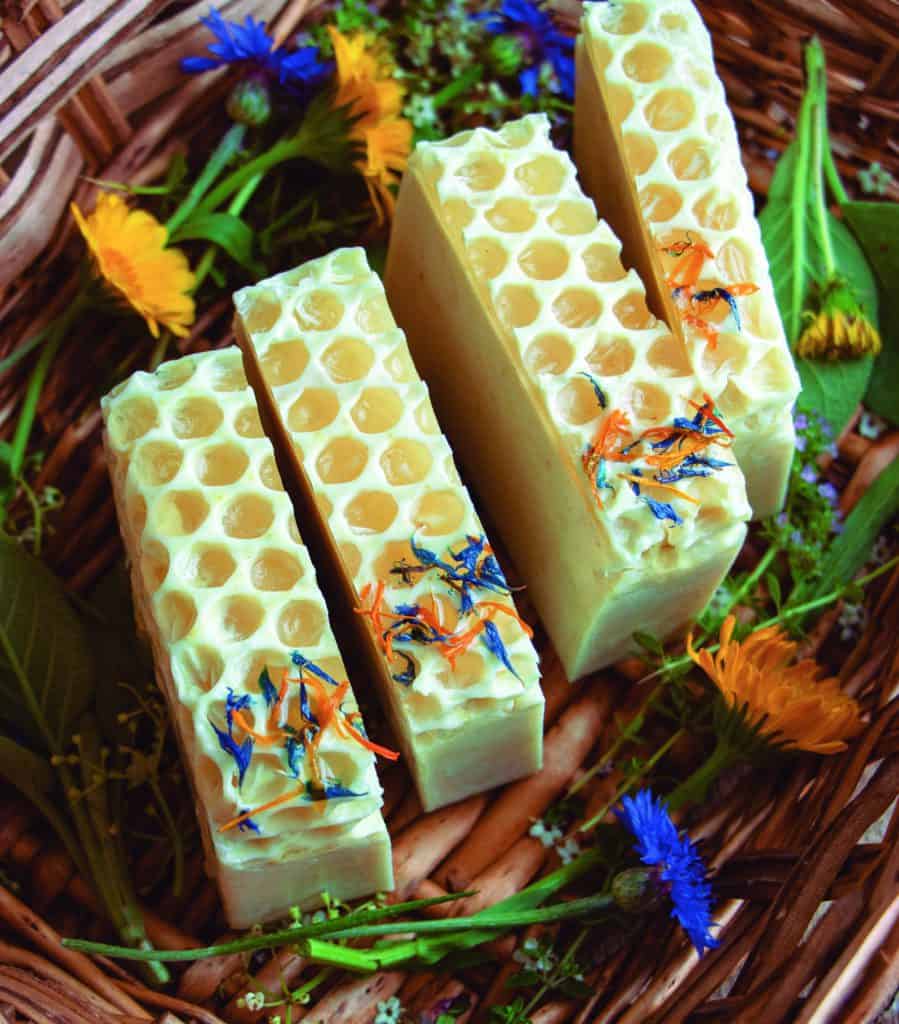 Loaded with real honey and goat's milk base, this soap is a creamy treat for your skin. And the genius idea of using a small piece of bubble wrap creates the perfect honeycomb texture on top.
One of my favorite parts of the book is the comprehensive guide to using natural colorants in melt and pour soap. From colorful clays to different herbs and spices, you'll learn exactly how to create beautiful colors in your recipes.
This soap uses brown sugar and lemon peel powder to turn the white soap base more of a cream color. As a finishing touch, it's lightly scented with a soft combination of lavender and Peru balsam, which has a balsamic vanilla-like undertone.

For more soap recipes plus bath & beauty products like sugar scrub cubes, shave soaps and charcoal salt bars, check out Easy Homemade Melt & Pour Soaps by Jan Berry on Amazon.
Wildflower Honey Soap
What you'll need:
Bubble wrap with small bubbles
4″ (10-cm) silicone loaf mold (Crafters Choice Short [small] Loaf Mold 1504 pictured)
19 oz (539 g) goat's milk soap base, cut into 1″ (2.5-cm) cubes
1 tsp honey
1 tsp brown sugar
3⁄4 tsp lemon peel powder + 2 tsp (10 ml) rubbing alcohol
2.5 g (~1/2 + 1/8 tsp) Peru balsam essential oil
0.85 g (~1⁄4 tsp) lavender essential oil
Rubbing alcohol, for spritzing
2.5 oz (71 g) honey soap base, cut into 1″ (2.5-cm) cubes, divided
Dried calendula and cornflower petals
Yield: four 5.5-ounce (156-g) bars of soap
Instructions
First, you'll need to prepare a small piece of bubble wrap to fit into the bottom
 of the soap mold. With this soap, I like to have some of the honeycomb texture trailing off the sides to give a more natural look, so uneven edges are encouraged. Make sure that the textured bubble part is facing up. You don't want the bubbles pressed against the mold or the soap won't pick up the pattern.
In a heatproof 4-cup (1-L) glass measuring container, melt the goat's milk soap base, using the double-boiler method, heating over medium-low heat for 20 to 35 minutes, or the microwave method, heating for 15 to 20 seconds at a time, until it's melted. Stir in the honey, brown sugar, diluted lemon peel powder and essential oils. Monitor the temperature for several minutes, stirring occasionally, as the soap cools to around 135°F (57°C).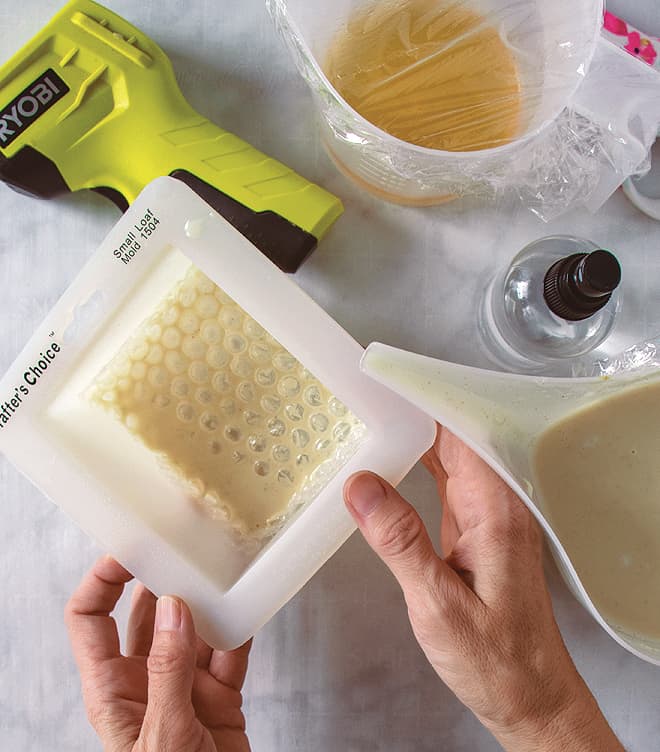 Spritz the inside of the mold with alcohol and pour a very thin layer of soap over the bubble wrap. Tilt the mold around in multiple directions until all the crevices between the bubbles are filled, but the bubbles themselves are still uncovered by the soap.
If necessary, pour any extra soap back into the melting container. Spray the top with alcohol. Allow this layer to cool while you melt 1.5 ounces (43 g) of the honey soap base.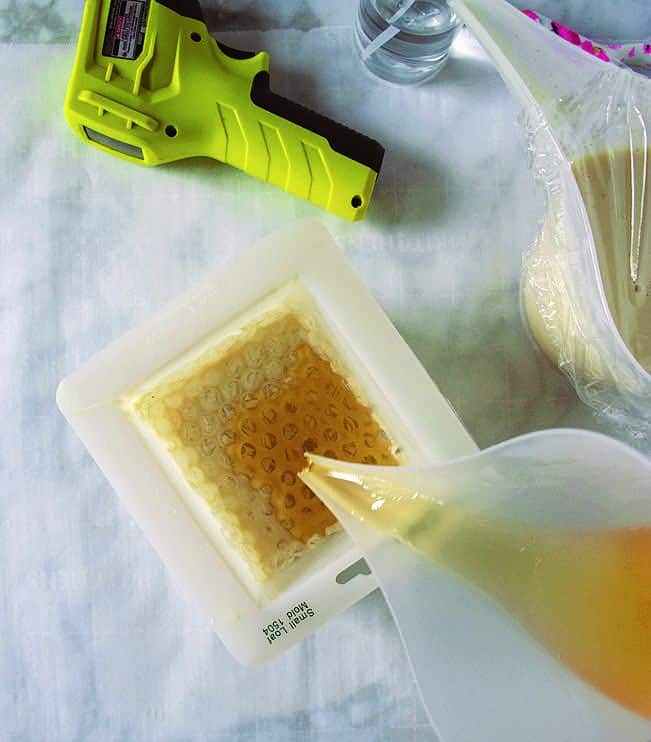 Cool the melted honey soap base to around 135°F (57°C) and pour it into the mold, over the bubble wrap. Spritz the top of the soap with alcohol and let it cool for 10 minutes. Spray the top of the soap in the mold with alcohol and fill it with the remaining goat's milk base, reheating the base to 135°F (57°C), if necessary.
Let it cool for 6 to 8 hours, or overnight. Remove the soap from the mold, then carefully pull off the bubble wrap, revealing the pattern underneath. You'll probably have thin spots of soap covering parts of the bubble wrap; just carefully peel them off and neaten up any partially filled bubble spots with a toothpick.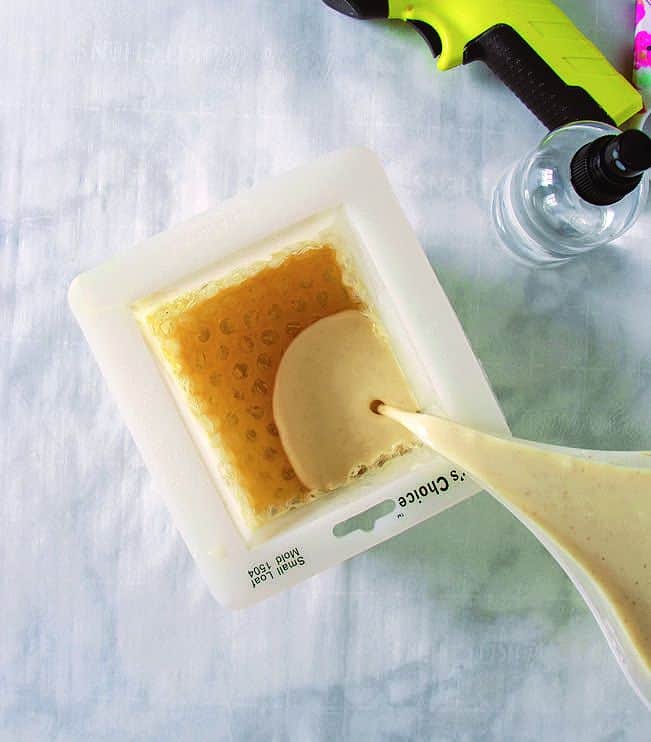 Melt the remaining 1 ounce (28 g) of honey soap base. Gather together the dried flowers you want to use to top the soap.
Spritz the top of the soap with alcohol. Use a 1⁄2-teaspoon measure to scoop up small amounts of honey soap to drizzle over the top. Drizzle some along 1 side of the soap loaf, working along the edge and immediately sprinkle flower petals as you go. Don't cover the entire section at once, or it will harden up before the flowers stick. Work quickly but methodically in small sections, instead.
Once you're satisfied with the look, let it completely cool. If you got a little carried away with the honey topping and have a large amount of drips down the side of the mold, don't worry; that's fixable! Use your fingers to peel off large chunks and use scissors to carefully snip as you near the top edge, so you don't accidentally pull off the entire honey layer. Use a combination of judicial spritzes of alcohol and rubbing with a gloved finger to help smooth out the sides that you cleaned up.
Turn the loaf sideways to cut it into bars. Wrap the bars tightly and store them in a cool, dry spot, out of direct sunlight.
Substitution: If you don't have access to honey base for this project, make your own by combining 2.5 ounces (71 g) of clear soap base with 1⁄4 teaspoon of brown sugar and 1⁄8 teaspoon of honey. Stir and check the color. If needed, add a little more brown sugar for a darker color, but be careful not to add too much or it could become sticky.
Reprinted with permission from Easy Homemade Melt & Pour Soaps by Jan Berry, Page Street Publishing Co. 2019. Photo credit: Jan Berry
27