Before grabbing your next chocolate bar to satiate those intense premenstrual cravings, take a minute to understand where all your PMS symptoms are coming from. Women in their 30s experience intense PMS, with irritability, cramps, mood changes, bloating or headaches, and we tend to ignore these irritations and wait for them to stop, knowing that in a week or two everything will be back to normal. But next month it's just the same!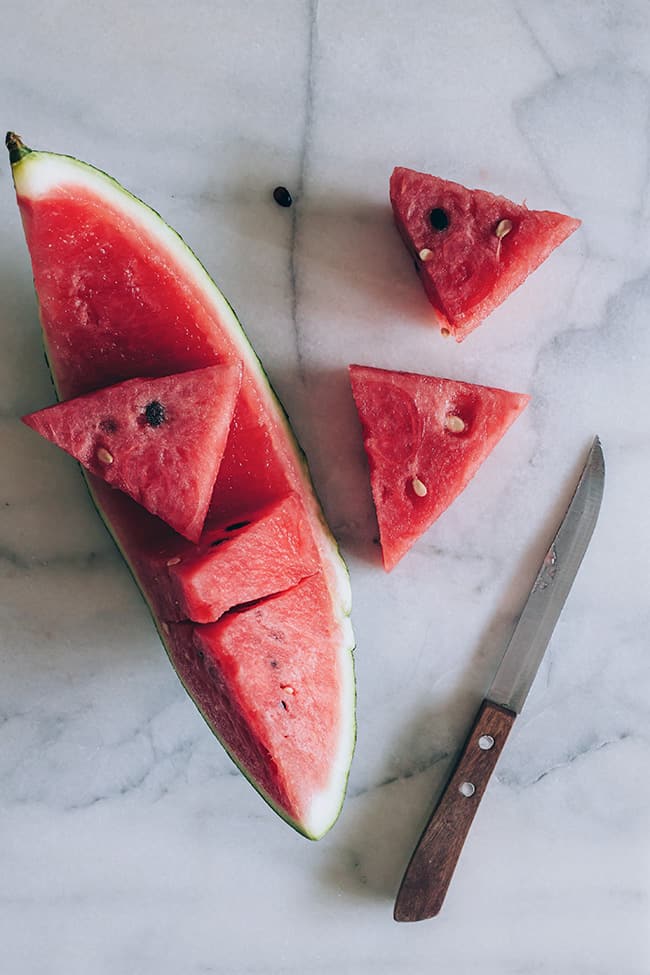 Since I turned 35 my PMS has worsened, and I understood that it's time to take control over my body (other than by feeding it huge quantities of chocolate). During the luteal phase, estrogen levels decrease and our system is governed by progesterone which also drops before menses except later than estrogen. The slightest imbalance of any of these two hormones results in internal chaos, which triggers PMS. Progesterone regulates the monthly menstrual cycle and prepares your body for pregnancy. When progesterone levels are low during the luteal phase, your liver fails to metabolize the estrogen, causing it to accumulate, which can result in:
breast and ovarian cysts
endometriosis (accumulation of the tissues that line your uterus, which normally breaks down with each menstrual cycle)
bloating and fluid retention
restless legs
painful periods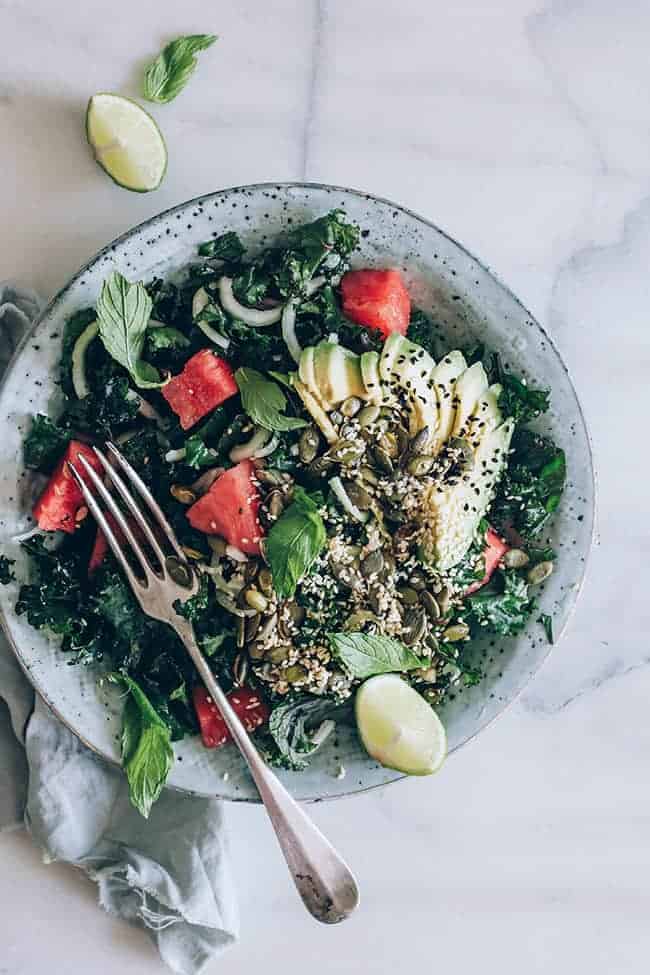 Your diet plays a significant role in regulating hormone production. If you experience severe PMS, your progesterone might be low and your body struggles with an estrogen dominance. You can ameliorate your PMS naturally by raising the progesterone levels and helping your body eliminate excess estrogen. Here's how:
Stimulate your progesterone production by eating foods high in magnesium, vitamin C and vitamin B6, which are progesterone precursors. Avocado, seeds and nuts, beans and fruits of all kind are great sources of these nutrients.
Detox your liver and stimulate digestion by eating foods high in inositol, a vitamin-like compound that boosts your liver function and balances estrogen production (Cruciferous vegetables, such as kale or broccoli, are the richest sources), and soluble fiber to absorb accumulated estrogen and eliminate it via the colon).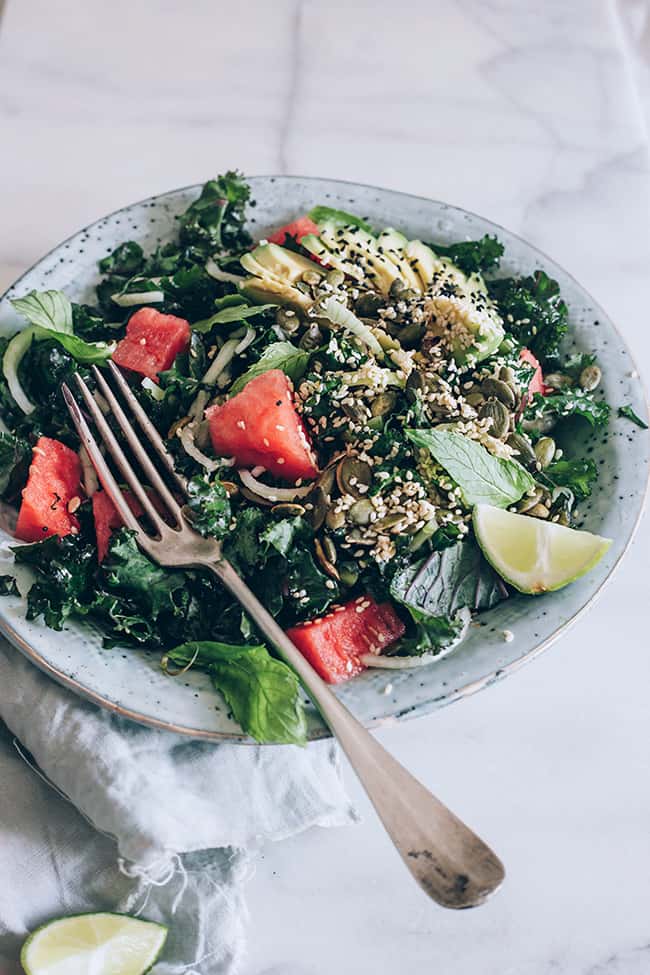 This salad is a perfect way to celebrate watermelon season, while also providing support for your body during the luteal phase. Kale is an exceptional liver stimulant and avocado contains healthy fats and magnesium to increase progesterone production. Watermelon is high in antioxidants, especially vitamin C and beta-carotene, helping your liver to break down excess estrogen and offering anti-inflammatory support to your cells before your menstrual cycle.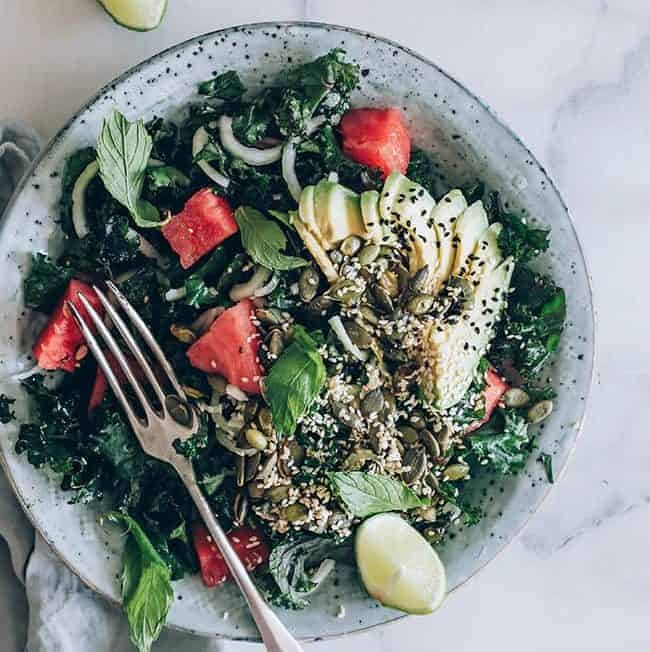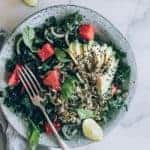 Print Recipe
Ease PMS With This Kale Watermelon Salad
Balance your hormones and ease PMS with this nourishing and detoxifying kale and watermelon salad.
Ingredients
1

large bunch curly kale

roughly chopped

1

tablespoon

extra virgin olive oil

1

cup

cubed watermelon

1

ripe avocado

peeled, pitted and cut into cubes

1

small onion

finely diced

1/2

cup

mixed seeds

lightly toasted

A few fresh mint leaves

1

lime

juice only

Pinch

sea salt

Freshly ground black pepper
Instructions
Add the chopped kale into a large bowl, drizzle with olive oil and massage it for a few seconds.

Add the rest of the ingredients, drizzle with lime juice, season with salt and pepper, toss to combine and serve.
This post was medically reviewed by Dr. Kimberly Langdon, M.D., a university-trained obstetrician/gynecologist with 19 years of clinical experience. Learn more about Hello Glow's medical review board here. As always, this is not personal medical advice and we recommend that you talk with your doctor.
5