We've partnered with Femarelle to create this post, but all opinions are our own. Thank you for supporting our sponsors!
When you're in your 20s and 30s, menopause feels so far off. There's time to worry about that later, right? But 40 creeps up on you. It feels like just yesterday that I was talking to my ob-gyn about pregnancy, and now she's giving me a pamphlet on perimenopause. That's the fun period before menopause where you can start getting irregular periods, mood swings and insomnia. Most women start to develop symptoms between 45 and 50, but it can show up in your early forties. Awesome.
With all of the changes going on in your body, your hormones can get out of whack. The declining levels of estrogen as women age trigger the milder symptoms that start in your 40s, and, as levels continue to drop, bring on hot flashes and night sweats during menopause. If you suspect hormones might be the culprit for your symptoms, have your doctor check your estrogen, progesterone and testosterone levels and discuss your options.
We talked to Dr. Margaret Nachtigall, an assistant professor of obstetrics and gynecology at NYU School of Medicine, about one over-the-counter treatment option, the supplement Femarelle, which she recommends for women who can't or don't want to take estrogen. The natural formulation acts like estrogen in the body, but it's not actually a hormone. Tricking your body into thinking it has more estrogen can bring relief to mood swings, tiredness and skin and hair issues.
Frankly, it's all a little confusing, so we asked her to explain how Femarelle works and what other natural options are available.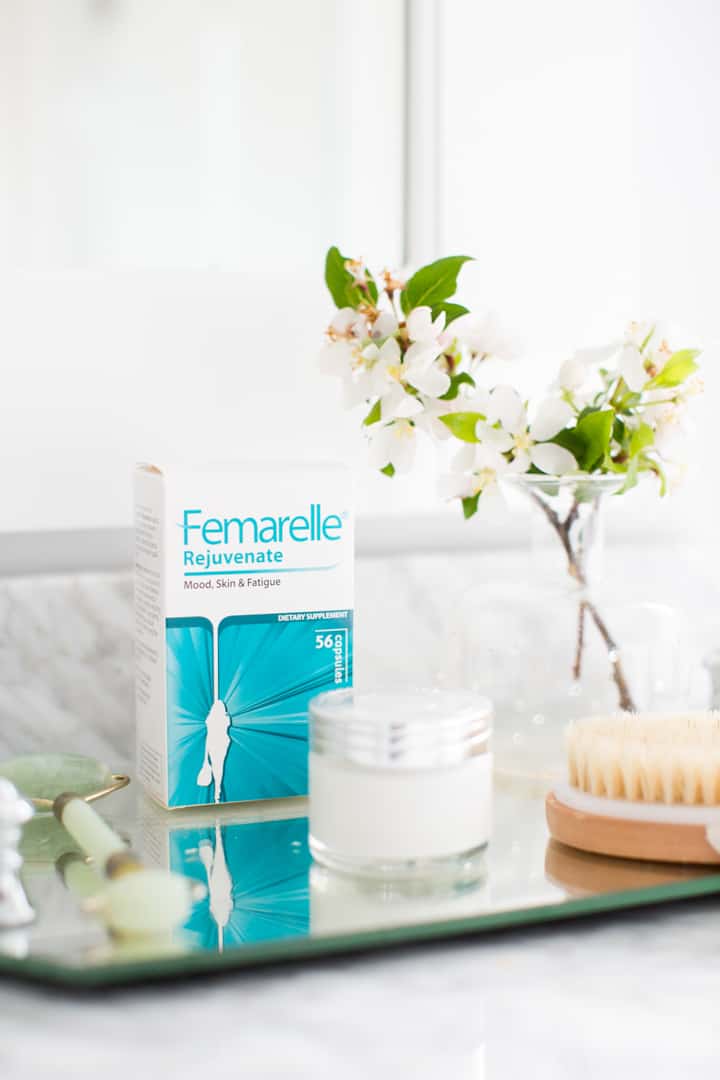 I just turned 40 last year, and I've read that perimenopause can start in your 40s. When do most women start to experience menopause symptoms? What are the most common early symptoms?
The average age of menopause is 51, ranging from 45 to 55. Perimenopause can begin any time before menopause, usually starting in the mid-40s to the 50s. The most common early symptoms are irregular periods, trouble sleeping, hot flashes and mood changes.
Femarelle's formula contains a proprietary compound derived from tofu. Can you talk more about what that is and how it works?
Femarelle's proprietary ingredient is called DT56a, which is an extract from soy, but it is not soy itself. It is produced under strict pharmaceutical conditions and is made of 20 amino acids that work within the body to bind to estrogen receptors but has no estrogen in it. It acts in certain parts of the body where normally estrogen would have an effect. In the bones it helps to protect from bone loss by improving bone strength and, in the brain, it helps to reduce hot flashes, allow better sleeping and improved mood.
I've read warnings about soy, estrogen and cancer. Should I worry about that with Femarelle?
Femarelle is not estrogen. Femarelle binds to the same receptors that estrogen binds to, but it is not estrogen. As an aside, estrogen does not actually appear to increase the risk of cancer, in fact, if given alone, it may even decrease the risk of breast cancer. Femarelle's proprietary ingredient DT56a is 20 amino acids extracted from soy but is not a soy compound itself. Femarelle has not been shown to increase cancer and studies done on breast cancer cells show that Femarelle does not make breast cancer cells grow.
Are there other natural ways to deal with menopause symptoms that you recommend?
There are a lot of great ways to approach menopausal symptoms. Get adequate sleep, exercise, and eat healthfully. For hot flashes, Femarelle is a great natural option for women who cannot or do not want to take estrogen. Other over-the-counter supplements include Relizen (bee pollen) and Promensil (red clover). For mood changes, Femarelle is a good choice. For vaginal dryness, Femarelle can be used as well as vaginal moisturizers and lubricants. Hyaluronic acid and coconut oil has also been used for vaginal dryness when local estrogen is not an option.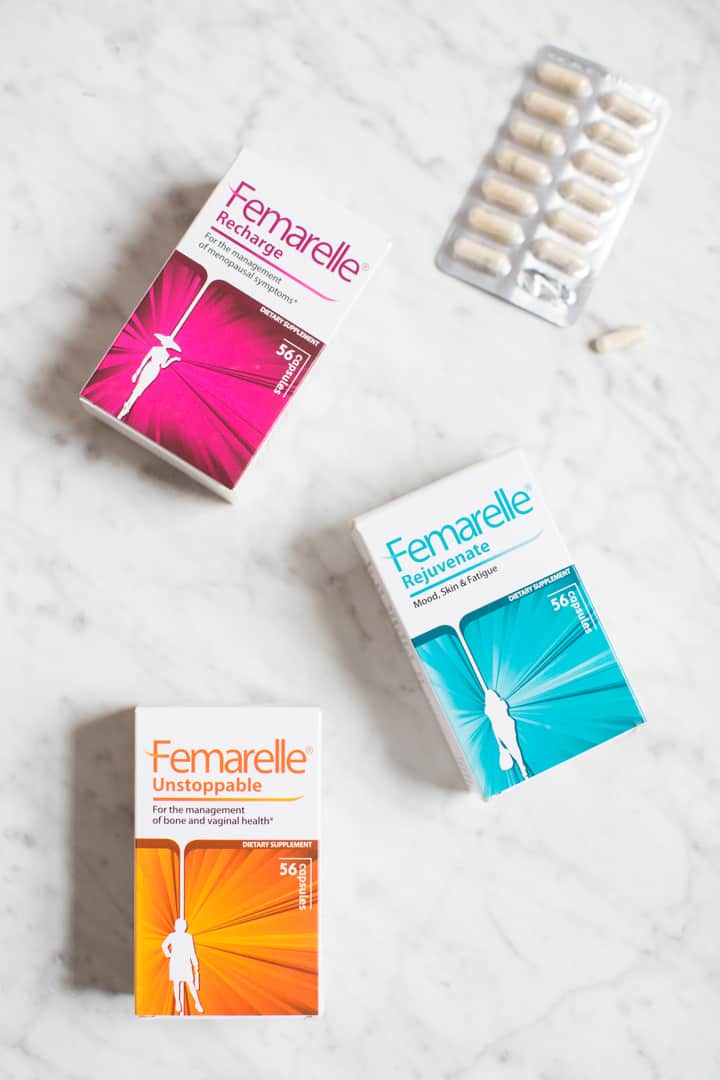 Femarelle has different formulations for perimenopause, menopause and postmenopause. How are they different?
Femarelle formulations all contain the special ingredient DT56a and flax, however, each formula has additives that are appropriate for different times of women's lives, whether it is before, during or after menopause. Femarelle Rejuvenate is for women in their 40s and includes vitamin B2 and Biotin, specifically targeting irregular periods, skin dryness, sleeping issues, lack of energy and mood swings and has also been proved to improve premenstrual symptoms. Femarelle Recharge, for women in their 50s, includes vitamin B6 and targets hot flashes, sleeping issues, mood swings, irritability and sex drive. Made for women in their 60s, Femarelle Unstoppable includes calcium, Biotin and vitamins B2 and D3, targeting the improvement of bone health, avoiding vaginal dryness and joint and muscle pain.
Femarelle also contains flaxseed. Why?
I have learned from the researchers that flaxseed is used as a carrier for the DT56a compound to better help relieve menopause symptoms. The cellulose fibers from flaxseed help the active ingredient to go through the digestive system. Because the main focus of Femarelle Unstoppable is bone health, the flaxseed is left out to provide users with more vitamin D and calcium without having to increase the capsule size.
How does Femarelle help prevent bone density loss?
It actually binds to receptors in the bones, like estrogen would, to improve bone health.
Are there side effects with Femarelle?
In our studies, we haven't seen any side effects of using Femarelle.
Some women say they didn't notice any improvements with Femarelle. Why does it seem to work better in some women than others?
It does seem to be true that there are some women that it works well with and in fewer women it doesn't have the same effect. Every woman is different, all receptors are different, so different women are going to have different responses.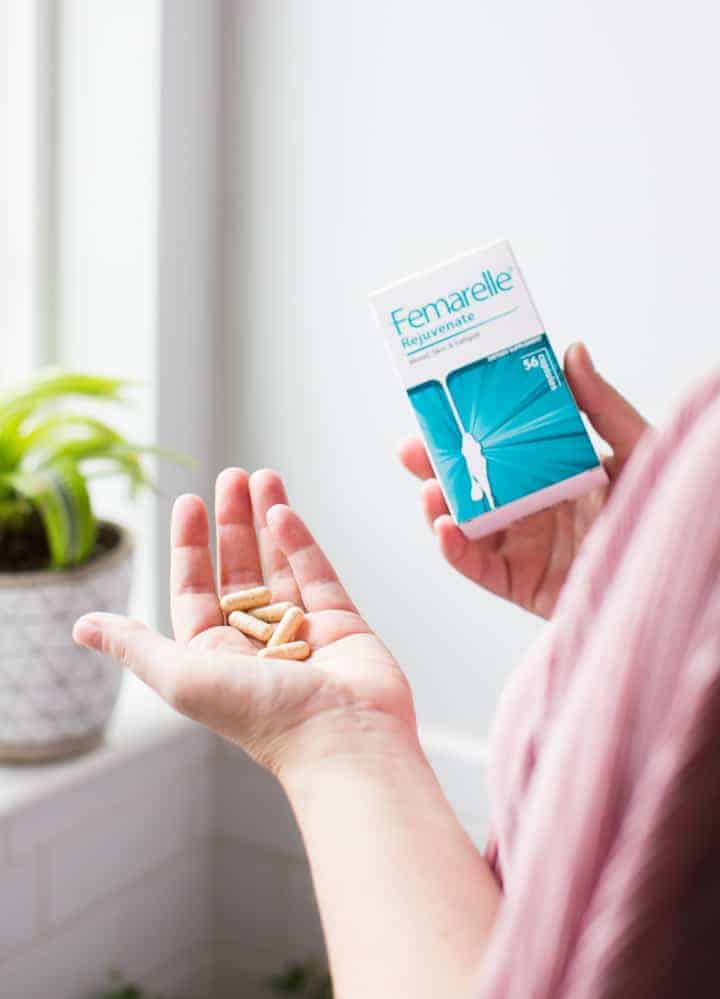 Visit Femarelle to learn more. And, as always, discuss any new medications with your doctor.
Dr. Margaret Nachtigall is a highly regarded reproductive endocrinologist. She specializes in infertility, menopause and hormonal management and has a busy clinical practice in Manhattan. Margaret actively conducts and publishes research and is a founding member of the North American Menopause Society and on the Board of Directors for the Foundation for Women's Wellness. She is a graduate of Princeton University and NYU Medical School and completed her Reproductive Endocrine fellowship at Yale University.
This post was medically reviewed by Dr. Kimberly Langdon, M.D., a university-trained obstetrician/gynecologist with 19-years of clinical experience. Learn more about Hello Glow's medical review board here. As always, this is not personal medical advice and we recommend that you talk with your doctor.
23