Last week on American Idol I was completely taken with Gwen Stefani's hot pink lipstick. Hot pink + a coral blazer is not a color combo I would have put together but she just exudes cool, doesn't she?
I've finally embraced the bold red lip so it's a slippery slope to other crazy shades. Purple is on trend? Bring it on!
Like I mentioned in yesterday's post, playing with make-up can be an easy, cheap way to change up your look. And now that I've put the kibosh on more maternity clothes bright pink lipstick is looking downright frugal.
How to try it
Start small: Try a gloss if you want to dip your toe in this trend.
Go big: For the most drama go for a bright matte shade.
Keep it minimal: If your lips are taking center stage, keep other make-up to a minimum. Notice these ladies aren't wearing much more than black mascara and eyeliner.
Some shades to get you started: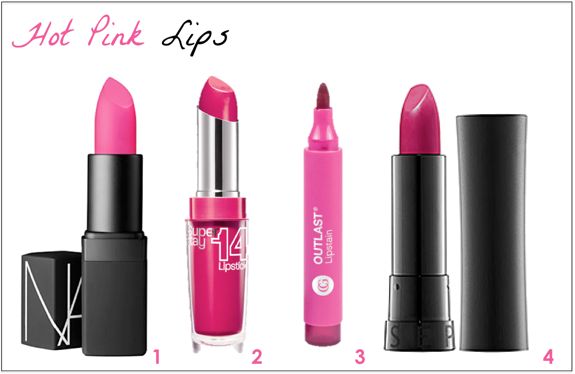 1. Nars Schiap 2. Maybelline Super Stay 14 Hr Lipstick in Eternal Rose 3. Cover Girl Outlast Lipstain in Bit of Blossom 4. Sephora Rouge Cream Lipstick in Love Test
Hot pink lips – yay or nay?
Would you wear these hot lip shades? It's definitely a "notice me" shade, don't you think?
0