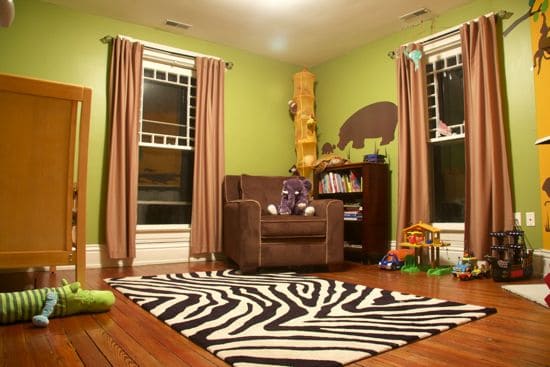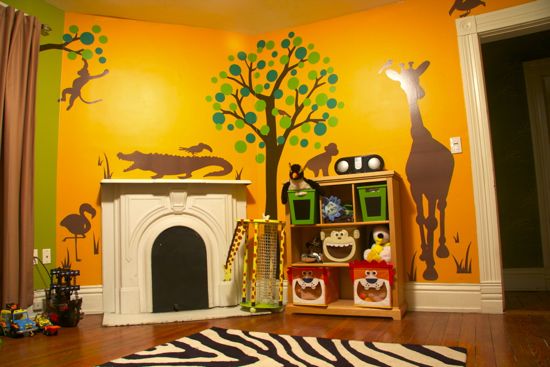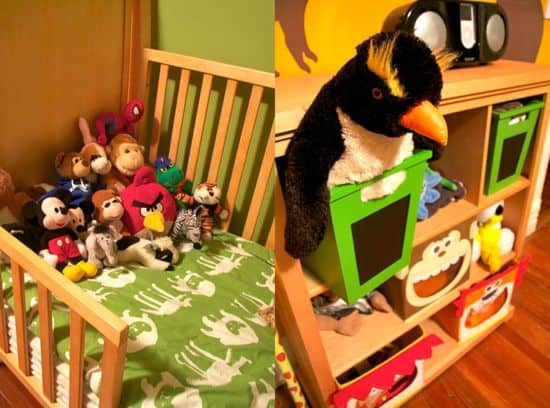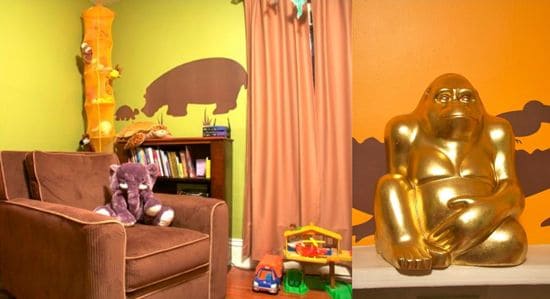 My friend Nikki has been in too many posts to count. But her son Wyatt's room is so cute that I wanted to share. I was super impressed that Nikki and her husband Dennis did all of the designing and decorating themselves. I would be scared to death to paint walls green and orange but I love it. Isn't it such a fun space?
Nikki writes, "The whole thing that got us moving was the fact that Maya was due in 3 months, and we didn't want Wyatt to have to move in his new room RIGHT before she was born. So, we wanted it to be something he really liked. We let him pick the colors (the orange and green). Wyatt LOVED animals at the time, especially giraffes, hippos, monkeys, etc. I wanted to do a wall decal, so looked for safari animals and found the animals on Amazon, and the tree on Etsy. It was incredibly easy to apply and looks great – like someone professional helped out. Then we added the big carpet (walmart.com) and the giant chair (Value City Furniture, believe it or not) that needed to be big enough for sitting in together to read night-time books.
I still want to put more things on the walls. I have some frames that one day I'll get hung up! But then Maya came…and we just haven't gotten back to doing anymore!"
I know Wyatt loves this room. Did you love your room as a kid?
0