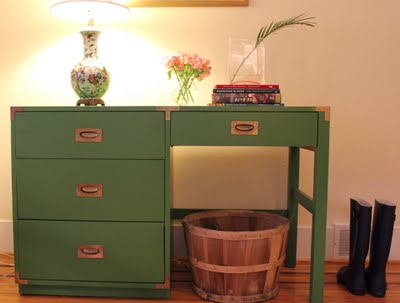 Remember my two carloads of stuff from Goodwill? Well this $50 desk was one of them. I'm not sure if it's true campaign style (the pulls are different) but I still love it. The picture makes it look a bit washed out – the color is richer than this shows. But I did go for a darker shade of green than my inspiration piece:
I went with Behr Ultra in Dill Pickle.
Here is the before shot:
I hand sanded and did two coats of paint. The paint included primer but I really should have either primed it or given it a third coat. I was worried after the first coat – it was very lime-y. But the color got much darker as it dried.
And I cleaned the brass pieces with Brasso.
I am clueless at styling (I'll move things around a dozen more times) but I like it. Now I just need to move the picture down (something else used to be there) and find a chair!
0