File this under things you didn't know you had to do until you became an adult: clean the dishwasher. Sounds silly, right? I mean, those babies should be self-cleaning!
But things like hard water, greasy food residue, and soap scum can build up in the bottom of your dishwasher, making it less effective. And if things get really bad, your machine can even re-deposit germy residue all over your "clean" dishes.
That's why it's important to give your dishwasher a thorough scrub down every few months.
If it's been a while since you last gave your dishwasher a little love, I'll show you how to clean a dishwasher in 5 simple steps. Trust me, once you see how sparkly clean your dishes look, you'll be a convert.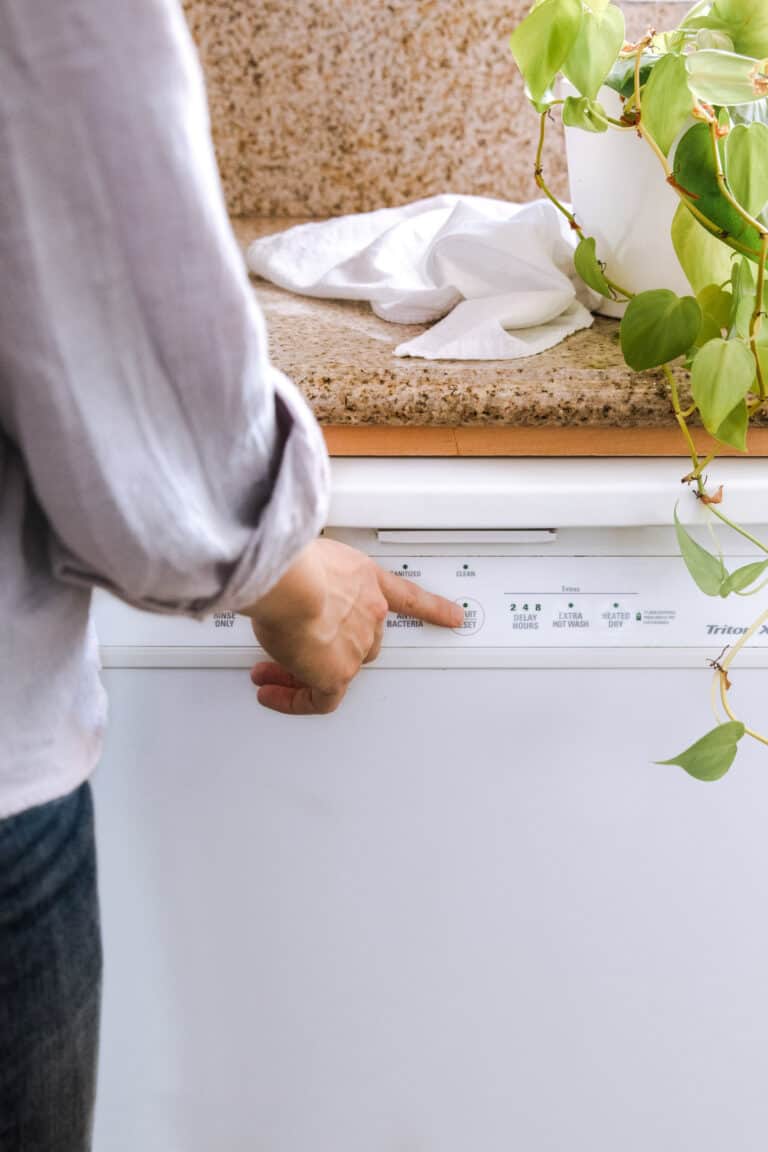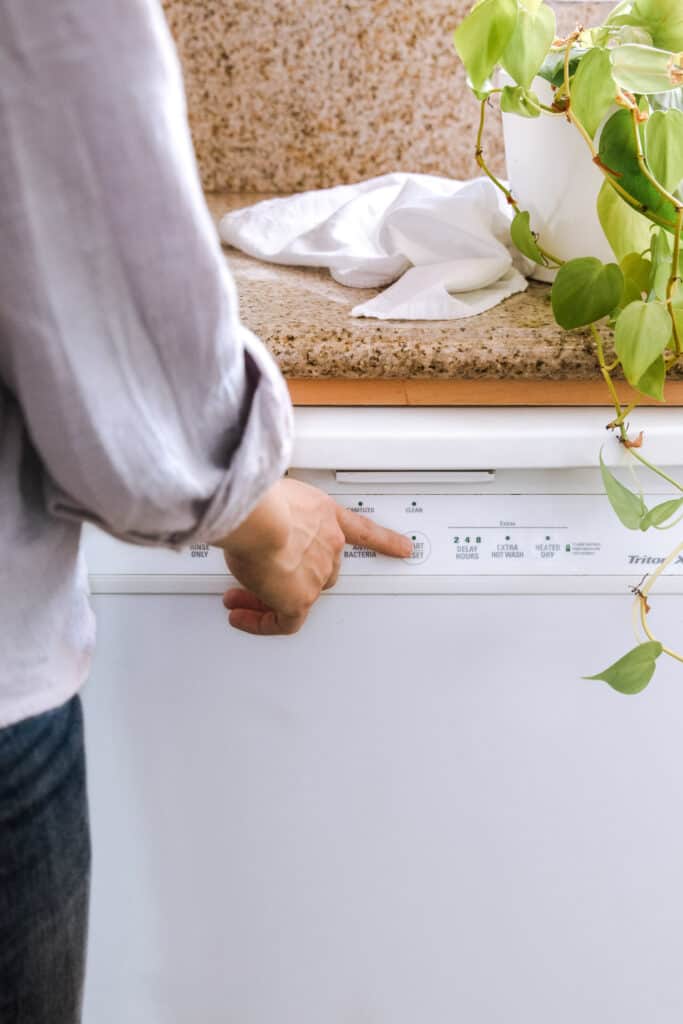 How to Clean a Dishwasher
Before getting started, you'll want to gather a few easy-to-find supplies.
Soft, clean dishtowel
Soft bristle brush
Toothbrush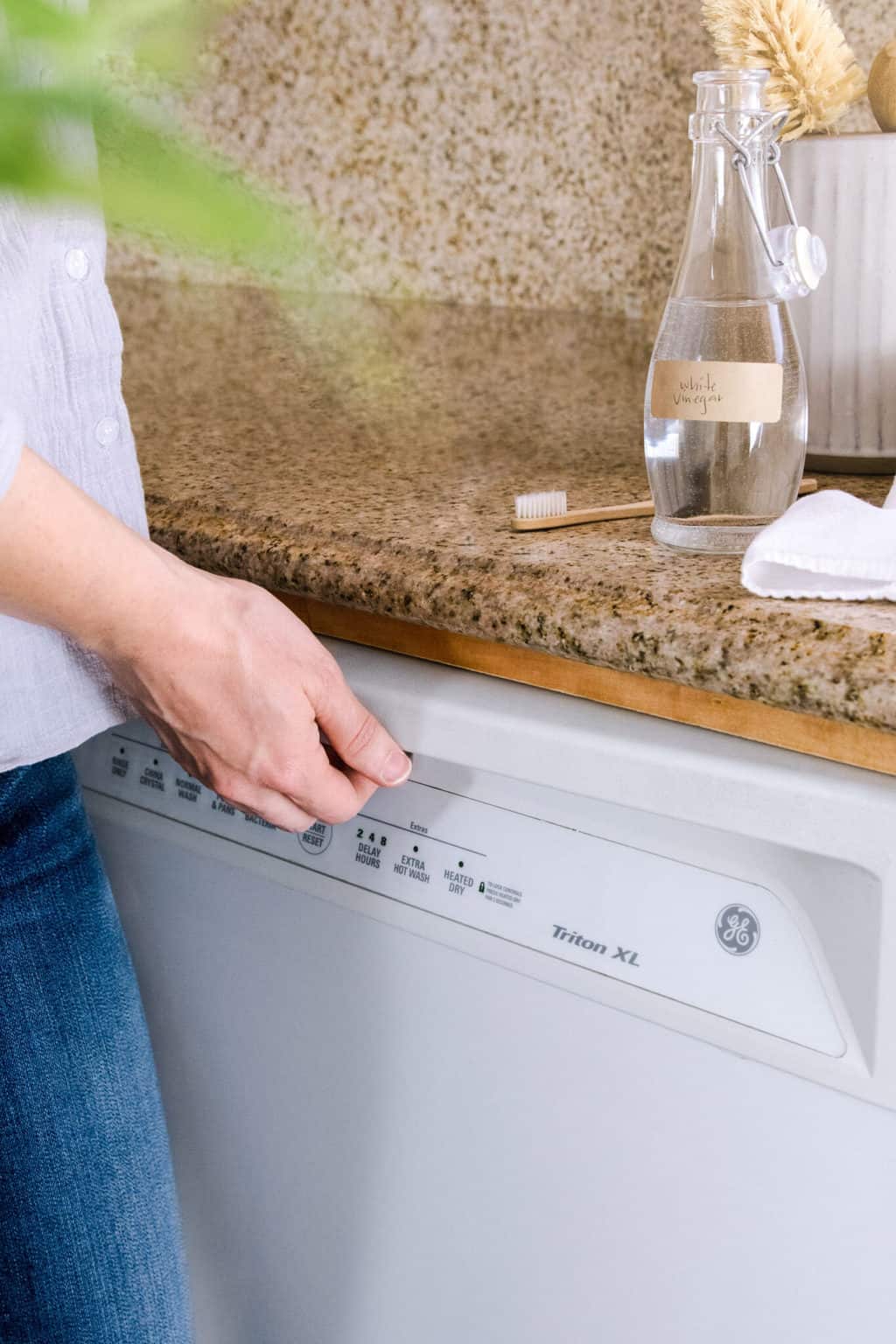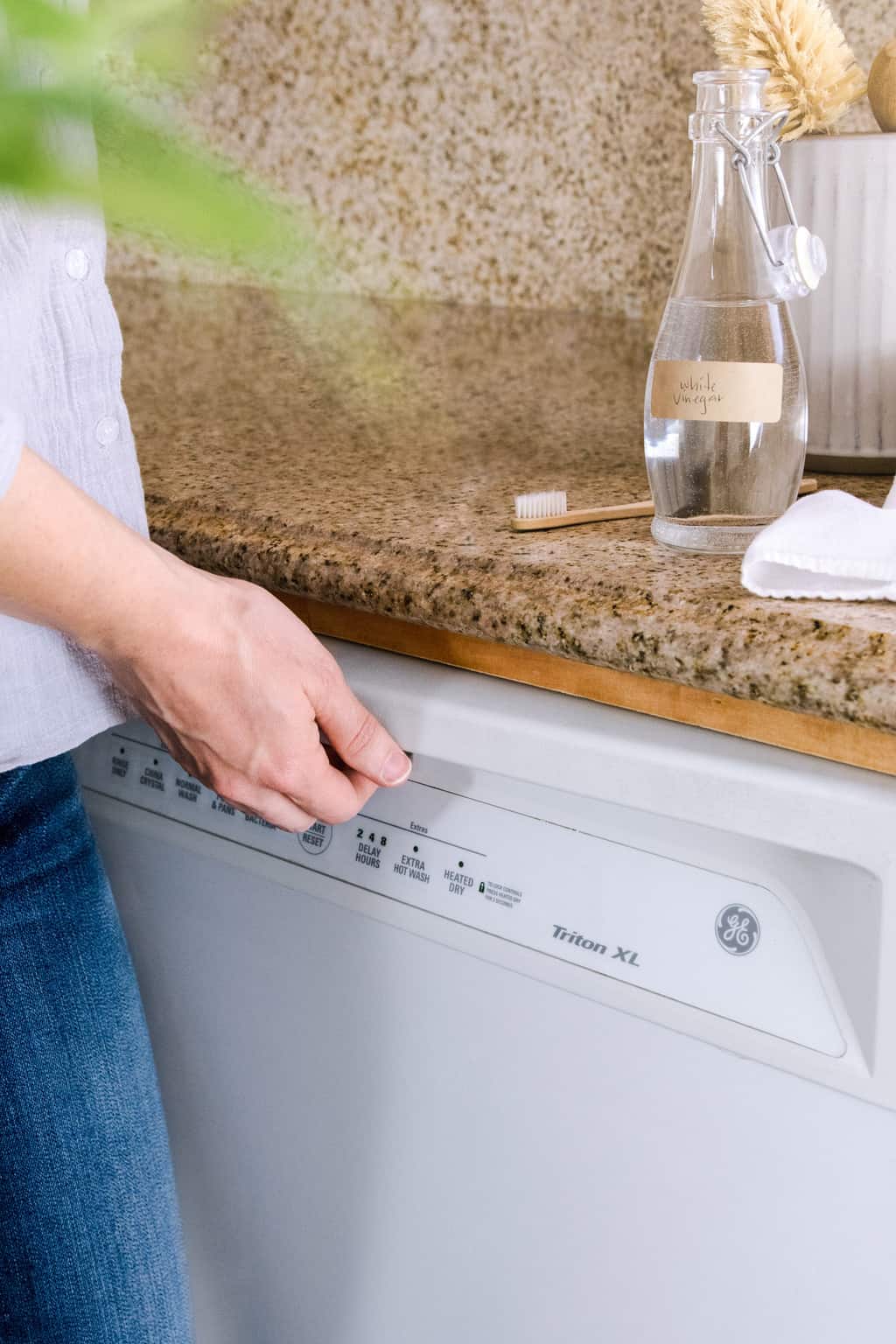 Step 1 | Clean the door panel
While a grimy dishwasher door won't affect how your machine runs, I've found that grease, food and fingerprints can build up quickly— especially on those high-touch areas, like the door handle. It's gross to look at and it's unsanitary, so you might as well give the door a deep clean while you're at it.
Pour a little white vinegar on a clean dishtowel and wipe down the inside and outside of the door panel. If you notice any grime that just won't seem to budge (this is usually a bigger problem inside the dishwasher), sprinkle a little baking soda on the spot and gently scrub it with a soft bristle brush.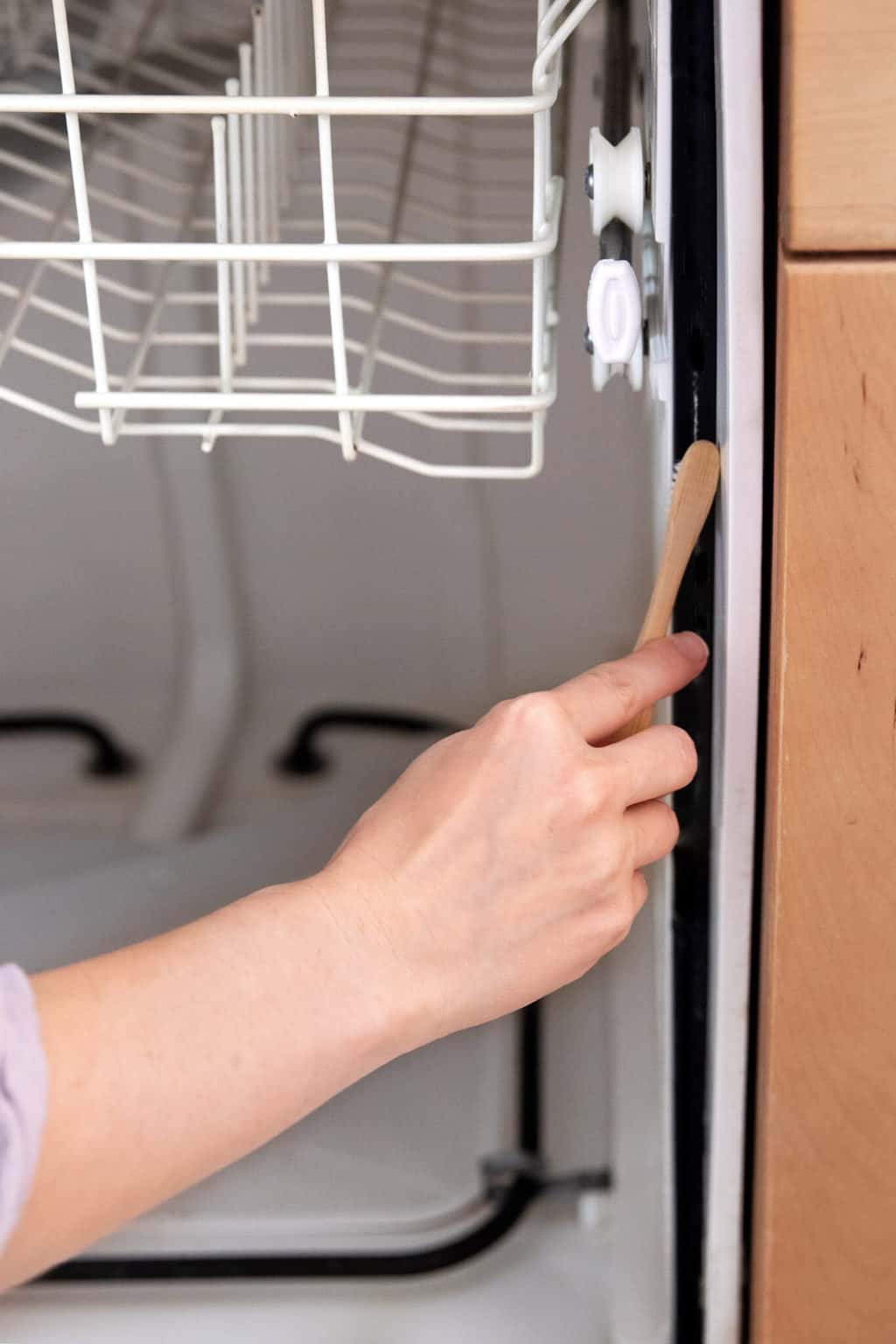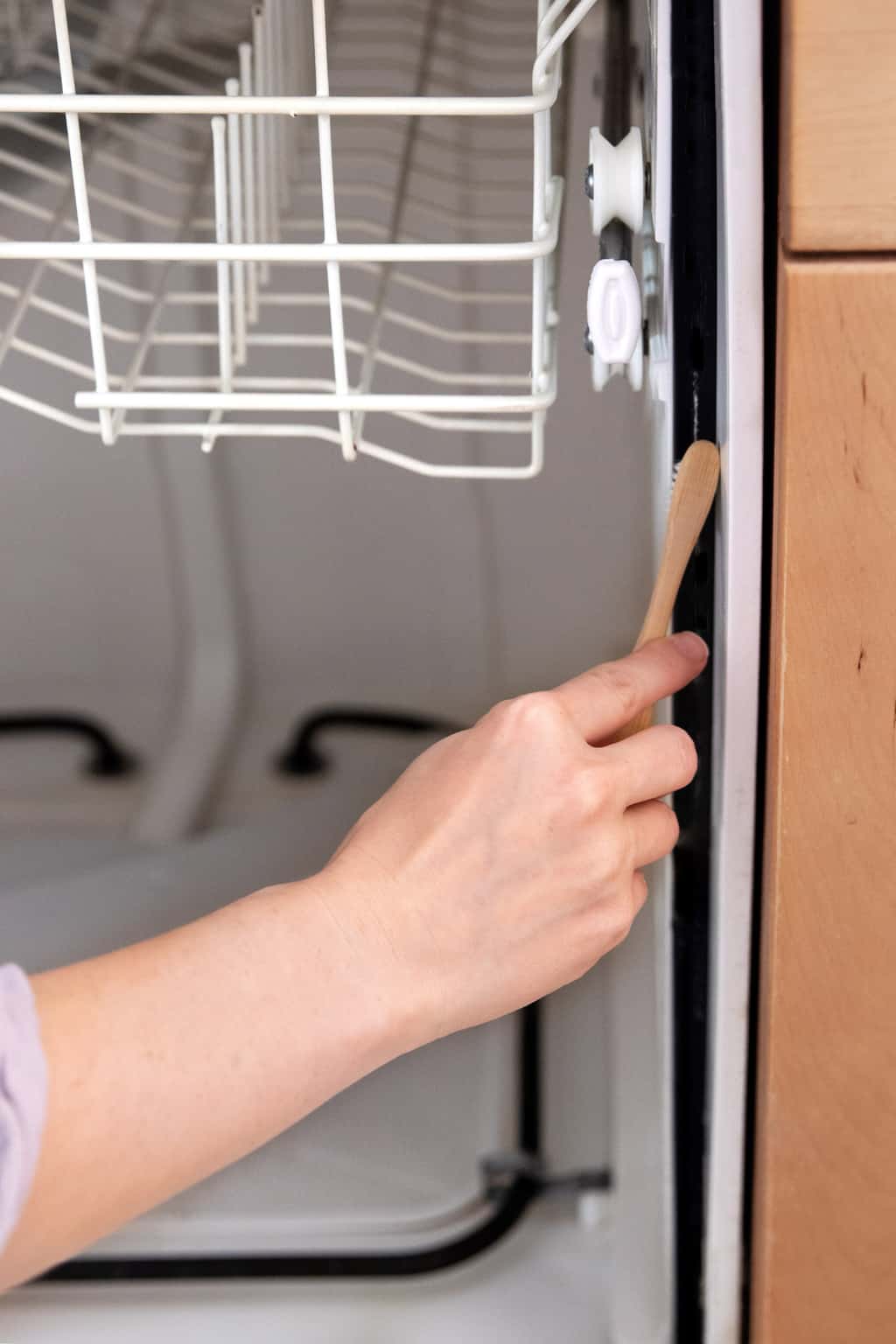 Step 2 | Get rid of any grime on the gasket
Dirt and grime have a tendency to accumulate on the gasket around the door frame, which can weaken your dishwasher's watertight seal. Using an old toothbrush and a little white vinegar, gently scrub down the gasket to get rid of any residue.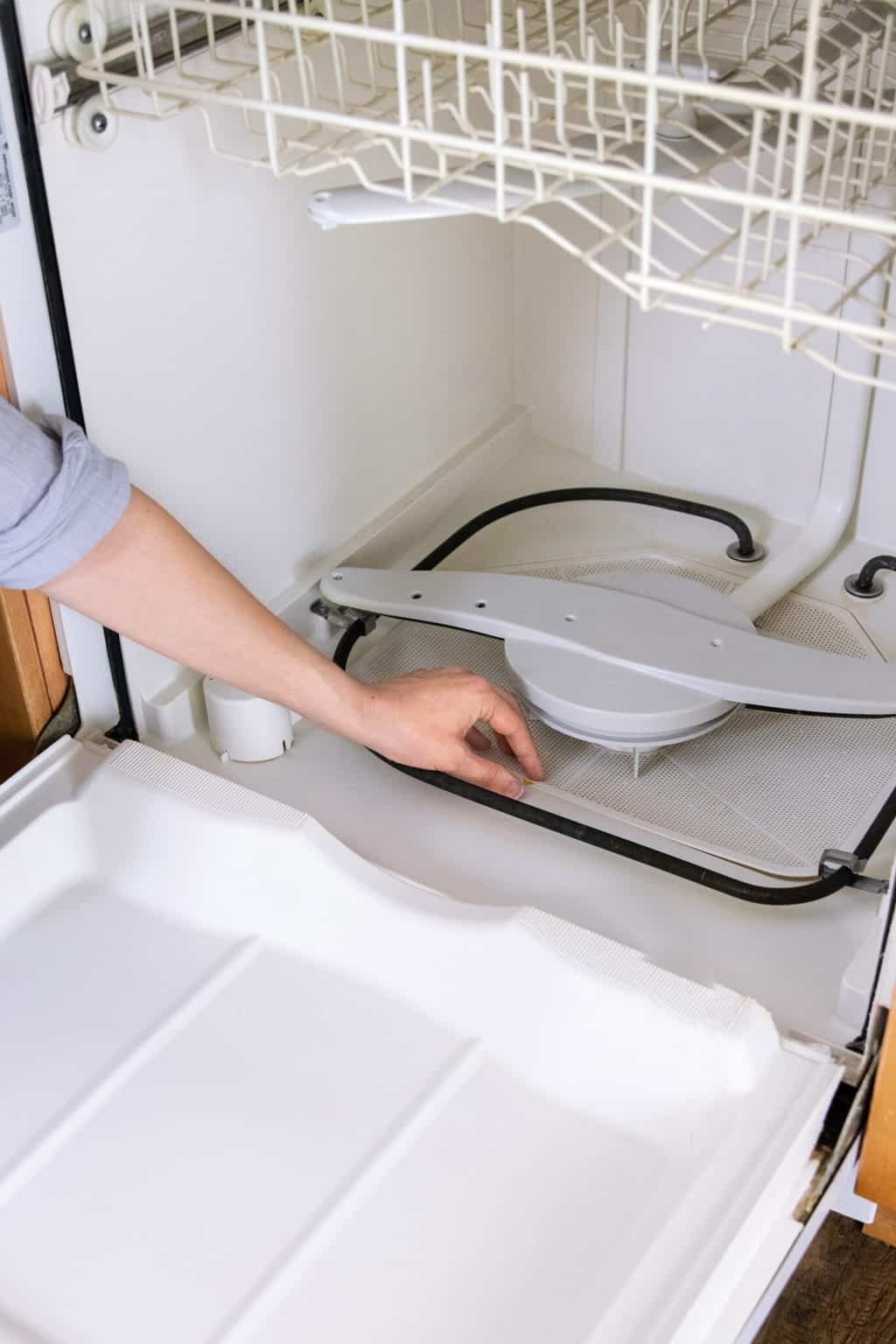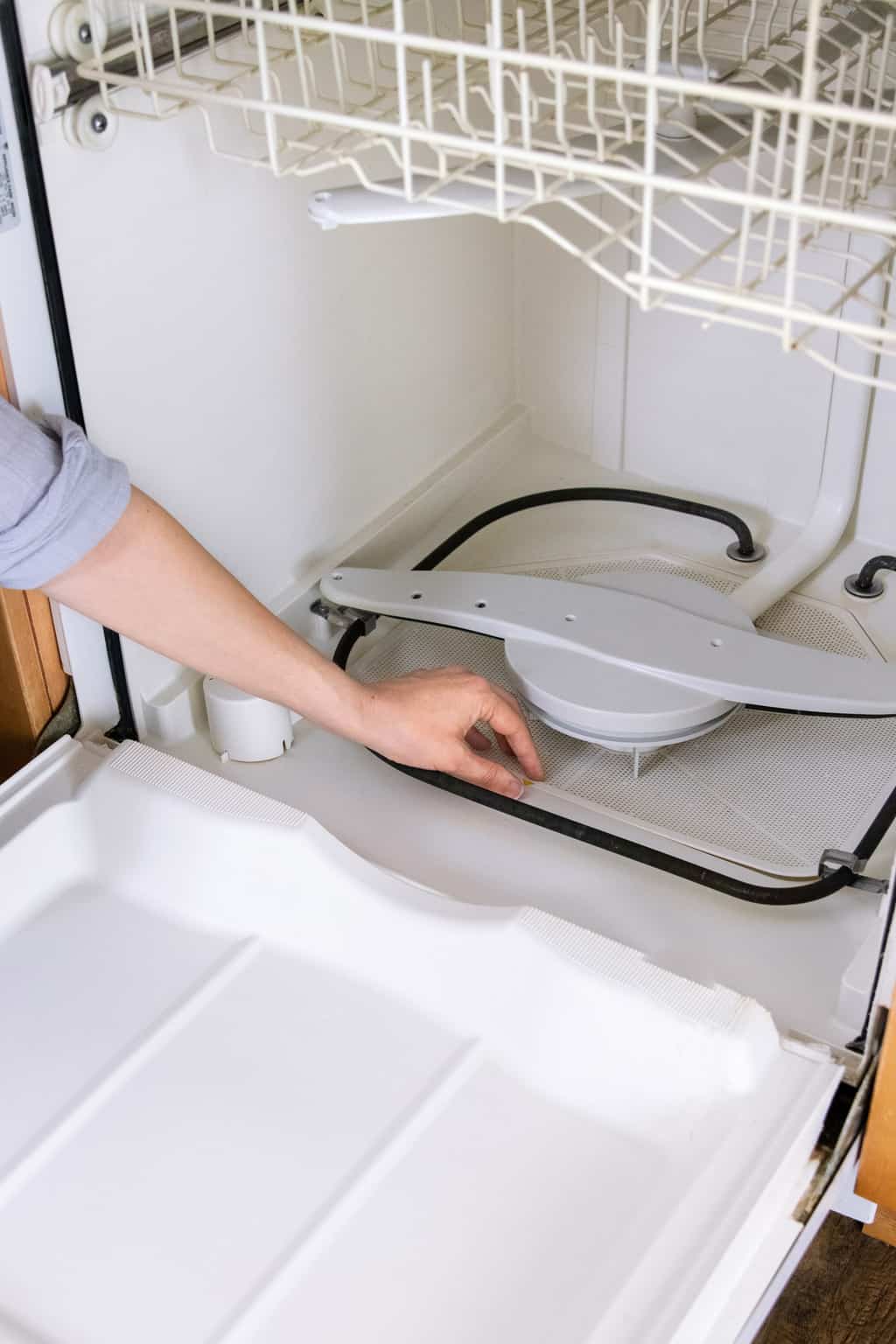 Step 3 | Clear the drain
Food that's too large to be flushed down the drain often gets stuck in the bottom of the dishwasher, resulting in a smelly mess. Start by removing the bottom rack and setting it aside. Next, feel around the bottom of the dishwasher looking for any food particles, trash or debris (you can wear gloves for this part, if you like).
If the bottom of your dishwasher is especially dirty, you may have a filter problem. Google how to remove your machine's filter and give it a good rinse. If your dishwasher isn't that bad, you can probably skip this step.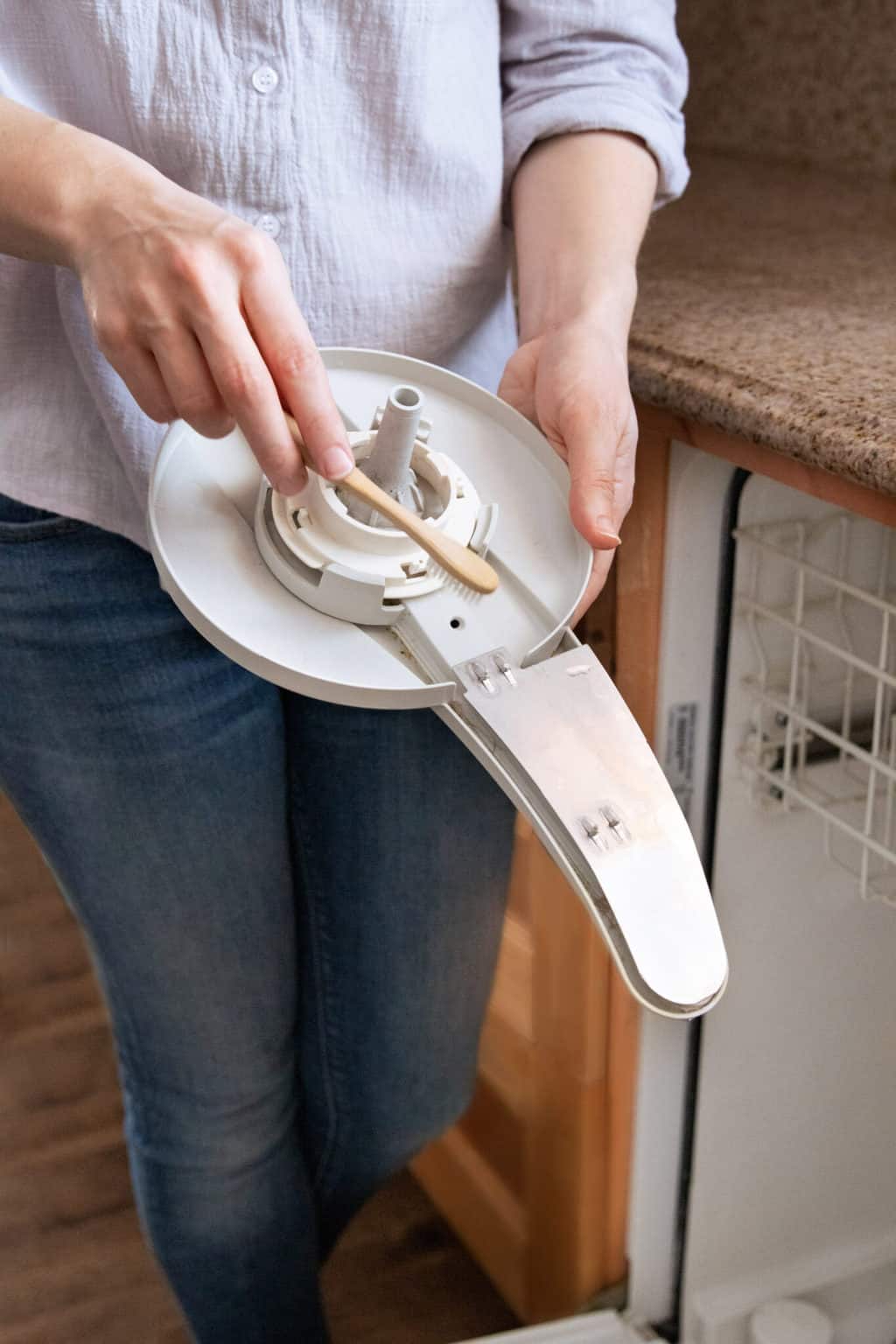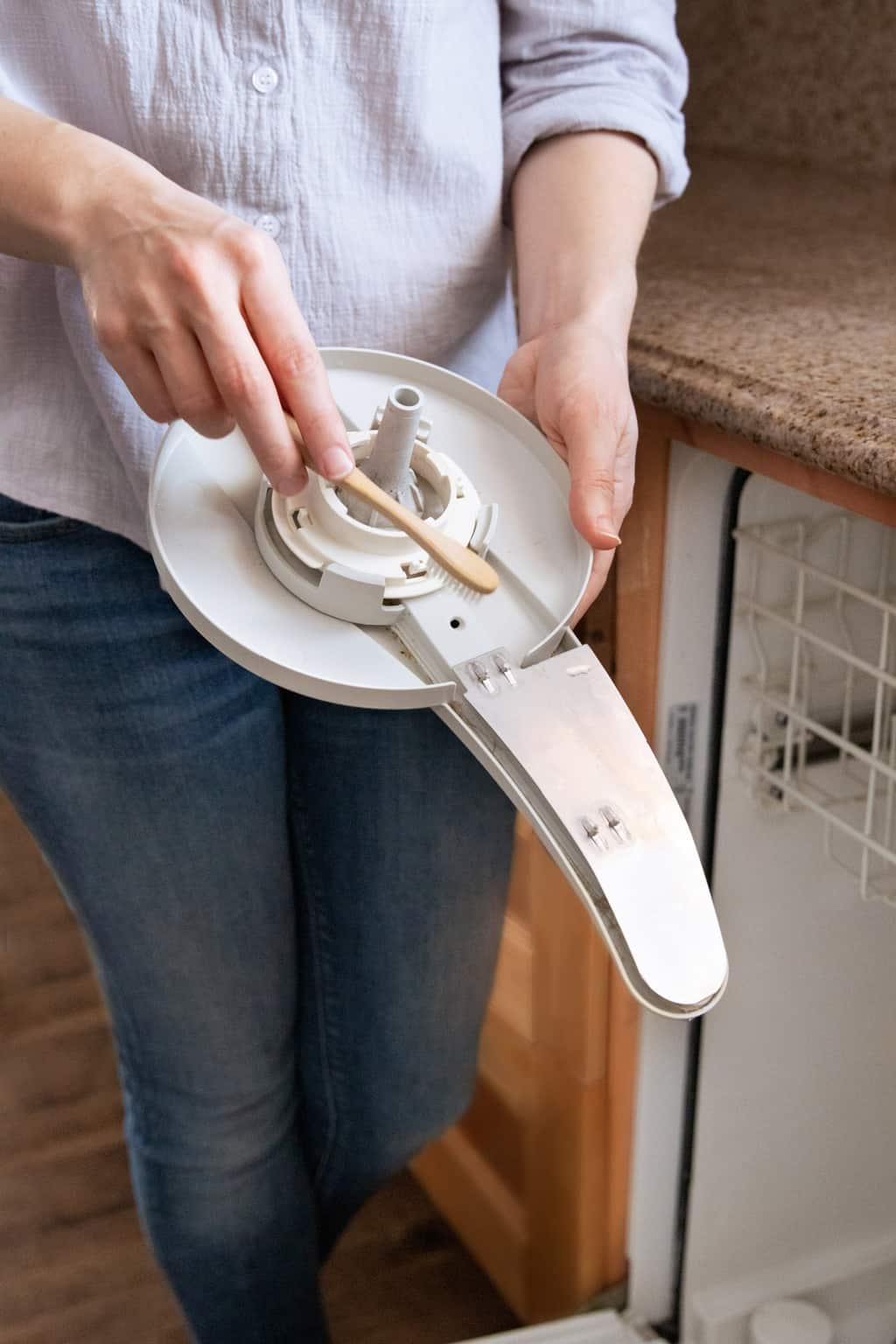 Step 4 | Clean the sprayer arm
Just like with the drain, food particles and debris can get stuck in the small holes in your dishwasher's sprayer arm or coat the underside of the arm with moldy sludge. Since all dishwashers are different, Google your dishwasher make and model to find out how to remove the sprayer arm. For mine, I simply lift up on the arm while turning it counterclockwise and it comes right off, but yours could be different.
Once you've managed to remove the sprayer arm, inspect both the top and bottom for grime. Use a toothbrush dipped in white vinegar to clean out the sprayer holes and get rid of anything gross.
Then replace the sprayer arm and put the bottom rack back inside the dishwasher.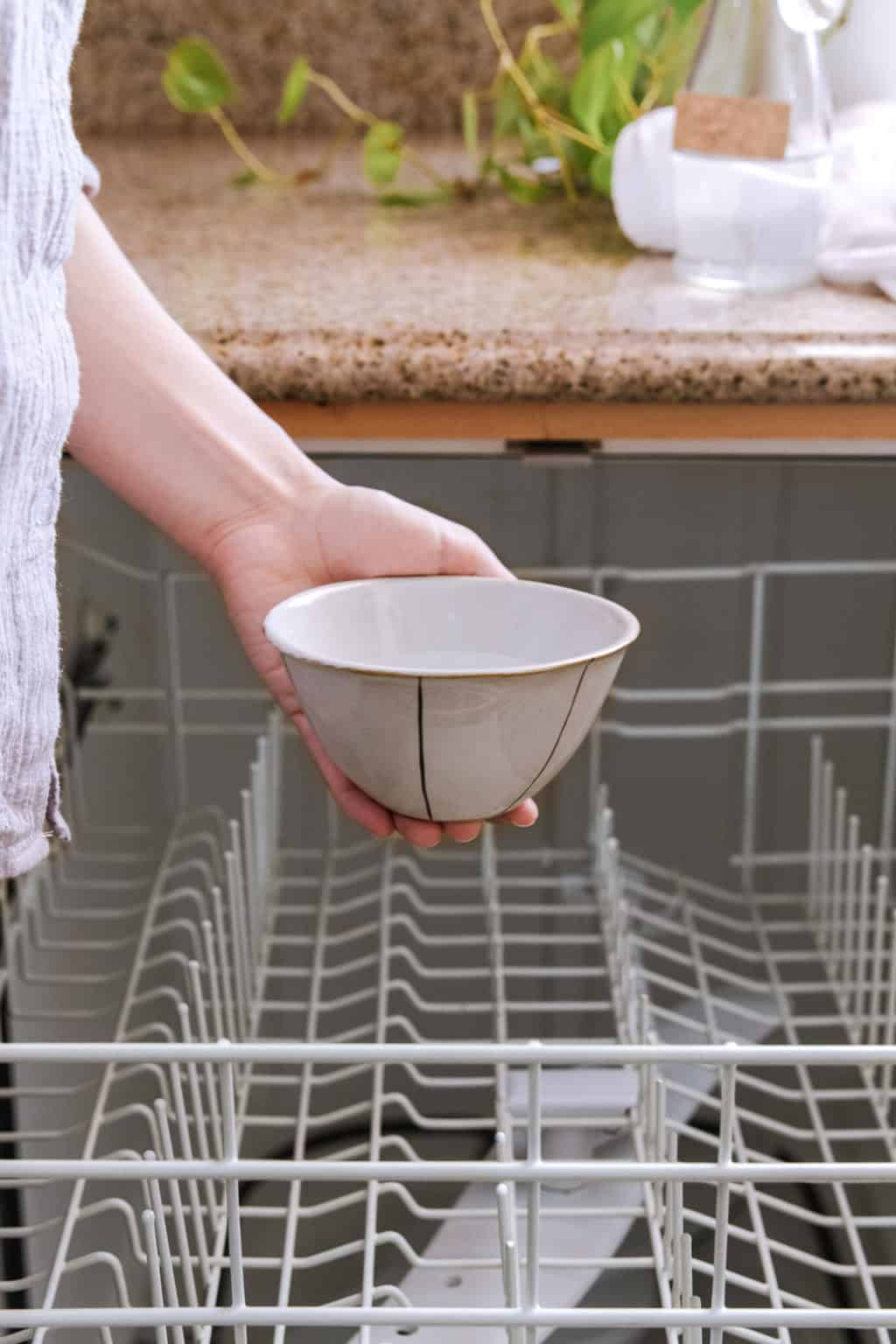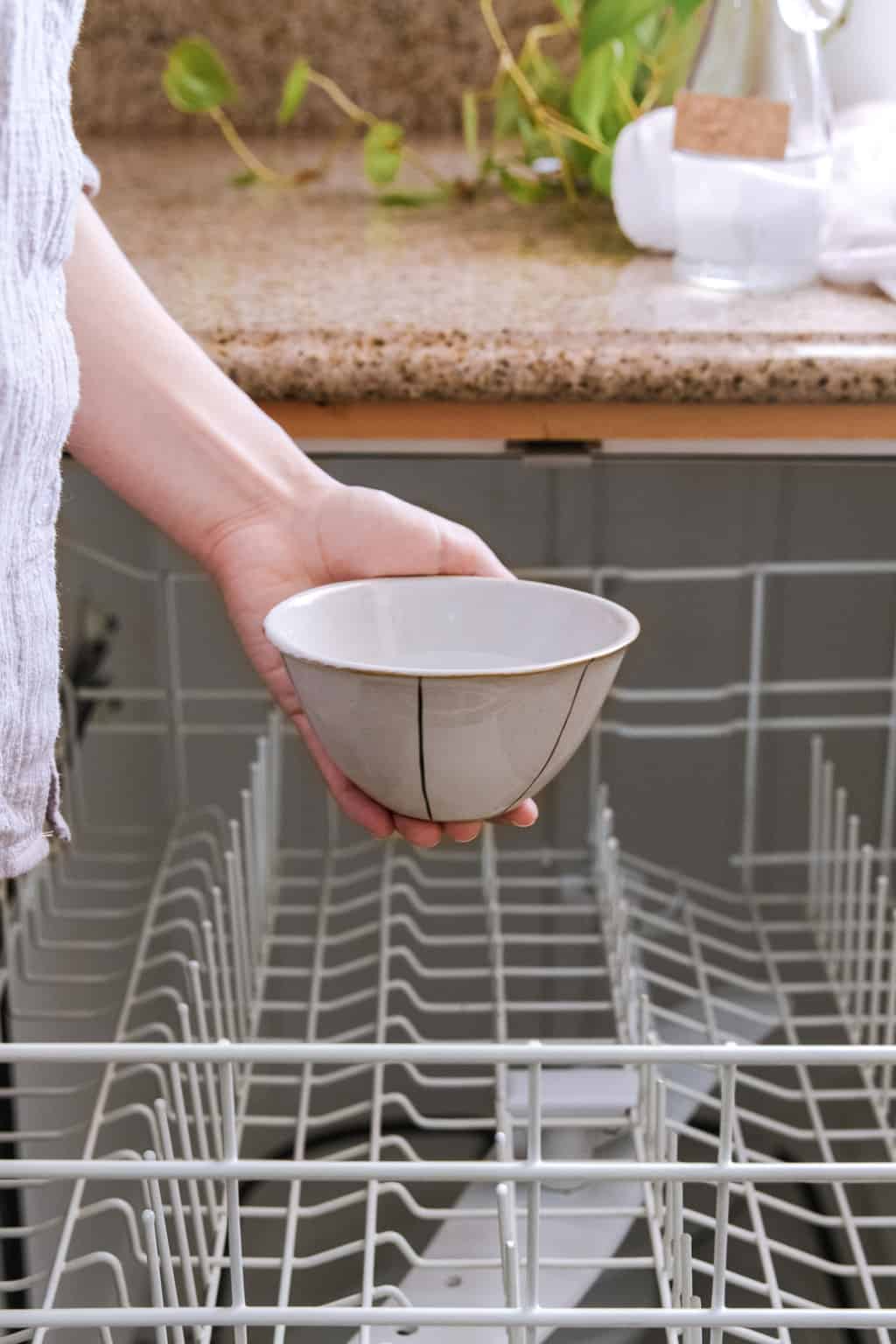 Step 5 | Do a disinfecting wash
Vinegar is great at breaking down grease, soap scum and residue, so finishing up with a hot vinegar wash will make your dishwasher look shiny and new.
Pour 1 cup white vinegar into a small bowl and place it upright in the center of the upper rack. Set your dishwasher to the hottest cycle you can, in my case it's a hot, disinfectant wash. Then sit back while it runs a full cycle.
Bonus: For extra oomph, slide the bottom rack out and sprinkle a layer of baking soda over the bottom of the dishwasher. Do a second hot wash with just baking soda to remove stains and deodorize your machine.
Dishwasher Cleaning FAQ
How often should you clean your dishwasher?
While some say that you should clean your dishwasher (in some form or another) every day, I think that's completely unrealistic. But it is easier to maintain a clean dishwasher than to do a deep clean, so here's a simple cleaning schedule to keep you on track. Feel free to adjust this to meet your own needs.
Weekly: Remove food remnants floating around the bottom of the dishwasher
Monthly: Disinfect the dishwasher door, wipe down the gasket, and check the filter
Every 3-4 Months: Clean the sprayer arm and do a hot, disinfectant wash with white vinegar
Can I use bleach to clean a dishwasher?
I don't recommend it. If you have a dishwasher with a stainless steel interior, bleach can cause a chemical reaction that may weaken the finish. Also, since bleach is pretty toxic, I don't like using it on or near surfaces that come in contact with food – but that's just me!
How to do I keep my dishwasher clean?
There are a few things that may help your dishwasher run more efficiently. A more efficient and effective clean means you won't have to deep clean as often.
Bump up the temperature on your water heater. To sanitize both your dishes and dishwasher effectively, your hot water should be around 120°F.
Pre-rinse your dishes. I know it's annoying, but pre-rinsing your dishes will help keep chunks of food and grimy gunk from entering your dishwasher in the first place. That being said, most dish detergents require some grime to be effective – so don't clean them too much.
Don't overfill your dishwasher. In order to run correctly, the water from your machine's sprayer arm has to be able to reach all of your dishes. While running a full load helps conserve water and energy, overloading the machine will cause issues.
11