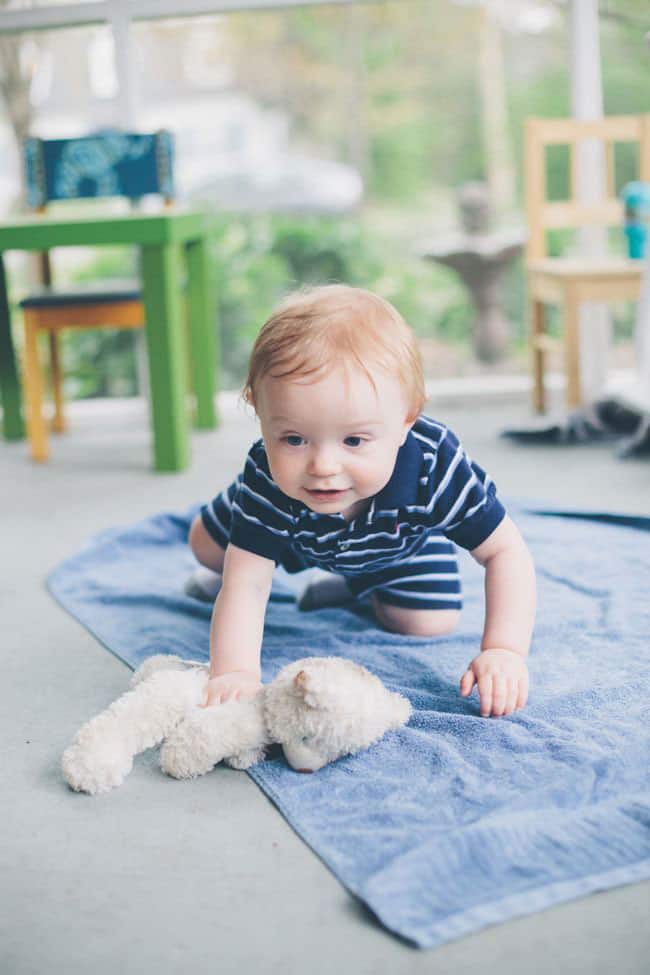 Is your little one attached to his or her stuffed animal? Maybe it's a teddy bear (like Sam's in the photos below), or a bunny, or some other sweet stuffed friend that your toddler feels attached to. If that's the case, then bear or bunny has likely been dragged through a sandbox, shared some peanut butter and jelly, and maybe even tested toilet water once (or twice).
The thing is, a toddler's attachment to their stuffed pals can be strong. So when it comes time to clean stuffed animals, it is tough to separate them for long enough to get the job done properly. This is why I am not only sharing how to clean stuffed animals in the laundry, but also how to quickly dry wash stuffed animals so you can give them back to your little one ASAP.
How to Clean Stuffed Animals in the Laundry
If your child's stuffed animal is machine washable, it's really easy to clean in a washing machine.
What You'll Need:
Access to a washing machine
Gentle detergent
Mesh Laundry Bag or Pillowcase (tied shut – a hair tie works well here)
Instructions:
1. Make sure that your child's stuffed animal is machine washable!
2. Place the stuffed animal into a mesh laundry bag and toss into the washing machine. If you do not own a mesh laundry bag, you can improvise by using a pillowcase tied shut (use a hair tie to tie a knot).
3. Use a small amount of gentle laundry detergent.
4. Set the cycle settings to a cold delicate wash and reduce the spin cycle if possible.
5. Let the stuffed animal air dry in the sun.
How to Dry Wash Stuffed Animals
If you aren't able to regularly manage a proper laundering of your child's stuffed animal friend, dry washing is a way to give it a quick refresh in-between deeper cleans.
What You'll Need:
2 Tablespoons baking soda (more if you have a larger stuffed animal)
1 Drop each of lavender, eucalyptus, and tea tree essential oils
Large ziplock bag
Freezer
Instructions:
1. Combine baking soda and essential oils in a small bowl.
2. Place the stuffed animal into the ziplock bag with your baking soda mixture.
3. Shake the contents up well (your little one might enjoy helping with this part!).
4. Put the bag in the freezer for 30+ minutes. Exposure to frozen temperatures for 30 minutes to an hour should kill any dust mites that found their way into the fibers of your child's stuffed animal.
5. Remove the stuffed animal and shake off the baking soda mixture. The baking soda will help absorb gross odors and agitate dust and dirt clinging on to the stuffed animal. The essential oils have antibacterial properties as well as nice scents.
After using these cleaning tactics, your child's favorite stuffed animals will look better and hopefully smell nicer too!
56