This is a sponsored post written by me on behalf of CuVerro. All opinions are 100% mine.
When was the last time you disinfected your workout gear? If you're like me, you're probably looking around a little panicked and thinking… "Um, never". Followed closely by, "Is that really something I need to do?" When I think about getting sick, dumbbells don't normally come to mind, but the fact of the matter is that germs are everywhere. And since they're transferred mostly by touch and can stick around for days after contact, that means it's probably time to give your gear a good scrub down.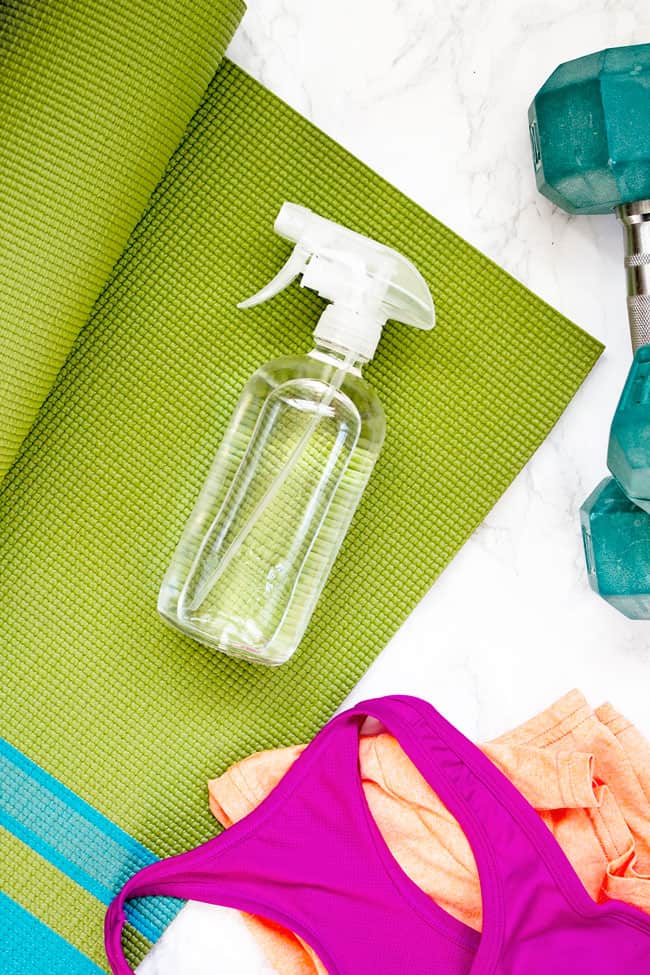 Come to think of it, I don't know that I have ever really disinfected my workout gear. Aside from washing my gym clothes after a brutal sweat session, disinfecting the contents of my gym bag isn't really high up on my to-do list. My yoga mat gets a deep cleaning every 6 months, at best. And my dumbbells? Never.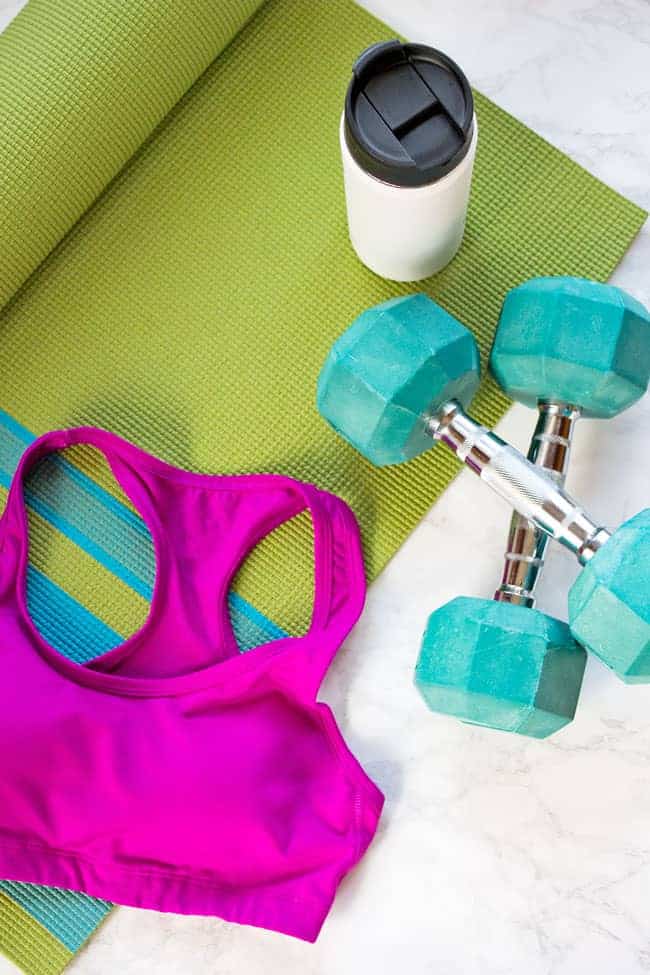 We all know that gyms are germy places, but studies show that workout equipment may harbor more than one million germs per square inch–about 350 times more bacteria than a standard toilet seat! And the worst offender? Dumbbells. Most of us are pretty good at wiping down the treadmill or disinfecting our yoga mats, but free weights often get neglected. Therefore they're prone to harboring bacteria that may cause pneumonia, septicemia, skin infections and more.
And this isn't just limited to your local gym—if you don't clean your home equipment, you're just as likely to bring home disease-causing bacteria and pass it along to your family.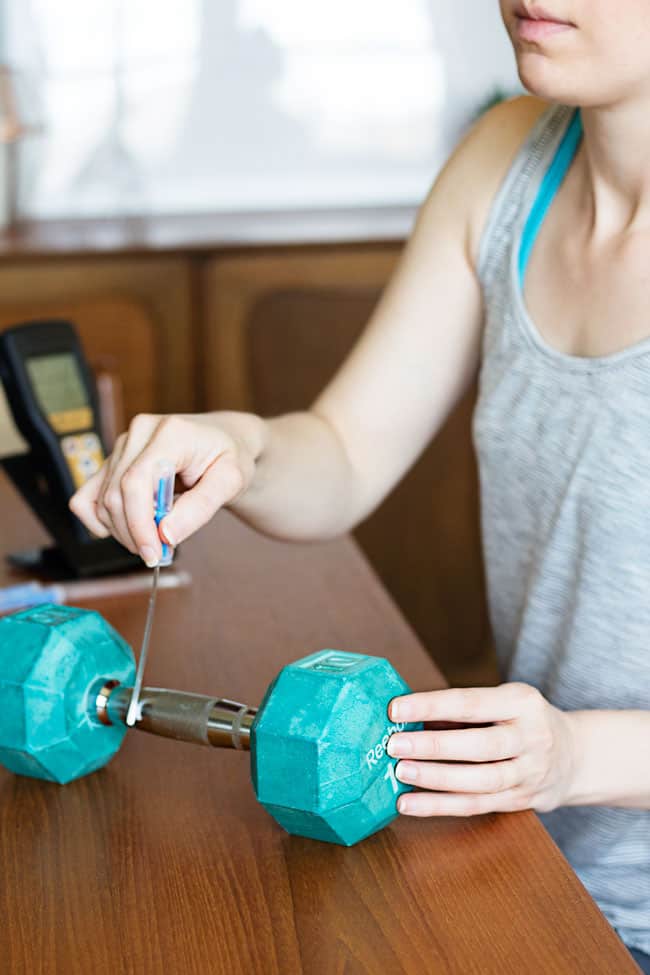 These stats made me curious, so I decided to see how dirty my workout gear really is. I used Hygenia's ATP Testing Tool to test the gear I use most often–everything from my yoga mat to dumbbells to my sports bra–and needless to say, it was pretty disgusting.
Here's how everything stacked up (note: anything over 300 RLU is considered unsanitary):
Sports bra: 751 RLU
Water bottle: 1465 RLU
Free weights: 2920 RLU
Yoga mat: 5767 RLU
And that's even with washing my gym clothes and water bottle regularly. Ouch!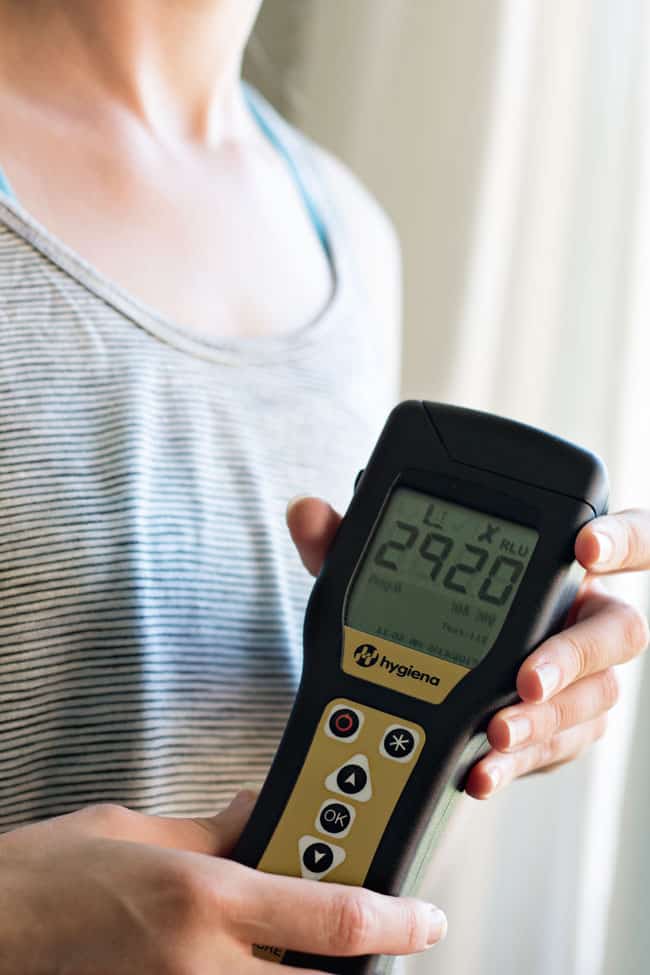 For years, stainless steel has been the material of choice for fitness equipment. But even though stainless steel may look clean, it can still harbor harmful germs for days, weeks and even months. The same is true for other common materials like plastic, fabric and wood. They are all prone to harboring germs and transmitting cold and flu viruses long after contamination.
But what most people don't realize is that copper is different. Copper is the ideal material for any surface you touch because it naturally kills infectious bacteria. Antimicrobial copper has been proven by EPA testing to kill 99.9% of bacteria within 2 hours of exposure and keep on killing it–even after repeated contamination.
And get this, CuVerro even works with Black Iron Strength® to make copper dumbbells that kill bacteria for you. The dumbbells are made with antimicrobial copper handles and are proven to continuously kill 99% of all bacteria and other microbes in two hours or less–24 hours a day, 7 days a week, and 365 days per year. And because they're safer and cleaner than standard dumbbells they're perfect for gyms, schools, rehab facilities, and even your own home. Learn more at CleanAsCopper.com.
How to Clean Workout Gear
Now as for the rest of your gear, you'll most likely need a good disinfecting spray to get rid of bacteria and germs. Here is an all-purpose sanitizing spray to help keep your workout gear clean and germ-free. It will even help freshen gym clothes in between washings, so I recommend keeping a small spray bottle in your gym bag for emergencies.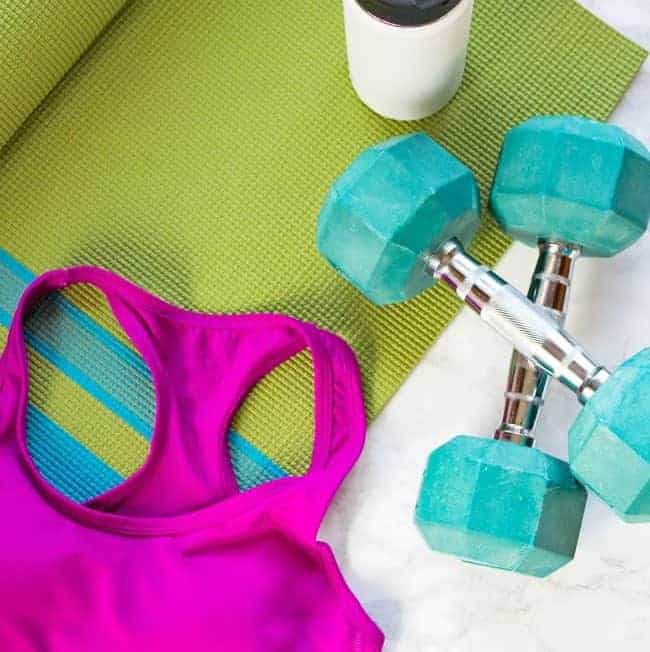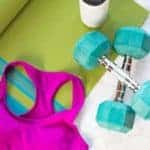 Print
Disinfecting Workout Gear Spray
How often do you disinfect your dumbbells and gym equipment? If the answer is "never," then you need to read this post on how to clean workout gear!
Materials
¼

cup

water

¼

cup

white vinegar

¼

cup

rubbing alcohol

20

drops tea tree oil
Instructions
Combine everything in a small spray bottle and give it a good shake.

Give your equipment a good spray and wipe down after each workout.
24