Good news—you don't need to book a fancy spa package to get sun worthy skin. All you need is a natural bristle brush and a few minutes in the morning and you'll be looking primed and polished in no time.
Benefits of Dry Brushing
There are a variety of health promises made about dry brushing. So much so that it's sometimes referred to as the juice cleanse of the beauty world–and that's not too far from the truth. If you're new to the world of dry brushing, it's essentially the practice of quickly swiping a dry, stiff-bristled brush over the skin as a means of exfoliating dry skin cells, improving circulation and eliminating toxins from the body. It's said to help improve blood flow, encourages lymphatic drainage and rejuvenates the nervous system by stimulating nerve endings in the skin.
Best of all, it's even been said to help improve muscle tone and even out fat deposits under the skin—a definite bonus of you'd like to reduce the appearance of cellulite.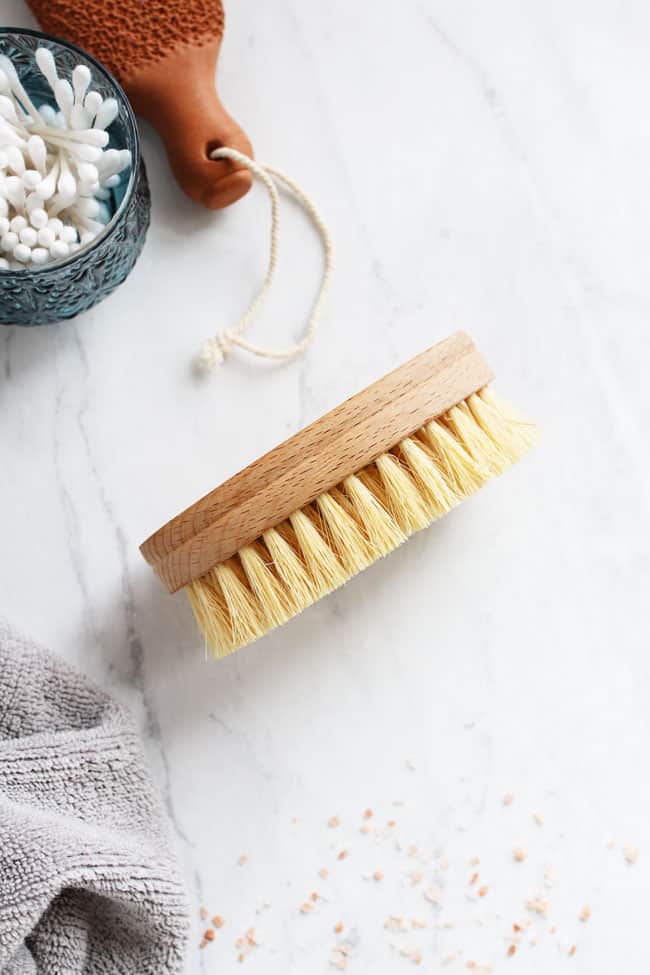 Unlike exfoliating wet skin (while you're in the shower, for example), brushing the skin while it's dry allows you to reap the benefits of improved blood flow and lymph drainage without robbing skin of much-needed moisture.
Just make sure to choose a natural brush with stiff bristles, preferably with a long handle if you'll be brushing your back, and brush lightly over sensitive areas to protect fragile skin. A few overlapping swipes per area is all you need to freshen the skin and boost blood flow. If you go over one area too long, you can actually break the skin and cause irritation or bleeding.
While it's beneficial for most skin, never, ever brush over acne, scrapes, cuts, sore or rashes (including sun burns). Since the bristles are very firm, they can make problem skin worse or introduce bacteria to cuts and scrapes. The same goes for the sensitive skin of the face, as well. It's best to avoid the face altogether or you risk causing pimples or inflaming breakouts.
How to Dry Brush
The directions are pretty simple: grab a dry brush and scrub. But before you start brushing away, watch this short video showing you the best dry brushing technique. This will help you remove toxins and improve circulation more effectively.
And in case you missed the directions, here's a quick recap:
With dry skin, gently rub the bristle brush in circular, upward motions, followed by longer, smoother strokes.
Begin at the ankles and brush upward towards the heart (the lymph flows towards the heart, so it's important that you brush in the same direction.) Move up to the lower legs, thighs, stomach, back and arms. Be cautious of softer and sensitive skin around the chest, and never brush over inflamed skin, sores or sun-burn.
When you reach the chest and back, brush down toward the heart.
Hop in the shower to rinse off dry skin cells and impurities.
Follow up with a little coconut oil to nourish and moisturize the skin.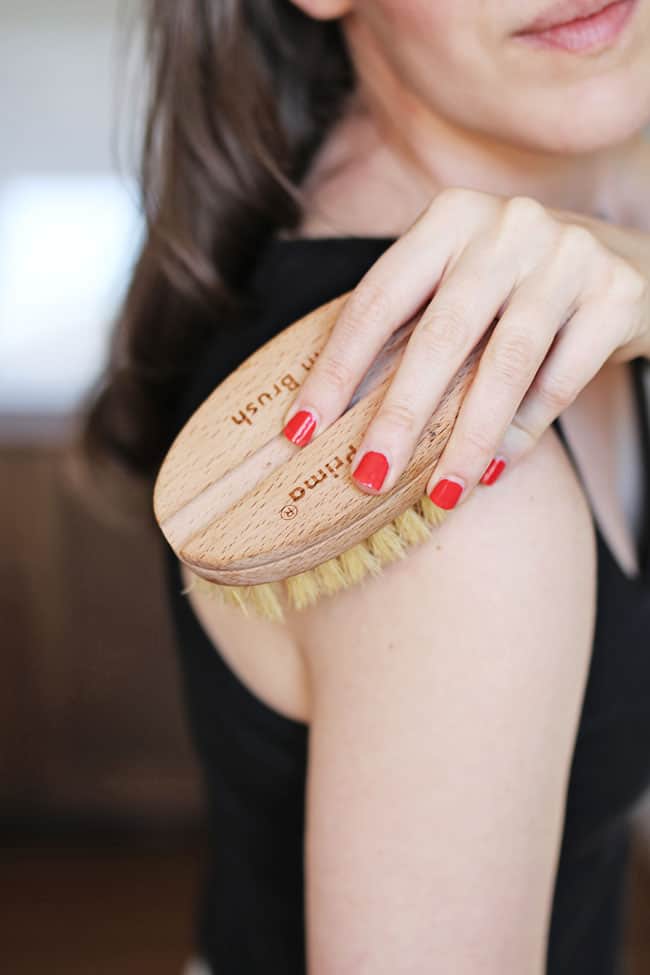 74