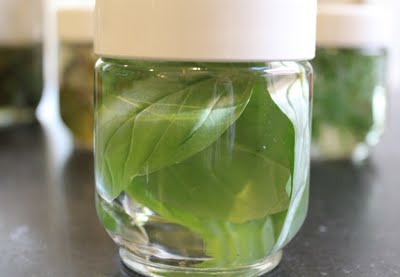 I'm not sure what is says about me that one of the first things I did with my new herb garden was think about all the fun drinks & cocktails I could make.
Infused herb spirits is just about the easiest kitchen trick I've found. Simply pick a few herb leaves (wash & dry them), put them in a jar (I used my yogurt making jars) and fill with alcohol. You want enough alcohol to fill the container. I made one batch with a half full jar and it smells a little off now.
How about basil vodka? Or dill vodka? (Don't be a doubter – see yummy Bloody Mary recipe below!)
And of course I made several versions of mint infused rum. This one is chocolate mint.
Let the jars sit for 3-5 days and then strain herbs.
I'm a little obsessed with lemonade lately. Here is one super easy recipe I came up with for a refreshing treat. The mint was super tasty and mixed well with the tart lemonade. So much easier than having to pulverize mint leaves over and over.
Spiked Mint Lemonade
1 ounce mint infused rum
Fresh lemonade
Sparkling water
Add maybe half a cup of water and lemonade to the rum (add more water if too strong). Stir and serve over ice. I made mint ice cubes with leftovers from soap making so there's a bit of extra diced mint in there. Garnish with mint leaves.
Dill Vodka Bloody Mary
2 oz Dill Vodka
4 oz Tomato Juice
Juice of 1/2 Lime
1 1/2 tsp Worcestershire Sauce
6 dashes Tabasco Sauce
Salt
Pepper
1 Lime wedge
Add vodka, juices and sauce to a 
shaker with ice, adding salt and pepper to taste. Shake vigorously. pour over ice
into tall glass and add a lime wedge.
2