This post is sponsored by American Greetings. All thoughts and opinions are my own.
Why does summer always seem to fly by so fast? It's supposed to be the season when everything slows down. When there's time for napping in hammocks and long barbecues with friends. I want more lazy days filled with reading and exploring. One simple way to slow things down is to take a walk around your neighborhood with the intention of building a wildflower bouquet.
Look closer at what's growing in and around your backyard, and you'll be amazed at the wildflowers and foliage you'll find. Colorful flowers are everywhere, trees have fragrant blossoms, and even the weeds are often pretty. Here are a few tips on putting together your own backyard bouquet.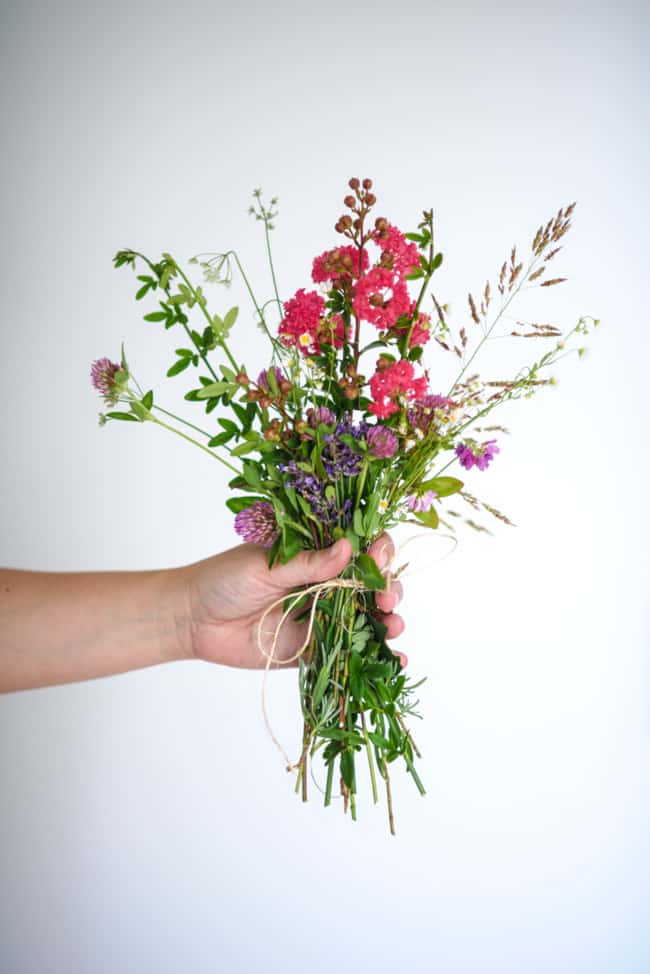 Go wild
A wildflower bouquet will, by definition, be a little wild. That's okay. Embrace it. Along with colorful flowers you can snip greenery off shrubs and the feathery ends off of tall grasses. Honestly, it's amazing how much color you'll see when you really take the time to look for it.
Most of my potted flowers wouldn't hold up in a bouquet, but hardier flowers and herbs like lavender add a pretty dose of scent and color. And don't forget trees: even if they're not blooming, their big leaves can help fill out an arrangement.
Snip snip
Then you'll need to remove the bottom leaves from the stems. I tend to skip over this part, but you don't want anything but the stems sticking down in the water or it will turn cloudy pretty fast. And cut the ends at an angle, which will help the flowers last a bit longer.
Find balance
The flowers and foliage you gather will probably be a little eclectic. Try to find natural groupings of colors and sizes. I was lucky enough to find one gorgeous magnolia blossom, but a flower that big seriously over powers the small, delicate wildflowers. It paired perfectly with two lilies hidden in my backyard.
Wrap it up
Arrange your flowers in a mason jar or tie up your bouquet with a bit of rustic twine. I wrapped a small piece of burlap around the larger flowers and tied twine around that to give it a bit of a fancier feel.
Presentation
You know how we all love getting flowers? Well, let me tell you, giving them is even more fun. And a wildflower bouquet is so unexpected! Turn your hunting and gathering into a chance to let someone know that you're thinking of them. Target always has the most beautiful selection of cards for weddings, birthdays and other moments to remember. And these cards pair so well with a sweet thinking of you bouquet.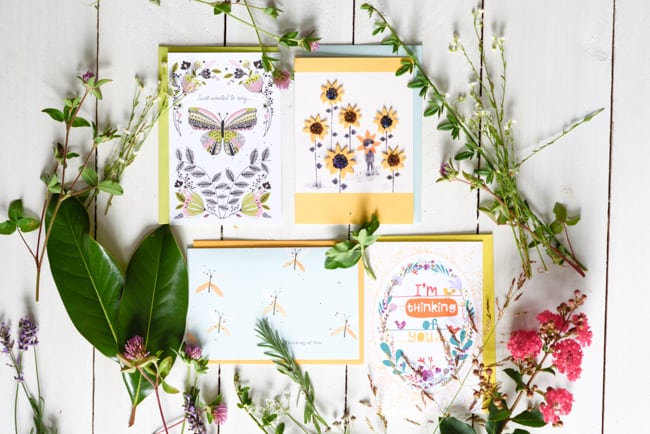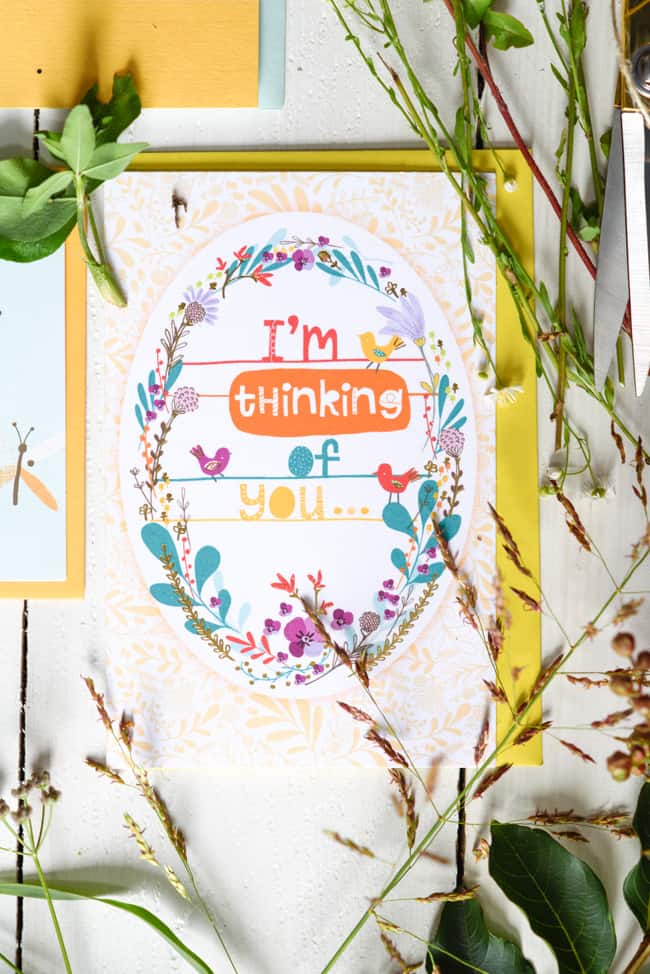 Writing a card is another way to make yourself slow down. You don't get the immediate gratification of firing off a text in 5 seconds, but it's worth it. My mom was a champion card writer, and I love rereading birthday cards she gave me. So don't just sign your name! Find your favorite pen and spend a few minutes thinking about what makes that person special. Then wrap it all up and make a special delivery.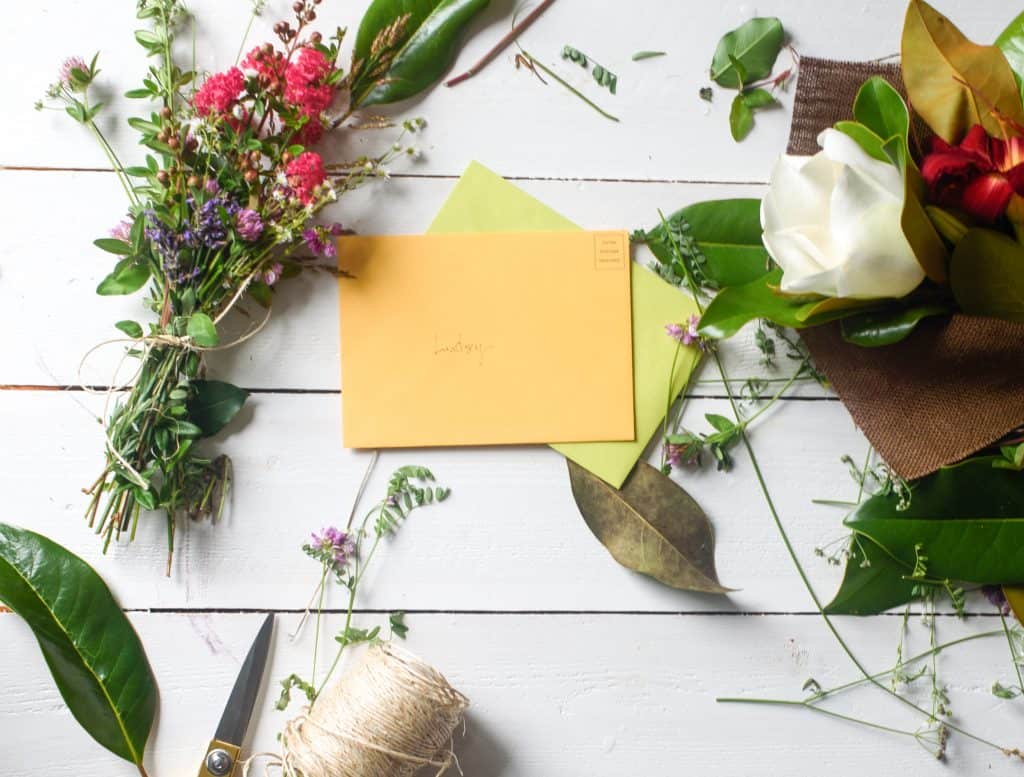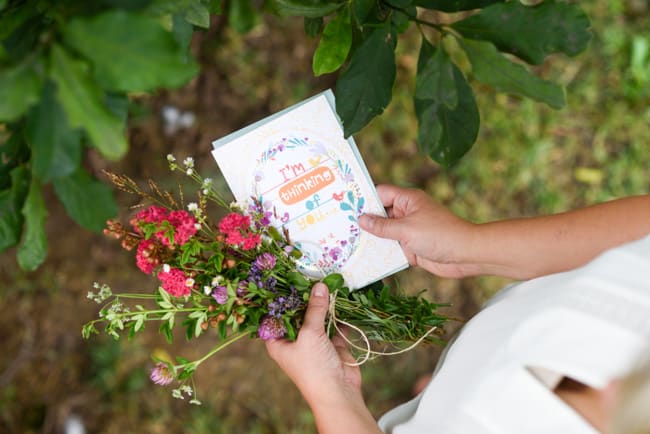 What other ways do you slow things down in summer?
Check out the American Greetings Pinterest page for more greeting card inspiration.
Photos by Lindsey Freitus
2