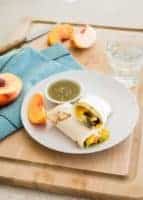 Make Ahead Freezer Breakfast Burritos
Yield 8
Make these hearty burritos ahead of time for a week's worth of healthy breakfasts to eat on the go.
Ingredients
8 extra large flour tortillas
8 large eggs, scrambled
2 cups shredded cheese
2 to 4 cups sauteed diced veggies, sausage, ham, bacon, or a combination
1/2 cup salsa
4 green onions, thinly sliced
Cilantro, optional
Instructions
Quickly warm each tortilla in the hot pan for about 30 seconds per side. Keep warm while assembling burritos.
Lay one burrito out on a flat surface. Place 1/8 of the eggs, followed by 1/4 cup each cheese, desired amount of filling, 1/4 to 1/2 cup, in the center of the tortilla, followed by a spoonful of salsa, sprinkling of green onions, and cilantro. Be sure to leave a border of empty space around the edge.
To roll, fold both right and left sides towards the middle, then fold over the edge closest to you. Tuck it in gently, but firmly, around the filling. Continue to roll, holding the tortilla firmly, but being careful not to tear it. Wrap securely with waxed paper (or plastic wrap).
Repeat with remaining tortillas and filling. Wrap the burritos in foil, if desired, or place in a resealable plastic bag, and place in freezer.
To reheat - remove foil and plastic wrap. If using a microwave oven, place burrito on a plate and heat for 1-2 minutes on full power, turning the burrito over halfway through for even heating. Can also be reheated in an toaster or traditional oven.
Notes
Other filling combos: (all with eggs)sausage + potato + green chilesham + tomato + cheddarbacon + swiss + spinachOlives + veggies + mozzarellasteak + peppers + onionsNote - can add 1/4 cooked rice to each one for a heartier burrito
Courses Breakfast
Recipe by Hello Glow at https://helloglow.co/how-to-make-a-breakfast-burrito/