I recently stumbled across these gorgeous pictures of crystal grids and was intrigued. I've added a few crystals to my daily life and beauty routine, but this takes things to the next level!
When I first learned about crystal grids, I'll admit I was curious to see how working with different stones in tandem might work for healing. A crystal grid is constructed by forming a pattern inspired by sacred geometry and placing a powerful health and wellness stone with intention at each intersection. The process of building the piece and the resulting network of power stones can offer you a reflective/meditative experience and give you a chance to consciously shift the energy field around you.
Curious? Here's how to get started in building your own.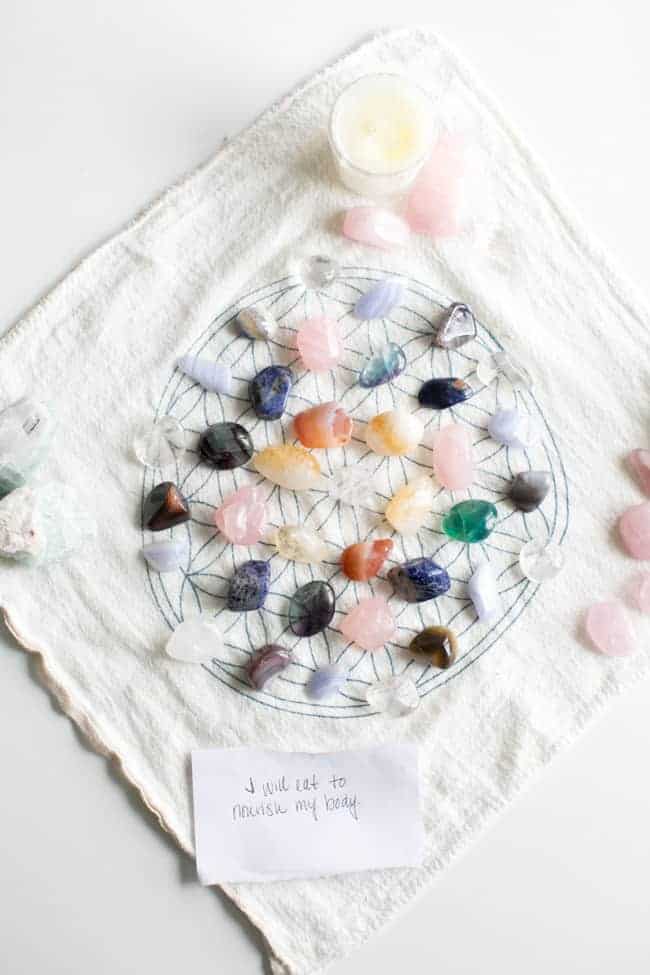 I love the idea of crystals and stones working together with a specific intention. I asked the Energy Muse experts to help me create a health and wellness grid to assist my efforts to make healthy food decisions.
My intention is to eat mindfully to nourish my body. No phone or TV distractions, no eating my feelings. This grid is perfect for whatever healthy habits and choices you're striving to make.
What You Need to Make a Crystal Grid
A location for the grid in your home
A small piece of paper with your intention or goal written on it
A center crystal; We like to use a crystal point. This will be more powerful for directing your intention straight up into the universe. But any stone works!
Stones that align with your intention (here are 5 good ones to start with!)
A Quartz point for activation
A crystal grid cloth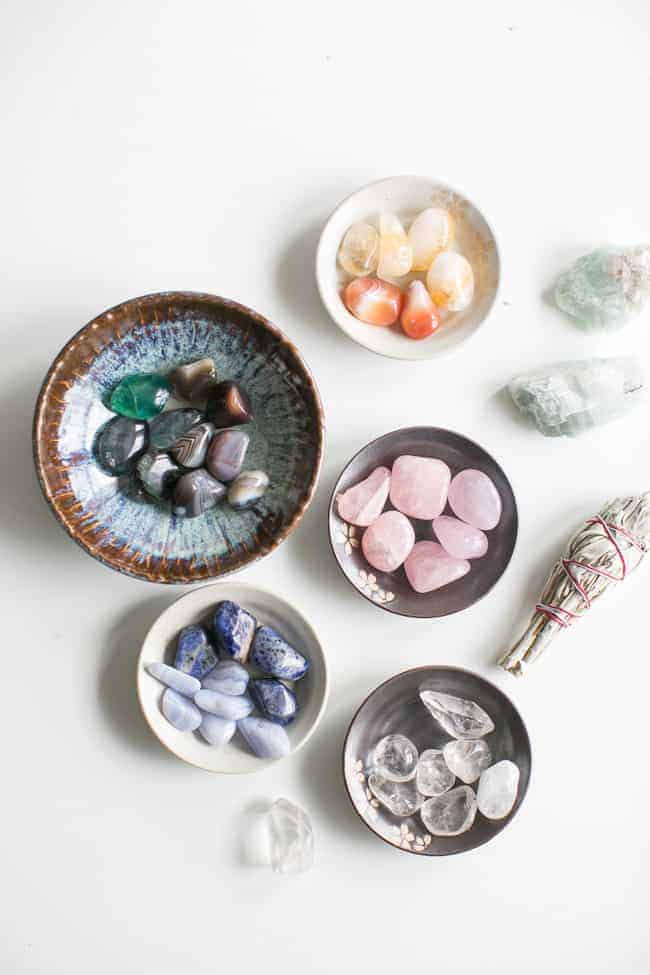 Stones for Health + Wellness
The most important part of your grid is, of course, the stones. If you're looking at building a grid to enhance health and wellbeing, the crystals you choose to incorporate should align with this work. Feel free to investigate and find stones that resonate with your own particular needs.
Just looking at all of the beautiful colors in these stones brings a boost to my day. Here's a quick primer on how each one reinforces health and wellness.Here are a few suggestions to get you started:
Citrine brings in happiness.
Rose quartz fosters self-love to help you realize you are worthy and deserving of a happy, healthy life.
Fluorite fosters a peaceful state of mind.
Carnelian brings creative energies and passion, reinforcing your motivation and willpower.
Botswana is one of the oldest healing gemstones. It is the perfect stone to carry with you to bring healing, strengthening, and protective energies.
Sodalite helps you communicate your needs.
Blue lace agate relieves stress and brings serenity.
The quartz crystal point, placed in the center of the grid, focuses and amplifies your intentions on health. Use the raw quartz point to activate the grid, drawing an invisible line between the crystals and uniting their energy with your intention.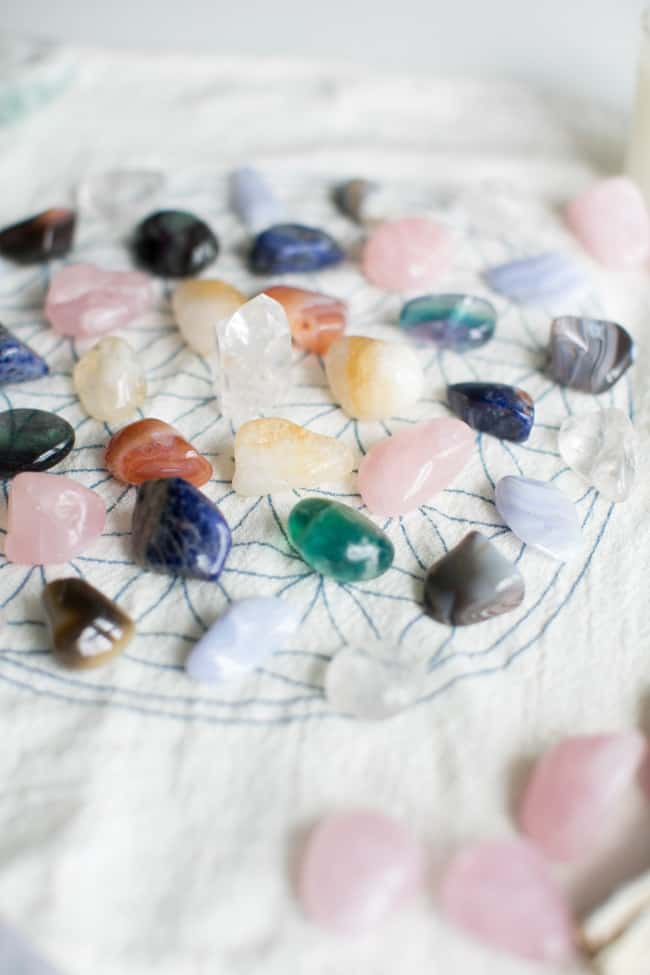 How to make a crystal grid
Whether you decide to purchase a grid template (you can buy grid cloths or burnished wood panels to use) or make your own (the "seed of life" symbol is a simple arrangement of 6 intersecting circles that you can easily draw on your own piece of cloth), you'll need to have a template to follow.
Before you begin placing crystals upon the grid, here are some steps we recommend:
1. Define your intention
The first step is to decide what goal or intention you are looking to manifest. Be specific. Write out a clear and focused intention on a small piece of paper to help direct the energy created.
If health and wellness are the focus, you can write something along the lines of "may the energy created by this grid serve to enhance my strength, energy, vitality, and overall well being."
2. Choose and prepare your crystals
Choose crystals and stones that align with your intention and that will enhance it. If you are creating a health and wellness grid, you can choose from one of these 12 crystals.
Cleanse your crystals—either by bathing them overnight in full moonlight or washing them with distilled water—so that any energy they may have collected in the past is discharged. Think of this as recharging their batteries.
3. Set the scene around your grid
Set up the grid in a place where you want more healthy habits (in the living room to watch less TV, in the kitchen to eat mindfully, etc). Cleanse your space by burning sage or Palo Santo to clear the energy of your space.
Be sure that the air is fresh (open a window) as you work; use natural light (sun, candles) if you can; place your grid where it will be protected from the daily hustle and bustle of life; and tuck your written intention beneath the cloth.
Assembling your crystal grid
Once your grid and crystals are ready to go and the space has been cleared, it's time to begin arranging the stones. Ideally you would set up the grid on a new moon, which represents new beginnings.
1. Place your intention in the center.
2. Set the stone that has the strongest energetic alignment with your intention in the center of the grid. This one will act as an anchor for all of the others.
3. Set the remaining crystals one at a time at each major intersection point on your sacred template. They must be well-placed and balanced in order to share energy optimally with one another. As you put down the stones, come back to your intention, either stating it aloud or keeping it in your mind.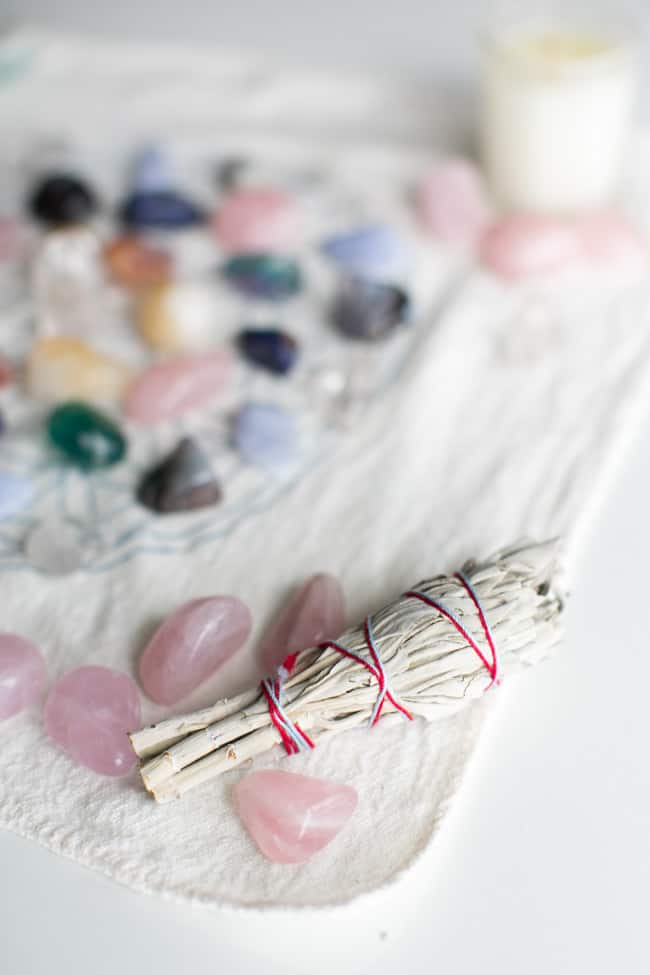 4. Once all of your stones have been placed, take your clear crystal quartz point and hold it over your anchor stone. Visualize a white light moving in and bringing the energy held within it to life.
Draw an invisible "white light" line with the point of your quartz outward, moving back and forth between the anchor stone and all of the other crystals on the grid to energetically connect each to the next.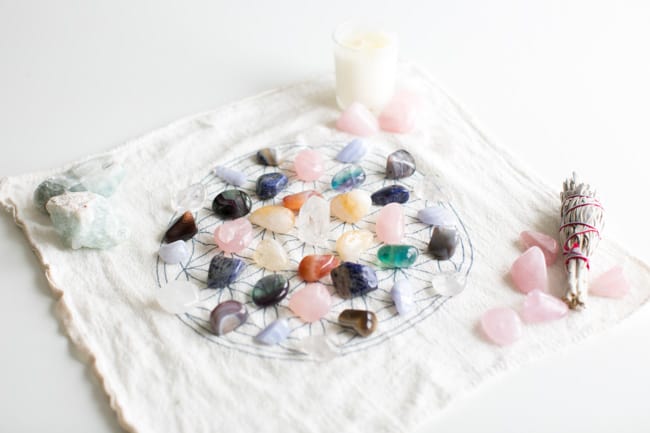 5. After all of your crystals have been joined and activated, sit with the grid for a few minutes, hold the intention in your mind, focus on your breathing, and lengthen your exhalations to release any tension. Visualize yourself as a strong, vibrant, healthy being, settled and balanced and at peace.
6. After a few minutes of quiet and restful connection, you might bow in gratitude to seal the session. Leave your grid intact in your space for as long as this particular configuration feels relevant and meaningful to you. As your needs change, so should your stones.
What do you think? Would you make a crystal grid? If nothing else, having the grid in a space near where I make food decisions is a powerful reminder of my intention to eat mindfully with food that is nourishing.
If you like to work with crystals or a grid, let us in on your own tips or insights. We'd love to hear from you!
This article was medically reviewed by Dr. Gina Jansheski, a licensed, board-certified physician who has been practicing for more than 20 years. Learn more about Hello Glow's medical reviewers here. As always, this is not personal medical advice and we recommend that you talk with your doctor.
206