I recently stumbled across these gorgeous pictures of crystal grids and was intrigued. I've added a few crystals to my daily life and beauty routine, but this takes things to the next level! Our friends at Energy Muse explained that the power of a crystal grid comes from combining the energies between the healing stones, sacred geometry and your intention. Placing crystals in a geometric pattern greatly strengthens your focused intention to manifest results much faster.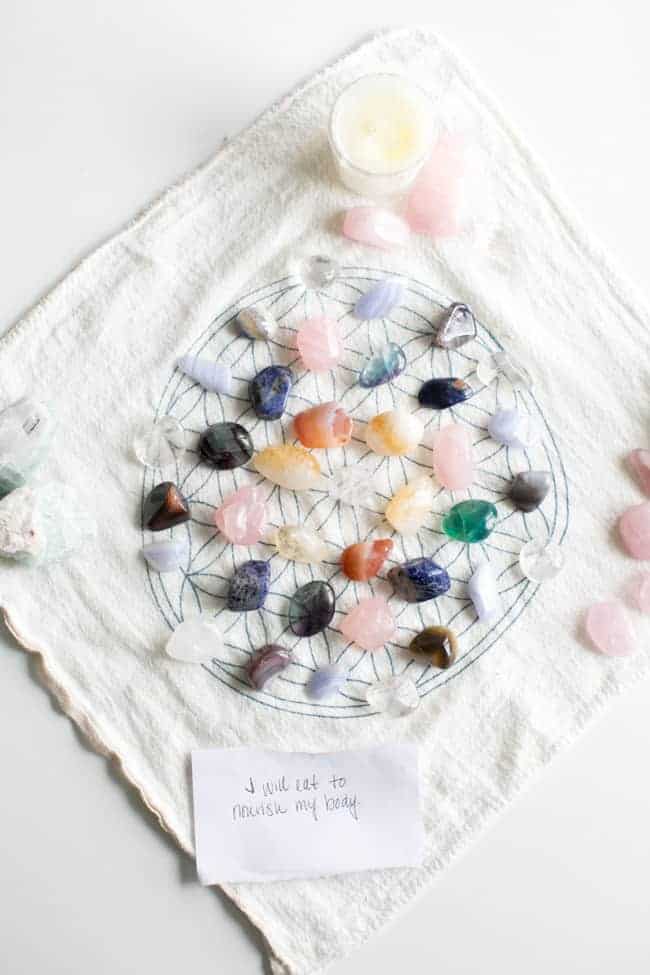 I love the idea of crystals and stones working together with a specific intention. I asked the Energy Muse experts to help me create a health and wellness grid to assist my efforts to make healthy food decisions. My intention is to eat mindfully to nourish my body. No phone or TV distractions, no eating my feelings. This grid is perfect for whatever healthy habits and choices you're striving to make.
What You Need to Make a Crystal Grid
A location for the grid in your home
A small piece of paper with your intention or goal written on it
A center crystal; We like to use a crystal point. This will be more powerful for directing your intention straight up into the universe. But any stone works!
Stones that align with your intention
A Quartz point for activation
A crystal grid cloth
Stones for Health + Wellness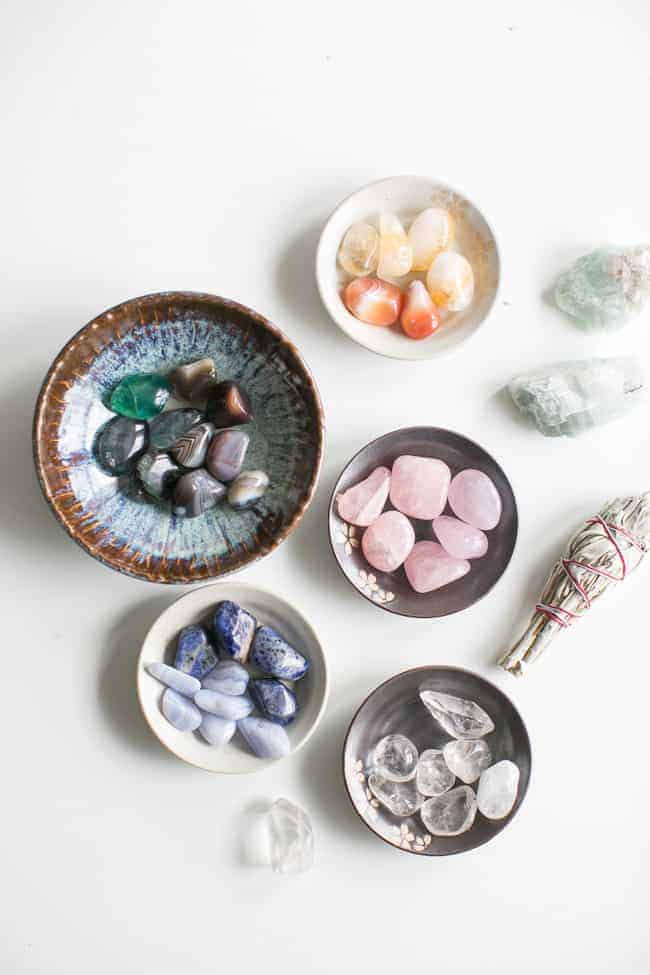 Just looking at all of the beautiful colors in these stones brings a boost to my day. Here's a quick primer on how each one reinforces health and wellness.
Citrine brings in happiness.
Rose quartz fosters self-love to help you realize you are worthy and deserving of a happy, healthy life.
Fluorite fosters a peaceful state of mind.
Carnelian brings creative energies and passion, reinforcing your motivation and willpower.
Botswana is one of the oldest healing gemstones. It is the perfect stone to carry with you to bring healing, strengthening and protective energies.
Sodalite helps you communicate your needs.
Blue lace agate relieves stress and brings serenity.
The quartz crystal point, placed in the center of the grid, focuses and amplifies your intentions on health. Use the raw quartz point to activate the grid, drawing an invisible line between the crystals, uniting the energy of the crystals with your intention.
How to Make a Crystal Grid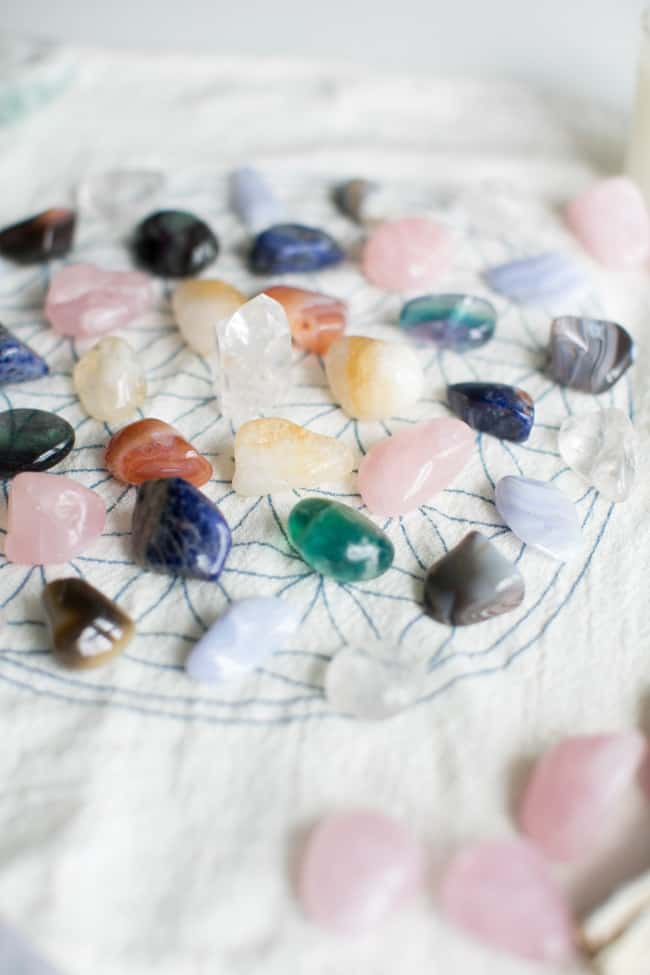 1. The first step is to decide what goal or intention you are looking to manifest. Be specific.
2. Choose crystals and stones that align with your intention and that will enhance it. If you are creating a health and wellness grid, you can choose from the list above.
3. Ideally you would set up the grid on a new moon, which represents new beginnings.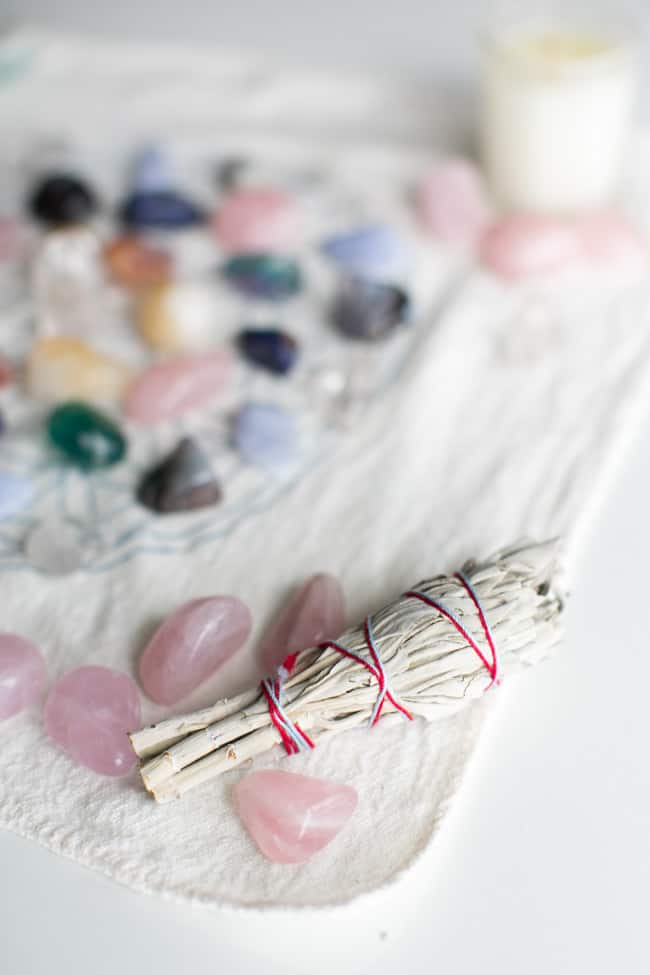 4. Set up the grid in a place where you want more healthy habits (in the living room to watch less TV, in the kitchen to eat mindfully, etc). Cleanse your space by burning sage or Palo Santo to clear the energy of your space.
5. Write an intention on a piece of paper.
6. Set up the crystal grid layout, starting from the exterior and working your way to the center. The placing of each stone on your grid gives you the opportunity to set your intention using crystal energy, color, sacred geometry and mental programming.
7. Place your intention in the center and put a center crystal on top.
8. Activate the crystal grid layout by drawing an invisible line between each stone with a quartz crystal point (can be small or large) to energetically connect each to the next.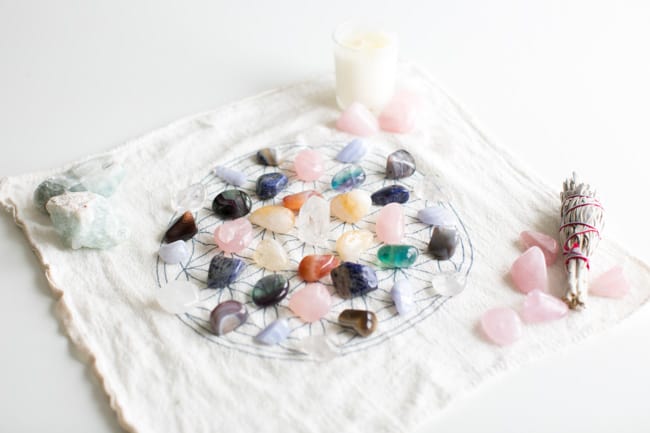 What do you think? Would you make a crystal grid? If nothing else, having the grid in a space near where I make food decisions is a powerful reminder of my intention to eat mindfully with food that is nourishing.
126