Nourishing bowls are perfect for those situations when you don't have ideas and time to prepare a meal, but you still want to stick to your healthy diet. I love the idea of bowls because they don't really have a recipe – all you need are a few simple nutritional guidelines and you can construct it with ingredients you have left in your fridge. Because there always are some!
How To Make a Meal Bowl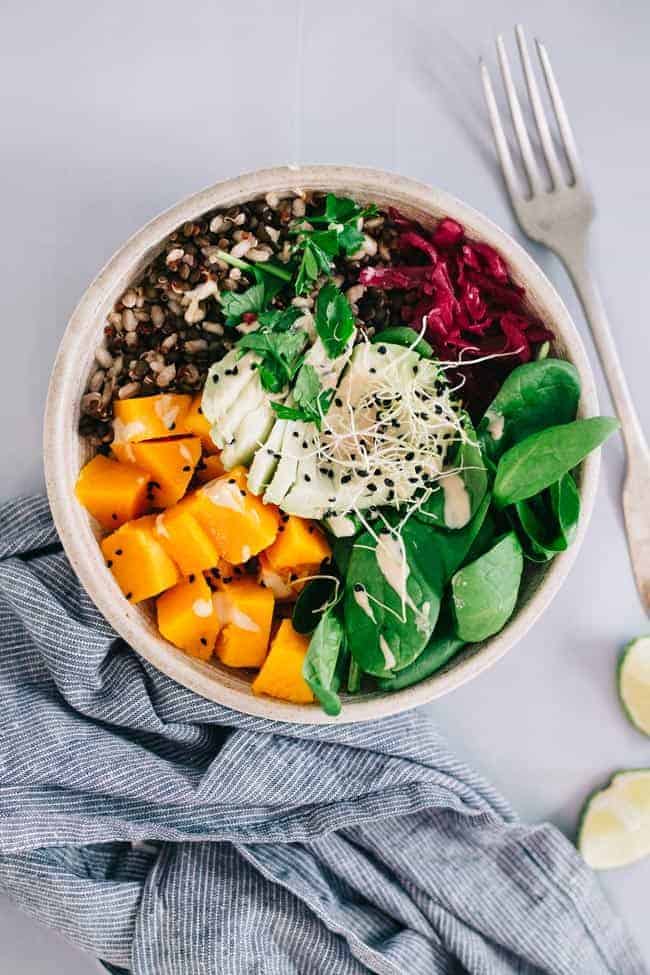 There are some simple nutritional rules to guide you when adding ingredients together. In order to support the natural detox function of your cells, and also provide the fuel cells need for restoring and producing energy, you have to provide your body with foods that cover all the macronutrients.
Ingredients for a Perfect Meal Bowl
1. Fresh greens
Kale, spinach, parsley, beet greens, lettuce or any other available – ensures that your body cells get fresh enzymes, vitamins and chlorophyll to reduce the oxidative stress and reduce the damages of free radicals.
2. Antioxidant-rich foods
Sweet potato, beet root, butternut squash, carrots – they offer antioxidant and anti-inflammatory protection.
3. Healthy fats
Avocado, nuts, seeds, coconut oil, flaxseed oil, extra virgin olive oil – support a balanced hormone production, reduce cholesterol and the risk of cardiovascular diseases, and help your body cells regenerate.
4. Carbohydrates
Legumes, cereals, brown rice, fruits – are the main source of energy of our bodies. Choosing whole ingredients enable our access to other important nutrients, such as minerals, vitamins and antioxidants.
5. Fiber
Found in all the vegetables, legumes, cereals and brown rice – accelerates the digestion process, feeds the good bacteria in your colon reducing the risk of developing chronic diseases like cancer, and flushes out toxins, excess estrogen and cholesterol, preventing these from leaking back into your system.
6. Protein
Quinoa, free range eggs, organic meat – is essential for regenerating the body tissues and for the regulation of enzymes and hormones.
7. Extras
For sustaining my immune system I always love a small dose of kimchee or sauerkraut to refresh the good bacteria colonies in my colon. Spices and condiments are a great addition as well as fresh aromatic herbs because they contain antioxidant and anti-inflammatory nutrients and have anti-viral and anti-bacterial properties.
As long as you put together as many macronutrients as possible, your bowl will definitely be a nourishing one!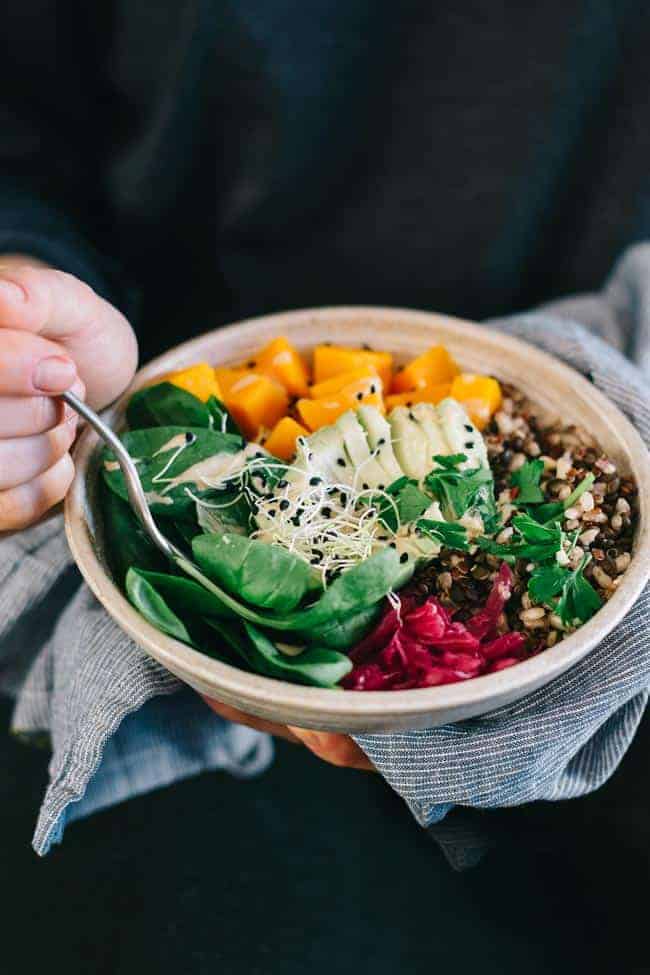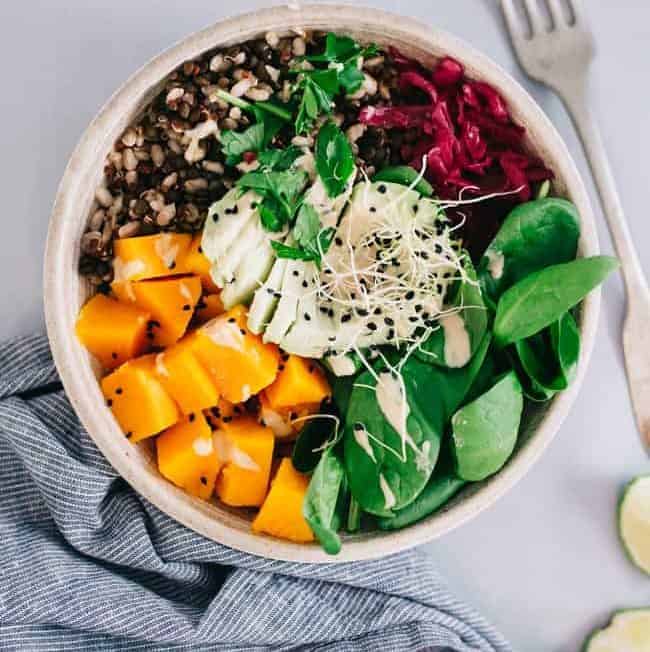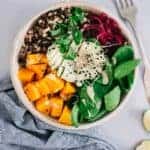 Print Recipe
How To Make a Complete Nourishing Bowl
A rich and nourishing bowl, loaded with nutrients to support the natural detox function of your body.
Ingredients
1/4

cup

cooked black lentils

1/4

cup

cooked brown rice

1/4

cup

cooked red quinoa

1/2

cup

roasted butternut squash

1/4

cup

red cabbage sauerkraut

1/2

rip avocado

peeled and cut into halves

1

handful fresh spinach leaves

2

tsp

raw tahini

1

lime

juice only

A pinch sea salt

Freshly ground black pepper

Black sesame

fresh parsley leaves, onion sprouts, to garnish
Instructions
Add all the ingredients into a medium bowl, season with salt and pepper and drizzle with tahini and lime juice.

Mix to combine before serving.
Notes
Best served immediately. Or store leftovers in the refrigerator for up to 24 hours.
2