What is ghee?
Ghee, at first glance, is nothing more than clarified butter. But if you look a little deeper you'll find a healthy, nutrient-rich food. Clarified butter is also called "drawn butter." It's the golden, delicious stuff that comes in a cup next to your lobster or crab legs. Clarifying butter simply means the butter is melted and cooked for a bit, then the milk solids are skimmed away and it's strained into a jar.
Milk is made up of fat, milk solids and water. The process of making ghee takes the clarifying process a bit further to remove all water and milk solids, leaving the pure butterfat (oil).
This makes the butter easier to digest for those with lactose intolerance and also makes it shelf stable. Ghee doesn't require refrigeration, but I prefer to keep mine in the fridge to keep it more solid. (It's a little easier to scoop out of the jar that way.)
Ghee is used in Indian and other Southeast Asian cultures not only as food but as medicine. You might not ever think of butter as a health food, but ghee certainly fits the bill. It has been used in Ayurvedic medicine for thousands of years as part of an annual detox, called Panchakarma.
Why you should eat ghee
Ghee contains unsaturated and saturated short, medium, and long chain fatty acids, including Omega 3 and Omega 9 essential fatty acids. It also contains numerous minerals, antioxidants, vitamins (A, D, E, and K). If the butter used is from high-quality, pastured and grass fed cows' milk butter, the resulting ghee will also contain CLA (Conjugated Linoleic Acid), which may improve immune function.
The short chain fatty acids are also are also more easily metabolized by the body. It can help with digestion (including constipation) as well as being good for the skin, eyes, brain, balancing hormones, and more. (source)
Because ghee is mostly polyunsaturated fats, it is good for high-heat cooking where vegetable oils are not. It has a high smoking point of 485 degrees F.
How to make ghee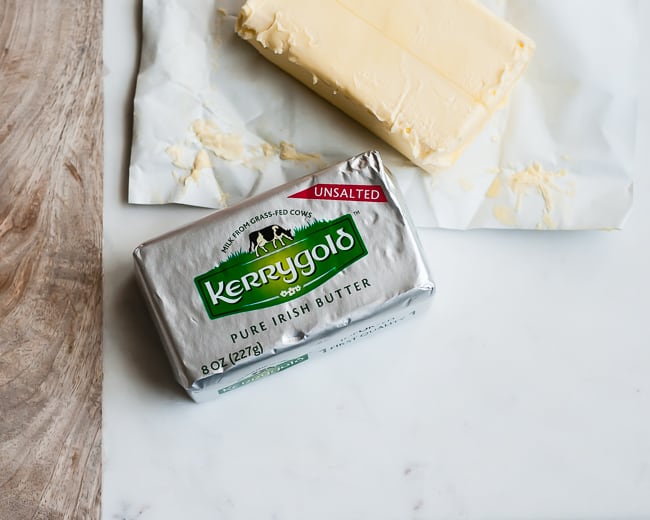 Start with the best butter you can find. It is a little more expensive, but worth it for the added health benefits. You can also try one of these flavored ghee options.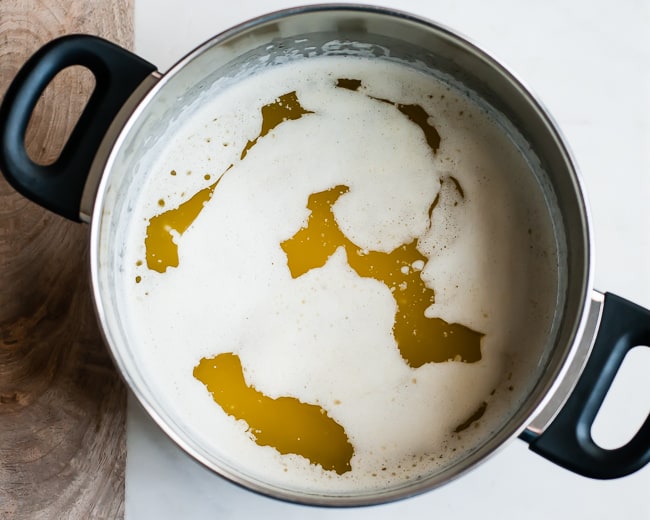 Melt the butter in a large pan over medium heat.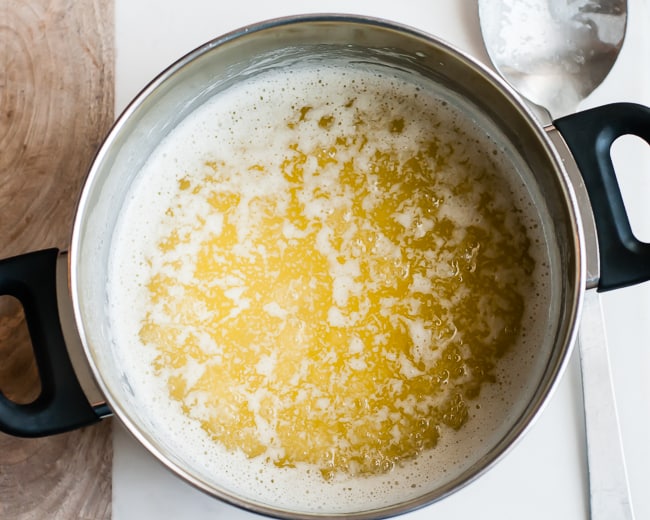 It will start to separate – the white foam is the milk solids. The water will begin evaporating as well.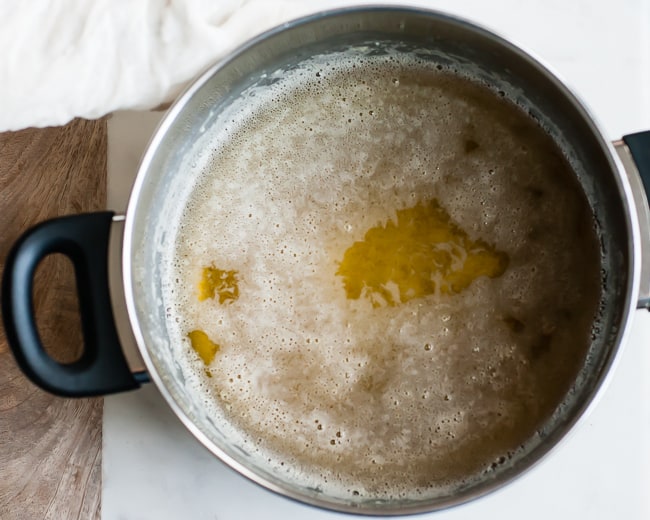 Skim the solids off the top. The remaining solids will sink to the bottom of the pan as it continues to cook.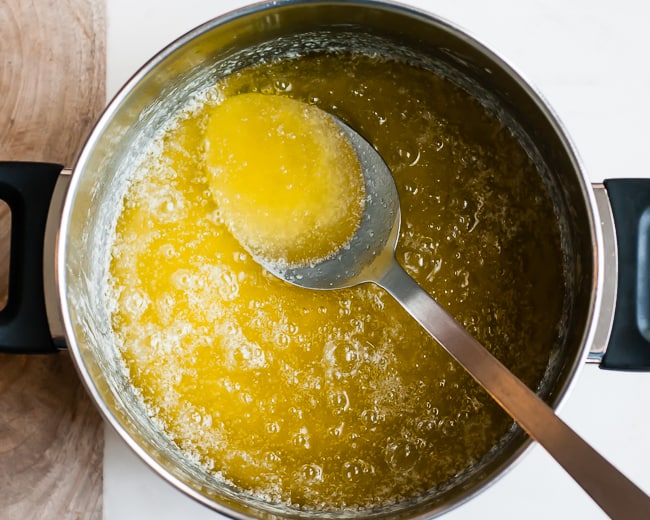 When it's almost finished clarifying, there will be large bubbles on the surface as it boils. The remaining milk solids will sink to the bottom of the pan.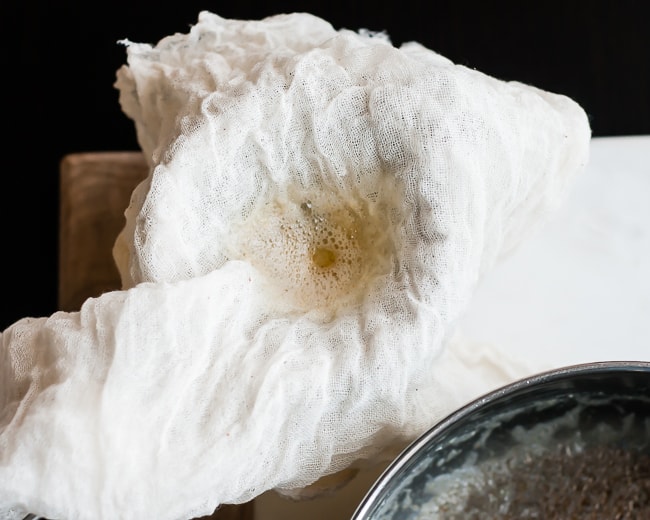 Pour ghee through a fine mesh sieve lined with cheese cloth into a clean jar or bowl. This will help remove any remaining milk solids that were not skimmed off or on the bottom of the pan.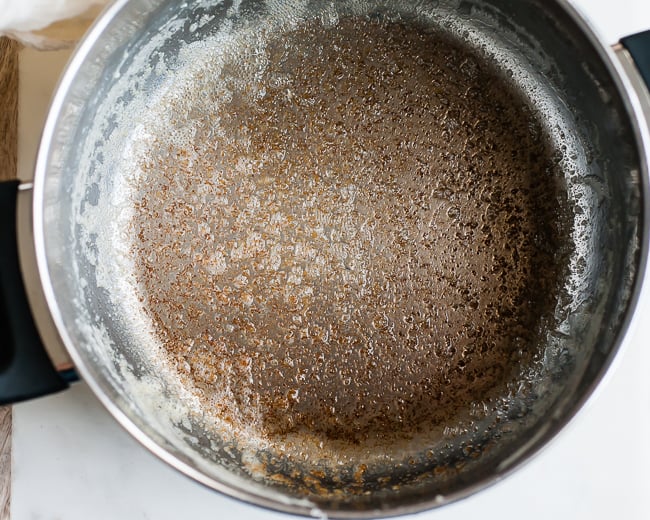 The bottom of the pan will look like this. If you cook the clarified butter further until it is brown, you will have made beurre noisette (brown butter) which is incredibly delicious and has a nice caramel flavor.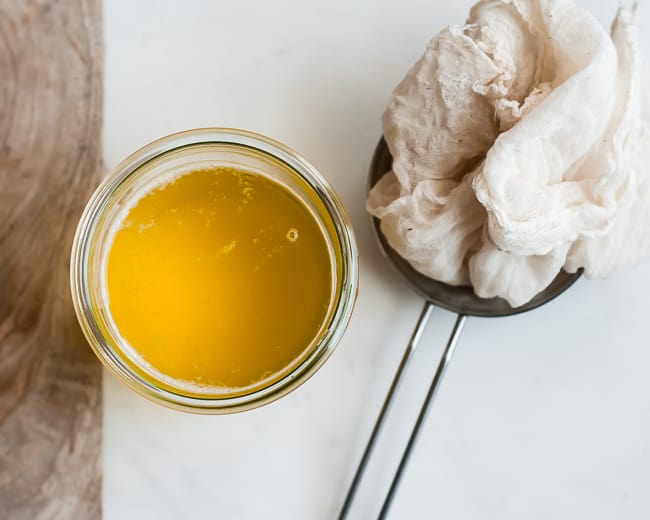 Let the ghee cool. It will be EXTREMELY hot. Use caution and let it cool before tasting.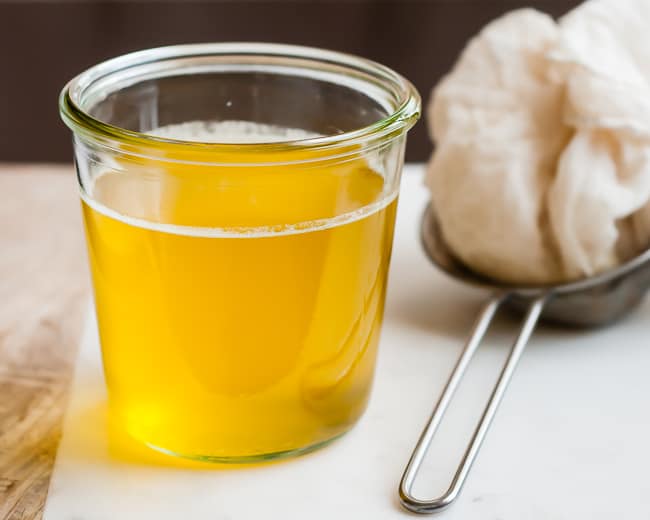 Once cooled, it will set up and be spoonable. Use in place of butter or oil for cooking or take as a nutritional supplement. Alternatively, you can make flavor infused ghee, we just love the rosemary thyme, cinnamon vanilla or plain garlic versions!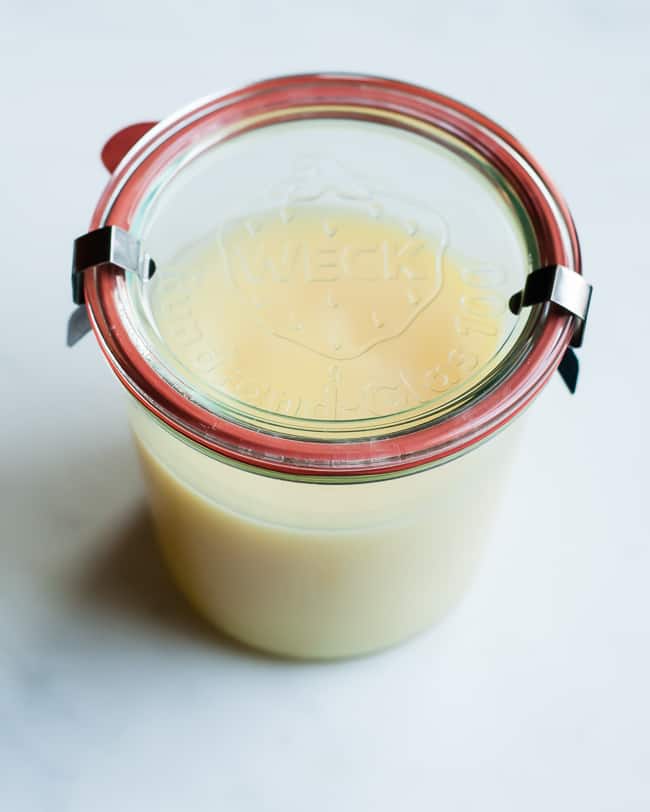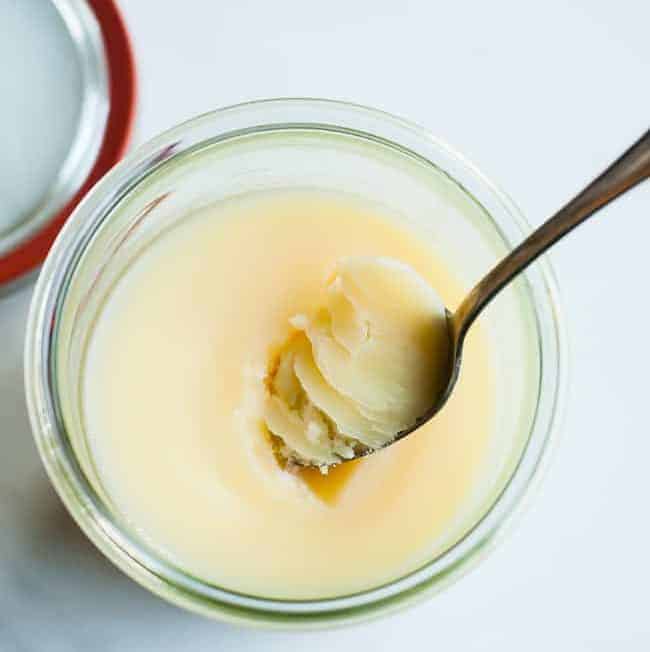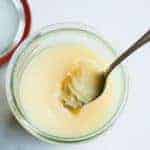 Print Recipe
Ghee
Learn how to make ghee at home, and find out why you should be eating this healthy, nutrient-rich food!
Equipment
3- to 4-quart pan

Strainer

Cheesecloth
Ingredients
1

pound

unsalted butter

(grass fed and pastured is best)

flavor infusions

optional
Instructions
Melt the butter in the pan over medium heat. Over time, the milk solids will begin to separate and rise to the top.

Continue cooking the butter, skimming the milk solids from the top. The water will also start to evaporate.

As the butter is closer to being completely clarified, the bubbles will become larger as it "boils," and it will continue to separate from the remaining milk solids.

When the butter is nice and deep golden yellow, remove from the heat.

Pour it through a fine mesh sieve lined with cheesecloth to remove any of the remaining milk solids. Some will be stuck to the bottom of the pan.

The ghee will be very, very hot. Use extreme caution. Let the jar cool, undisturbed, until it reaches room temperature.
Notes
Top with a lid and store in a cool, dark cupboard or in the refrigerator.
22