We've partnered with Rojo's Salsa to create this post. Thank you for supporting our sponsors.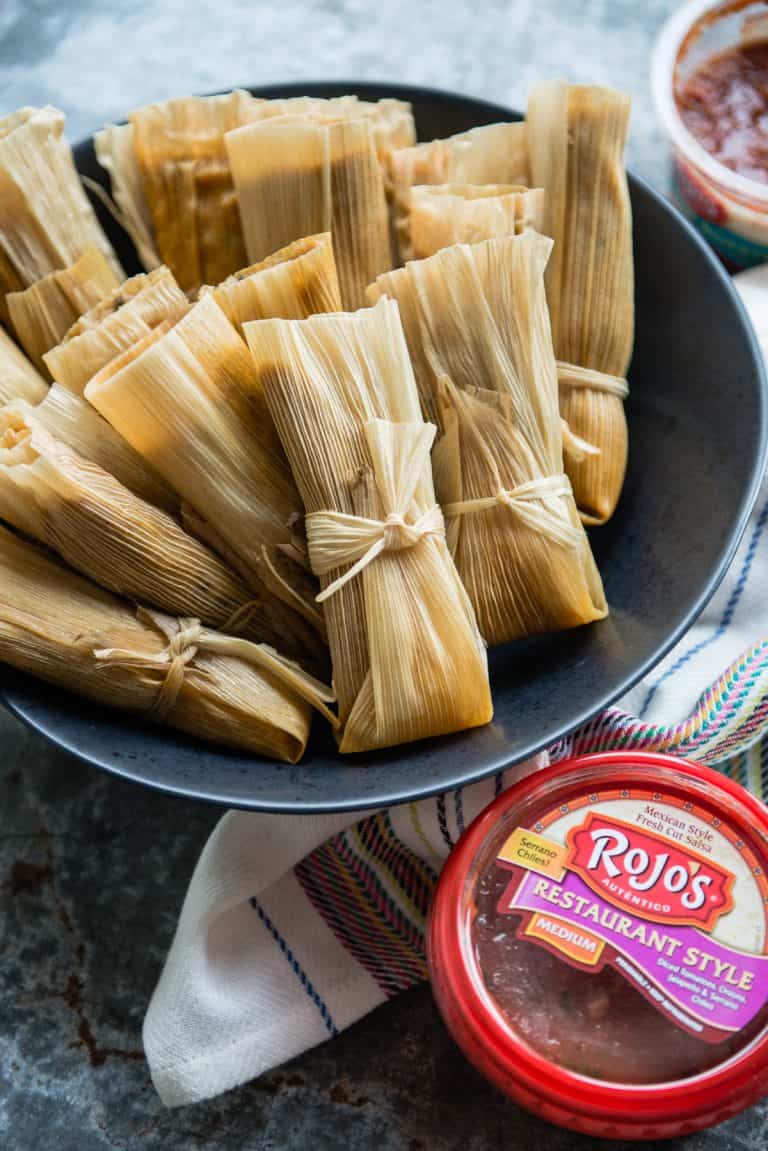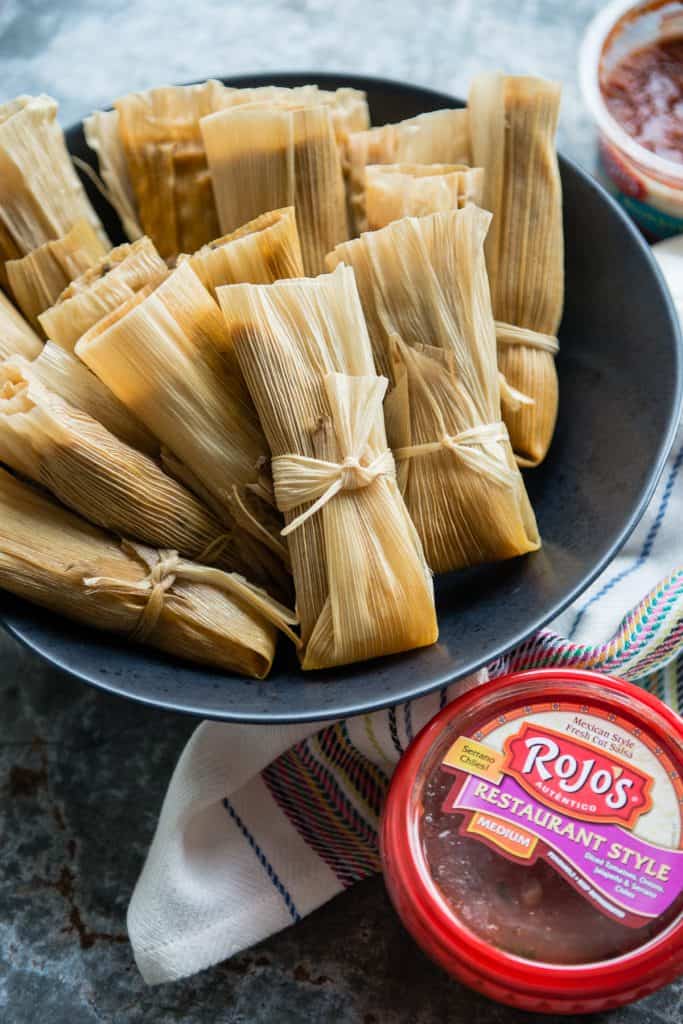 Mexican food is probably my very favorite. I could eat it every single day and never grow tired of it. While I'm an enchiladas superfan, eat tacos or fajitas or by the half dozen, nosh on chips and salsa on a daily basis, and yes, even enjoy "Americanized" Mexican food, there is nothing I adore more than homemade tamales.
And they don't even have to be Mexican tamales. I've eaten tamales from Mexico and several Central American countries and I've loved them all. Today we've partnered with with Rojo's Salsa to show how easy it is to make homemade tamales in your own kitchen.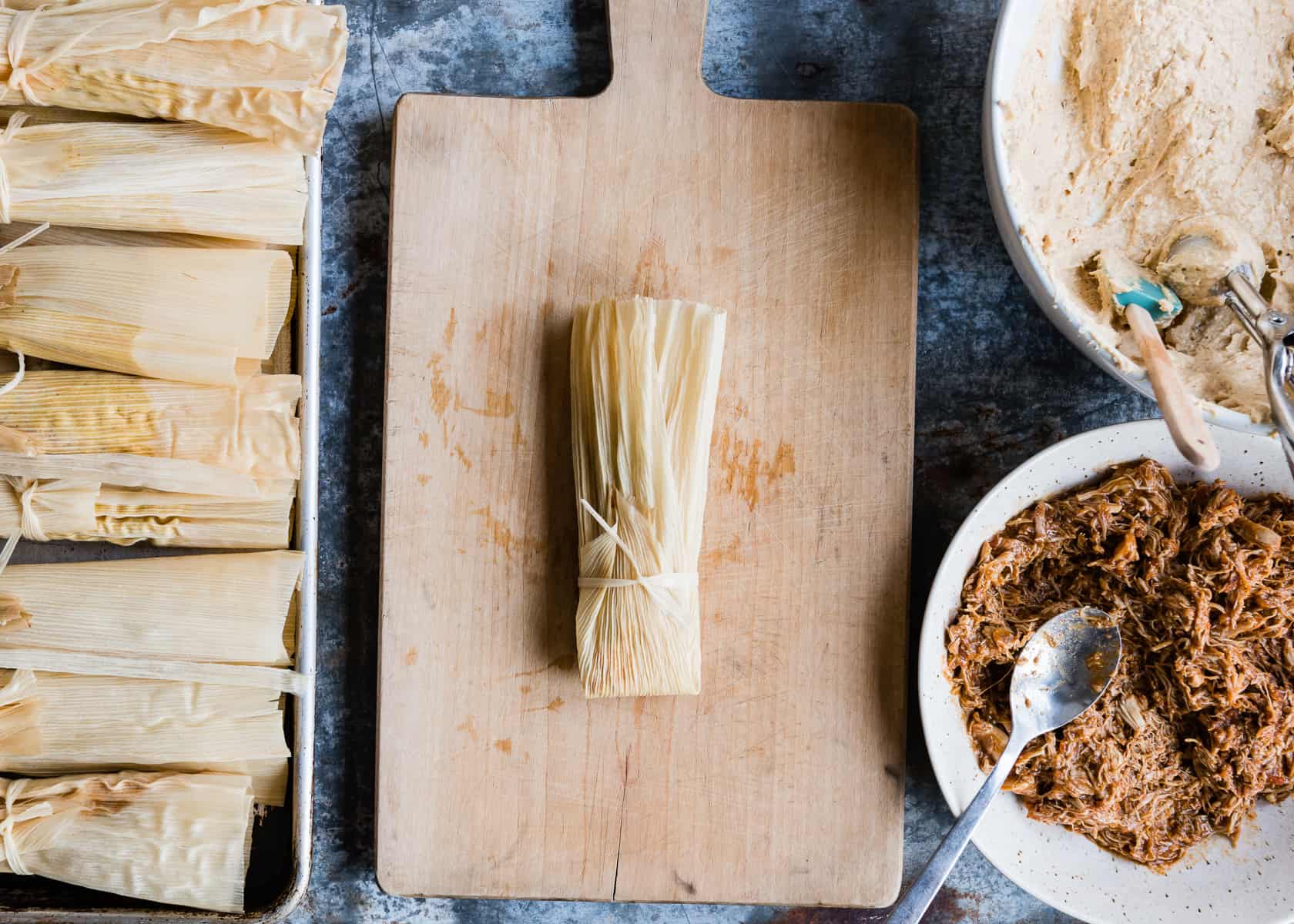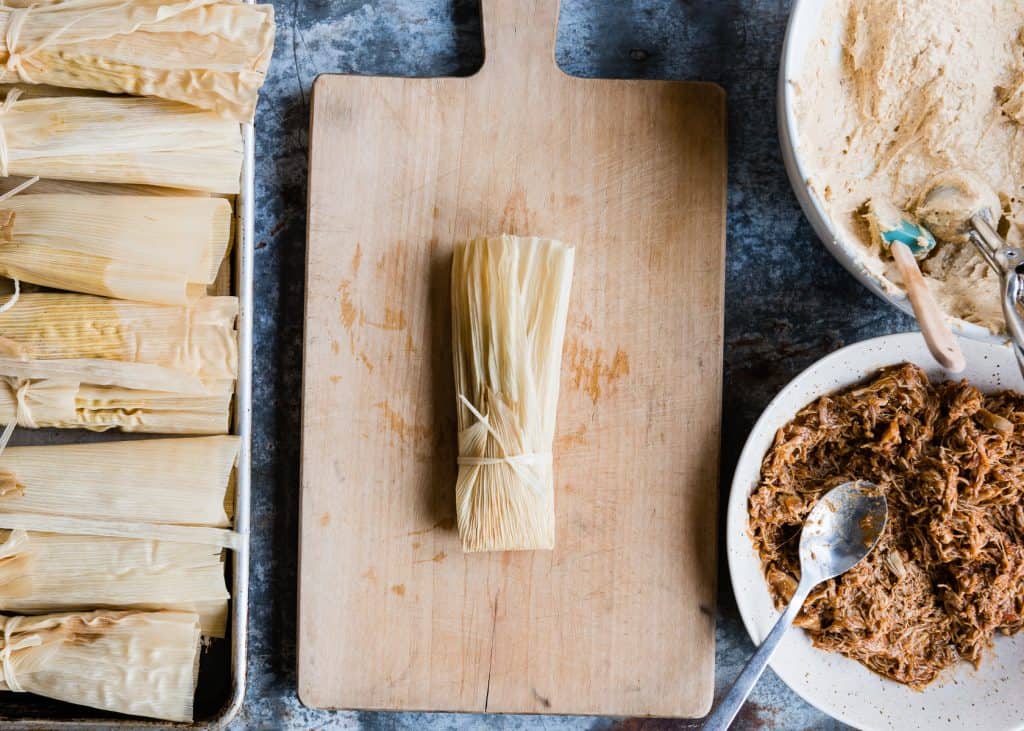 Rojo's was founded over 30 years ago when a secret homemade salsa recipe was brought to the U.S. by a family from Mexico. From that very first salsa to now, Rojo's has become an industry leader in offering salsas, including restaurant-quality refrigerated salsas (my favorite!), and other Mexican dips created with fresh-cut tomatoes, onions, and peppers. Each one is crafted in small batches to ensure quality, freshness, and homemade taste. The salsas are cold processed and expertly seasoned–and they can be found right in the refrigerated section of your local grocery store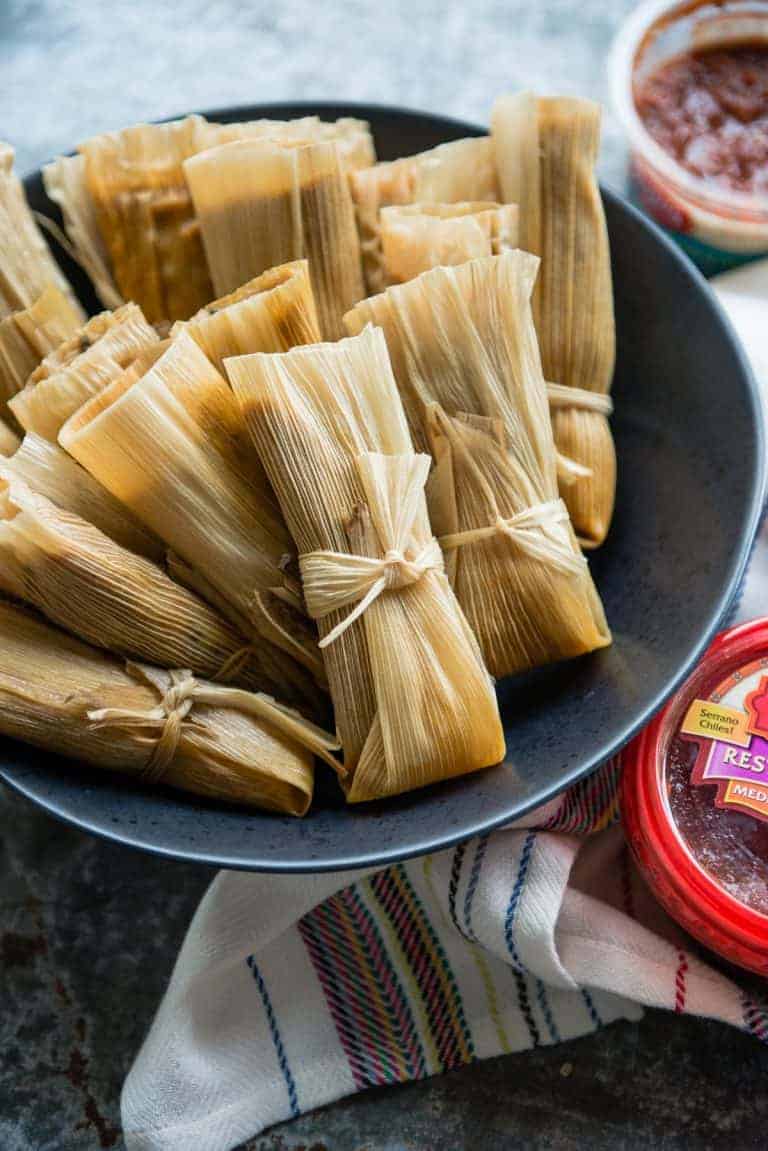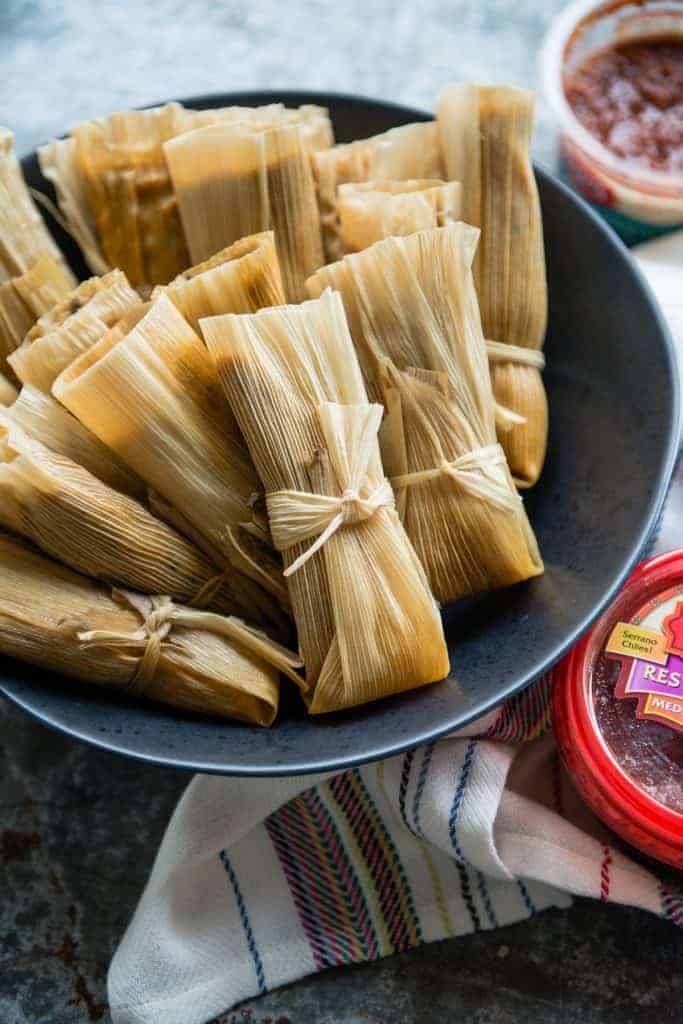 Tamales are often a part of Mexican holiday celebrations, though they can be found pretty much everywhere on a daily basis too. My family quite enjoys tamales during the holidays because we gather around the kitchen table and make them together.
Tamale making is a great activity for a group of people–it makes the assembly go a lot more quickly and it's fun to have a few filling options so everyone can personalize their tamales. Or if you're like me, set aside an afternoon and make a big batch to freeze so they're all ready to pull out and reheat for a party or night at home. (They make a great lunch to take and reheat at work too.)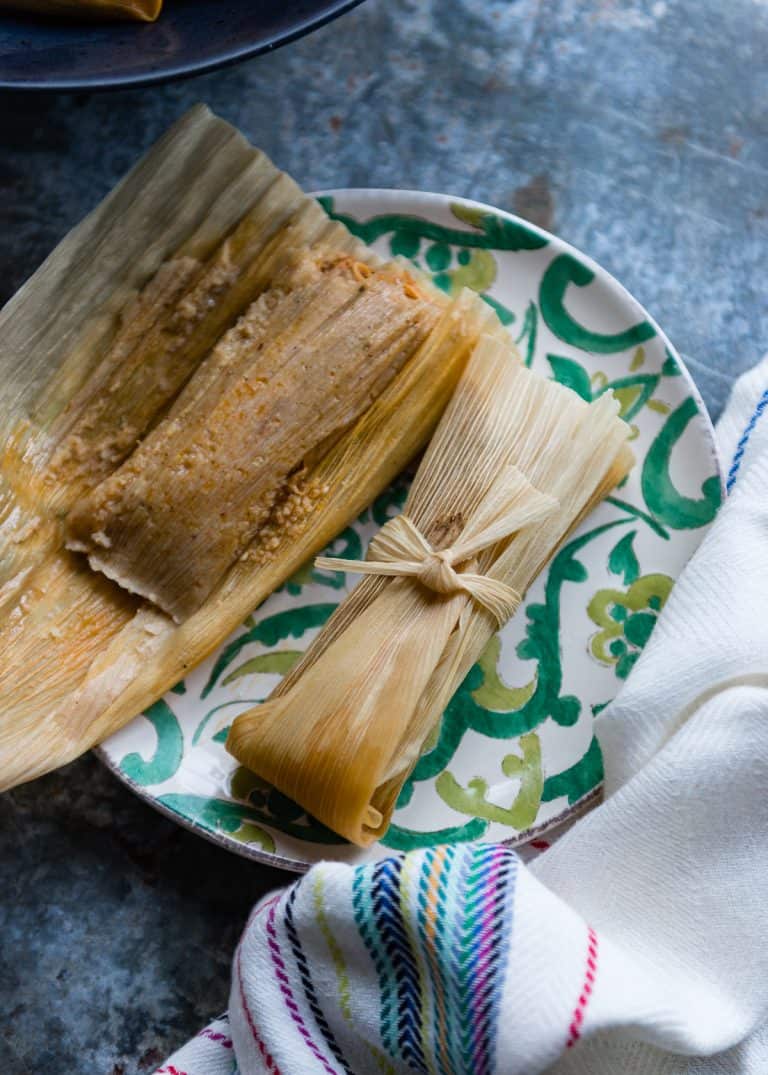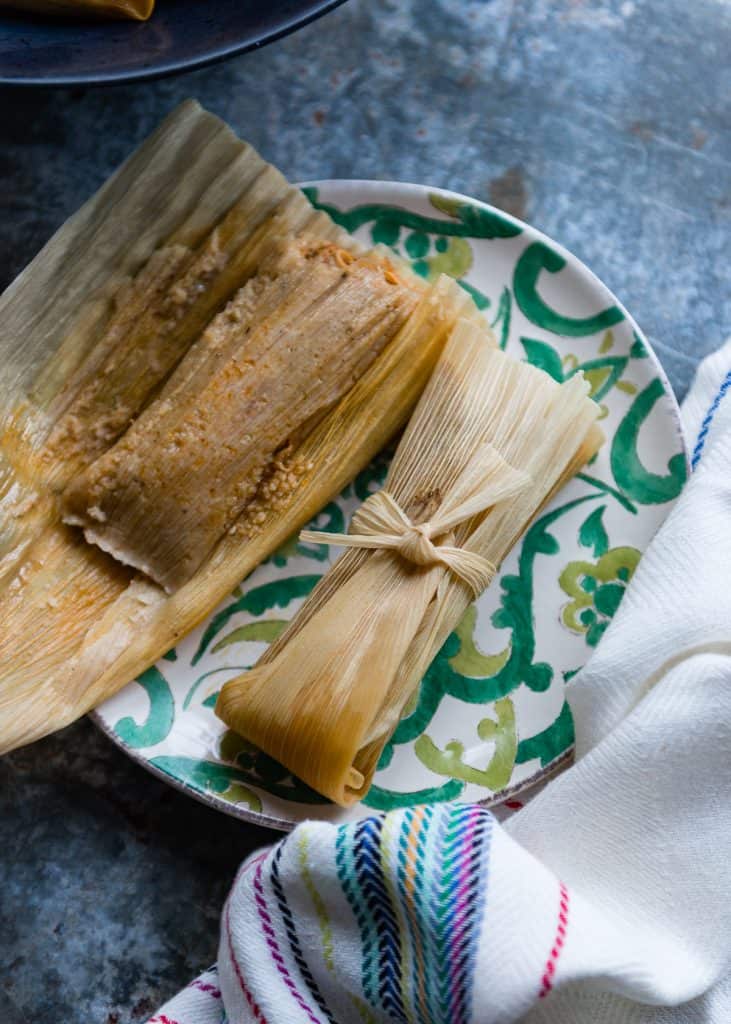 Making tamales is fairly easy, although it is a little time consuming. But the more often you make them, the simpler and more streamlined the process becomes. I like to take a few shortcuts to make the process even easier, as I'll explain below.
Tamales are composed of corn masa dough or batter, and a flavorful filling. They are made inside a wrapper, typically cornhusks or banana leaves, and steamed. (For this recipe, I call for dried corn husks because they are easier to procure.)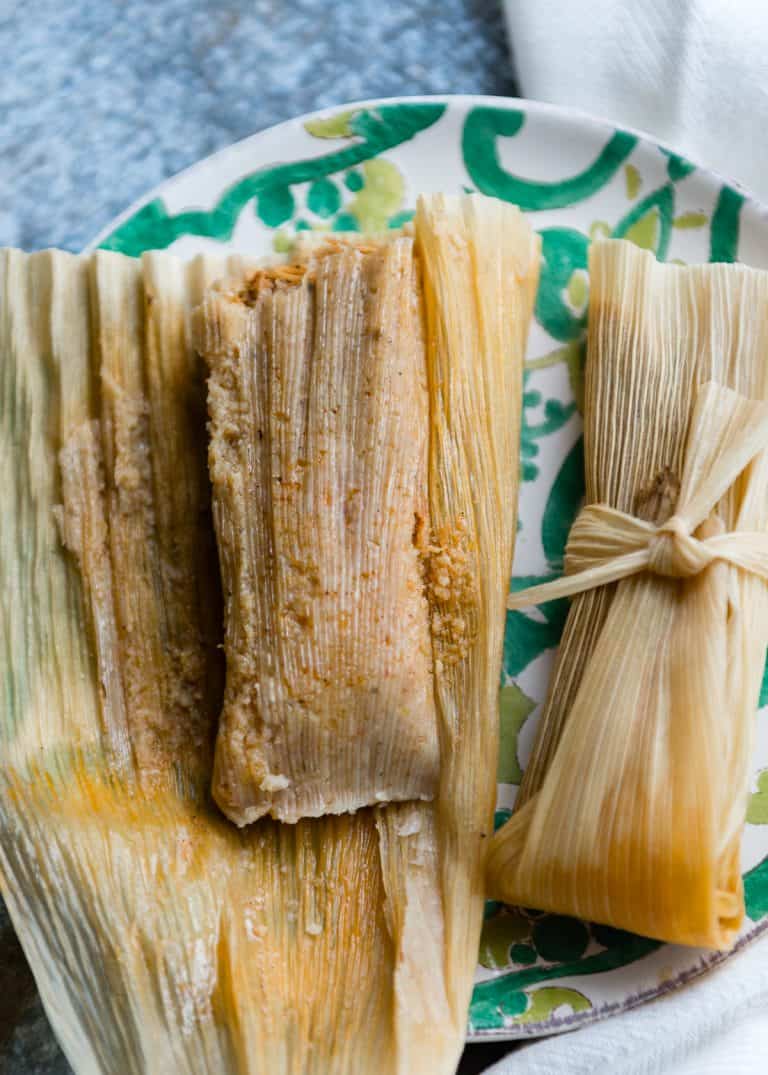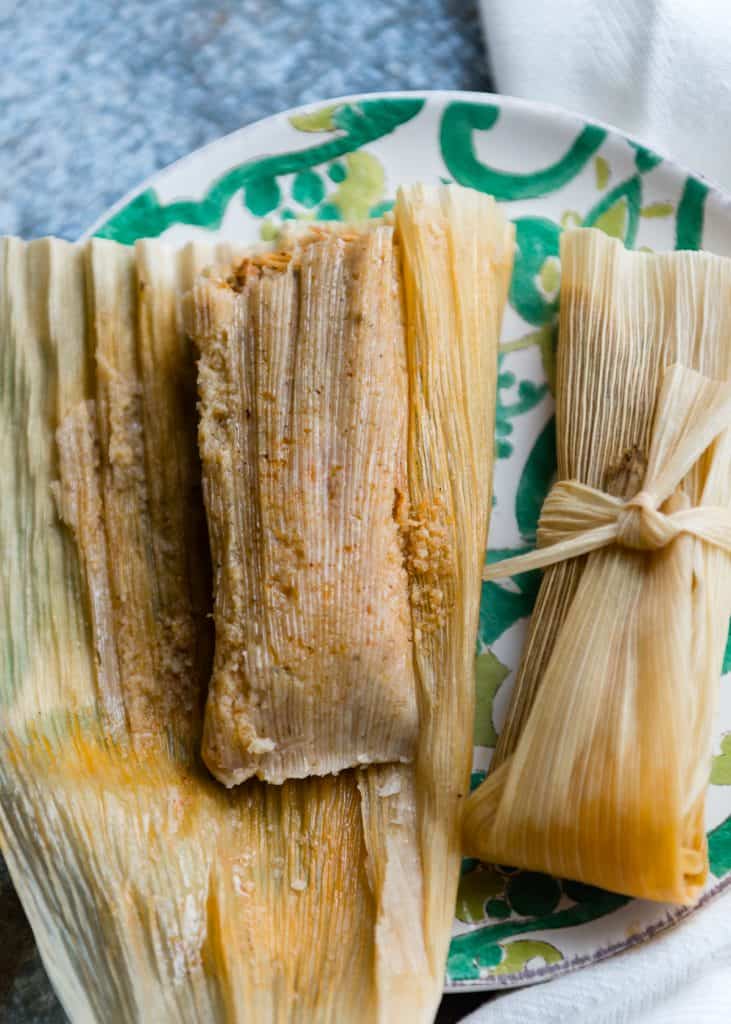 The Filling
For me, it's all about the filling. It makes or breaks a tamale. Without a good filling, the tamales aren't worth the time. So nail that part of the recipe and most of the work is done.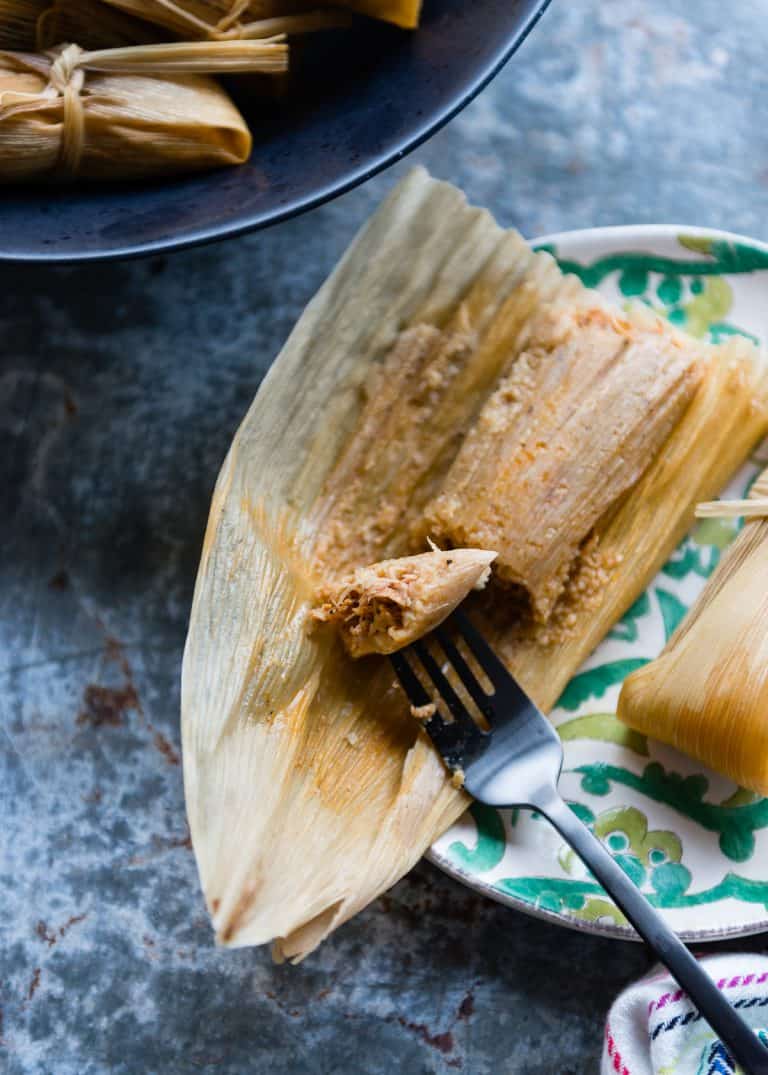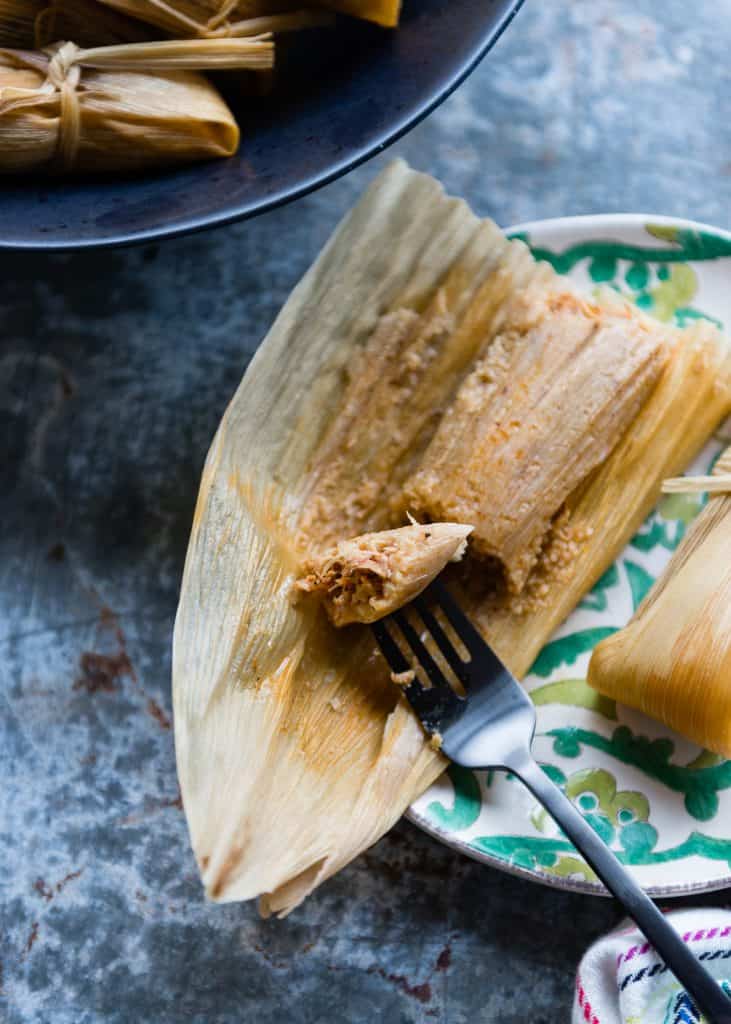 The first component I prepare is the filling. Tamales can be either savory or sweet and can be filled with just about anything–meat, poultry, vegetables, cheese, or fruit. Savory tamales are my jam, so that's what I'm demonstrating in this post.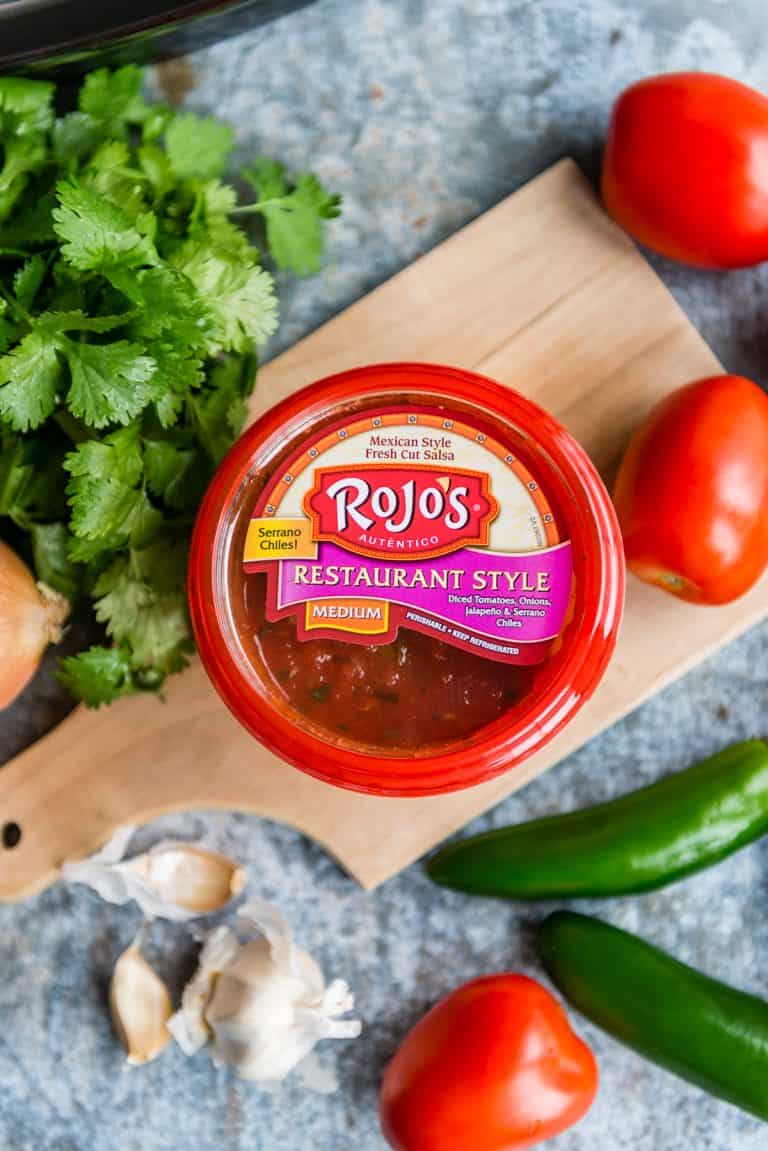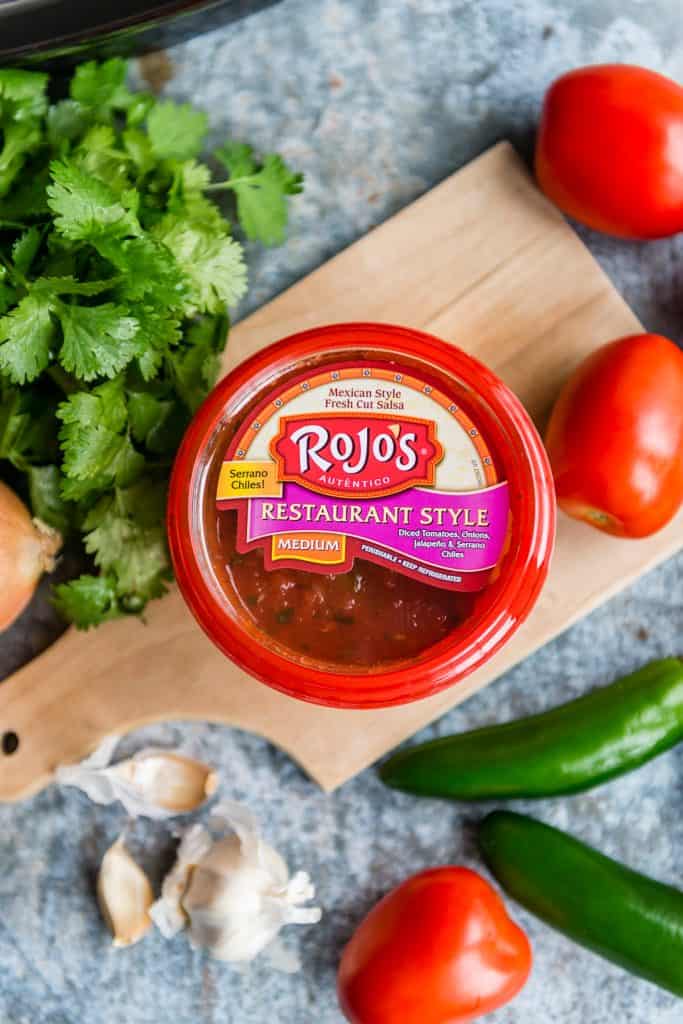 One thing I've started doing is to cook the chicken filling in my slow cooker, typically the day before I want to make the tamales. That's where Rojo's Restaurant Style Medium Salsa comes in handy. I simply place the chicken, salsa, a little chili powder and salt in my slow cooker and cook until the chicken shreds easily. That's about 5 minutes of prep for delicious, flavorful chicken to rival any others. The reason I make it the day before is because then the chicken has time to cool adequately and reabsorb the flavorful sauce.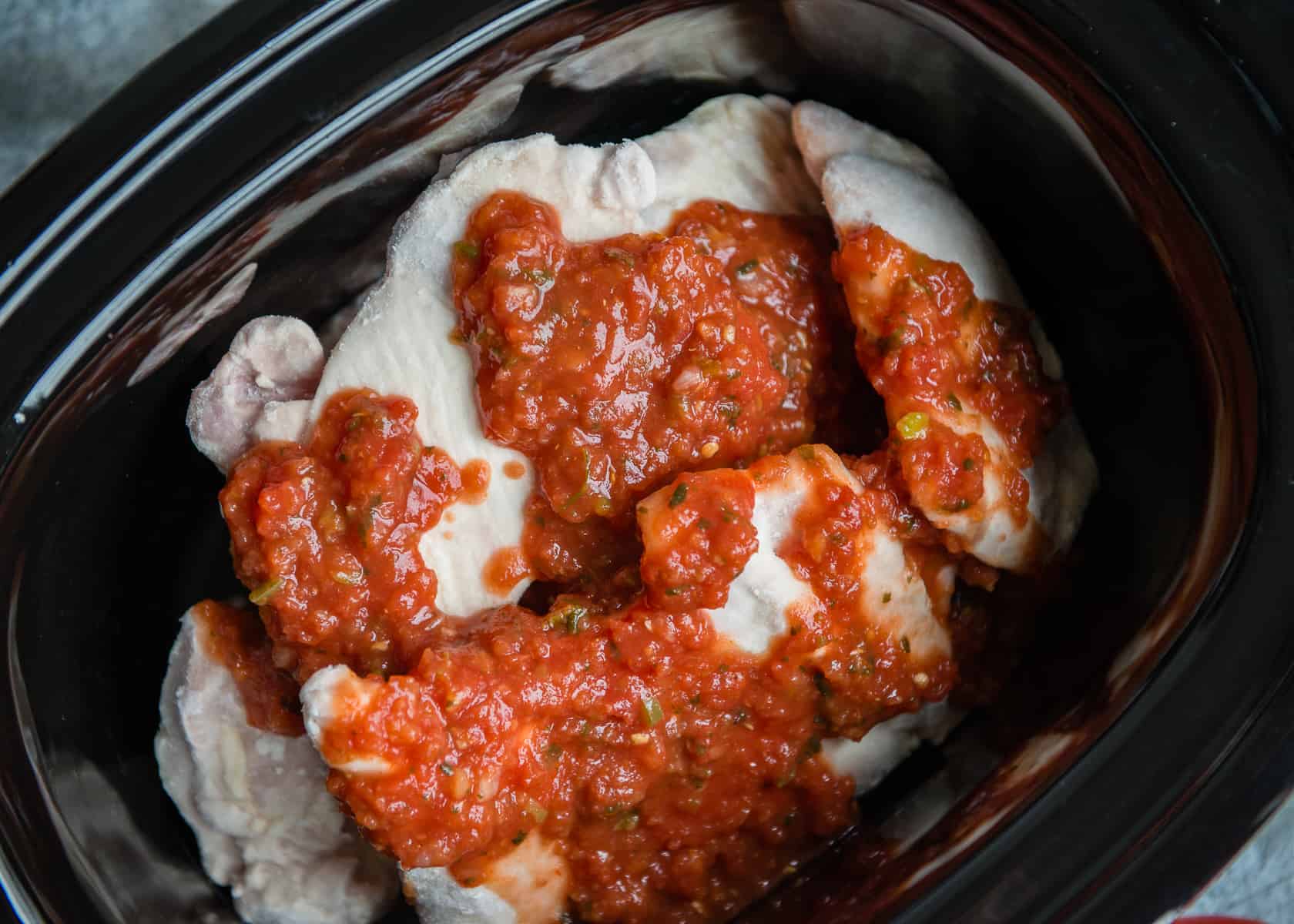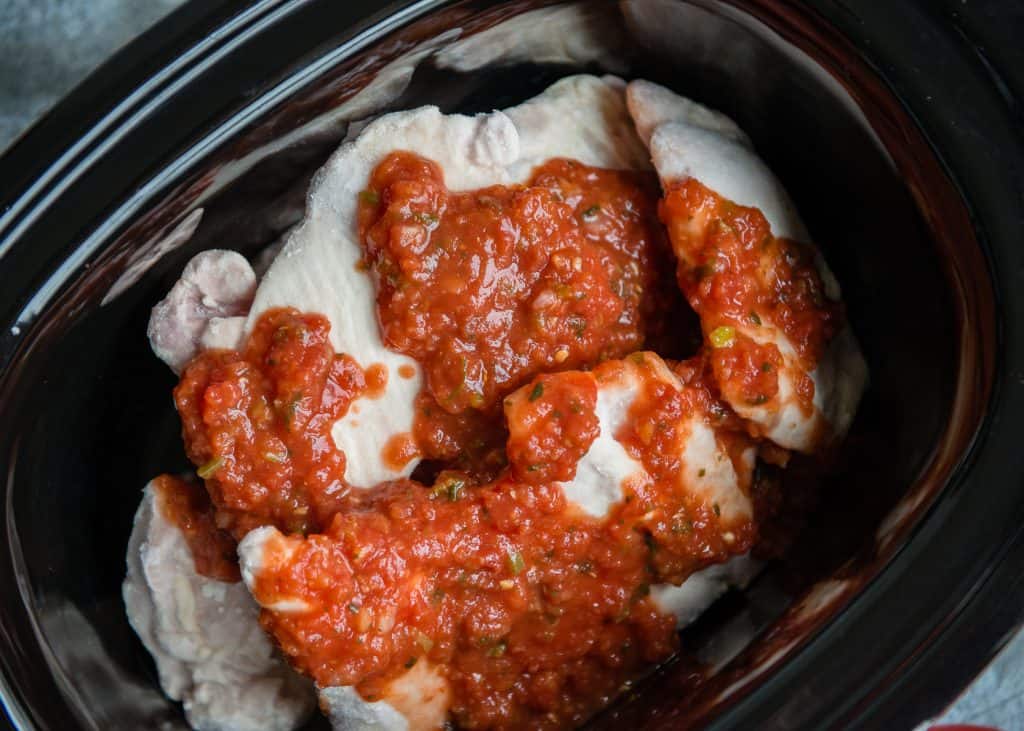 For a vegetarian option, I like to combine black beans, roasted poblano chiles, corn, Monterey Jack cheese, and Rojo's Fire Roasted Salsa. Everything is stirred together and ready to go in about 10 minutes. Rojo's offers a variety of salsas and dips, fit for any flavor craving. The brand even launched a new line of creamy Queso Dips as well as three exiting new salsas (Pico do Gallo, Hatch Chile and Salsa Verde…YUM) this year!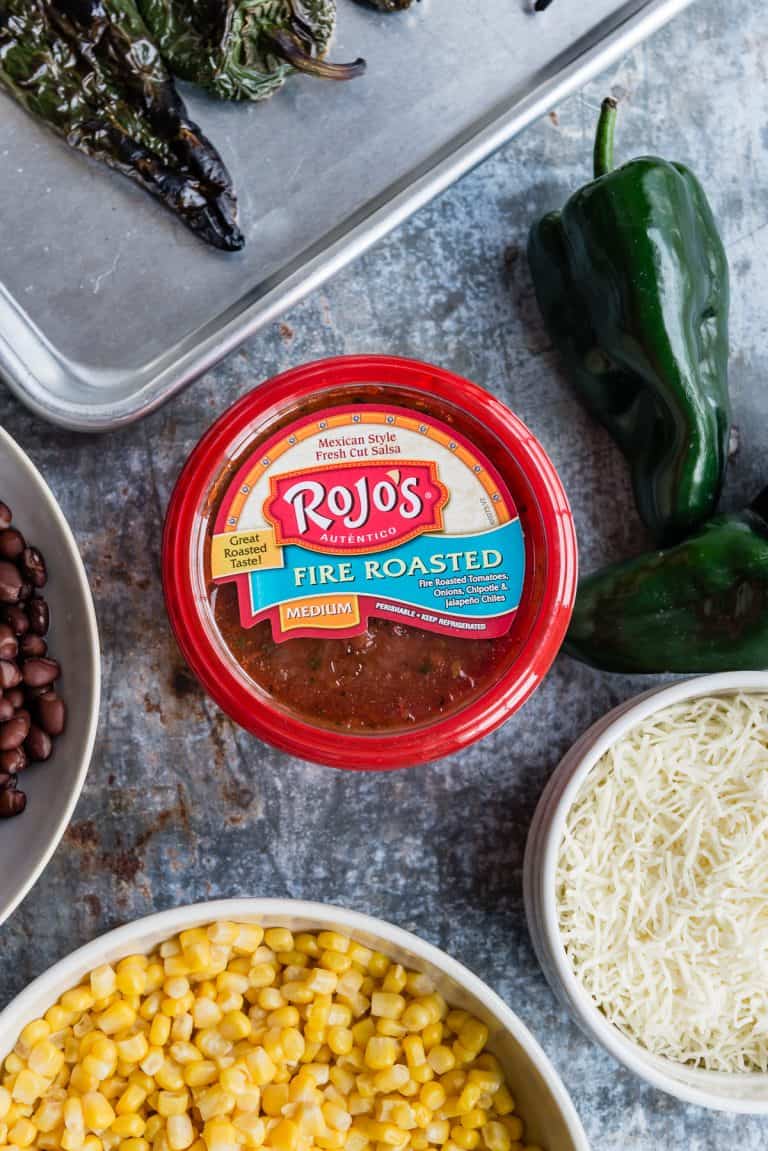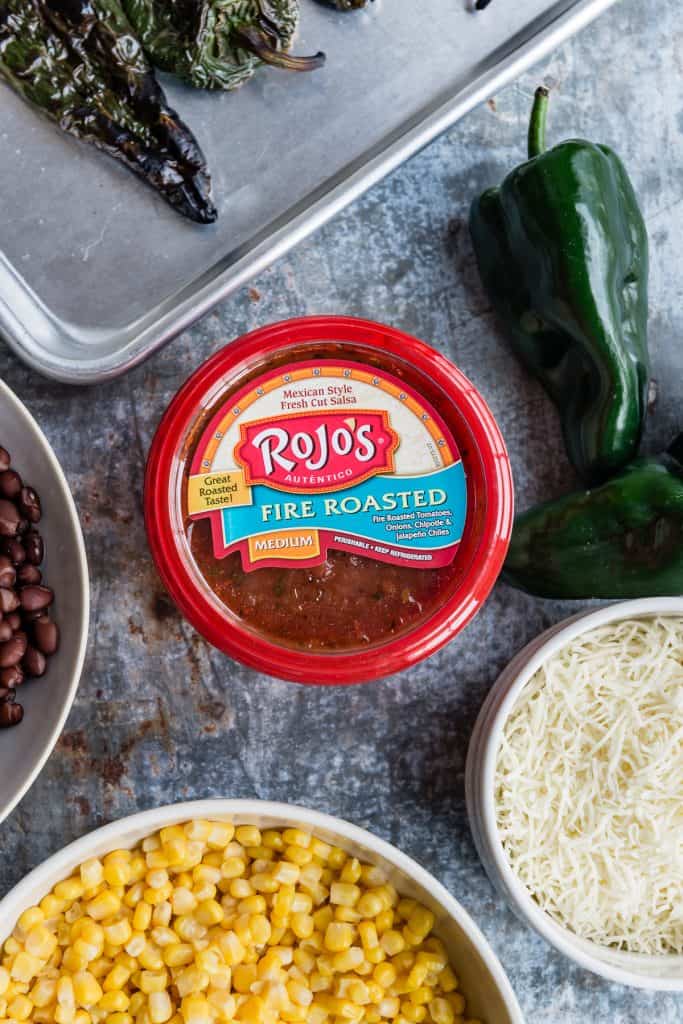 Once the fillings are made, it's time to tackle the batter or tamale dough. Read on for how-to photos, tips, and tricks.
How To Make Homemade Tamales
The masa dough can be made from either fresh or dried masa. If you're lucky enough to live near a Mexican market and can find fresh masa, get it! It's better and the hard work is pretty much done for you when it comes to the correct consistency and texture. If you've ever made homemade corn tortillas, then you'll already be familiar with dried masa. It is made from corn that has been treated with lime (not the citrus fruit), dried and ground.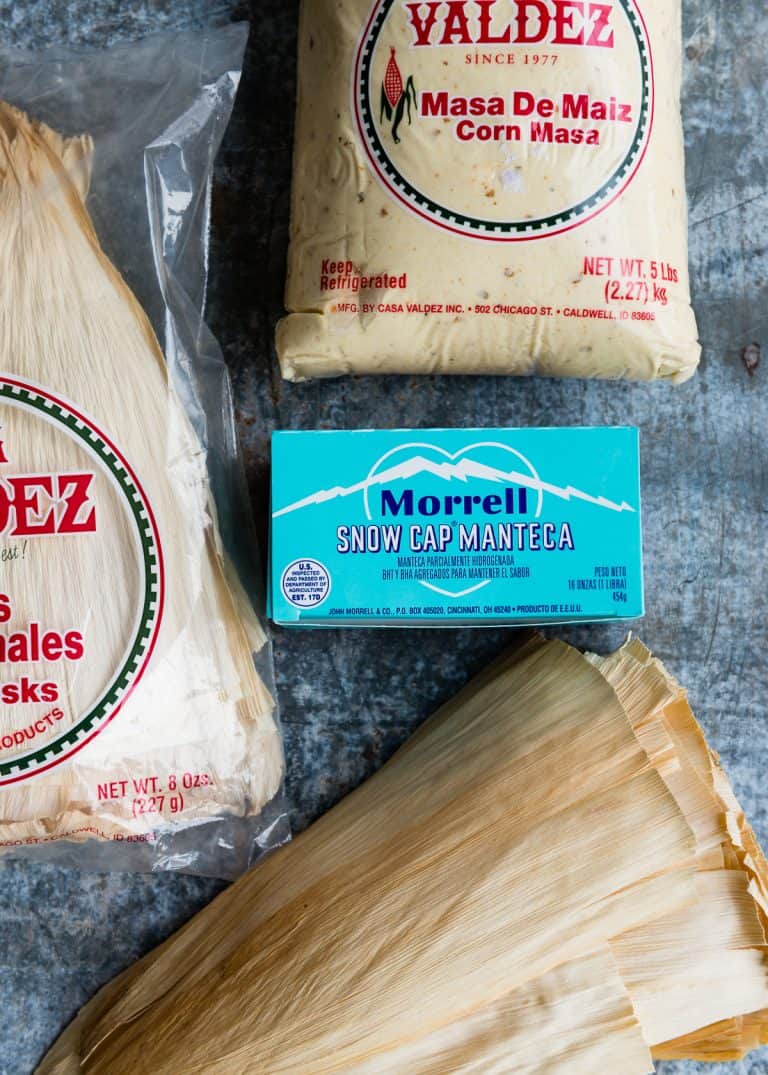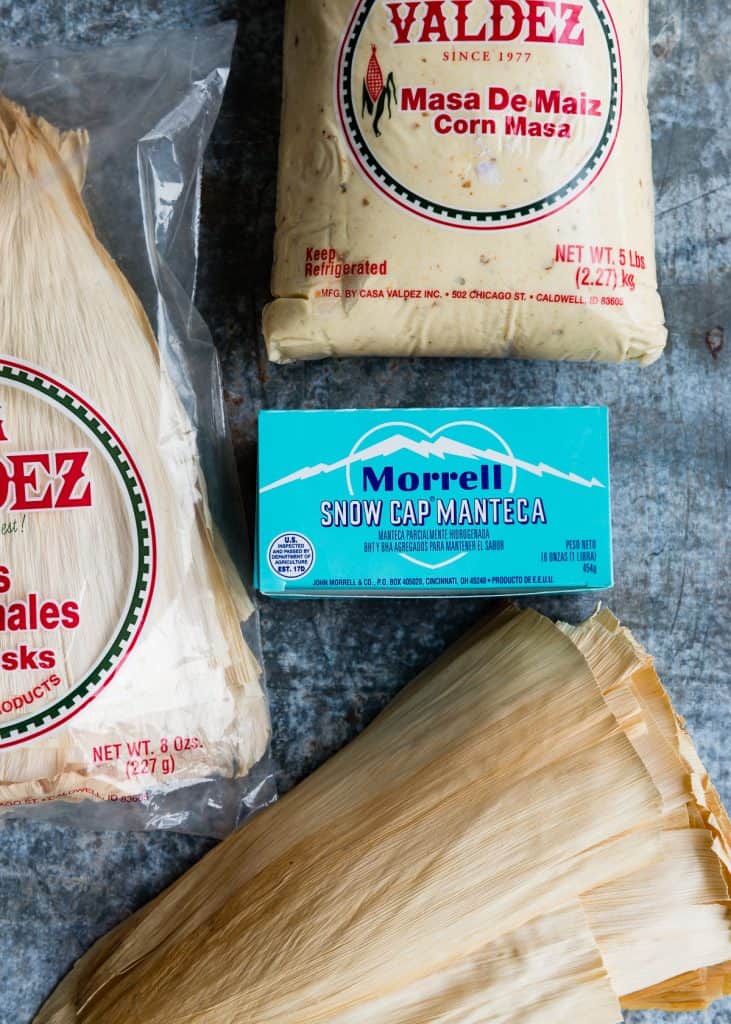 The dried or fresh masa is mixed with a fat, either lard (or vegetable shortening), broth, salt, and seasonings, if desired. I prefer to add chili powder to the masa dough, but that's completely optional. I think it looks pretty and it adds a little extra flavor. The tamale dough needs to be softer than that used for making tortillas. It should be more batter-like, but also hold its shape when spread on the corn husks. To lighten the dough, baking powder is added.
The most authentic Mexican food I make myself is heavily inspired by Chef Rick Bayless. I find his recipes to be consistently delicious and easy to make. I'm borrowing a bit from his tamale dough recipe as well as his technique because it's the best I've found.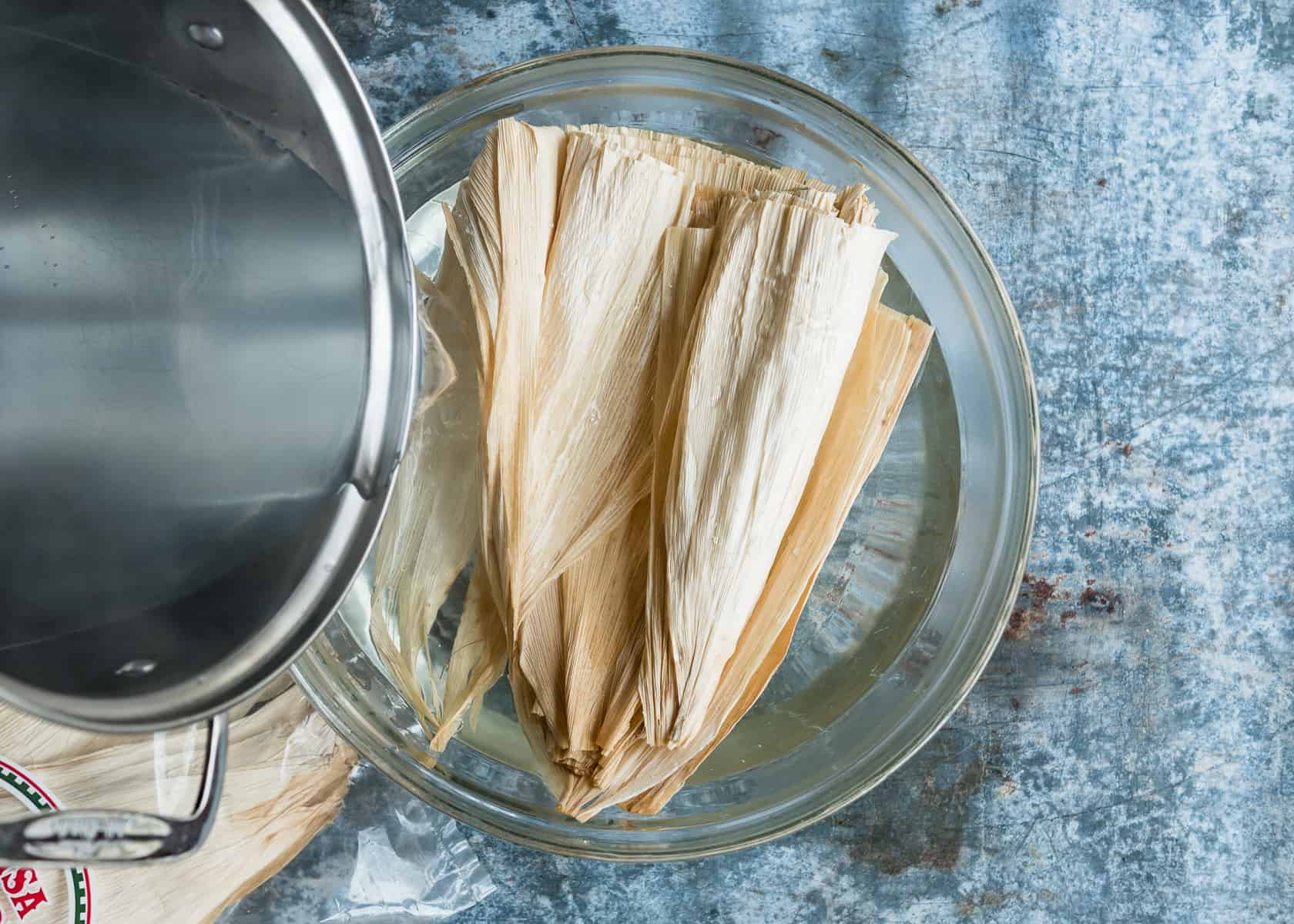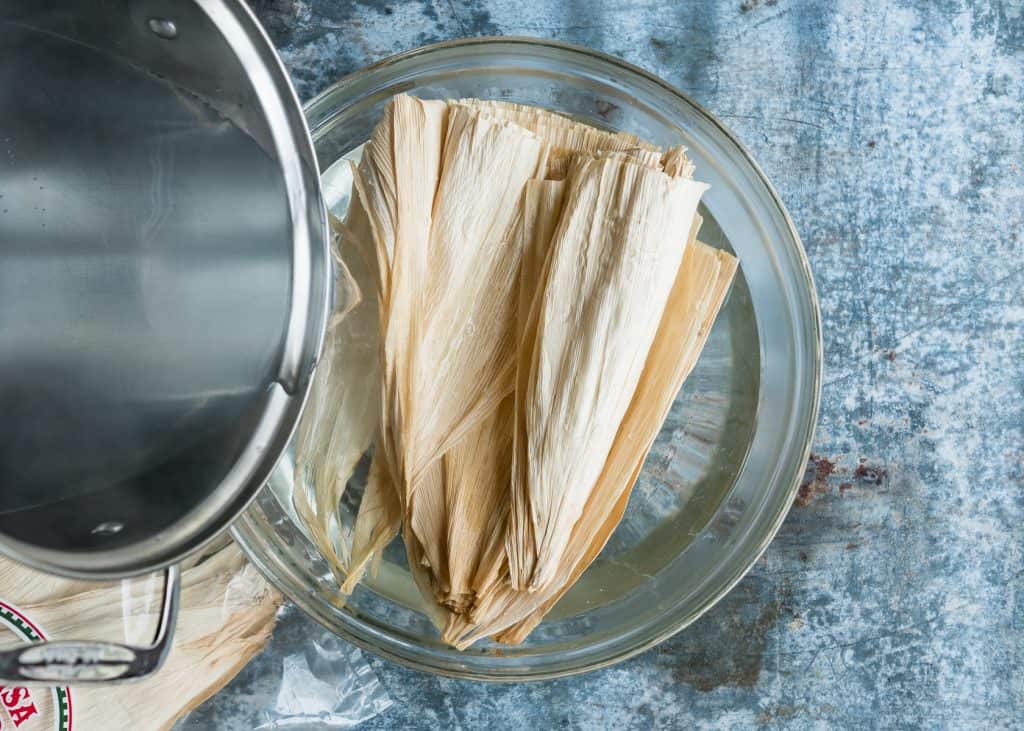 After the filling has been made, the next step is to soften the cornhusks. They need to be soaked in very hot, but not boiling, water for several hours. During that time they will become pliable and easier to work with. It's important they stay submerged, so placing a plate with a heavy can or even a cast iron skillet on them helps keep the water lever above the husks.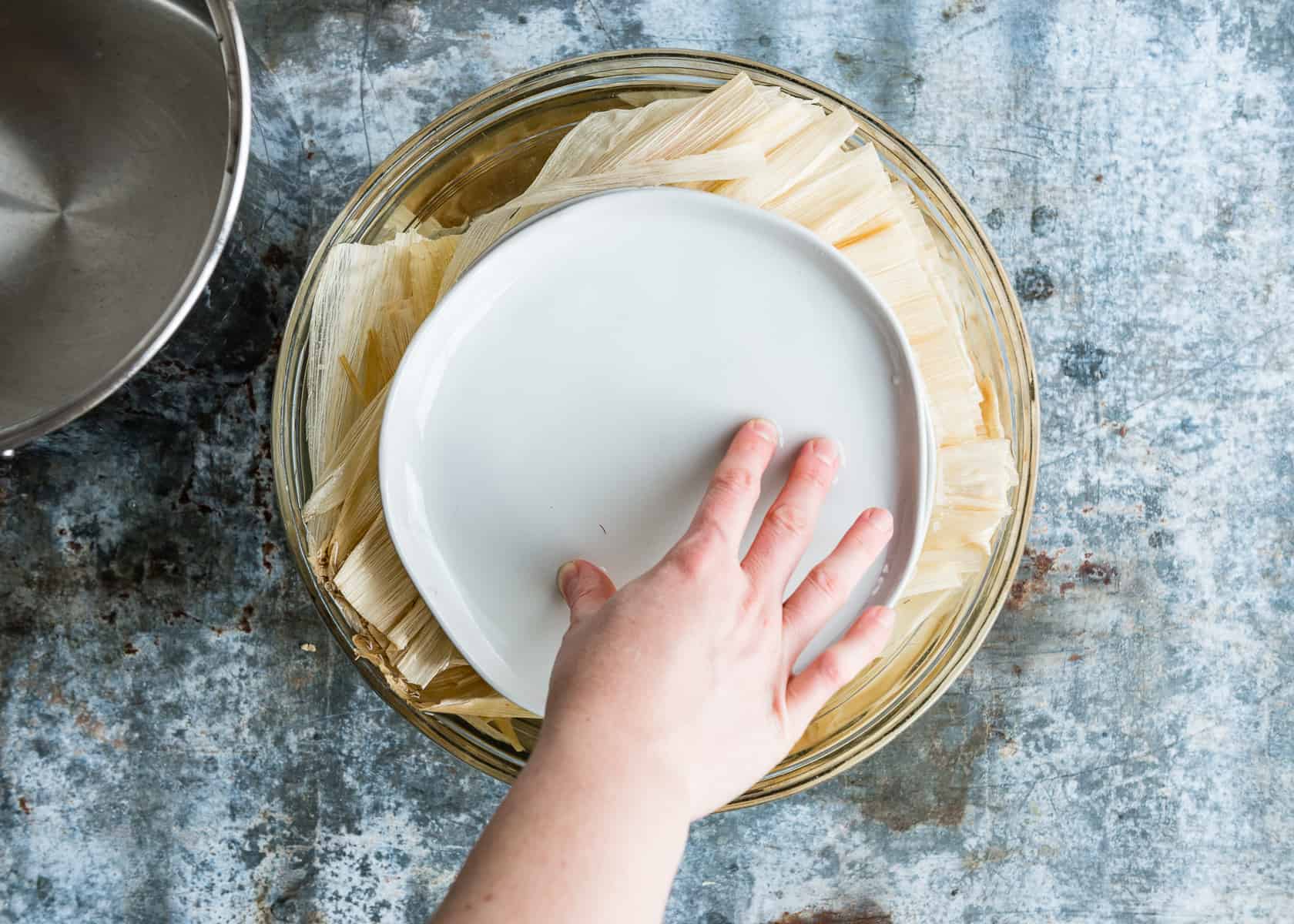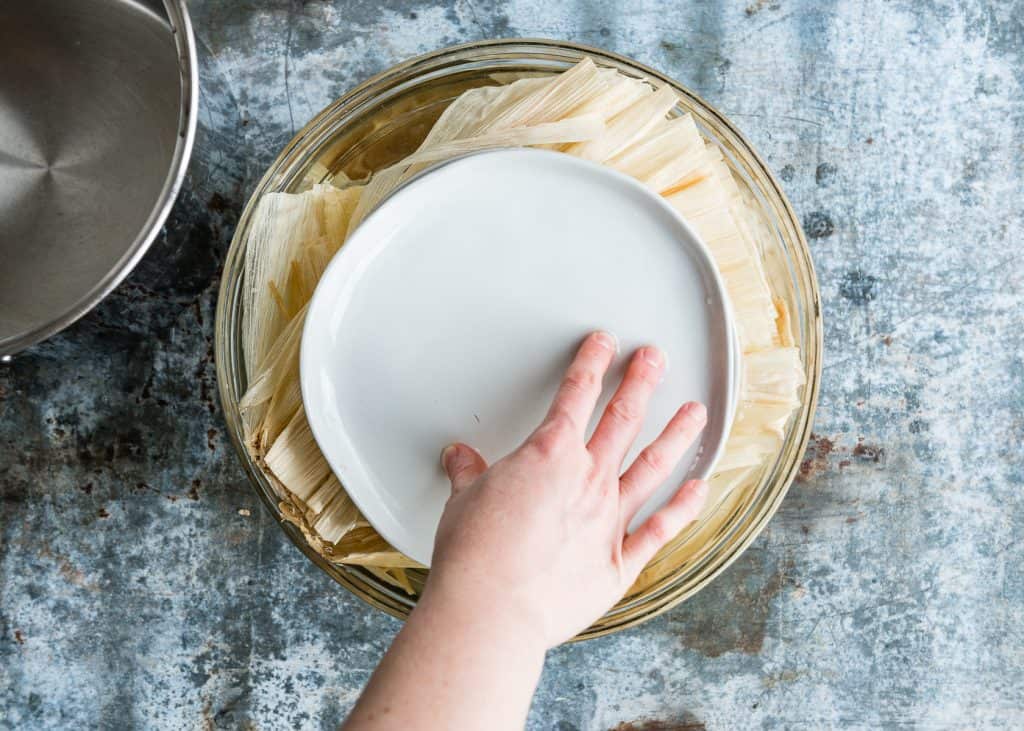 To prep everything the same day, let the cornhusks soak after placing the chicken and salsa in the slow cooker on high. By the time the chicken is cooked through, the cornhusks will have softened enough.
If you're using dried masa, it needs to be combined with hot water first to reconstitute it. The masa should feel soft and be neither runny or crumbly. The texture will be like playdough. Let it cool to room temperature before proceeding with the recipe and beating it with the lard.
If you're using fresh masa, the next step is simply beating the lard (or shortening) with salt and baking powder.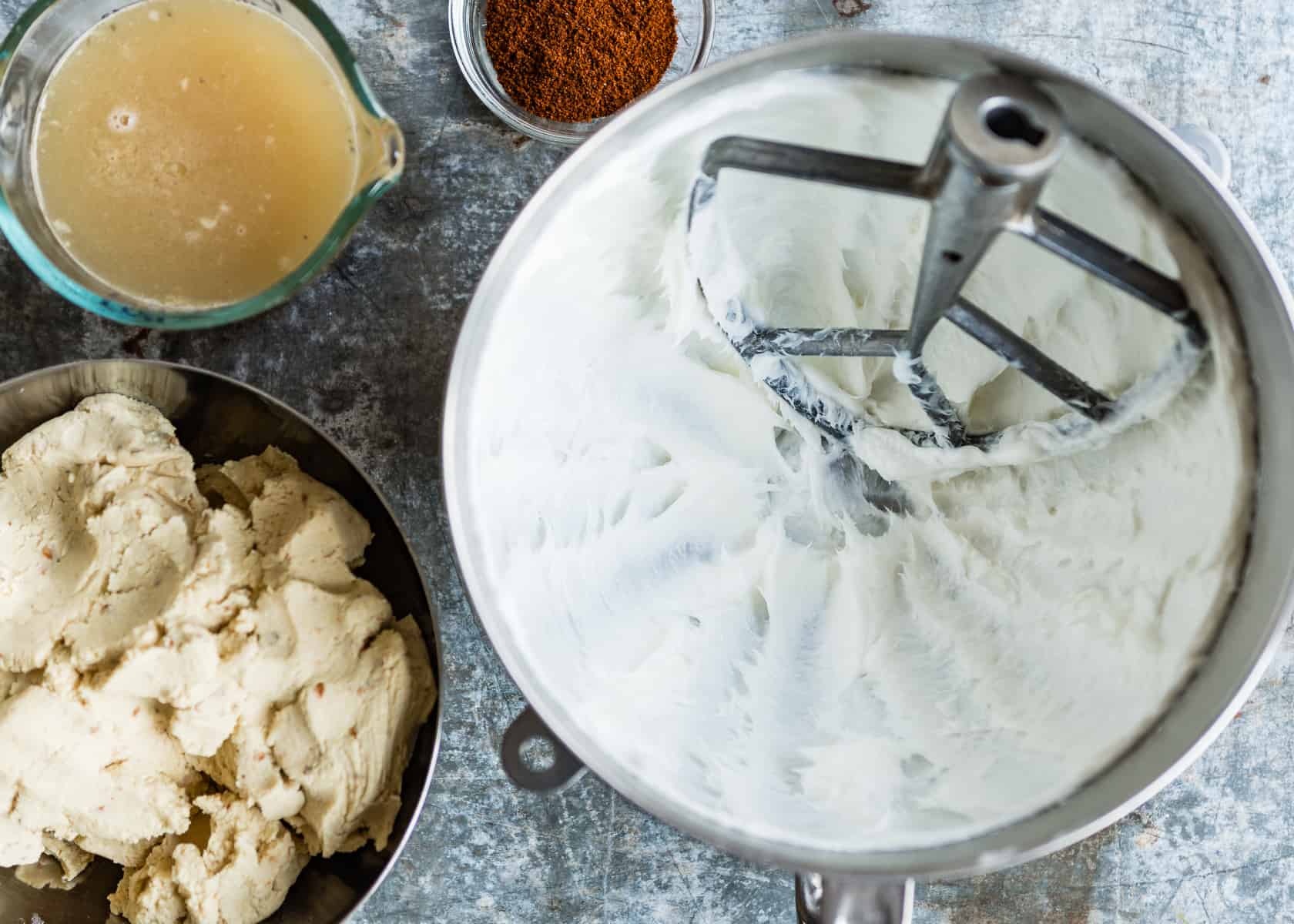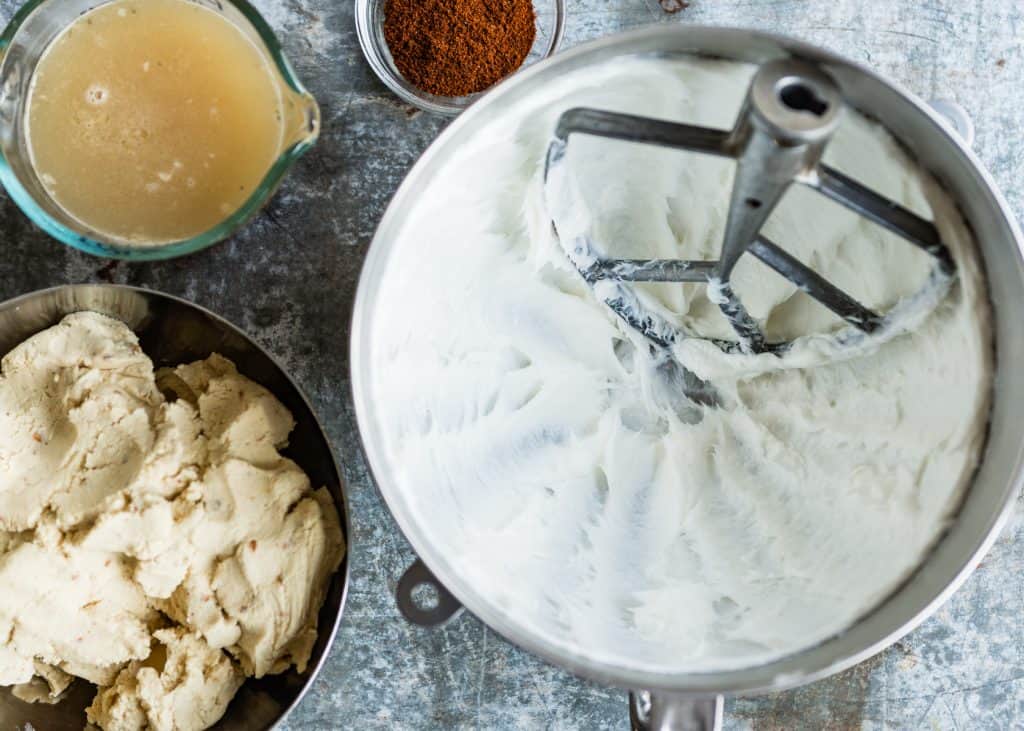 The masa (fresh or reconstituted) is added to the mixer in 2-3 additions, along with any spices you'd like to add. After each addition, the batter is beaten well.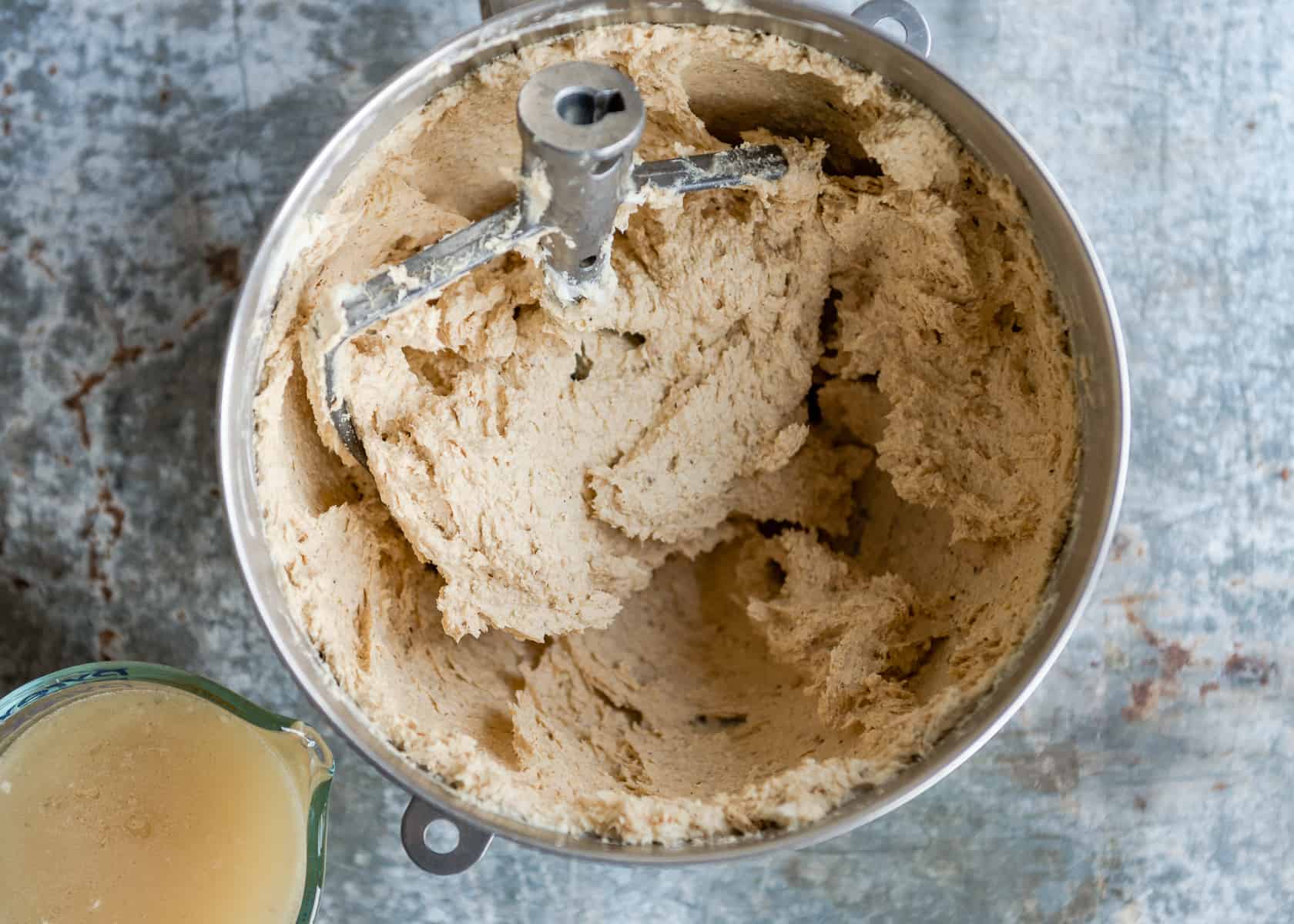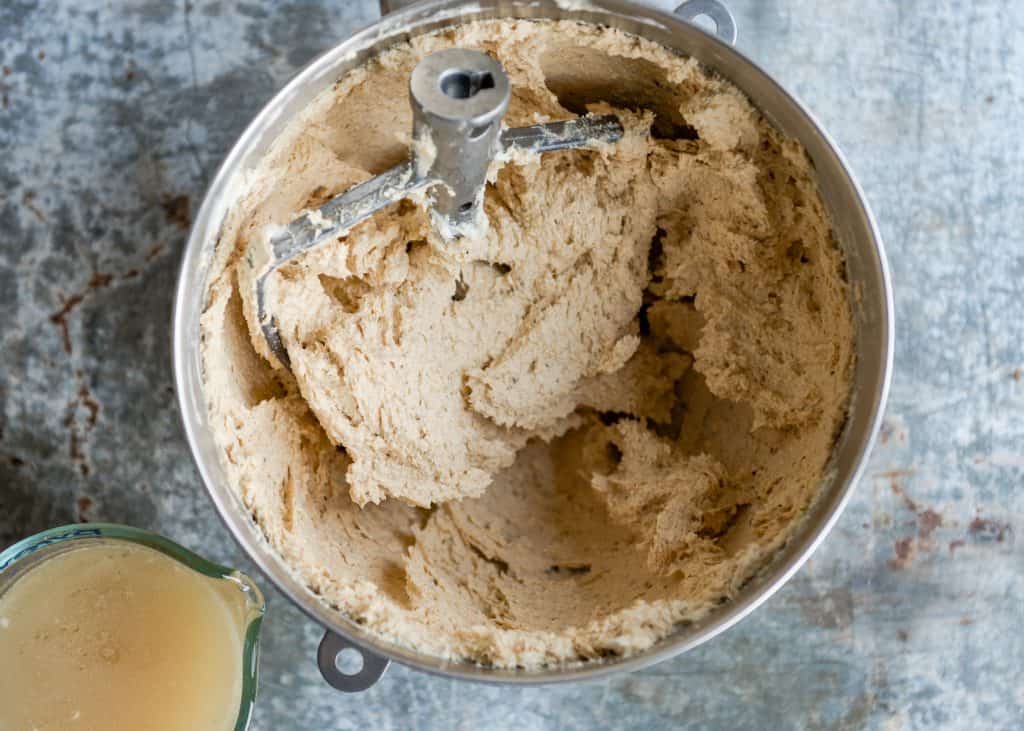 The broth is added next. I like using a flavorful chicken, turkey, or vegetable broth. If you're using water, be sure to taste the tamale dough to make sure it has enough salt or it won't be flavorful enough. It's important to test the dough by placing a small amount in a glass of cold water. If it floats, the tamales will be light in texture. It may take a few times making tamales to find the texture you like best.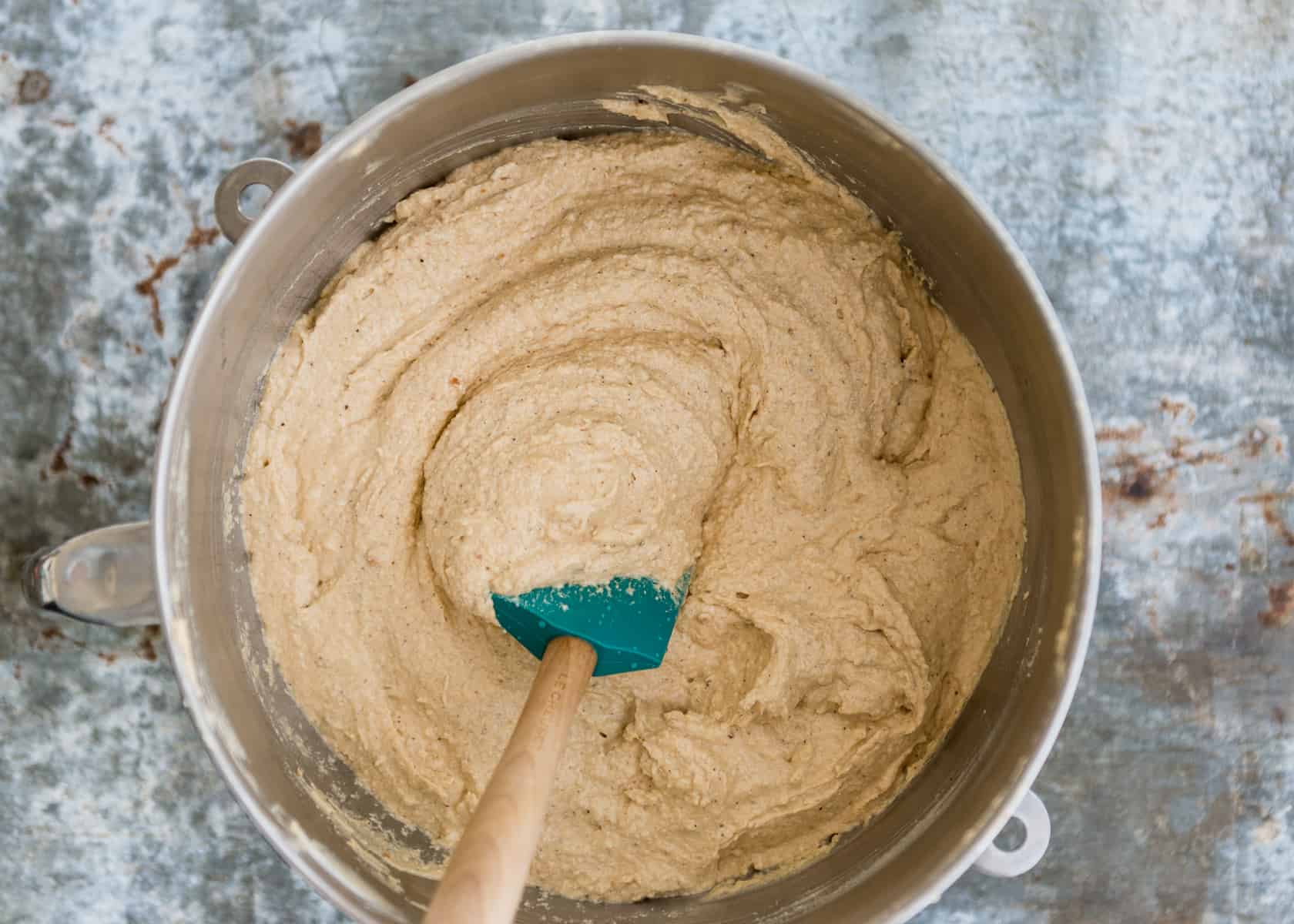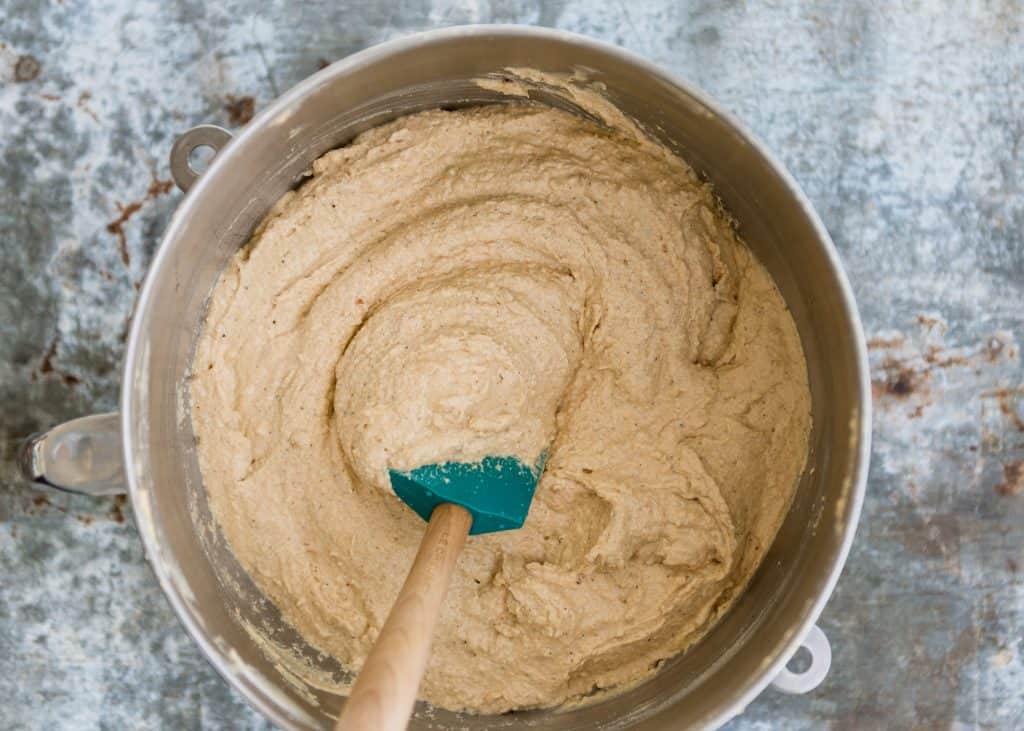 The texture and consistency of the tamale dough or batter is very similar to a thick cake batter. It will be kind of fluffy. It shouldn't be runny. It should be thick enough to spread.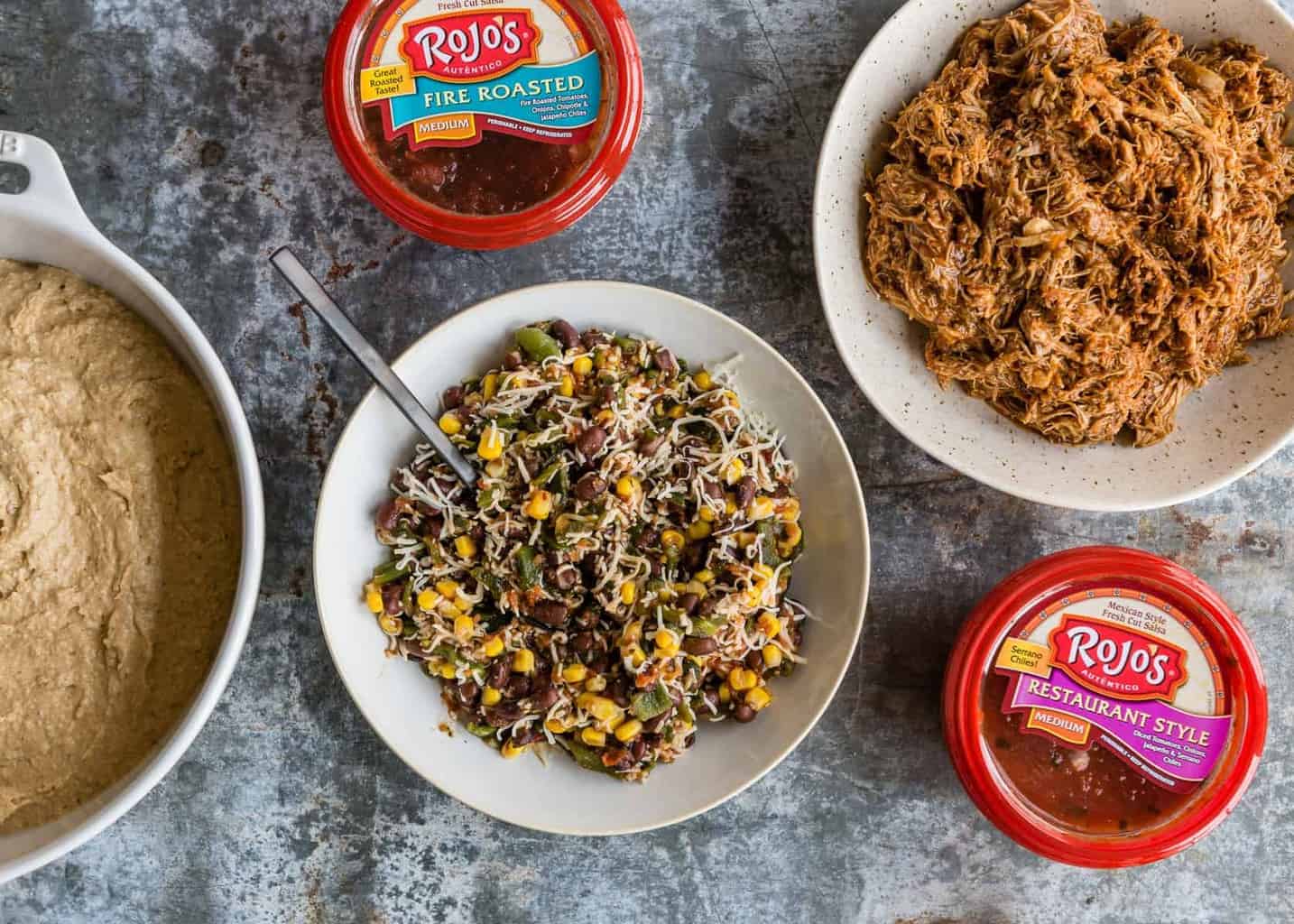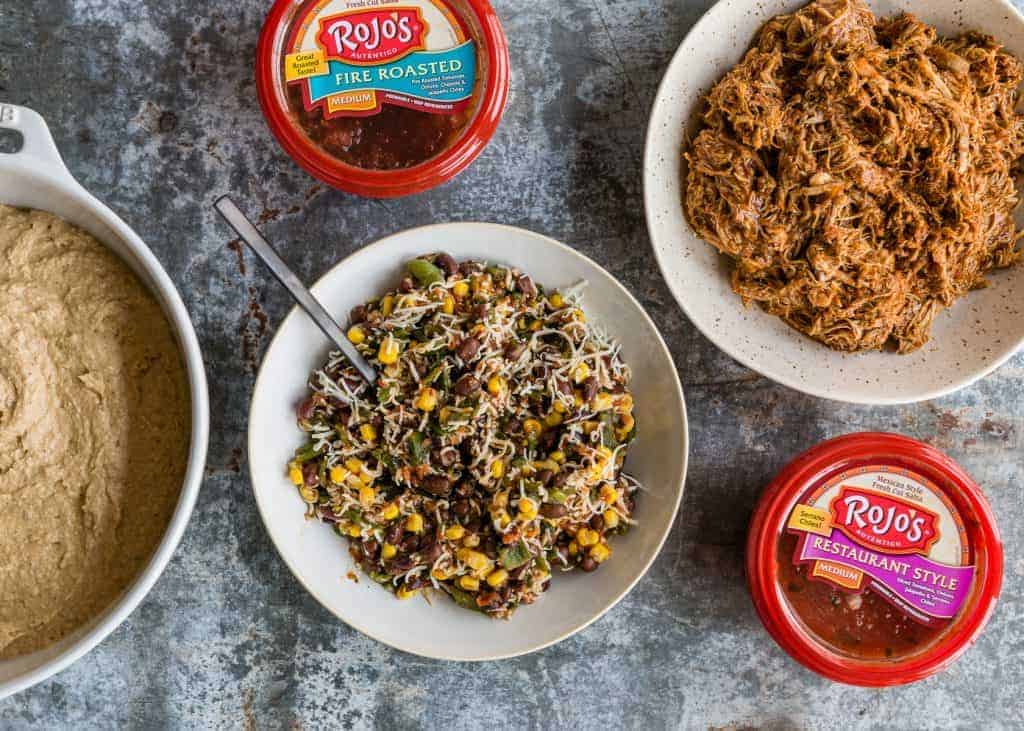 And then it's assembly time!
Assembling Homemade Tamales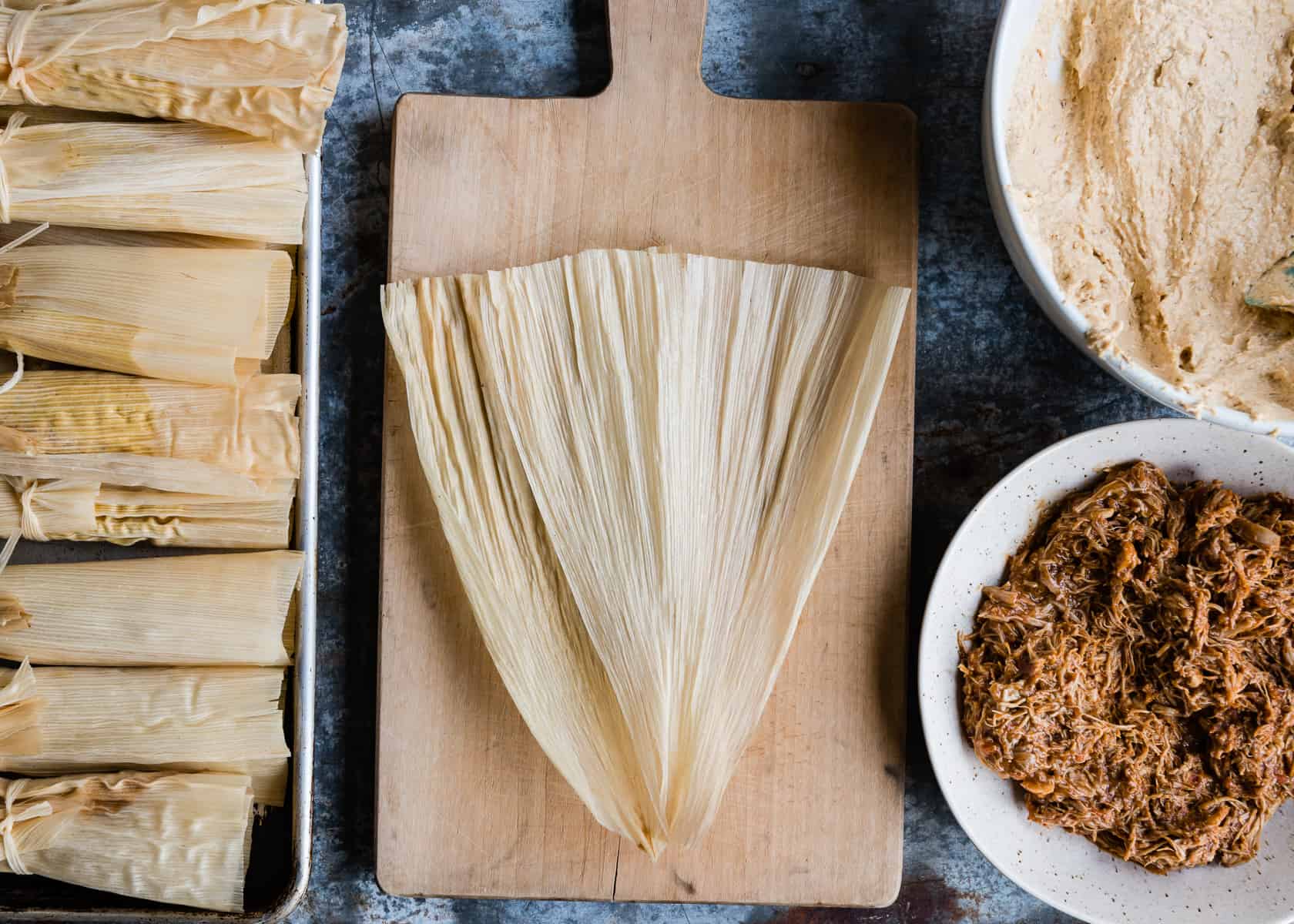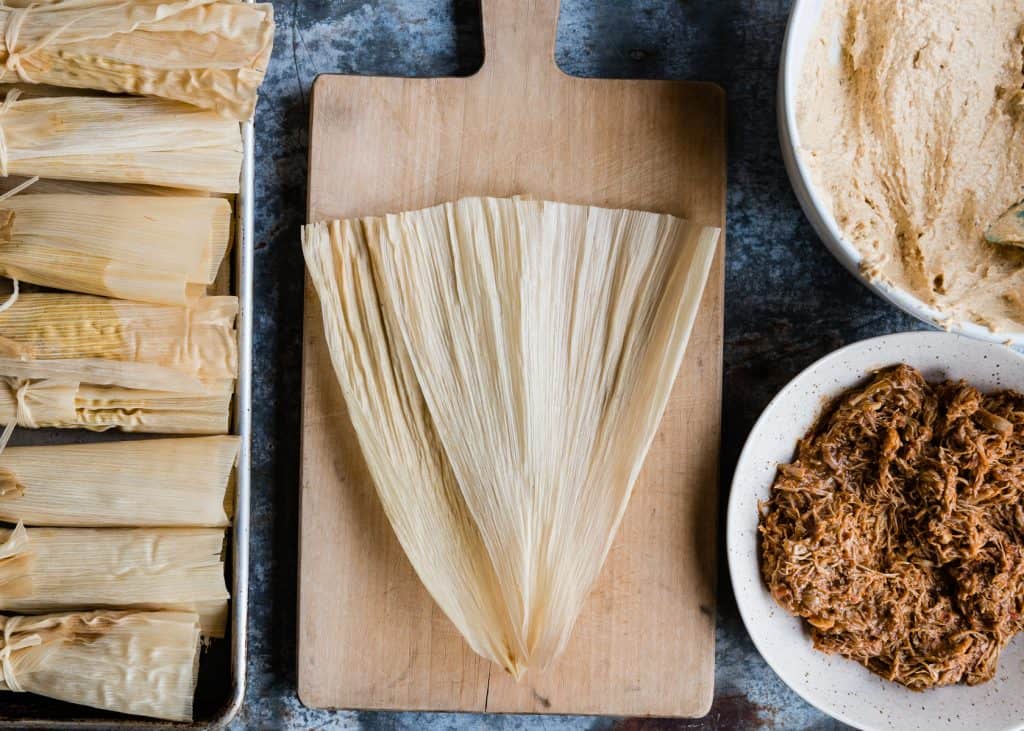 The pre-soaked cornhusks should be drained and patted dry with a clean dish cloth or paper towels. Have all of the ingredients nearby, as well as ties to secure the tamales as they cook. These can either be thin strips of cornhusk (torn after soaking!) or food-safe twine or string.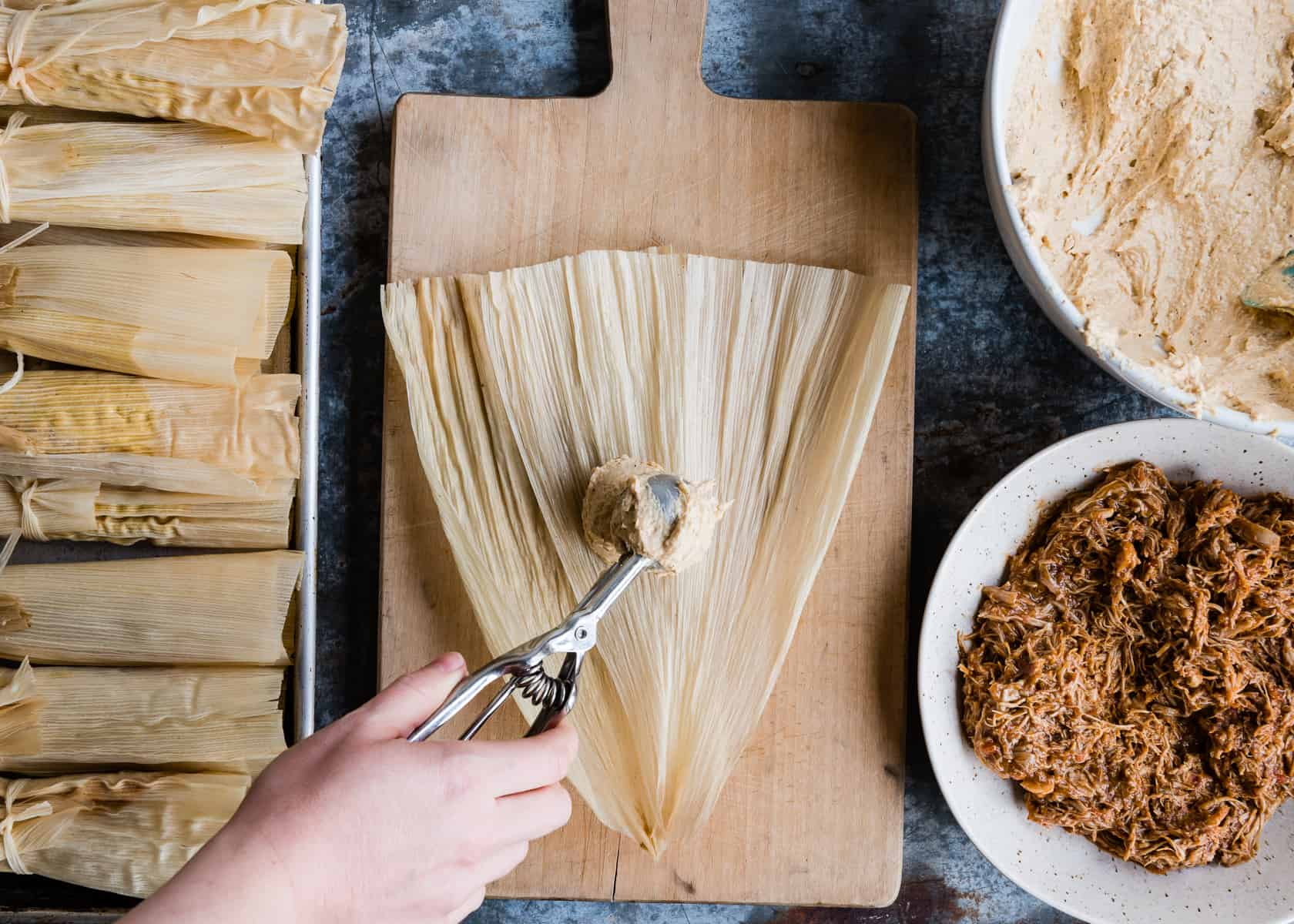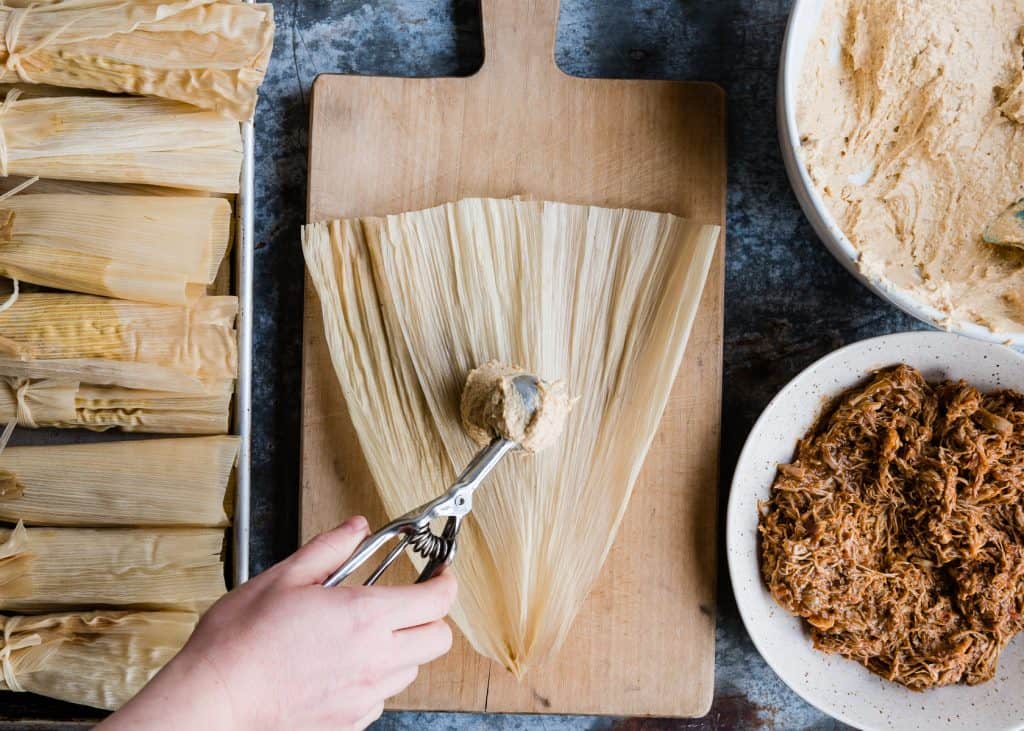 I like to go through the cornhusks and sort them by size. The larger ones are preferred, but if there are only smaller, narrower husks in the package, layer two or three overlapping each other so there's enough surface area to wrap around the tamales. The tapered edge or tail should be closest to you.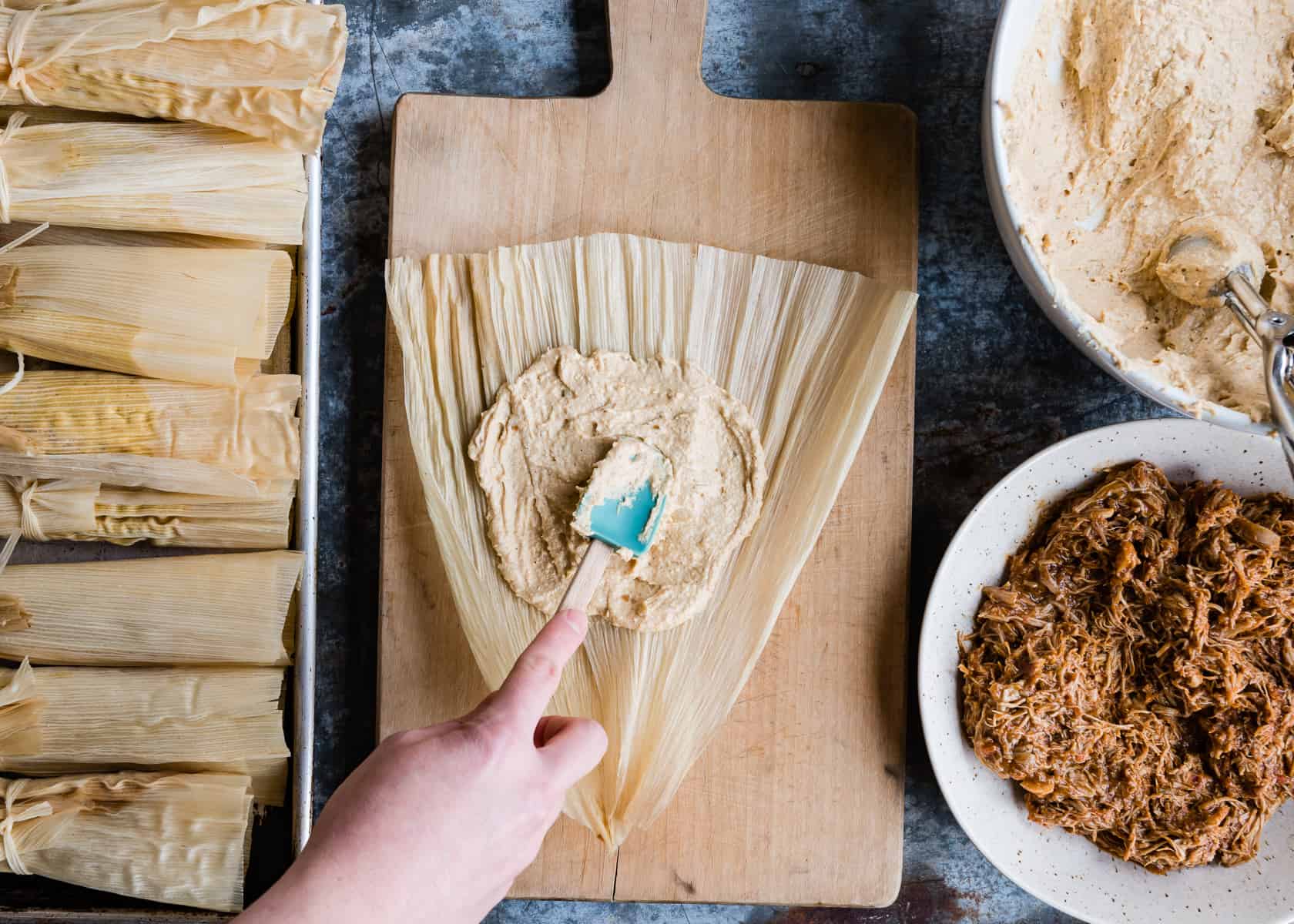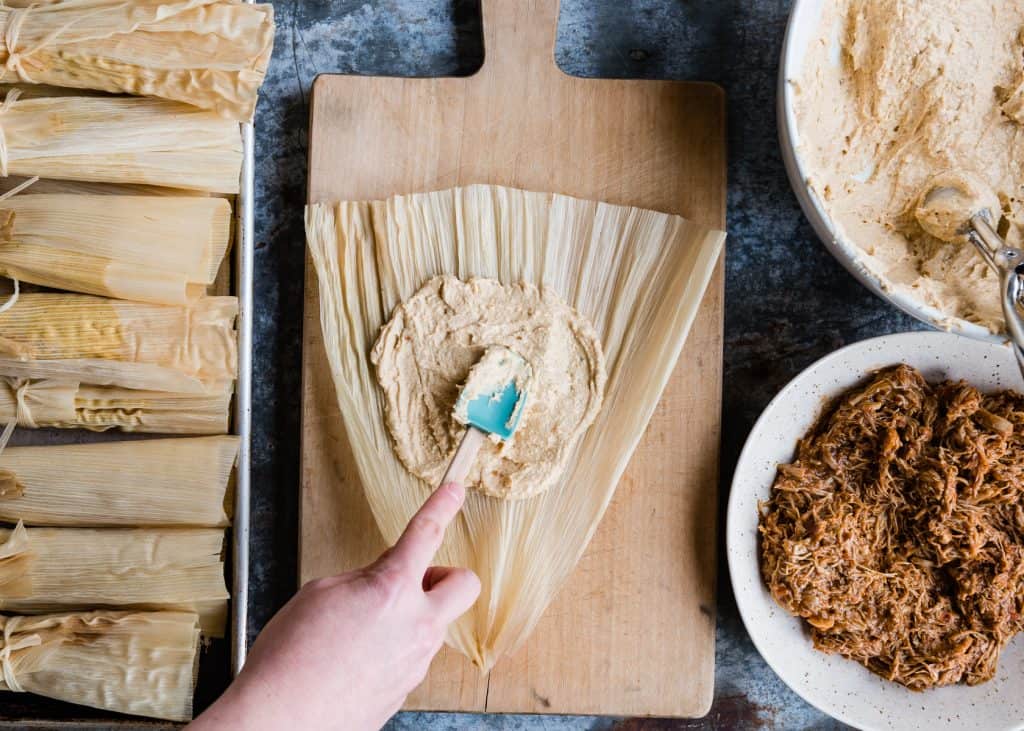 Spoon 1/4 cup of the tamale batter directly into the center of the corn husk. I use my mini ice cream scoop; two mini scoops is roughly equal to 1/4 cup. Gently, but firmly spread the masa out into a 4-inch square, making sure there is plenty of room on every side for a border.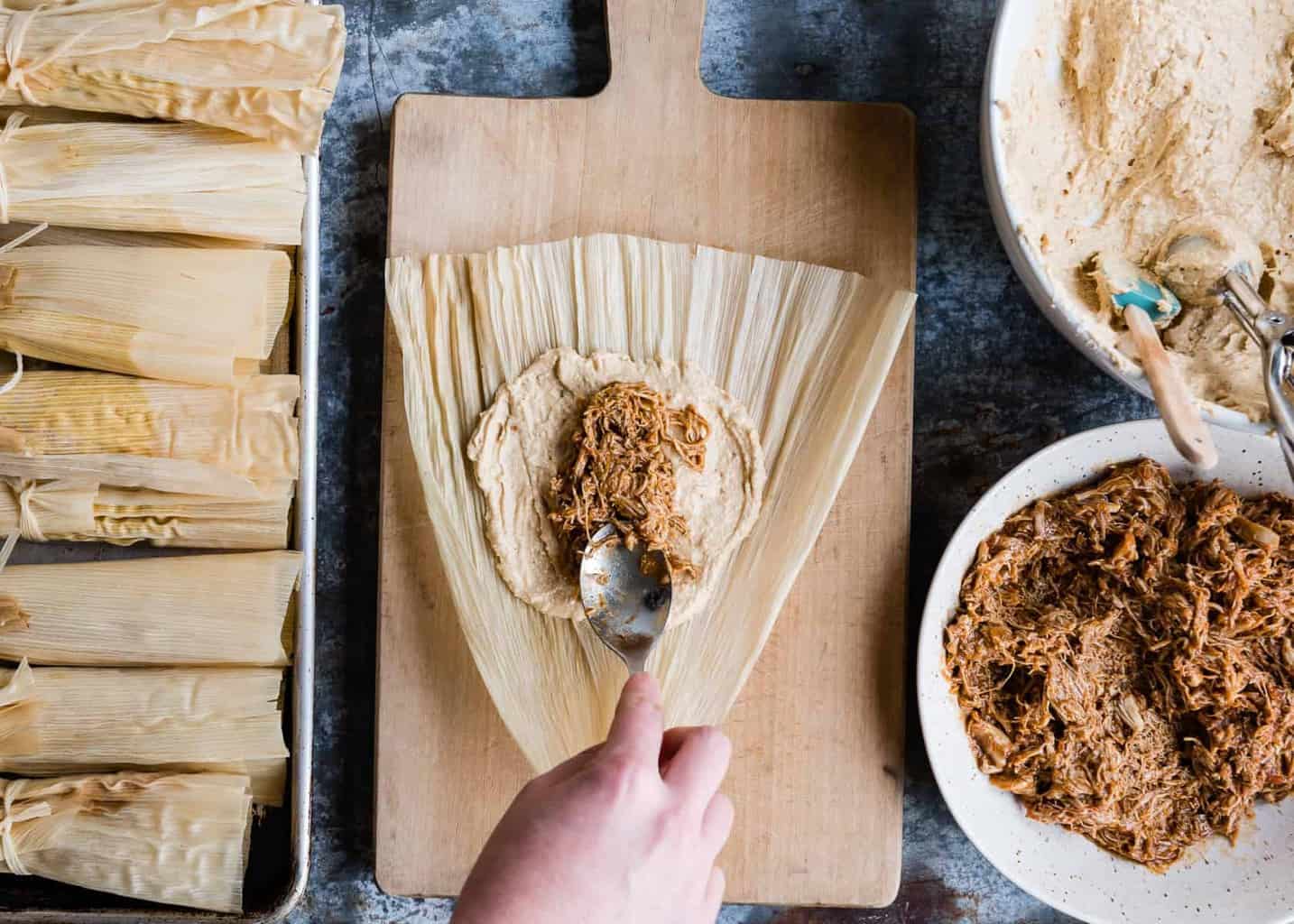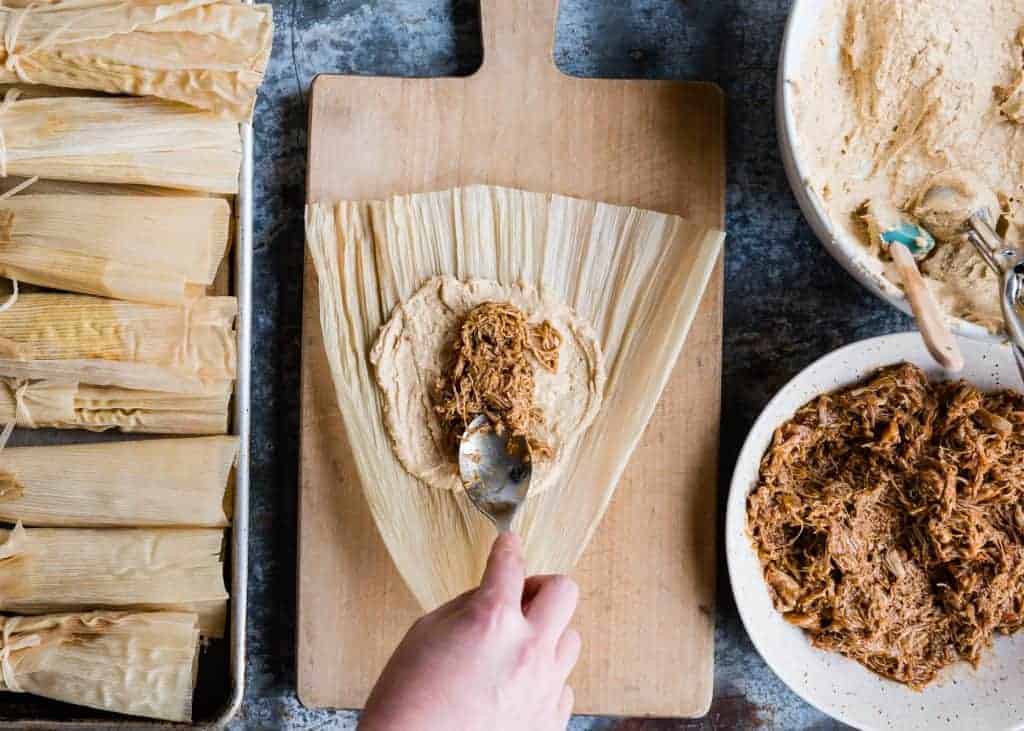 Place about 2 tablespoons of the desired filling into the center of the masa batter.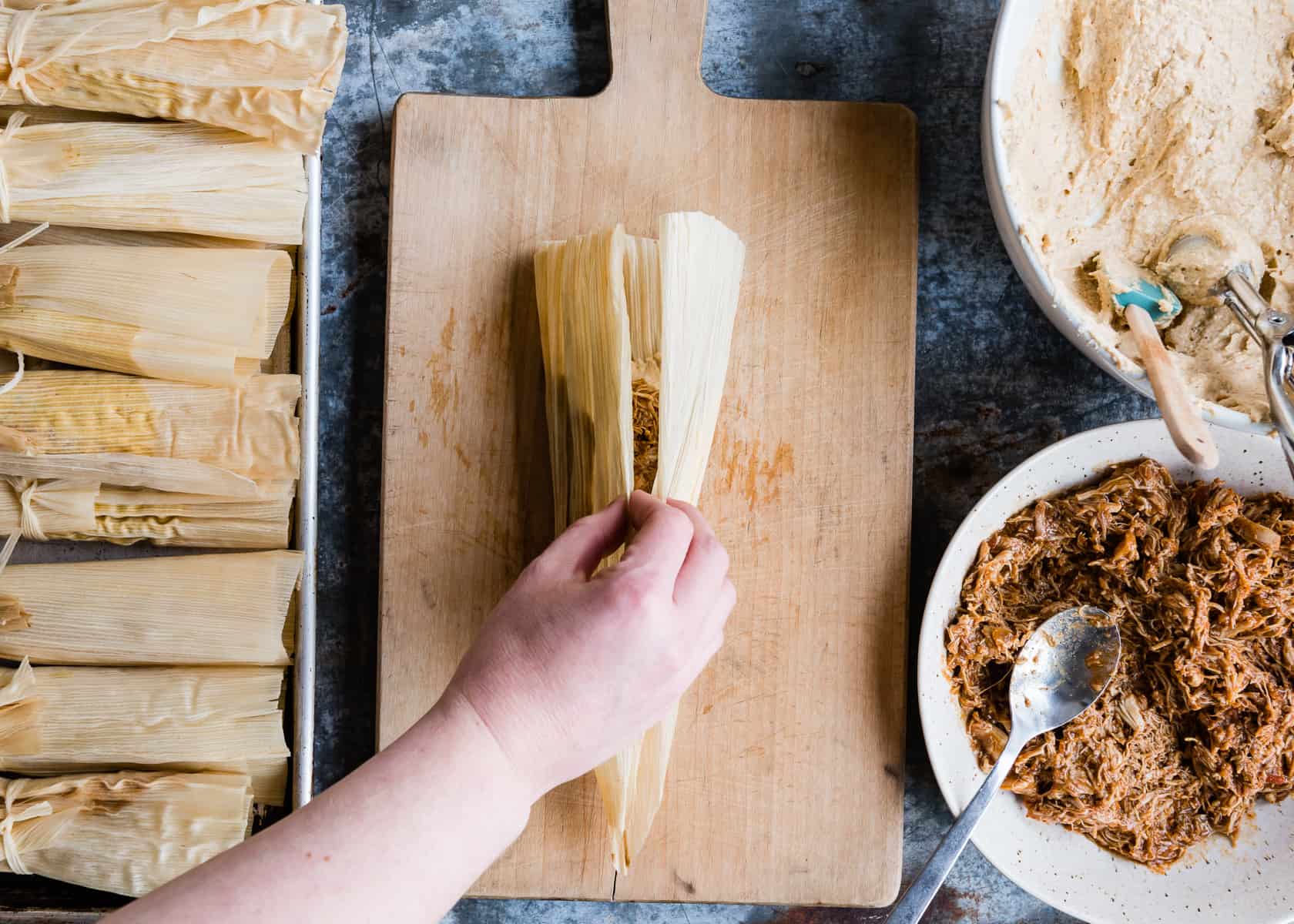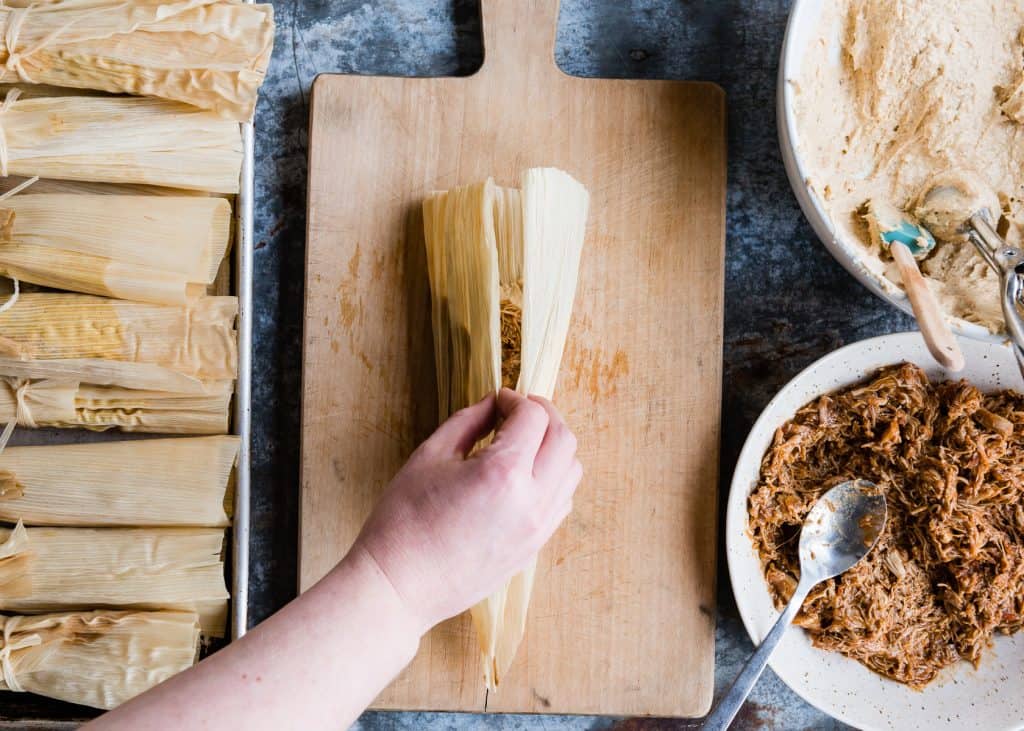 Bring the two long sides together in the middle. Fold both over in one direction – to the right or the left – to help the batter close in around the filling.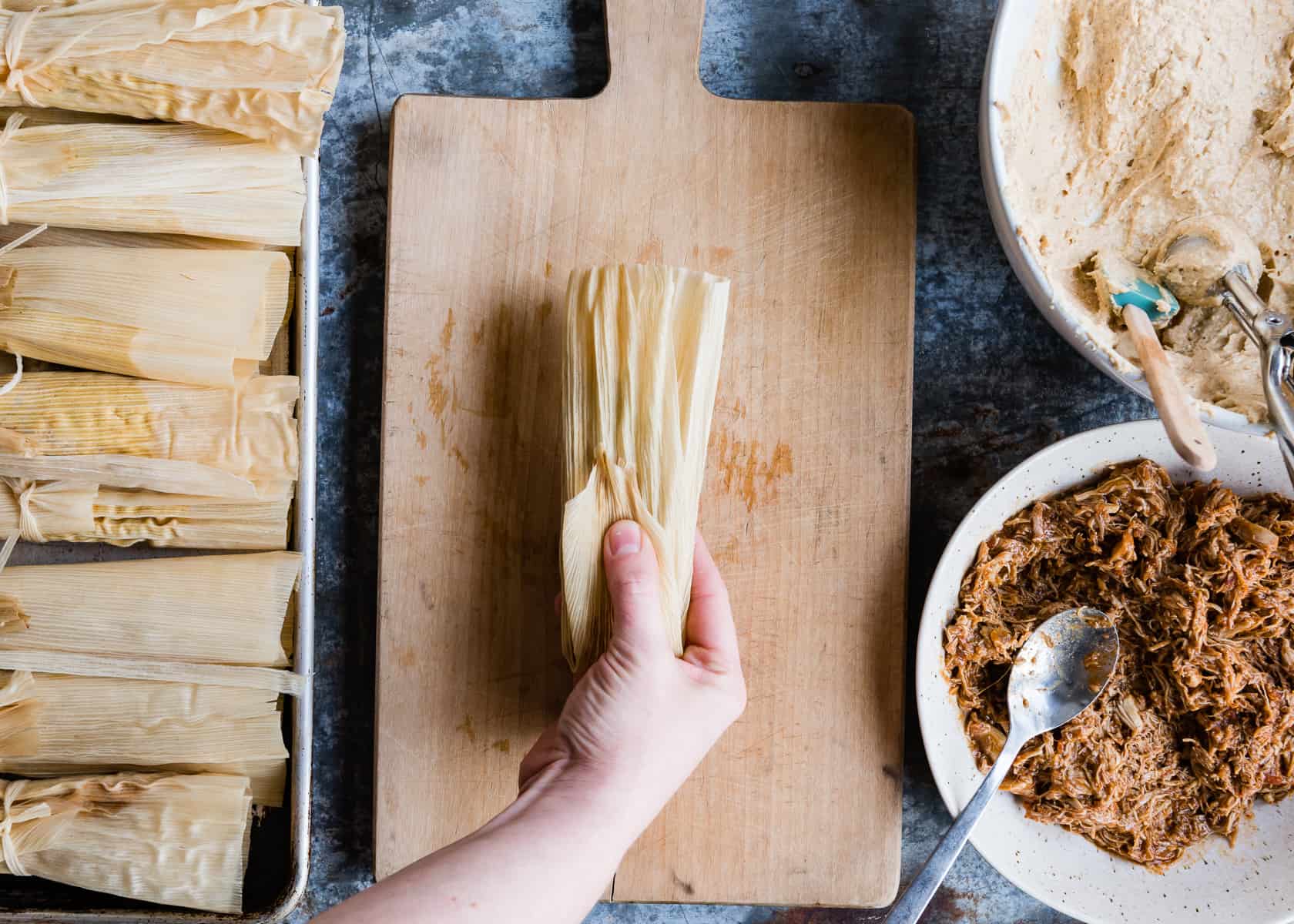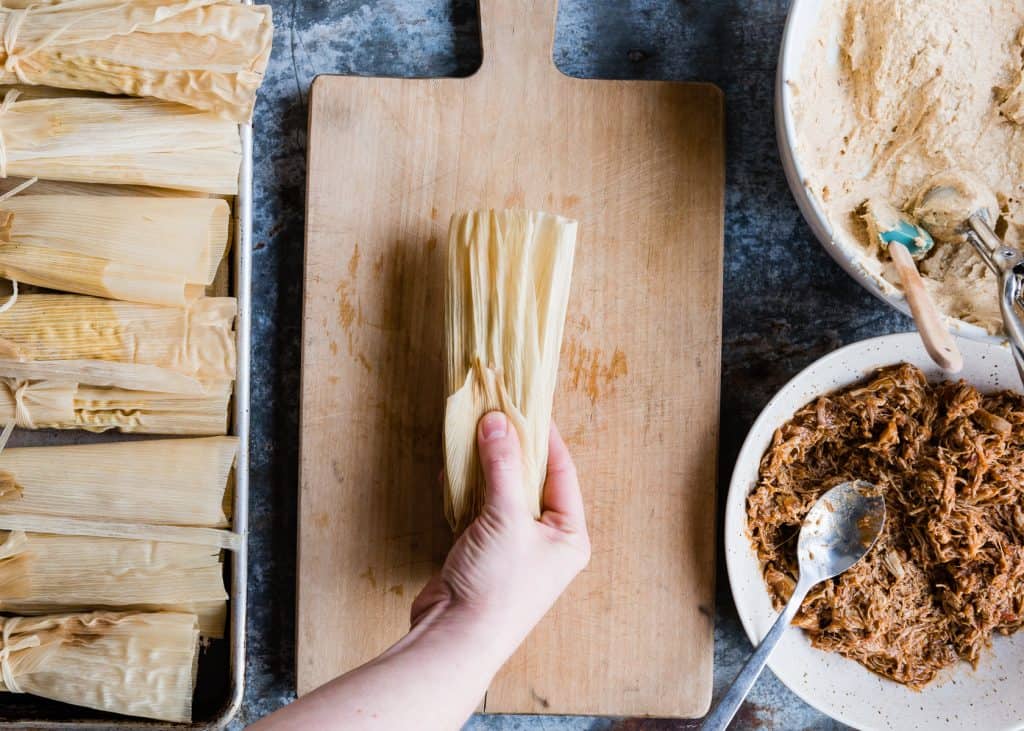 Next bring up the tail or tapered end to the center of the husk. Secure with the tie. But do not tie too tightly; the tamales will expand as they cook. The top ends stay open.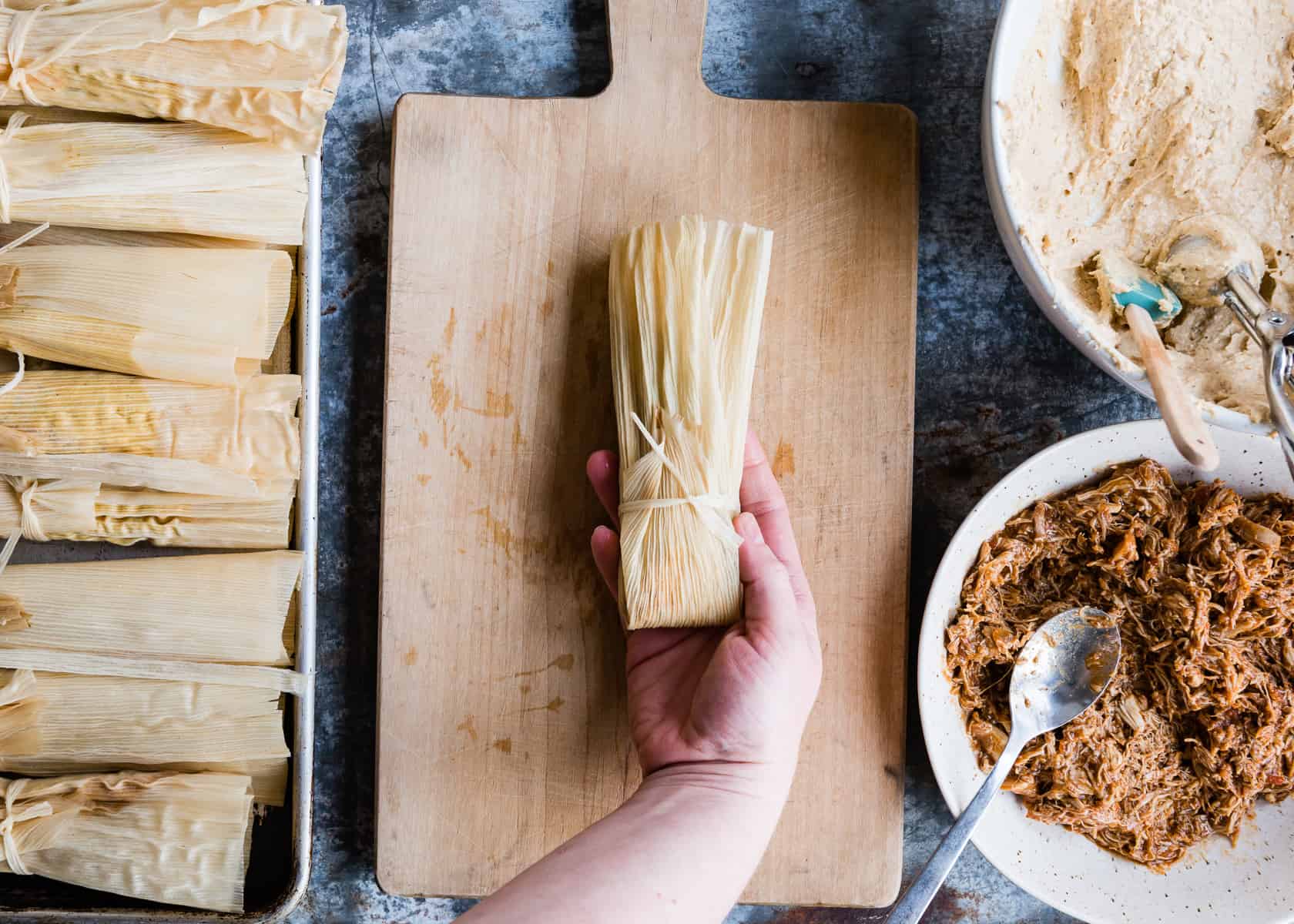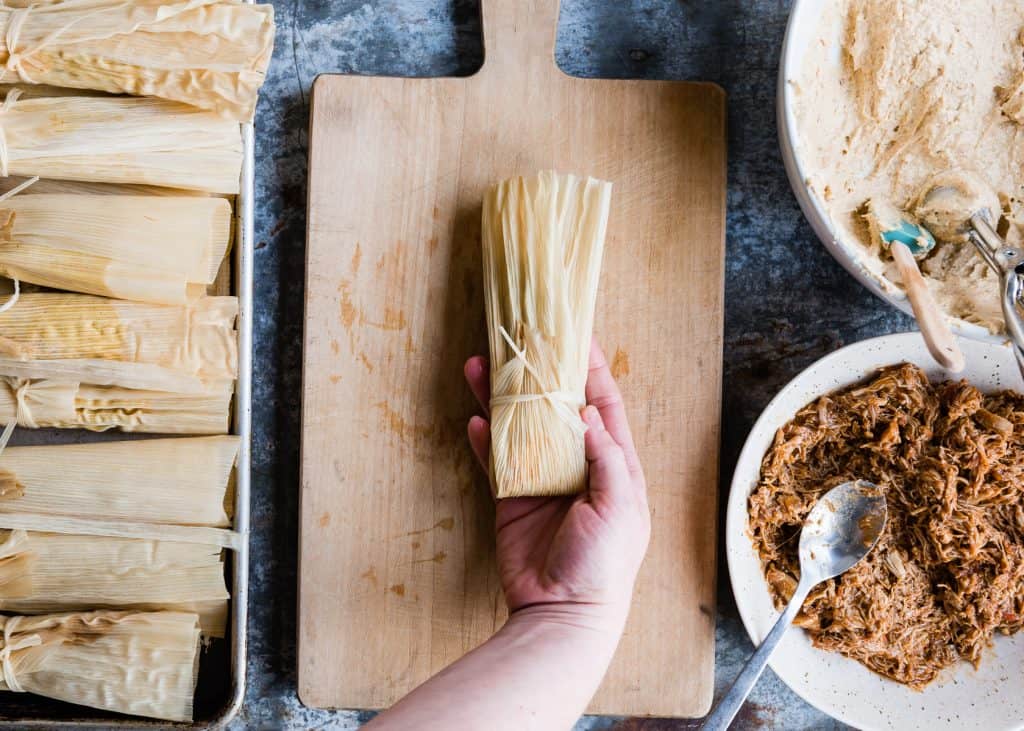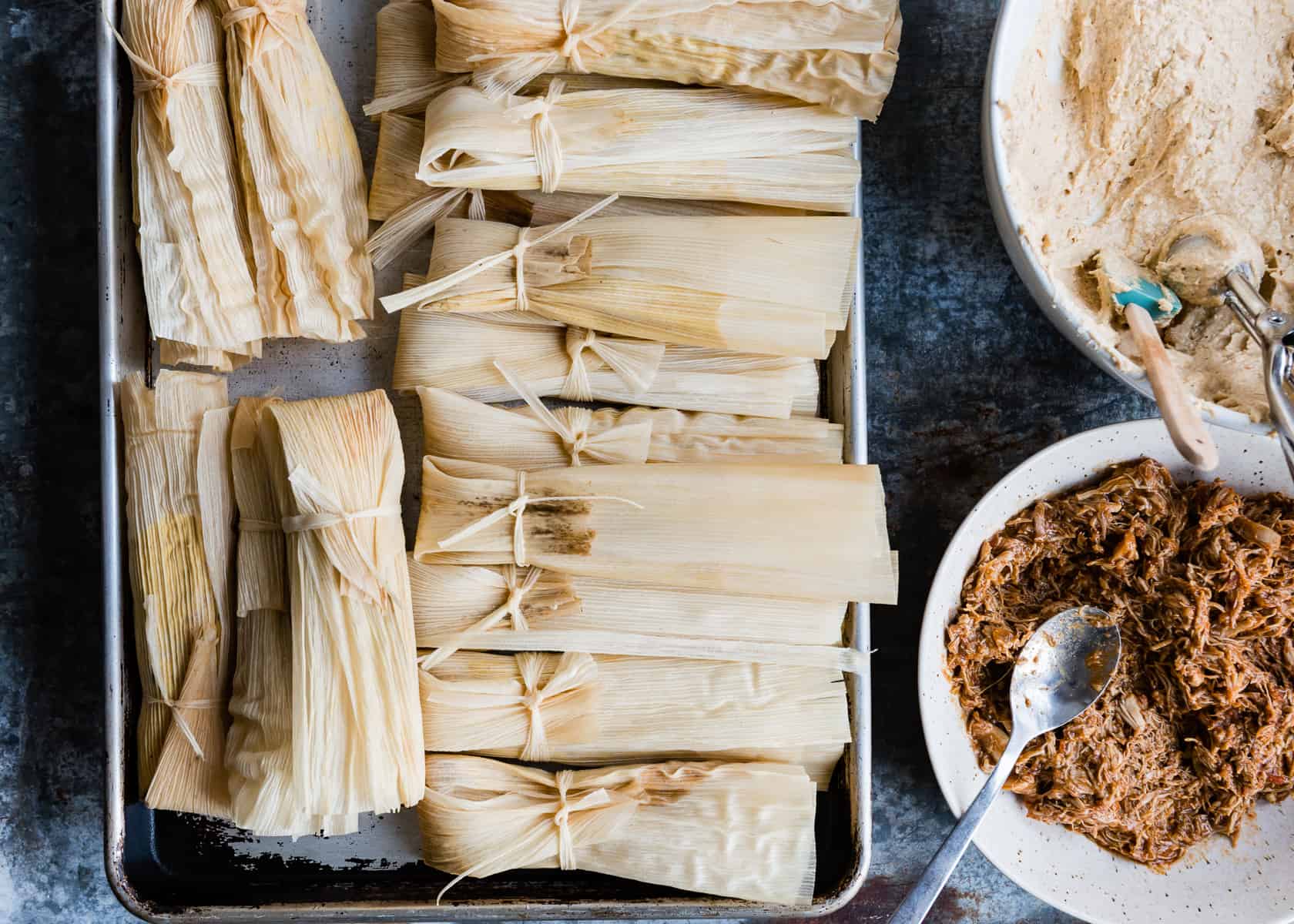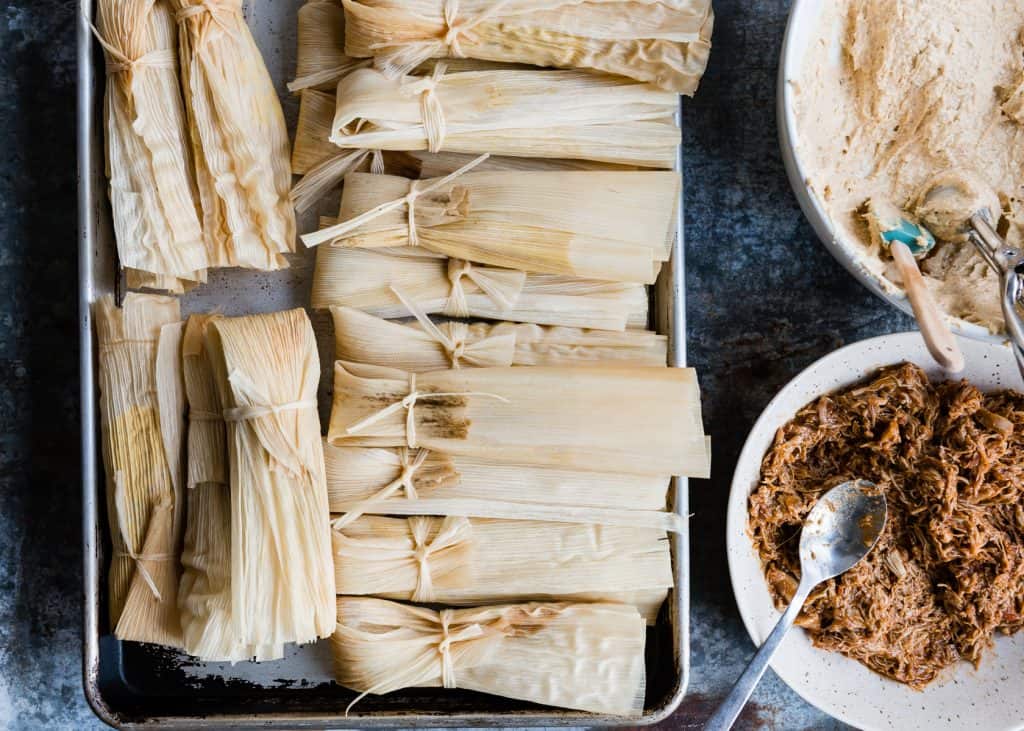 To cook the tamales, have a steamer ready. If you don't have a steamer (either a Mexican or Asian one) you can simulate one by using a steamer basket set into a stock pot or large kettle. Or, I like to use my strainer insert and stock pot. Another option is to place custard cups or ramekins upside down in a large pot and place foil or cornhusks on top to keep the tamales elevated for proper air circulation and cooking.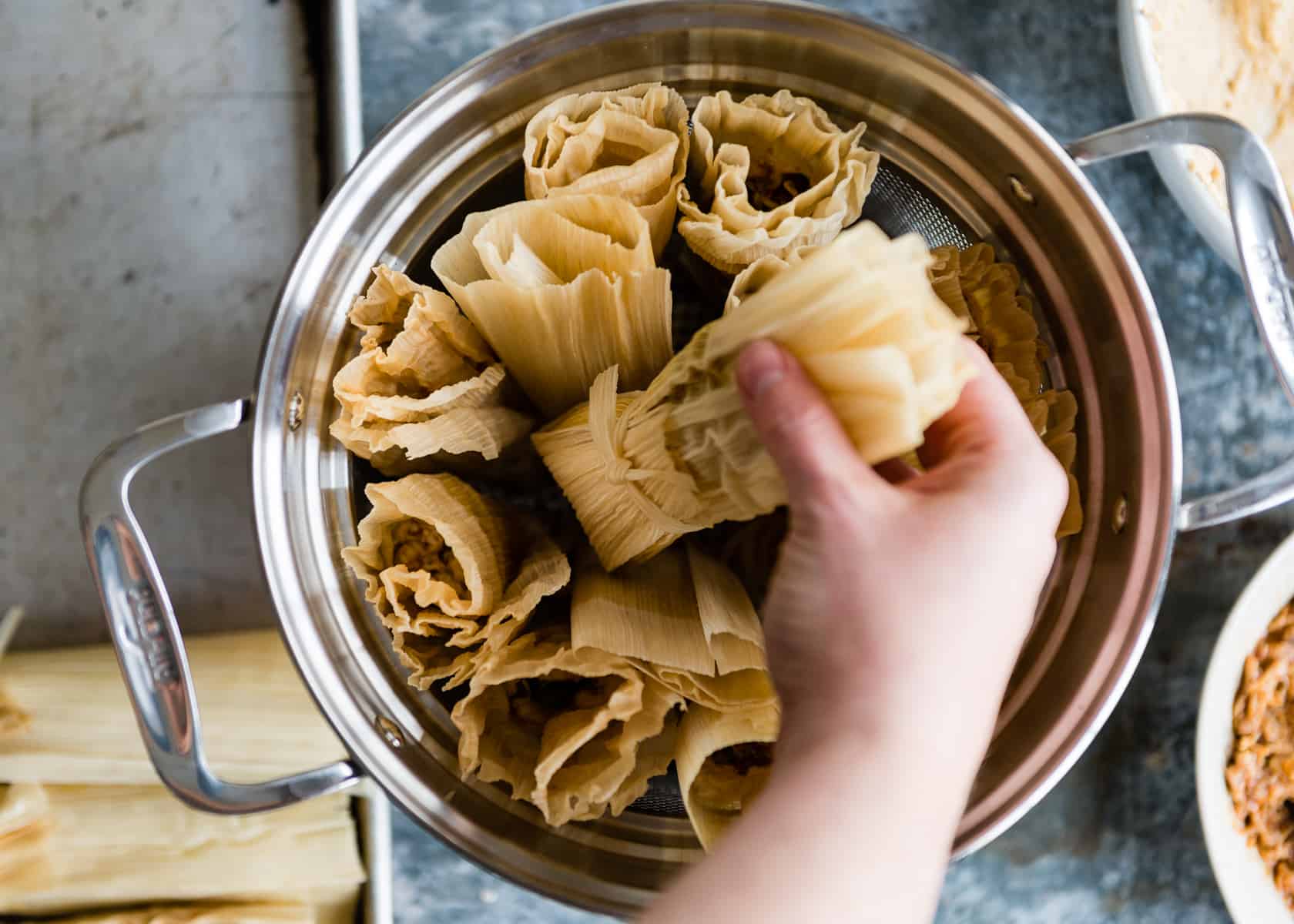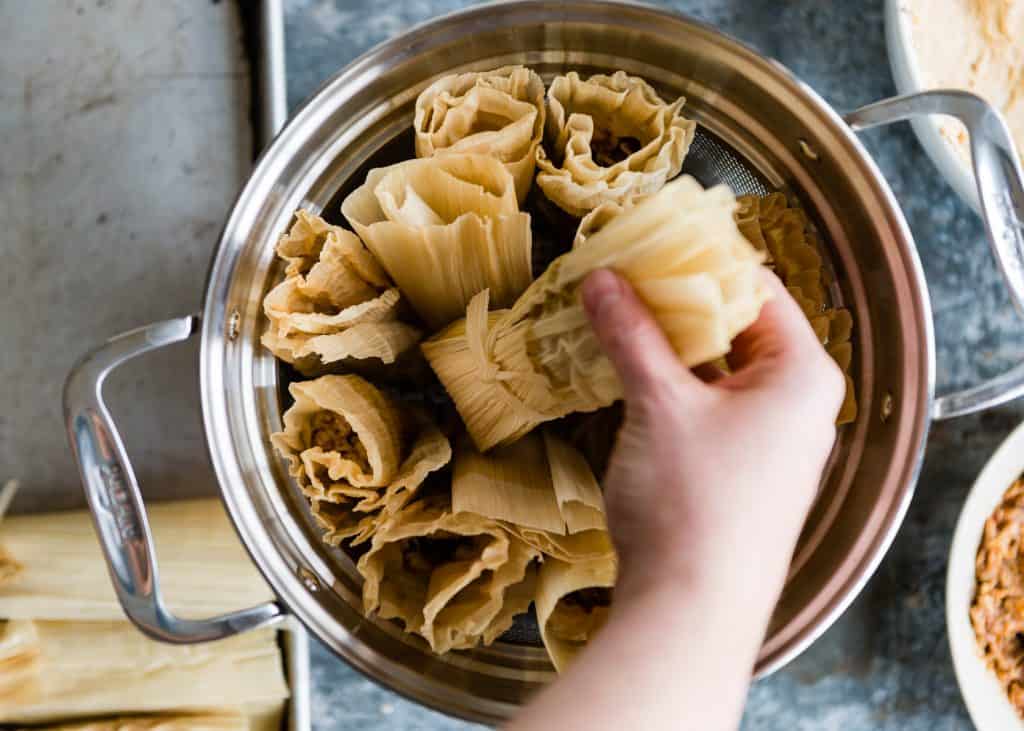 The tamales go upright into the steamer. It's a good idea to line the bottom with extra cornhusks to keep the water from getting into the tamales (it happens) as they cook. I also like to place some on top to keep the condensation from falling back into the open tops and making them soggy.
The hardest part is waiting patiently for them to steam. It takes 60-75 minutes for the tamales to cook through. If you work with warm filling, the cooking time will be shorter, but I like to use cold or room temp filling because it's easier to work with. The tamales will be done cooking when the masa comes away from the husk easily. The tamales must then sit in the pan, off the heat, for another 10-15 minutes to set up a bit before serving.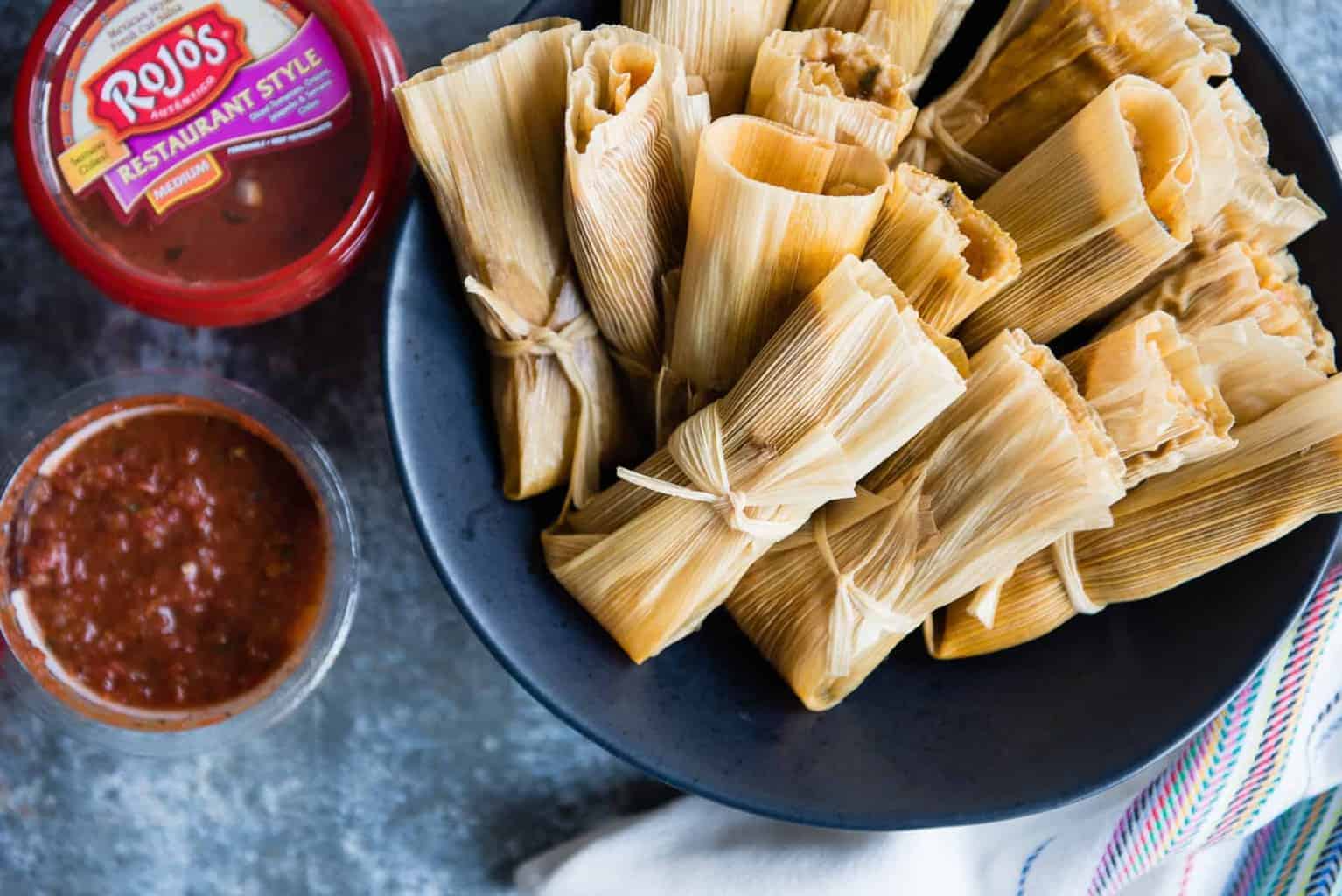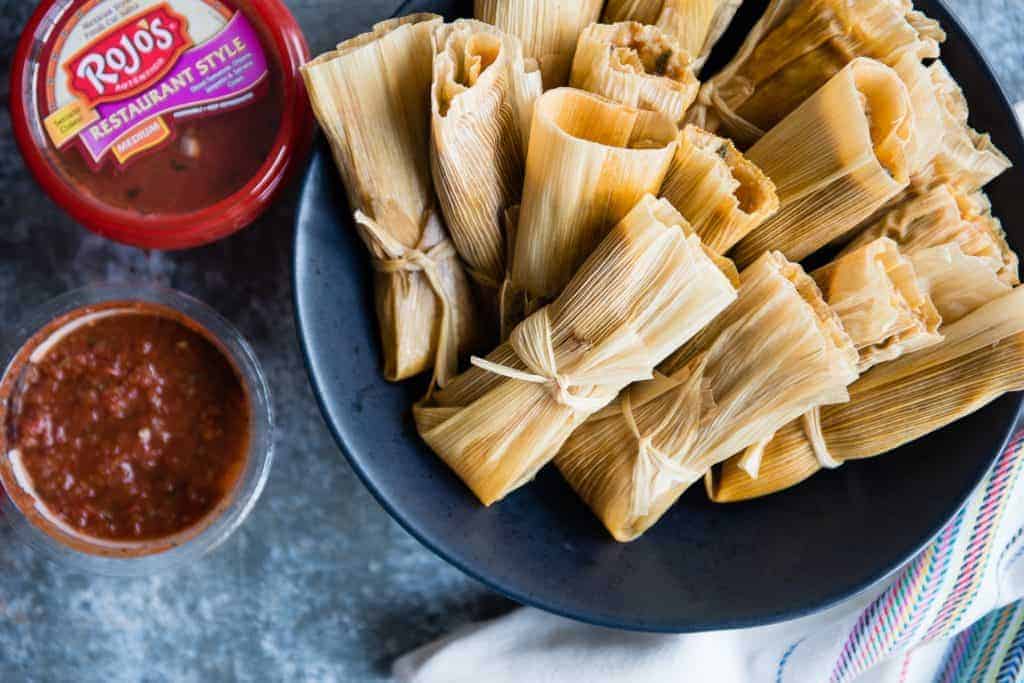 And that's it! The homemade tamales can be served warm or at room temperature by themselves or with salsa on the side. Cooled tamales can be wrapped well and refrigerated for up to a week or frozen for several months. They can be reheated in a steamer for about 10-15 minutes, or until warmed through.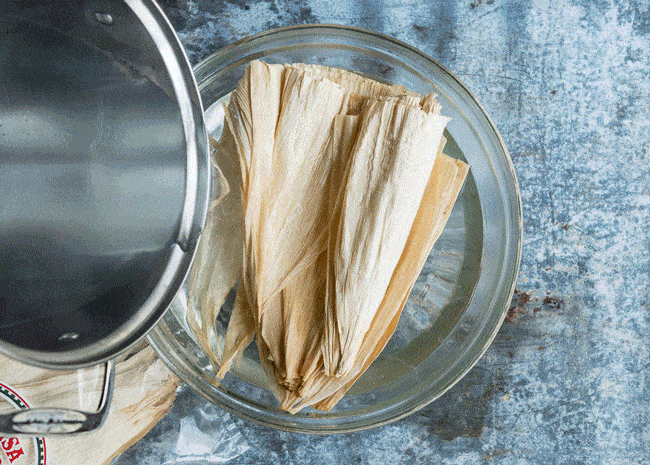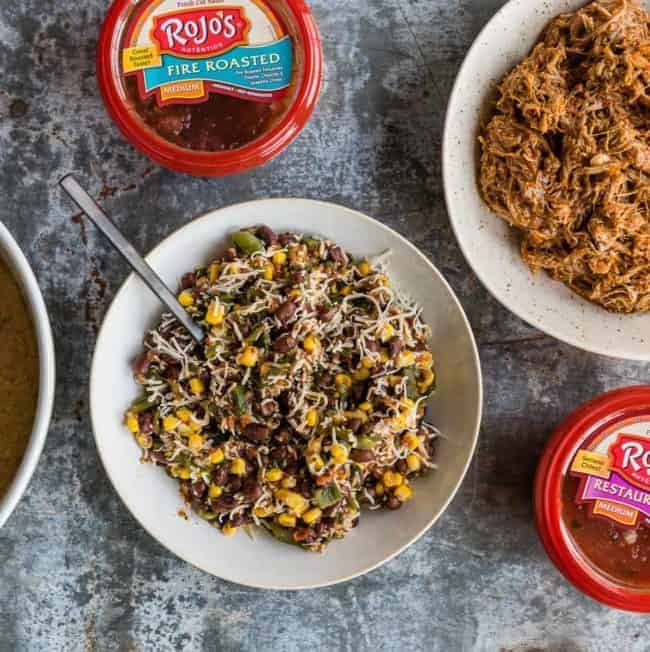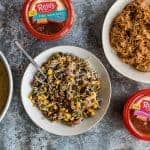 Print Recipe
How to Make Homemade Tamales
These tamales are easy to make vegetarian. Made with Rojo's Fire Roasted Salsa along with sweet corn, roasted poblano chiles, and Monterey Jack.
Equipment
Large, deep bowl

Steamer

Slow cooker

Baking sheet
Ingredients
Homemade Tamales
Very hot water for soaking

10-12-

ounces

dried corn husks

12

ounces

1 1/2 cups pork lard or vegetable shortening

at room temperature

1

tablespoon

sea salt plus more if needed

2

teaspoons

baking powder

2 1/2

pounds

5 cups fresh coarse-ground corn masa for tamales OR 4 cups dried masa harina for tamales mixed with 2 1/2 to 3 cups hot water

see notes

1-2

tablespoons

ground chili powder mild or medium

optional

1 to 1 1/2

cups

flavorful chicken or vegetable broth

3

cups

filling pulled chicken

beef, pork, or beans, vegetables and cheese
Shredded Chicken Tamale Filling
2 1/2

pounds

boneless skinless chicken thighs

fresh or frozen and thawed

1 14-

ounce

container Rojo's Restaurant Style Medium Salsa

1

tablespoon

chili powder optional

2

teaspoons

salt plus more to taste
Black Bean Tamale Filling
6-7

large poblano peppers

2

cups

shredded Monterey Jack

1 1/2

cups

or a 15-ounce can black beans

drained and rinsed

1

cup

sweet corn no need to thaw if using frozen

1

cup

Rojo's Fire Roasted Medium Salsa

Salt to taste
Instructions
Homemade Tamales
Place cornhusks in a very large, deep bowl or other large container or pot. Cover the husks with very hot (but not boiling) water. Submerge the husks into the water, allowing the trapped air to bubble up. Place a plate or pan on top of the husks to keep them completely submerged. (I like to weigh it down with a heavy 28-ounce can placed on a plate.) Allow the husks to stay in the hot water for 2-3 hours, or until pliable.

While husks are soaking, prepare the tamale dough. Place the lard or shortening into the bowl of a stand mixer fitted with the paddle attachment. Beat until creamy, then add the salt and baking powder. Beat on medium-high speed until light. (It won't really get fluffy if you use lard.)

Stop and scrape down mixer as needed. With mixer running on low speed, add the masa (fresh or reconstituted) to the mixer in three additions, beating well after each addition. Add chili powder, if using. Raise speed to medium-high and beat for 1-2 minutes until well-combined. Stop and scrape down.

With mixer running on low, slowly add 1 cup of the broth. Keep beating until smooth. The batter may be ready at this point, but it may need more broth. Test by dropping a small amount of batter into a cup of cold water. If it floats, the batter is ready. If it sinks, add a little more broth and beat again for 1-2 minutes on medium-high heat. Test again. The batter texture will be like a thick cake batter – spreadable, but not at all runny. It should hold its shape when spread onto the cornhusks.

Get the steamer ready. (I use the strainer insert for my stock pot.) Place a steamer basket in the bottom of a stock pot or other tall pan. You may need to work in batches depending on the size of the pot. If you don't have a steamer basket, you can place some small ramekins in the bottom of the pan and place a few layers of cornhusks or even a layer of aluminum foil pricked a few times with a fork to allow for air movement. The tamales need to be elevated for even cooking. Furthermore, the tamales will need to stand up as they cook, so it may be necessary to fill up any empty spaces with extra cornhusks folded over or balled up aluminum foil.

Prepare ties to secure the tamales by cutting string or thin strips of the husks into 8- to 10-inch pieces. You will need between 30-32.

Remove the cornhusks from the hot water and pat dry. Carefully separate the husks, trying not to tear them. Choose the largest, most intact husks. Count out 30-32. If the husks are narrower, count out enough to double up, as needed.

To assemble the tamales, work with one at a time, lay a husk out on a clean counter or cutting board with the tapering end facing toward you. Spoon 1/4 cup of the batter on the husk and spread it out to make a 4-inch square, leaving a border of 1 1/2-inches at the tapered end and a 1-inch border along the sides. Depending on the size of the husk, the borders may be a little wider. If needed, use two husk overlapping each other for a wider area.

Spoon a rounded tablespoon of the filling down the center of the batter. Using the husk as handles, pull the long sides together in the center over the filling. Bring the edges together and fold together over the filling in the same direction. Fold up the bottom of the husk to close up the bottom of the tamale. If needed, wrap another small husk around the tamale to ensure the filling doesn't leak out, or if there are any splits in the husk. Use the string or husk strip and tied around the tamale to secure it, but not too tightly. The top will remain open.

As you work, place the tamales in the steamer with the open ends facing up. The tamales will expand as they cook, so leave a little space between them and don't pack too many into the pot. (See note above about filling any empty spaces to keep tamales upright.)

Place a little water in the bottom of the pan if you haven't added it already. Turn heat to medium and steam tamales for 60-75 minutes. Add more water as needed so the pan doesn't boil dry. Check about every 15-20 minutes.

You'll know the tamales are done when the husks come away from the tamales easily. Turn off heat and allow tamales to stand in the pan for 10 minutes so they can firm up.

Serve immediately or cool completely and store in refrigerator or freezer. Re-steam refrigerated or frozen tamales before serving. (It won't take as long as the initial steaming time – just until heated through.)
Shredded Chicken Tamale Filling
Place the chicken thighs into a slow cooker. Spoon the salsa evenly over the top. Sprinkle with the chili powder, if using, and salt.

Cover and cook on high for 3-4 hours or low for 6-8 hours, or until the chicken is tender and shreds easily.

Shred the chicken. Allow the chicken to cool, still in the slow cooker, to absorb the sauce. Refrigerate or freeze until ready to use.

To use as tamale filling, it's easiest to work with when the chicken is cold or at room temperature.
Black Bean Tamale Filling
Adjust oven rack so it is about 4-5" from the broiler. Preheat broiler to high.

Place the whole poblanos on a baking sheet. Broil for 3-4 minutes, or until skin blackens and blisters. Turn over and broil the other side. Let cool.

Peel away the skin and remove the stem and seeds. Chop. You should have about 1 1/2 cups.

In a bowl, combine the cooled poblanos, Monterey Jack, black beans, corn, and salsa. Stir well. Taste and add salt, if needed.

Refrigerate until ready to use. Can be made 3-4 days in advance.
Notes
Homemade Tamales Notes
Fresh masa can be found at Mexican markets and some grocery stores.
If using dried masa harina and water, add enough hot water so the dough is thick and pliable, not runny or crumbly. It should feel like playdough. Allow the masa to cool before using in the tamale dough.
Recipe adapted from Chef Rick Bayless
Shredded Chicken Tamale Filling Notes
Chicken breast can be used in place of the thighs, but they have a chance of drying out. Shorten cook time by 1-2 hours.
Cubed pork or beef stew meat can be substituted for the chicken.
I have never had an issue cooking frozen chicken in the slow cooker on HIGH heat. If you'd rather use thawed chicken, place it in the fridge overnight to thaw.
This makes enough for one batch of tamales, about 30-32. Use any leftovers as a taco filling, serve with rice, or freeze for later.
Black Bean Tamale Filling Notes
Makes enough filling for one batch of tamales, about 30-32.
Store any leftovers in refrigerator and use as a taco or quesadilla filling.
8