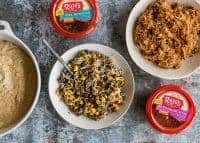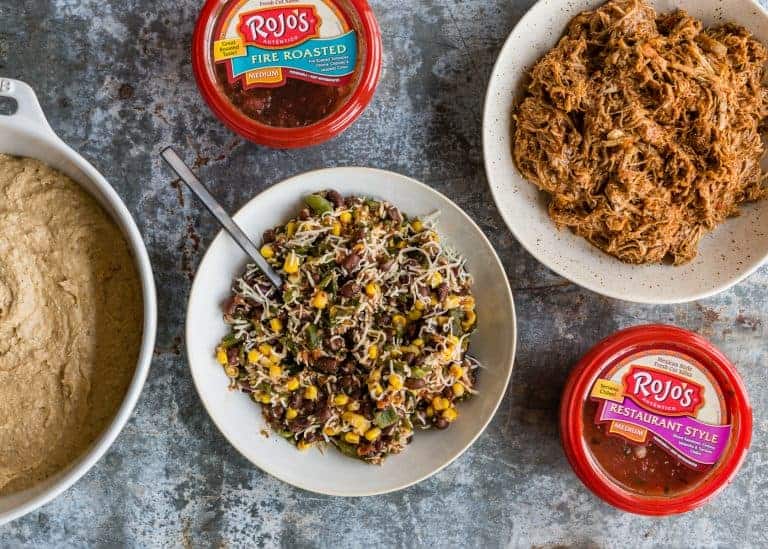 Black Bean Tamale Filling
Yield 4-5 cups
A great vegetarian option for filling tamales. Made with Rojo's Fire Roasted Salsa along with sweet corn, roasted poblano chiles, and Monterey Jack.
Ingredients
6-7 large poblano peppers
2 cups shredded Monterey Jack
1 1/2 cups (or a 15-ounce can) black beans, drained and rinsed
1 cup sweet corn (no need to thaw if using frozen)
1 cup Rojo's Fire Roasted Medium Salsa
Salt, to taste
Instructions
Adjust oven rack so it is about 4-5" from the broiler. Preheat broiler to high.
Place the whole poblanos on a baking sheet. Broil for 3-4 minutes, or until skin blackens and blisters. Turn over and broil the other side. Let cool.
Peel away the skin and remove the stem and seeds. Chop. You should have about 1 1/2 cups.
In a bowl, combine the cooled poblanos, Monterey Jack, black beans, corn, and salsa. Stir well. Taste and add salt, if needed.
Refrigerate until ready to use. Can be made 3-4 days in advance.
Notes
Makes enough filling for one batch of tamales, about 30-32. Store any leftovers in refrigerator and use as a taco or quesadilla filling.
Courses Main Dish
Cuisine Mexican
Recipe by Hello Glow at https://helloglow.co/how-to-make-homemade-tamales/